This week on 'Road To St George' I got to sit down with Olympic Champion Kristian Blummenfelt, who will be one of the major players in Utah on May 7. He had a sensational 2021 with gold in Tokyo, a WTCS title and the fastest ever Ironman distance time. But it hasn't all been plain sailing for the man from Bergen, and we talked about where he's at, heading towards his first IRONMAN World Championship.
The delayed 2021 IRONMAN World Championship in St George will bring a deep field to Utah on May 7, but Kristian Blummenfelt believes it will come down to just three of them.
There are a bunch of contenders hoping to crack that big three of Blummenfelt, fellow Norwegian Gustav Iden and reigning king Jan Frodeno. While 'Big Blu' relishes anybody trying to crash that potential podium party, right now he says they are on the outside looking in.
The rivalry with Iden, and their friendship, goes back well over a decade. Kristian though knows his pal is the man he has to beat in St George. Along with Frodeno.
Blu vs Gustav vs Jan?
He told me: "We've always raced against each since maybe 2012, so for more than 10 years. When we do short distances, we can give each other a bit of slack as we're not the main rival for each other. I help him, he helps me, we both increase our chances of winning.
"But now, coming to St George, he is my main guy to beat together with Jan. It's cool, I can see every day what kind of level he's it and he can see where I'm standing. Hopefully it's going to turn into an epic battle on the run there, and hopefully I'll have a little bit left for the last.
"In St George like for the win it's between myself, Gustav and Jan – neither me or Gustav have ever raced against Jan so he's going to be a new challenge. But if people feel free to do the training and meet up in St George and hopefully show what you're good for."
While Blummenfelt has won just about everything that short-course racing has to offer, he has yet to produce the perfect performance in championships over longer distances.
Searching for #1
"It feels like I've never been able to kind of nail the championships over the Ironman distance(s)," he explained.
"I did also Nice (fourth in 2019) and I felt I didn't get out what I really felt for. The same in St George last year, really coming in with a lot of confidence and ready for the battle with Gustav. When he attacked. a few minutes later I tried to bridge up Snow Canyon and then got the mechanical problem. So yeah, fingers crossed that it's not gonna happen again."
While that race last September ultimately ended in huge frustration for Blummenfelt, he says the experience should be invaluable when he returns for the showdown on May 7.
"For sure it was a good experience to have already been in St George, knowing what the course looks like. It's one thing looking at it on YouTube or Facebook Live for old races, another is to get the race experience from the course.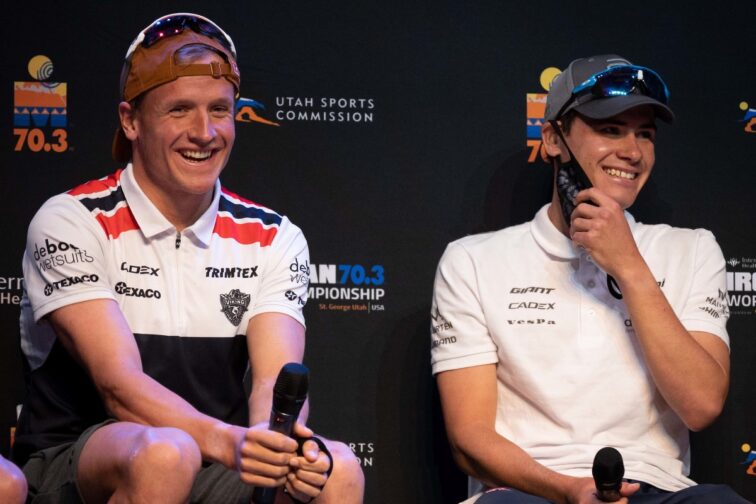 "That's one of the reasons I'm super-eager to come back this time around. First time the Championship's not on Hawaii but it seems like a good place to have it. It felt like St George, triathlon was standing strong, I'm really looking forward to coming back."
St George strategy
The course will provide a very different challenge to Kona, and it's one that Blummenfelt is looking forward to.
"I do like at least training in terrain which is like a hilly course. More places where you can attack and play with your strength. So I do really love these kind off course because it's really challenging. Also it's a course where different athletes can shine through as well.
"It's a challenging course and that's one of the reasons why this time I want to travel St George three weeks before the race so I can really feel that I know how to – especially on the bike – ride the course and use my energy in the two big climbs and also being able to get the speed when descending without really using too much power.
"There's more to play around when the course is challenging like this – it's not just about the engine, it's about the tactics. So yeah, exciting."
That tactical angle should really come into play on the bike – which athletes will make big moves at the risk of becoming sitting ducks with the marathon still to come?
Kristian reasoned: "It's sort of flat, the first 90k and then boom, the two big climbs on the last half of the bike so you can really do some damage there I think if you have something left. But still you have a marathon left.
"It's also good to have in your mind that if there are some people breaking away on the bike, as long as it's not Gustav, I think you can run them down. It's kind of playing a little bit safe but at the same time you do want to be first off the bike or together with the leaders."
The pain of losing
The 2022 season didn't start well for Kristian – he finished 10th at IRONMAN 70.3 Dubai after experiencing another mechanical on the bike. But he openly admits he would not have won anyway. The defeat though just fires him up even more to bounce back on May 7.
"It hurts more to lose. When I win a race it's fun there and then, but then I just look forward to try to win the next race.
"But when I lose a race, like in Dubai where I felt off the pace, I had a puncture but I was already too far off the front to be able to fight for the win. Those kind of moments just make you re-evaluate everything you have done in the training. You just try to do everything perfect for the next two months now coming into St George."
You can watch the whole of my chat with Kristian by clicking the embed right below: