Lionel Sanders says going toe-to-toe against his "hero" Jan Frodeno in Sunday's Zwift Tri Battle Royale was the opportunity of a lifetime.
The 33-year-old Canadian was given no chance heading into this eagerly-awaited showdown over the iron distance in the Allgäu region of southern Germany.
Just three weeks ago, Sanders had limped across the finish line at IRONMAN Coeur d'Alene after experiencing nutrition issues. Many doubted in the immediate aftermath of that race whether Sanders would even take up this engagement.
Turn up he did though, and not only that but he produced a personal best time of 7:43:28 in cold and rainy conditions which were far from perfect. That time included personal bests in the swim (50:58) and on the bike (4:00:26).
'No Limits' yet again
Sanders had once again proved there are 'No Limits', and he was both gracious in defeat and thankful for the opportunity.
When asked what was going through his mind, he said: "Jan is an amazing athlete, that's what's going through my mind. I gave my very best, it was an honour to be invited to this event.
"We put it as a battle but I always knew Jan was going for the world record. He didn't want to say too much about it beforehand because as you know, the conditions and everything. And it wasn't that fast a conditions today – that's the impressive part.
"But when he asked me to come, that's an opportunity of a lifetime, to go up against literally your hero and to go toe-to-toe with him. I mean I don't know how much I pushed him but it was an amazing experience."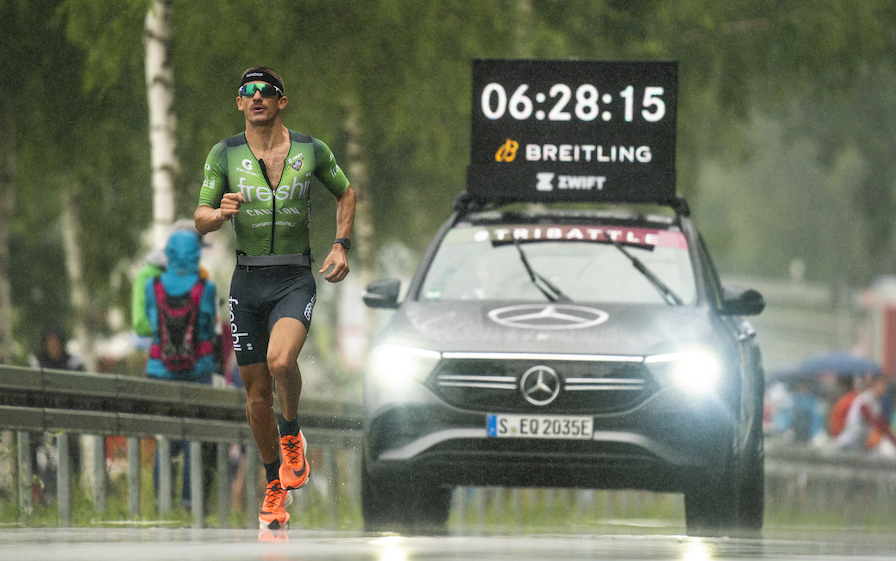 Paying the price
Sanders knew he would probably need to set a new iron-distance record to beat Frodeno, and the improvement on Coeur d'Alene was startling. The Canadian did feel he paid the price in the latter stages for going out too hard though.
"Yeah I definitely feel like I did better in that department (nutrition). I mean I probably should have gone out and tried to do 7:40 pace and not 7:35 pace because I think I paid for it pretty badly at the end there.
"But I don't have any regrets, this was the opportunity of a lifetime – this is something that I'll never forget for the rest of my life."