Where does the time go?!
Seven YEARS?! Yes, today is the seven year anniversary of the day that Alistair Brownlee (Gold) and Jonathan Brownlee (Bronze) won Great Britain's first Olympic Games Triathlon medals on a wonderful day in Hyde Park. To celebrate that, we've been digging around in or archives from the time, to relive some memories of what was a memorable time to be part of a great two weeks in London.
Here's a look back at the race report I wrote and posted at the time in Hyde Park.
---
Get in!
Alistair GOLD, Javier Gomez SILVER, Jonathan Brownlee BRONZE
As I saw it, as it happened…
The Swim
As predictable as a British gold medal in the velodrome, Richard Varga (SVK) hit the front and the race was on from the get go. Javier Gomez went with him, with Alessandro Fabian, Ivan Vasiliev and the Brownlee's making it a top six. They exited the water with a clear 20 seconds over the main pack. More importantly, Richard Murray (RSA) and Brad Kahlefeldt (AUS) were over a minute back and seemingly out on contention just 19 minutes into the race.
The Bike
Vasiliev was quickly dropped like the proverbial stone while Simon Whitfield's race came to an abrupt and painful end with a crash of epic proportions. The two-time Olympic medal winner was soon out of the race.
The leading five of Varga, Fabian, Gomez and the Brownlees cycled hard, initially maintaining their 22 second gap, but by lap three (of seven), the chasers had worked hard to close the gap, that group including dangerous runners like Sven Riederer, Courtney Atkinson, David Hauss, Laurent Vidal and Alexander Bryukankov.
From then, Stuart Hayes moved to the front to take control and keep the pace high, and there wasn't a single break of any note. Well, apart from Alistair himself having a late cheeky 'dig'! It was going to be a big final 10km…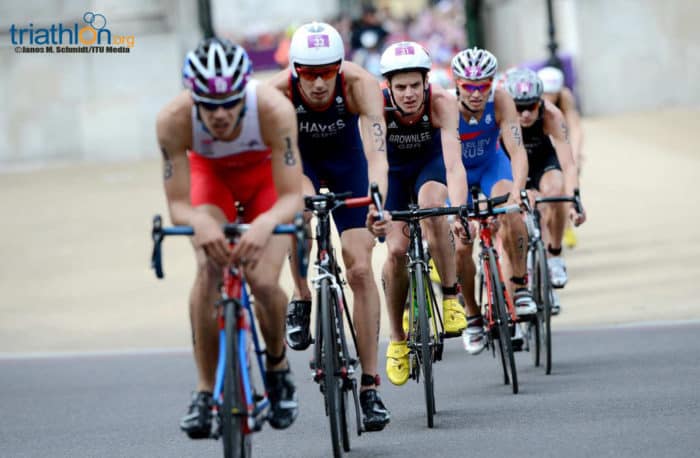 The biggest news of the ride was that Jonathan had picked up a 15 second penalty at the mount line, and would have to serve that on the run. Crucial? Perhaps…
The Run
If I told you it was very quickly a Brownlee / Brownlee / Gomez threesome early in the run, would you be surprised? No. It was.
2.5km in, 17 seconds clear.
5km in, 27 seconds clear.
At 6km, Jonathan was the first to crack (slightly), and soon Alistair was putting the pressure on Javier. At 7.5km Jonny took his penalty, but still managed to get back on course in third position.
While Alistair poured on the pressure in front, Gomez was still strong, but Jonny was making Bronze his own.
An emotional Alistair captured the Gold, and if there is one athlete in the world I would like to take 'away' a Silver from Jonathan, it's Javier Gomez. The two finest triathletes of the last six years finish one-two. Brilliant.
"I felt in control from the start – my ears are still ringing from all the noise. I'm massively proud – pressure was stacked… to get two brothers on the podium, you can't ask for more. We were a team of three with Stuart today. I was relieved to finish… I was so excited to start, like a kid at Christmas. I got the result I wanted. Jonny is fine (after collapsing after finishing…), triathlon is a tough sport!"
| | |
| --- | --- |
| Pos | Men |
| 1st | Alistair Brownlee (GBR) 1:46:25 |
| 2nd | Javier Gomez (ESP) 1:46:36 |
| 3rd | Jonathan Brownlee (GBR) 1:46:56 |
| 4th | David Hauss (FRA) 1:47:14 |
| 5th | Laurent Vidal (FRA) 1:47:21 |
| 6th | Jan Frodeno (GER) 1:47:26 |
| 7th | Alexander Bryukhankov (RUS) 1:47:35 |
| 8th | Sven Riederer (SUI) 1:47:46 |
| 9th | Joao Silva (POR) 1:47:51 |
| 10th | Alessandro Fabian (ITA) 1:48:03 |