Triathlon fans rejoice – there's another packed schedule of live coverage for you this Saturday – including another delicious dose of Super League Triathlon as the roadshow moves on to Jersey.
The third of four consecutive weekends of high-octane action takes place at St. Helier Marina – almost the spiritual home of SLT racing. Jersey featured in 2017 (won by Kristian Blummenfelt and Katie Zaferes), 2018 (won by Vincent Luis and Katie Zaferes) and 2019 (won by Luis and Cassandre Beaugrand).
Luis will start as favourite to extend his winning sequence in Jersey to three, but you'll get long odds against Beaugrand repeating her 2019 win as British athletes have dominated the podiums in London and Munich. And nobody has yet been able to shift Jess Learmonth from top spot.
Conveniently, racing in Jersey will come to a close just as events are kicking off for the 70.3 World Championship in St. George. Happy viewing!
Super League Triathlon Jersey start time and watch live
Racing takes place on Saturday September 18, 2021.
Women's Enduro starts 1130 local time (1230 CET, 0630 Eastern Standard Time, 0330 Pacific)
Men's Enduro starts 1245 local time (1345 CET, 0745 Eastern Standard Time, 0445 Pacific)
The great news is you can watch every second of Super League Triathlon Jersey 2021 live right here on TRI247.com – we will embed the live video stream below.
Who is racing at SLT Jersey?
With four races back-to-back at the Super League Triathlon contract structure, it is nice and simple in terms of athletes – basically 'as you were' from last weekend in Munich, with just a couple of wild card changes. So all the usual stars – Learmonth, Luis, Brownlee, Taylor-Brown, Yee, Coldwell, Potter, Wilde, Zaferes et al – will be on hand.
The German wildcards for their home event, Simon Henseleit and Anabel Knoll will be absent this weekend, while coming in will be local hero Oliver Turner (Jersey) and Outlaw Half Nottingham winner Josh Lewis (Guernsey), to add a 'Battle of the Channel Islands' into the mix.
Oli and Josh are training partners based in Cardiff at the National Triathlon Performance Centre Wales, and will arrive off the back of confidence-boosting results last weekend at the British Elite Championships, which was part of the British Triathlon Grand Final at Mallory Park. Those results should see them qualified for the Commonwealth Games in Birmingham next year.
We should therefore see 22 men and 20 women racing in St. Helier on Saturday.
SLT Format – The Enduro
Ok, so we've gone from the Triple Mix in London to The Equalizer in Munich. Event three of the Championship Series will see the return of The Enduro.
This is my personal favourite of the SLT offerings – and has the added benefit of being the easiest to understand.
Quite simply, it is three back-to-back triathlon events with no rest – 9 disciplines, 8 transitions and lots of very tired athletes along the way. Once again each swim will be 300m (one-lap), then a 4km (four-lap) bike and onto a 1.6km (two-lap) run.
Fall more than 90 seconds behind during the race, and the (un)welcome sight of a race official will be there to pull you out of the race – and you can be sure that not everyone will see the finish line.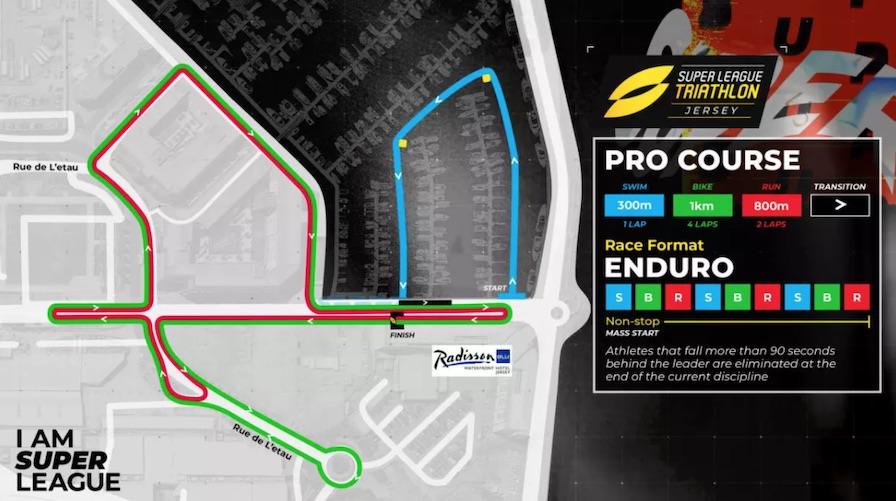 There are two opportunities to earn an SLT Short Chute – a 'short cut' advantage on the final run – and these are:
The first athlete through the opening swim and transition (mount line)
The first athlete to complete the opening bike and transition (cross the 'mount line' starting the run)
The Enduro format is the 'Master of Endurance', but with those advantages on offer, it is certainly going to favour a very strong swim-biker… which might suggest that Jess Learmonth and Vincent Luis will most definitely be going all out for those at the beginning of the race in the first two disciplines.
I'll be honest, I really don't think this Enduro format needs them. If for example Luis has both of those jokers secured with seven disciplines remaining, it's a distraction from the core event – which is already set to identify the strongest, most resilient and all-round athlete.
Just my opinion of course, but certainly not a lone voice. Let's see what impact, or not, they have on the racing on Saturday.