In the first part of our interview with Taylor Knibb we looked back at the stellar 2021 which catapulted her to #4 in the PTO rankings.
An incredible spell between the end of July at the Tokyo Olympics through to her third place at the 70.3 World Championships in mid-September saw her winning or on the podium at virtually every race.
But while that translated into incredible results, it's not something she'll look to repeat this year despite a schedule that's potentially just as packed, even without an Olympic Games.
When we sat down with her for an in-depth chat about the months ahead, she had complete clarity in terms of what worked, what needs tweaking and how to factor in some new challenges.
She explained: "First of all, if you think about the difference between Yokohama on 15th May last year, going into Tokyo on the 27th July was a huge gap.
"But this year it goes Yokohama and then Leeds, Montreal and Hamburg all before July 10th. So that's a ton more racing before the next thing.
"And I want to be in my best shape for the 70.3 Worlds on October 28th. I know this year, having done what I did last summer, I would not be in my best shape [with a similar schedule]. I need to recognise that.
"And also just because you can doesn't mean you should. It was a great experience but I know I would do things differently within that period of time. And I think it would be better both for that period of time and after."
Taylor Knibb on 2022
Asked if she's had downtime heading into the 2022 campaign, it's a real reminder that last year was her first since leaving college.
"Recharging looks different for different people and it's all relative because I graduated from school in 2020 and prior to that it was kind of like, okay, like you finished the race season and that was my break.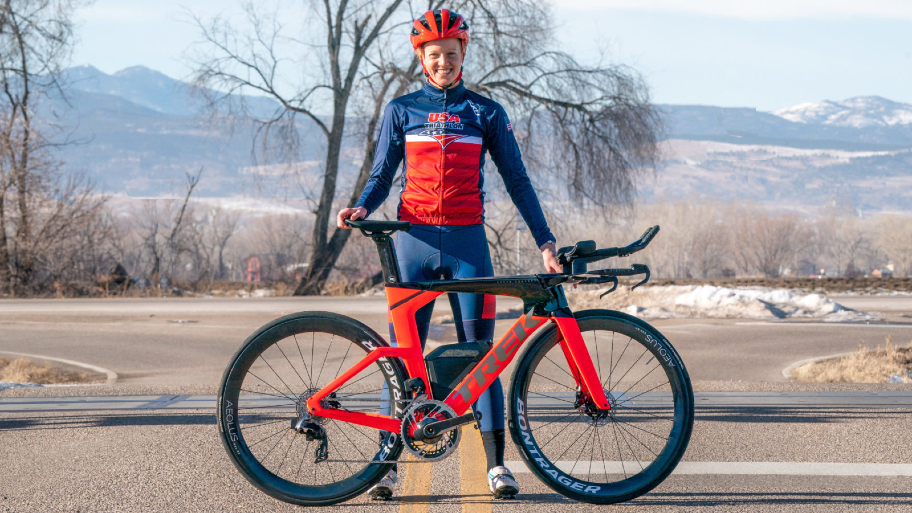 "But now because I'm in Boulder and my family lives on the East Coast in DC, I go home for the holidays. I went back for Thanksgiving and I went home for Christmas. It's just a little bit more travel than it used to be.
"So I felt like I kind of now have recovered in January more so than anything."
Bringing out the best
She's hoping that the race calendar doesn't deviate much from how it looks at the moment – the WTCS races, the PTO Tour and then of course the 70.3 Worlds all look relatively well spread out.
The new PTO races (the Canadian Open and the US Open, in addition to the Collins Cup where she clocked the fastest time in 2021) are clearly a major aim, not least because of the fact that it will mean the best racing against the best each time.
"That's what competition is. You're bringing out something better than you can do alone. So by having everyone there, I feel like that's just going to bring out the best in me.
"It might be hard to be 100% every time but there's an ebb and flow which is interesting.
"You saw that I think last year. Flora [Duffy] beat me by five minutes in Tokyo – five minutes!
"And somehow I beat her by over a minute in Edmonton. And it was the same distance and a lot of similar people, but just three weeks later.
"And so you think about that for the Canadian Open to the Collins Cup to the US Open.
"But also it's like you have to realize the effect that each race has on the next one, because even if someone loses, they have the other guy's number.
"They know exactly the target of what they're going to do. Or maybe that's just me!
"I've huge respect for Flora and will swim with her when she's in Boulder – I see people on a day-to-day basis but I still want to beat them."
Her biggest rival is in the mirror
But when asked whether it's Flora Duffy or someone different that she sees as her main rival, it's far from a stock response.
"So this is going to be your least favourite answer of the day. But I think that I produce my best performances when I'm just conscious of myself and executing, and that's how I get my best training too.
"It's very cliche but it's how do I get the best version of me? That's all I can control. I can't control what anyone else is doing.
"I'm just trying to get the best version of myself onto that start line. So it's kind of like me versus me, even though it's a different body this year.
"Every year it's changing. Every month it's changing. It's just like, yeah, I'm my greatest rival.
"It's realising that you are competing against yourself to a certain extent because I talked about this changing of expectations [in the first part of the interview] and that all influences it."
High expectations
Not having her first race until Yokohama [in mid-May] means the current block of training in Boulder should set her up for the year perfectly. "Four months at altitude, uninterrupted, that's ideal.
"And I'm really grateful for everyone in my corner because they have a better big picture. I'm like, 'oh, I'll do this race' whereas they might say 'no' – I sometimes need holding back a bit and they're doing that."
And despite the ethos of the PTO races of pitting the best against the best, there's also been an unexpected bonus of that according to Taylor.
"I hope to be at all their races," she says.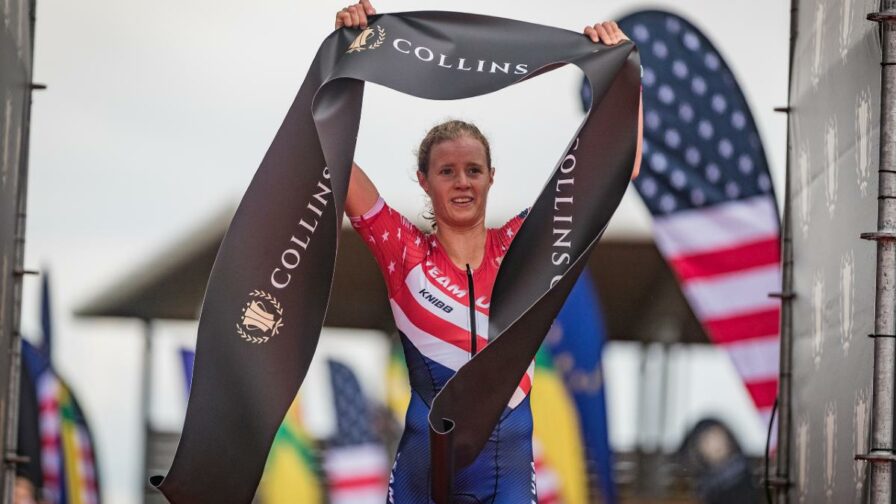 "But I think a bigger thing is the fact that what the PTO is doing is bringing a greater sense of camaraderie. With the Collins Cup you got to meet other people.
"I don't know if it was just because it was my first experience of the 70.3 Worlds a month or so afterwards or if it's because we hadn't had that race in a while but if you look at the finish line that day I felt like there was a greater respect among the professionals.
"At the shorter course events like the WTCS ones, you get that more, especially once we got out of quarantine. It's great because you don't feel alone. Like I'm the only one in this world dealing with all this stuff. But it was good to have it over the longer distances where people don't tend to race each other as often."
Long-term views
And while the focus going forward is a mixture of WTCS, PTO and 70.3 Worlds in 2022, there's clear long-term goal further ahead for Knibb – and a bit more in the future than you might expect.
"Paris 2024 is huge. But to be perfectly honest it also feels just as far away as 2028 in Los Angeles. To to be able to have a home Olympics potentially over the course of your career is massive.
"I feel like they're just stuck together in my mind and I kind of need to peel them apart.
"I'm as cognizant of LA as I am of Paris at the moment but that needs to change because the points are opening up for 2024 quite soon."
And while looking into the future, we wondered whether Taylor might look to step up to Ironman distance at some point.
"Oh, 100% – you could have asked my coaches at age 15, that's what I want to do.
"And they're like, yeah, you might be a little bit better at that. We'll see.
"I don't know because I'm learning so much, there's just so many other aspects to the racing then and also just the training that you have to get through, and it's just so different. I'd love to, but we'll see."