Pro View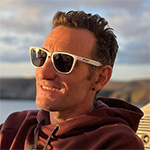 Tim Don
Tim is a triathlon and IRONMAN legend. And alongside Ian Dempsey he's created
Halo ID
, a global community for like-minded people with a love for triathlon and endurance sport – all about your next level, whatever that may be.
Tim Don gave us the inside track from St George last week and he joins us again to reflect on an incredible IRONMAN World Championship.
First up he provides his take on the women's race and his undoubted highlight – Daniela Ryf's incredible performance as she took a fifth title – and in some style.
"The only reason we're saying she's back – ie she's gone – is that we expect her to win," says Tim. That's the standard she's set herself with four IRONMAN world titles prior to this and five at 70.3.
"Yep she had an off year in 2019 and then got a second in Dubai – oh dear a second – earlier this year.
"It was so good to see her have a race that she's truly capable of – she's the benchmark for every female athlete out there.
Masterclass from Daniela
"And she was sublime. She's really worked on her swim. And she got her bike pacing right. She didn't go for a stage where she just nailed everyone, she was just consistently quicker over the whole course – up the hills, down them and on the flat, slowly pulling away.
"And for me that was definitely my highlight – it was a masterclass from Daniela.
"But for Kat Matthews to do what she did on this stage was incredible too. The future's bright, it is only the beginning for Kat."
Check out the full video from Tim and Ian Dempsey for members on the Halo ID website – where they also discuss plenty of other talking points.
Such as how would Lucy Charles-Barclay have fared if she'd been able to take part and how would she have have changed the race dynamic?
And what about the Brits who did so well, including fifth-placed Ruth Astle who has graduated from the Zwift Academy that Tim is so closely involved with, an incredible story.
And get Ian's view on the step – or as he more accurately described it a "leap" – from age group to professional.
Blu a worthy winner
Next up it's then men – and one on particular to start with, Kristian Blummenfelt.
"He's never raced an Ironman," points out Tim about our new world champion. "Yes, he went crazy fast in Cozumel but from 70k on the bike there he was virtually out on his own.
"So he could go at his own pace, there were no surges and so on. And I thought that could have been his Achilles heel.
"But absolutely a worthy winner – a 2:38 marathon too! Is he going to break Sub7 – yes."
Again loads of other things to debate – how would Gustav Iden and Alistair Brownlee have changed things, not to mention Jan Frodeno, Patrick Lange, Javier Gomez and Joe Skipper?
Ian has an interesting take on the bike tactics, both are fascinated by Lionel Sanders and Cam Wurf and much, much more.
Be sure to check out Halo ID for more while here on TRI247 every Monday we'll be getting their views not only on the weekend's action but all the big talking points within the sport.