Casper Stornes' DNF at IRONMAN Frankfurt last August may have gone relatively unnoticed in the bigger picture of Norway's triathlon development.
But, as we heard in part two of this interview, it proved an important first piece in the jigsaw for Olav Aleksander Bu and his team, who were about to start shocking the Ironman world.
The man who became European champion that day in Germany was Patrik Nilsson, and by the time we got to Cozumel in November, the Swede was expected to provide the sternest test to Olympic and World Champion Kristian Blummenfelt on what was his full-distance debut.
But as Blummenfelt's coach Bu tells us, no-one that day was able to live with 'Big Blu', and he gives us a fascinating insight as to how it all panned out.
"The reason we picked Cozumel was to find a location which has much the same humidity or climate as Kona. So that's why we ended up there," he explained.
"We really didn't know 100% how much the weather would affect us. Of course, then race day came and it was flooded!
Safety-first approach
"But it was a fast downstream swim. Kristian and I discussed how fast to go on the swim and decided this is his Ironman debut, let's keep it safe.
"And then on the bike – do we go with the pack and stay with the front group instead of trying to get maybe get a gap of a few minutes. But again, it's a long day so it really doesn't make sense to really push it that hard on the bike.
"So on the first circuit when he went around, he just stayed with the front pack holding back. I remember him going past me and making it look super easy.
"And then after he passed me he decided, okay, now I can start to push it a bit but still have a super-fast run split.
"That was around the 120-130km point. Patrik decided just to try to keep up with him, but blew up."
That meant that by the time Blummenfelt came into T2 he had a lead of eight minutes over the Swede, who would pull out 5km into the run.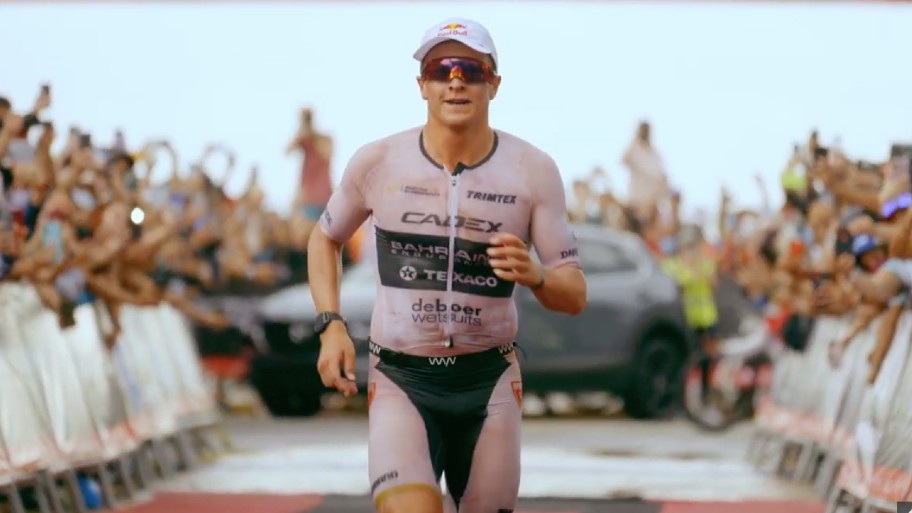 Even on the run there was still an element of caution for Blummenfelt given that he was venturing into unknown territory.
Throwing off the shackles
And there was another challenge to overcome too, with Bu explaining: "Of course, he had had diarrhoea in the week leading into the race and was still slightly affected by this.
"So he needed to take two stops in the toilet. And still you're thinking, we've never done this before so can I really push it yet, can I keep this pace? Do I have to back off a little bit?
"But we said, okay, fine, you are actually on track also to take Jan's record. So he continued at his pace. But basically towards the end, that's when you have more control.
"And of course he just accelerated and went faster and faster towards the finish line."
It all meant he clocked 7:21:12, more than six minutes faster than Frodeno's mark from July.
Sub7 solo?
It was a groundbreaking performance and one which was captured memorably on film in a documentary from the Pho3nix Foundation to begin the countdown to this summer's Sub7 bid.
So given the relative 'caution' in Cozumel, just how quick can 'Big Blu' go in the future?
"There was nobody to push him on the run, so that's another area where it gives him a little bit more room [for improvement]," reasons Bu.
"Of course we now have this experience and maybe we will get in a little bit more specificity too. So for sure, he will go even faster."
And Blummenfelt's rivals won't be comforted by Bu's thoughts when asked about Kristian's Sub7 attempt this summer.
That will feature pacers, modified kit and more but when I wondered whether he thought Sub7 might one day be possible in an actual race, the reply was illuminating.
"I think potentially on the right course, on the right day, with the right weather. Everything is perfect. We nail the taper 100% with some adjustments on the equipment – maybe a sub seven [is possible]. But we are talking very fine margins."
Fine margins and raising the bar further are what we'll focus on in the next part of this interview – with Bu offering a fascinating perspective when comparing the challenges of trying to win an Olympic gold to conquering Kona.
Olav Aleksander Bu TRI247 interview: