Holland wins, another podium for Taylor-Brown in Canada
Another great strength-in-depth performance from the British female Elite team, this time at the ITU World Triathlon Montreal, the penultimate race of the 2018 season.
Four athletes in the top eight and another two places on the podium, where Vicky Holland and Georgia Taylor-Brown repeated their one / three from Edmonton.
Here is a report from Canada courtesy of British Triathlon.
---
Holland wins in Montreal to set up world title battle
Vicky Holland won her third ITU World Triathlon Series race of the season to close right in on Katie Zaferes (USA) in the world title race. On a hugely successful day for British triathletes, Georgia Taylor-Brown finished third, and is up to third in the overall Series rankings, and Jess Learmonth just behind her in fourth. There's just one race left to decide the 2019 world champion.
Holland faltered at the start, not leaving the pontoon when everyone else had already dived in to start the 1500m swim. She swam off course and was left behind by team mates, Jessica Learmonth and Sophie Coldwell. However, she didn't put a pedal stroke or a foot wrong after that.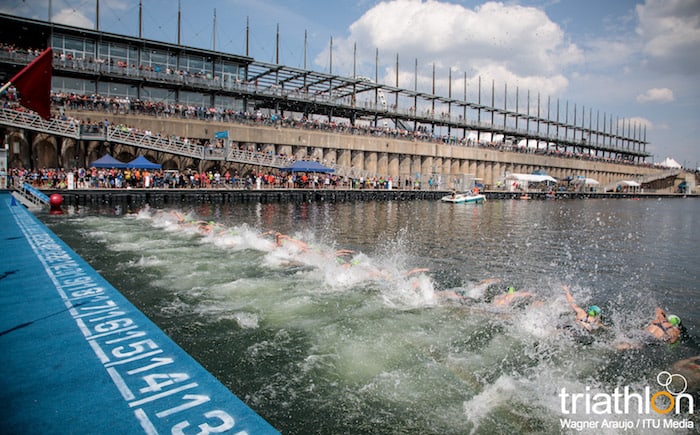 Learmonth and Coldwell raced away at the start of the 40km technical bike ride around Montreal along with USA's Zaferes and Summer Cook. However, Switzerland's Nicola Spirig was on a mission to catch the leaders along with Jodie Stimpson and Holland. They closed the gap at remarkable speed and the race came down to the 10km run.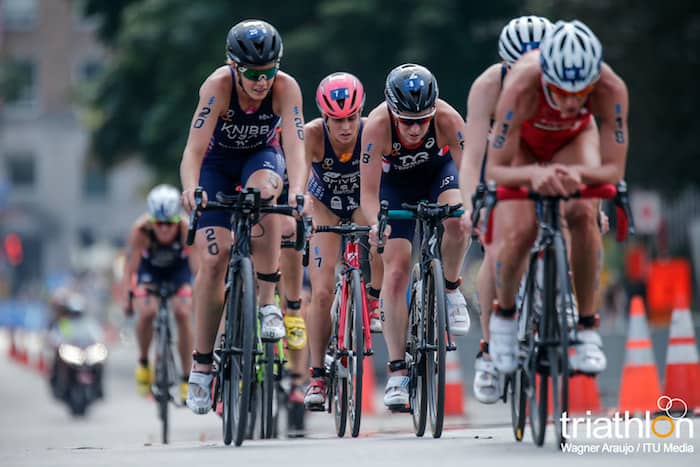 Stimpson, who is improving with every race this season, made a great start to the run along with Spirig, but Holland soon took the lead and never looked back. Three kilometres into the race, Holland was in front with Stimpson second, Taylor-Brown third and Learmonth fourth. Zaferes then started to move up the field, demonstrating why she is the current Series leader. She passed all but Holland to claim the silver medal.
Holland credited Spirig and USA's Taylor Knibb for helping her overcome the deficit after the swim. She said: "I knew out of the swim they weren't far behind me, so it was a conscious decision to allow them to come through. The speed we were gaining on the leaders; it was a case of hold on in there and try and make the front group."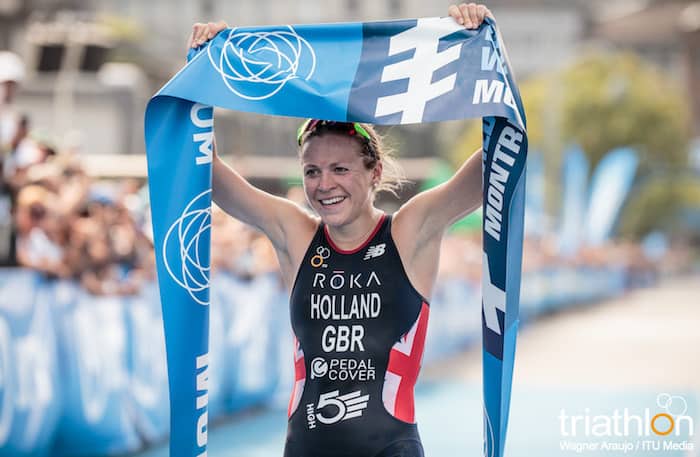 She is now just 34 points behind Zaferes in the overall Series rankings with 1250 points on offer to the winner of the Grand Final.
Holland won Olympic bronze in Rio, but has never featured on an overall Series podium. She added: "I've won three races this year, that's more than I could have asked for at the start of the season, I'm delighted with that. It will be all to play for on the Gold Coast and that's a really exciting prospect."
Georgia Taylor-Brown found the Olympic distance race tough after the two previous rounds took place over the sprint distance but found her legs on the bike and ran brilliantly to finish third – her third podium finish this year after years of injury.
The 24 year-old said: "I'm really looking forward to going into the Grand Final now. I wasn't even sure how many World Series' I was going to this year. I wasn't going to do this one, but after a good race in Edmonton I thought 'why not do this one and finish in the Grand Final in a higher position.'"
Rounding off a fantastic day for the British team, Stimpson finished sixth and Learmonth was eight. The Grand Final takes place in Australia with the women's race in the early hours of Saturday 15 September to decide who will be crowned ITU world champion. Sunday sees the men's race in Montreal with Tom Bishop going for Great Britain.
ITU World Triathlon Montreal – Saturday 25th August 2018
1.5km / 40km / 10km
ELITE WOMEN
1st – Vicky Holland (GBR) – 1:59:29
2nd – Katie Zaferes (USA) – 1:59:51
3rd – Georgia Taylor-Brown (GBR) – 2:00:23
4th – Joanna Brown (CA) – 2:00:39
5th – Nicola Spirig (SUI) – 2:00:52
6th – Jodie Stimpson (GBR) – 2:01:07
7th – Taylor Spivey (USA) – 2:01:40
8th – Jessica Learmonth (GBR) – 2:01:53
9th – Taylor Knibb (USA) – 2:02:16
10th – Lotte Miller (NOR) – 2:03:10
24th – Sophie Coldwell (GBR) – 2:09:01
WTS RANKINGS
1st – Katie Zaferes (USA) – 4418
2nd – Vicky Holland (GBR) – 4384
3rd – Georgia Taylor-Brown (GBR) – 3459
4th – Jessica Learmonth (GBR) – 3237
5th – Rachel Klamer (NED) – 3098
6th – Jodie Stimpson (GBR) – 3038
18th – Non Stanford (GBR) – 1844
36th – Sophie Coldwell (GBR) – 732