The latest Weekend Roundup features something of a tour of Europe, a brief trip across the Atlantic to Canada and then a return to the UK for British, Scottish and English Championship action. Here's a roundup of some of the key races that took place this past weekend…
(Header image credit – Ben Lumley / ITU Media)
Embrunman Long Distance (FULL RESULTS)
One a weekend that saw plentiful 'Sub-8' (Men) and 'Sub-9' (Women) times, seeing a major iron-distance race being won in 9:48 and 10:54 respectively, doesn't seem at first glance too impressive. However, when that event is the uber-tough 36th edition of the Embrunman XXL, those rules don't apply.
On the European schedule for so long, arguably this might be consider the original extreme triathlon,. Featuring a 185km bike course with 5000m of climbing that includes the Col d'Izoard, this is no PB parcours. With a significant prize purse for Pro athletes (though not gender neutral – EUR 25,000 for men, EUR 19,000 for women), it attracts quality athletes – and an entry total of more than 1,000.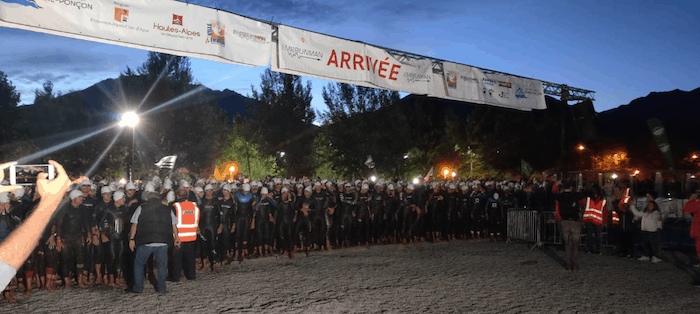 France and Spain took the overall win this year courtesy of William Mennesson and Judith Corachan, the podium positions very close after such a long and challenging event.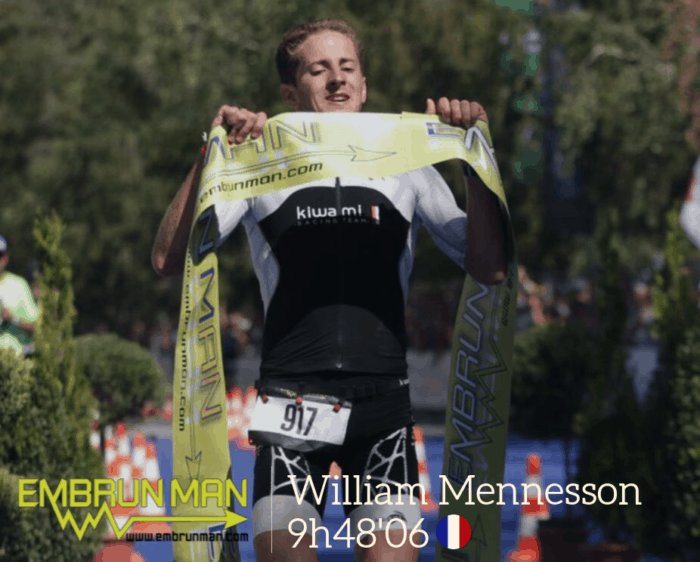 The first British finisher was Julian Lings who finished 19th overall in 10:54:29
MEN
1st – William Mennesson (FRA) – 9:48:06
2nd – Andrej Vistica (CRO) – 9:52:14
3rd – Victor Del Corral (ESP) – 9:53:49
WOMEN
1st – Judith Corachan (ESP) – 10:54:07
2nd – Tine Deckers (BEL) – 11:00:30
3rd – Alexandra Tondeur (BEL) – 11:05:57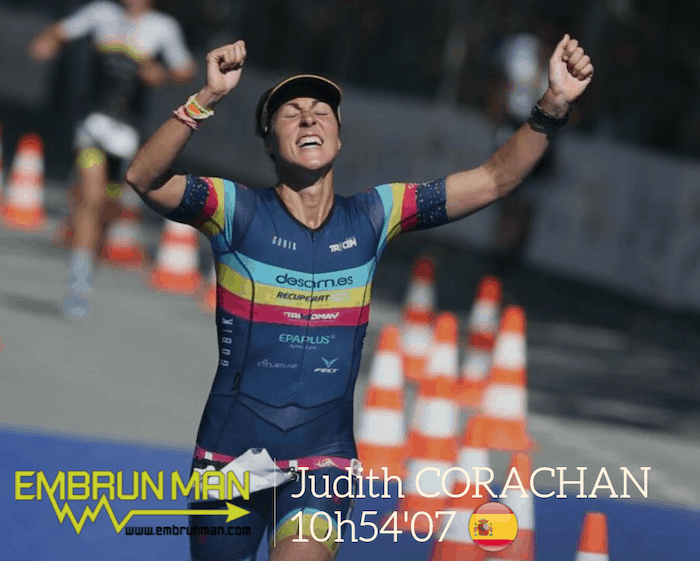 Tokyo Test Event
If nothing else, the triathlon world is certainly familiar with ITU Competition Rule 2.11.f after the events last week in Tokyo. Already covered in depth, check out all four days of racing, disqualifications and format changes on these links: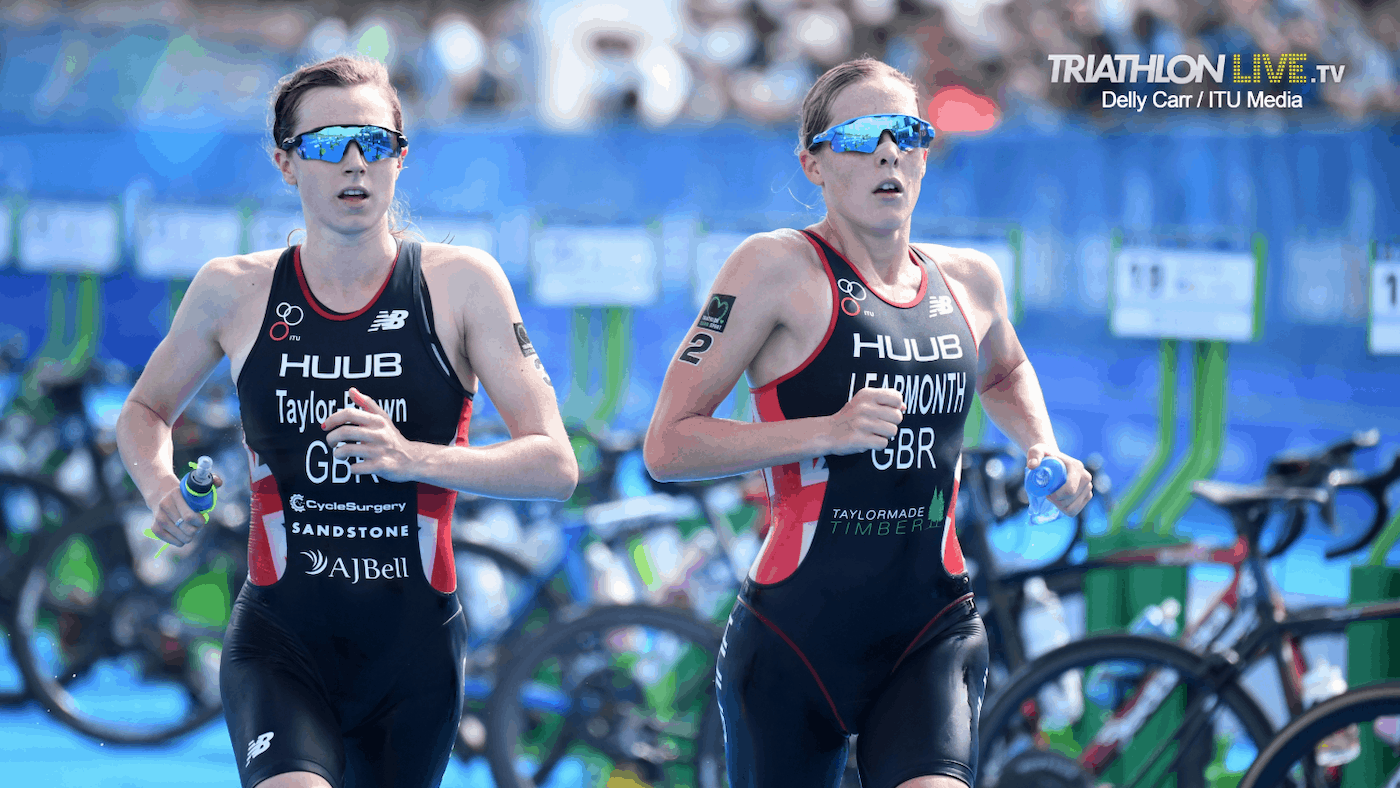 IRONMAN Mont-Tremblant, Canada
On a record breaking weekend in Europe too, that theme continued in Canada as both Cody Beals (defending his 2018 win) and Carrie Lester (AUS) took impressive victories at the venue of the 2014 IRONMAN 70.3 World Championship. The very last Pro race to qualify at for Kona this year, saw those slots taken by Lionel Sanders and Sarah True, who will be very welcome additions to the Hawaii start-list after their issues in qualifying this year.
PRO MEN
1st – Cody Beals (CAN) – 7:58:34
2nd – Lionel Sanders (CAN) – 8:05:38
3rd – Nathan Killam (CAN) – 8:29:15
https://www.instagram.com/p/B1VK8h_HVqm/
PRO WOMEN
1st – Carrie Lester (AUS) – 8:48:26
2nd – Sarah True (USA) – 9:04:31
3rd – Jodie Roberton (USA) – 9:16:16
https://www.instagram.com/p/B1V83fDlOV6/
IRONMAN Kalmar (Sweden) and Copenhagen (Denmark)
The Scandinavian back-to-back races saw super speedy times and lots of records broken, the Pro wins going to Boris Stein (GER) in Kalmar, and Anne Haug (GER) in Copenhagen. Extended reports – along with details of all of the British Age-Group podium finishers – already online on these links:
Kecskemét ETU Sprint Triathlon European Cup, Hungary (Sunday) – FULL RESULTS
The latest ETU Sprint Triathlon European Cup event saw Ireland's Con Doherty maintain his strong form, adding Silver to the Gold he won recently in Malmo.  Sian Rainsley ensure that British Triathlon were on the podiun in third, where she was closely followed by Issy Morris and Jenny Manners in 4th and 5th. Top Brit in the men's race was Iestyn Harrett. There's an extended report on the ETU website available HERE.
ELITE MEN
1st – Nathan Grayal (FRA) – 52:00
2nd – Constantine Doherty (IRL) – 52:03
3rd – Roee Zuaretz (ISR) – 52:07
6th – Iestyn Harrett (GBR) – 52:26
ELITE WOMEN
1st – Ilaria Zane (ITA) – 57:54
2nd – Anneke Jenkins (NZL) – 57:58
3rd – Sian Rainsley (GBR) – 58:07
4th – Issy Morris (GBR) – 58:15
5th – Jenny Manners (GBR) – 58:30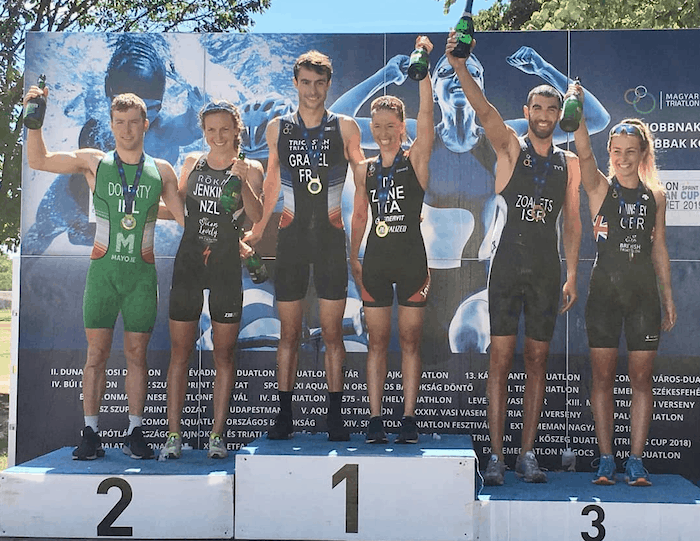 XTERRA Germany
You have to say, those XTERRA guys are impressive with the swift turnaround of their video highlights packages!
Arthur Serrieres (FRA) and Helena Karaskova (CZE) took the overall victories, with Jacqui Allen fifth and Nicole Walters 12th, having exited the water together leading the field. No such luck for Doug Hall, who tweaked his calf on the beach start and was unable to complete the race.
DOMESTIC RACING
A championship 'two for one' at the Aberfeldy Triathlon on Sunday, which hosted both the British and Scottish Middle Distance Championship events concurrently. Will Munday and Simone Mitchell took British honours, while third place was enough for both Douglas Roberts and Alison McKenzie to claim the Scottish titles. Extended report HERE.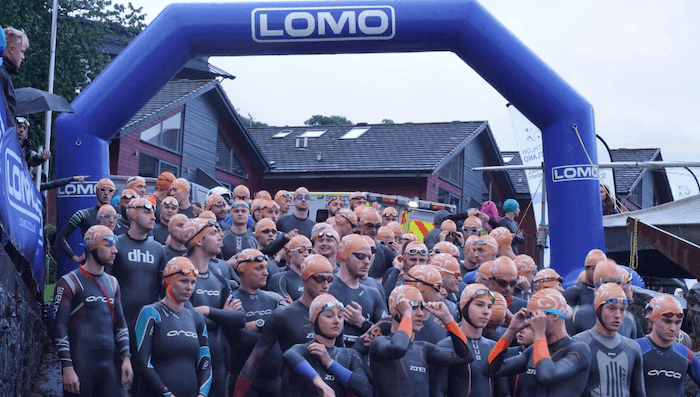 Thanks to a late location change, the Hertfordshire Triathlon was actually held in Bedfordshire at Box End, hosting the Triathlon England National Sprint Distance Championships.
Just 20 seconds separated Beau Smith and Carl Shaw (Race Hub) at the finish, with Smith fighting back on the run to overturn the advantage of the experienced Shaw, who must now have a bucket load of National Champs medals at home! There was a much clearer result in the women's race, where Brit Tate (Leeds Bradford Tri) finished more than three minutes clear, though the 2nd-4th position – Roisin Browne (Team Surrey) | Hannah Pearson (Black Country) | Natalie Lawrence – were separated by just seven seconds. Full results available HERE.