ITU World Triathlon Series lands in Gold Coast, Australia, on Saturday
What can we expect, and who are the favourites for ITU World Triathlon Gold Coast 2017?
We don't have Mystic Meg…but we are pleased to welcome back Blair Cartmell again. Until recently the Lead Performance Centre Coach with Triathlon Scotland, Blair casts his experienced eye over the race – and forecasts the men's and women's podiums. Do you agree with him?!
We only have one British athlete racing, but Blair is predicting that they will win…
---
ITU Word Triathlon Gold Coast – Saturday 8th April 2017
Blair Cartmell previews and predicts…
The second stop in the ITU World Triathlon Series for the second year in a row, is the Gold Coast.
This race venue has a lot of history attached to it, having held the World Championships way back in 1991. This venue will again play host to a major championship, as it is almost a year to the 2018 Commonwealth Games where Triathlon will take place on this course. The race on Saturday could see a race within a race, as I believe Australia and New Zealand have a top 10 and top 6 policy, respectively, to stamp your ticket to the Games.
Intriguing to see that apart from Jodie Stimpson, British Triathlon have decided not to send any athletes, resulting in Home Nation athletes missing out on racing the course as well as gathering experience of travelling over there and training before the race, which will be important to Games success.
The Course
A sprint course based on the same course as last year that will provide fast and technical racing. The air temperature is looking around 25 degrees which is cooler than last year's above average temperatures. [Ed. which saw a wobbly Jonathan Brownlee take third – an insight, perhaps, into what would happen in Cozumel…).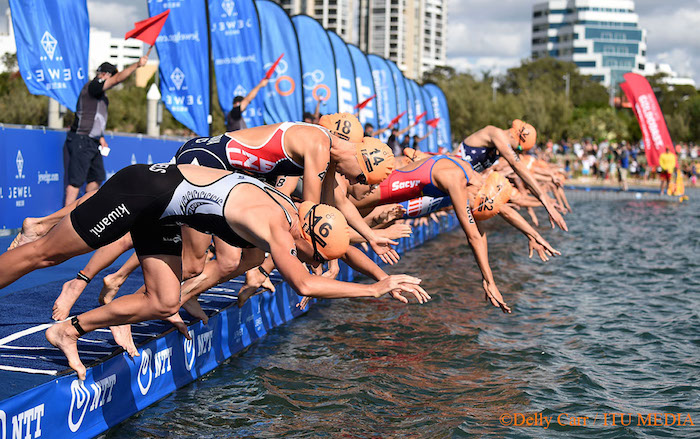 Swim – Non-wetsuit swim with a pontoon start. It is a one lap swim within the bay. Start position is important in this race as the currents can have an affect swimming to the first buoy. There is also the possibility that it could be quite rough if the wind is up.
Bike – Although flat, this course is technical with a lot of corners and multiple dead turns per lap. As always, positioning towards the front of the pack is crucial, especially on some of the narrower parts of the course.
Run – a flat and fast course with a slight downhill/uphill on each lap and a dead turn at each end of the course.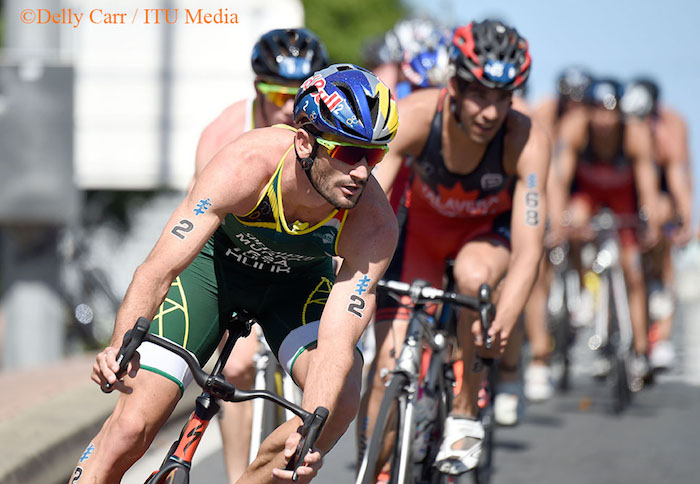 Women's Preview
47 women are on the start list so not a full field, but that has been a running theme across both men and women fields in 2017. Andrea Hewitt and Jodie Stimpson return after their epic sprint battle in Abu Dhabi and should come in with good confidence, although Andrea will surely want to make up for her below par performance at New Plymouth World Cup last weekend – although I feel a lot of that had to do with the cold weather conditions. Andrea will certainly want to stamp her ticket to Gold Coast 2018.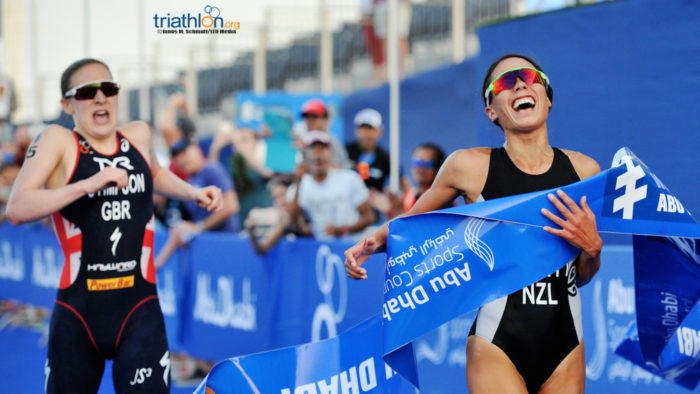 On a similar note, the Aussies will surely come into this race ready to perform and the likes of Charlotte McShane, Gillian Backhouse, Ashleigh Gentle and Emma Jackson will be battling out for top 10 positions and Commonwealth Games selection.
The American women are coming in with great form having placed six athletes in the top 10 at last weekend in New Plymouth, with Katie Zaferes taking the win. She seems to excel over sprint distance racing so she could really challenge for a podium this coming Saturday. Other contenders and athletes in form this year are Rachel Klamer and Ai Ueda. Both have shown consistent form in the races they have started in 2017.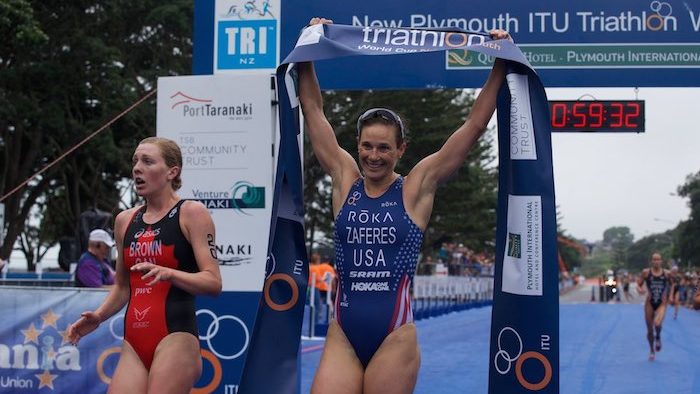 Women's podium prediction
Jodie Stimpson
Katie Zaferes
Andrea Hewitt
Men's Preview
Although not a full field, pretty much all the top contenders of 2017 are racing, apart from Vincent Luis. Javier Gomez showed his class in winning in Abu Dhabi, although Richard Murray certainly comes in as the athlete in form over the sprint distance having recorded wins at Cape Town, the Super League and most recently in New Plymouth. Although he reported a niggle before last weekend's race, I still think he will be hard to beat.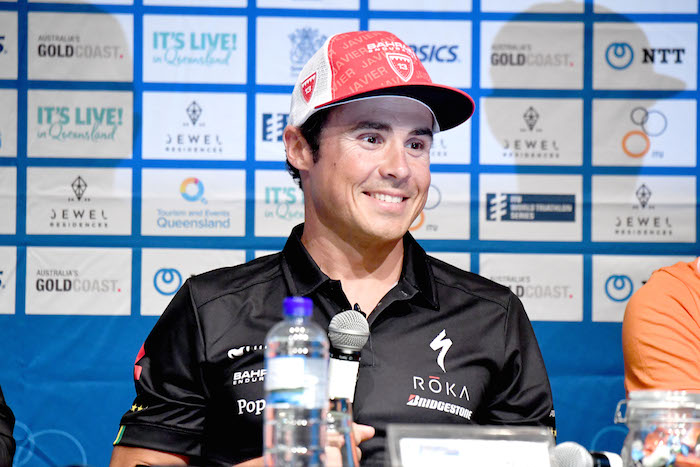 The Spanish Armada headed by Mario Mola and Javier Gomez will most certainly be in the mix and Mola will be looking for his first win of the season. Fernando Alarza will be dangerous and knows how to win over the sprint distance at WTS level, having won in Cape Town last year.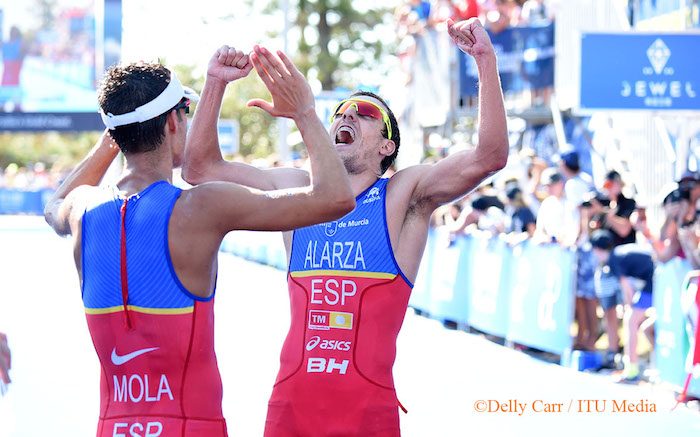 Like the women, the Aussie men will come into this ready to race and fight for Commonwealth games selection. I was very impressed by Jacob Birtwhistle at the Super League and he should have taken a lot of confidence in the way he raced. I think he will be very dangerous on Saturday. Another athlete looking for Commonwealth Games selection and who is coming into this race with good form is Ryan Sissons. With a podium at the recent New Plymouth World Cup, it would be good to see him step up and challenge for a podium at WTS level.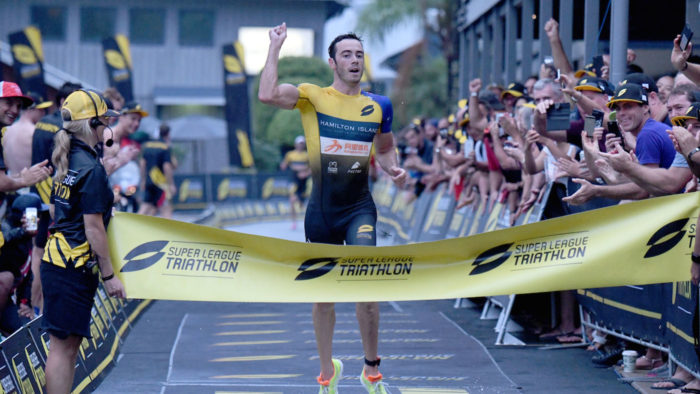 With other athletes such as Henri Schoeman in the field and showing good form, it should prove to be a very exciting race to watch unfold.
Men's podium prediction
Richard Murray
Mario Mola
Jacob Birtwhistle