Something of a first in men's ITU World Triathlon Series racing this year. It's taken six races, but we finally have an athlete secure two wins, courtesy of Jacob Birtwhistle (AUS), at the Hamburg Wasser ITU World Triathlon Hamburg.
It was a tough day for all three British athletes – Tom Bishop, Alex Yee and Jonathan Brownlee – all among the numerous athletes to be impacted by crashes on the slippery roads in Germany caused by the heavy rain that also impacted the Women's Elite race.
Series Rankings after Hamburg:
Vincent Luis (FRA) – 4125
Javier Gomez Noya (ESP) – 3687
Fernando Alarza (ESP) – 3282
Jacob Birtwhistle (AUS) – 3255
Mario Mola (ESP) – 2971
(13th – Alex Yee (2013), 23rd – Thomas Bishop (1324), 41st – Jonathan Brownlee (530))
---
Jacob Birtwhistle sprints to victory in Hamburg
Australian Jacob Birtwhistle proved himself to be in the battle for the World Series in 2019 after claiming his second victory of the season in the 2019 Hamburg Wasser World Triathlon Hamburg. Birtwhistle led a full podium sweep of training partners, with Frenchman Vincent Luis grabbing second place and Belgian Jelle Geens in third, only a week after stepping on top of the WTS podium for the first time on his life.
Richard Varga (SVK) returned after an injury that has kept him out of the WTS for a while to be the first out of the water. But close behind him was one of the local heroes in Hamburg, Jonas Schomburg (GER), proving once more that he is among the fastest swimmers in the field.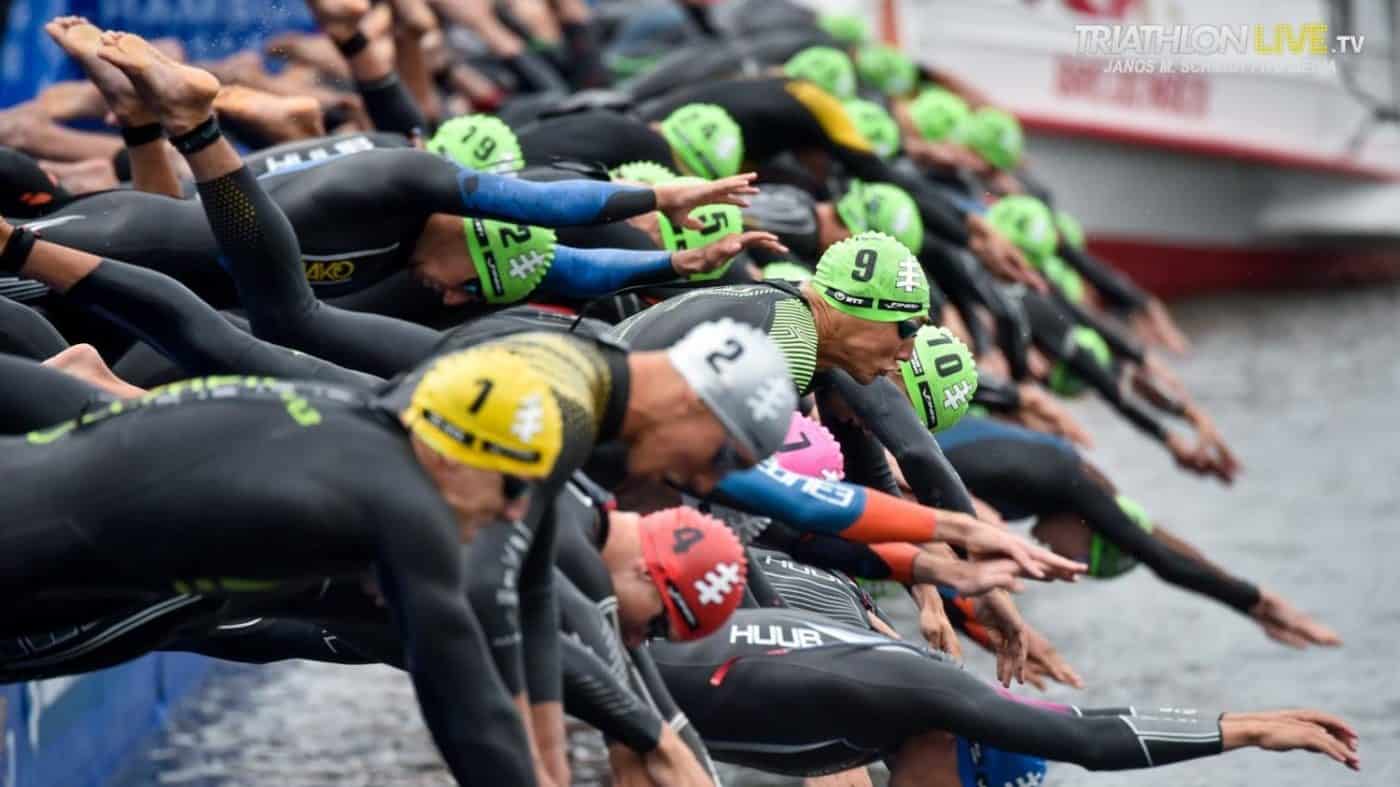 With all the big guns like Mario Mola (ESP), Jonathan Brownlee (GBR), Vincent Luis, Henri Schoeman (RSA) and Javier Gomez Noya (ESP) close behind, it was within just a matter of seconds that all the athletes formed a massive train to get out of transition almost all together, to then start the ride on the slippery streets of Hamburg, after the heavy rain that appeared at the end of the women's race.
With all the athletes in a large group, most of them were trying to stay in the front of the train to try to avoid crashes in the back, but half way through the 20km bike ride, and while Andreas Schilling was leading the pack, he slipped and crashed in a 180 degree turn, causing chaos among the peloton. Richard Murray (RSA), Bence Bicsak (HUN), Fernando Alarza (ESP), Henri Schoeman (RSA), Jonny Brownlee (GBR), Tom Bishop (GBR) and Martin Van Riel (BEL), among others, ended up on the floor, some trying to get back on the bike, some clearly not able to.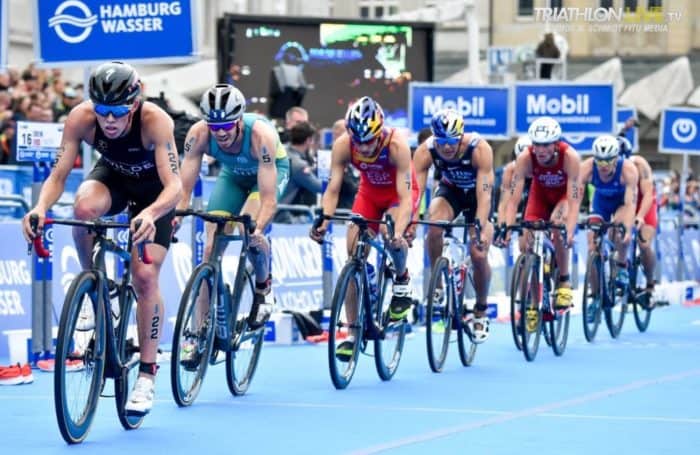 After the massive crash, it was time for the remaining athletes to take control of the lead group and try to slow down the pace, with Mola, Gomez Noya, Birtwhistle, Ryan Sissons (NZL) and Hayden Wilde (NZL) trying to command the group and stretch it to make the ride safer. Behind them, Alarza got back on his bike, as also did Alex Yee (GBR), Van Riel and Murray, but they were now a long way down the field and out of contention.
The lead group made it to the second transition safely, and it was then that Jonas Schomburg decided to go early and was the first on his running shoes. Vincent Luis, Mario Mola, Javier Gomez, Jake Birtwhistle, Leo Bergere (FRA), Jelle Geens, Ryan Sissons and Hayden Wilde (NZL) started the chase. Jelle Geens was once again form that he showed in Montreal last weekend.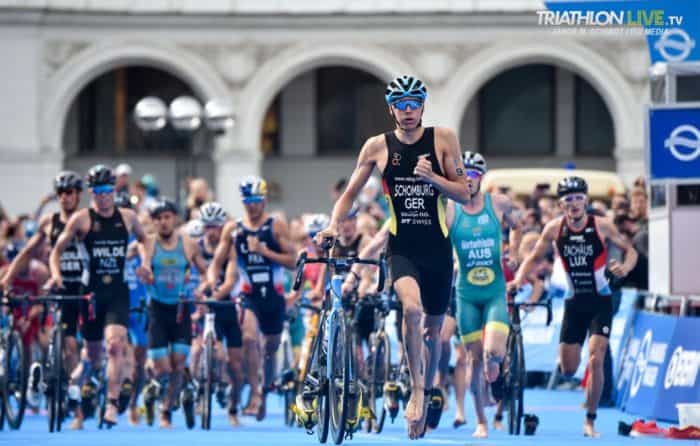 The group of leading six added an extra gear and imposed a pace really hard to follow, looking at each other and trying to figure out who was going to go first. With just over 500m remaining, Luis attacked, but that proved to be a little too soon. Birtwhistle was right behind, went with him and then sprinted to claim Gold in Hamburg, his second victory of the season after the victory at WTS Leeds.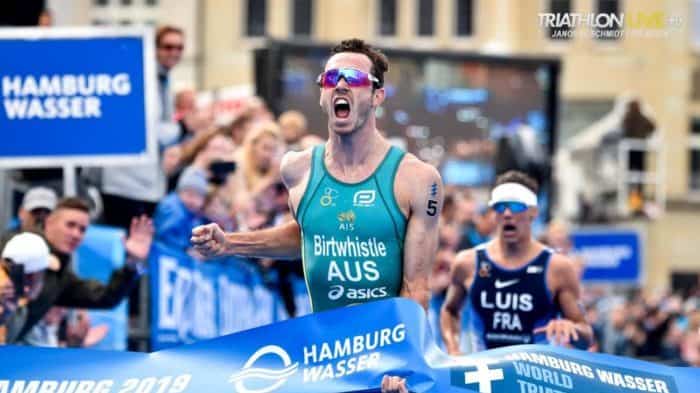 Luis managed to cross the line in second, same place as he did last year, with Geens outbeating again Mario Mola in the last meters to claim the third spot of the podium over the Spaniard. Behind them, Leo Bergere got another top 5 place that puts him as the second frenchman in the rankings at the moment, while Hayden Wilde finished in 6th place, the best of his WTS career so far.
"Today was one of these special races", said Aussie Birtwhistle. "Once we got onto the run, it was almost like a training session for us guys out the front there. I am really happy to come away with the win today, I thought I had a little bit left in the tank when Vincent went past and I just had to stick with him for the last 100m or so and thankfully I just managed to get on top of him", he explained. For the Australian this second win is "a huge confidence boost, I've been able to back up the win in Leeds again this weekend so I guess hopefully that means I will be here to stay and hopefully to the Olympics and I plan to do something similar there".
After the race, Vincent Luis said: "I knew coming into the last kilometre with Jelle, Mario and Jake it was going to be an epic finish. I train with these guys every day so I know their weakness, and they don't have a lot. I know Jake has no weakness. So I just knew I had to go all out, try to play my card but today it wasn't enough, he was stronger than me and kudos to him, he wins again and onto the next one"..
"If you told me 10-days ago that I would do a first and a third in WTS I would say you're crazy. I knew I could do it though, because I am training very well. I knew it was possible but to do it two weeks in a row is a good feeling", said Geens.
The World Series rankings are at the moment closer than ever, with Vincent Luis back on the commanding spot, and with Javier Gomez climbing another step to be in the second place, while another Spaniard, Fernando Alarza, is now in third place. Behind them, Jake Birtwhistle has escalated to the fourth place and Mario Mola in 5th, which makes three Spaniards in the top five spots.
Hamburg Wasser ITU World Triathlon Hamburg – Saturday 6th July 2019
750m / 20km / 5km
1st – Jacob Birtwhistle (AUS) – 55:09
2nd – Vincent Luis (FRA) – 55:10
3rd – Jelle Geens (BEL) – 55:13
4th – Mario Mola (ESP) – 55:15
5th – Leo Bergere (FRA) – 55:17
6th – Hayden Wilde (NZL) – 55:20
7th – Justus Nieschlag (GER) – 55:25
8th – Javier Gomez (ESP) – 55:34
9th – Marten Van Riel (BEL) – 55:41
10th – Ryan Sissons (NZL) – 55:45
38th – Thomas Bishop (GBR) – 57:02
43rd – Alex Yee (GBR) – 57:25
DNF – Jonathan Brownlee (GBR)