Alex Yee won a thrilling three stage battle at WTCS Montreal, finding his 'flow state' on the final run to pass Hayden Wilde. Clearly fired up after a crash ended his race in Leeds, Yee said he struggled in qualification yesterday and through both rounds before reaching the final.
The races were fast, furious, and full of incident. Yee's win added to Georgia Taylor Brown's earlier victory in the women's race, making it a day to celebrate for the Great Britain team – as was the case last month in Yokohama.
Race 1 (30 started, 20 to qualify)
A dramatic first round saw crashes, surprise eliminations and a calamitous transition from Alex Yee.
Thirty men started with the aim of finishing 20th or better to progress to the next round. Takumi Hojo (JPN) was first to exit the choppy Alexandra Basin 300m swim but there was no separating the athletes in T1.
The short bike leg was fast and furious with a crash eliminating Antonio Serrat Seoane of Spain. Hayden Wilde (NZL) was always near the front, probably keen to avoid any incidents following the crash that he admitted contributing to on his way to winning in Leeds.
Wilde was first back into T2 and quickly on to the run, fairing much better than Alex Yee, who fumbled with his kit and exited close to last. In the rush to get through transition, Jacob Birtwhistle picked up a 10 second time penalty, adding to Australian woes after his team mate, Callum McCusky, was disqualified for having cut short the swim course.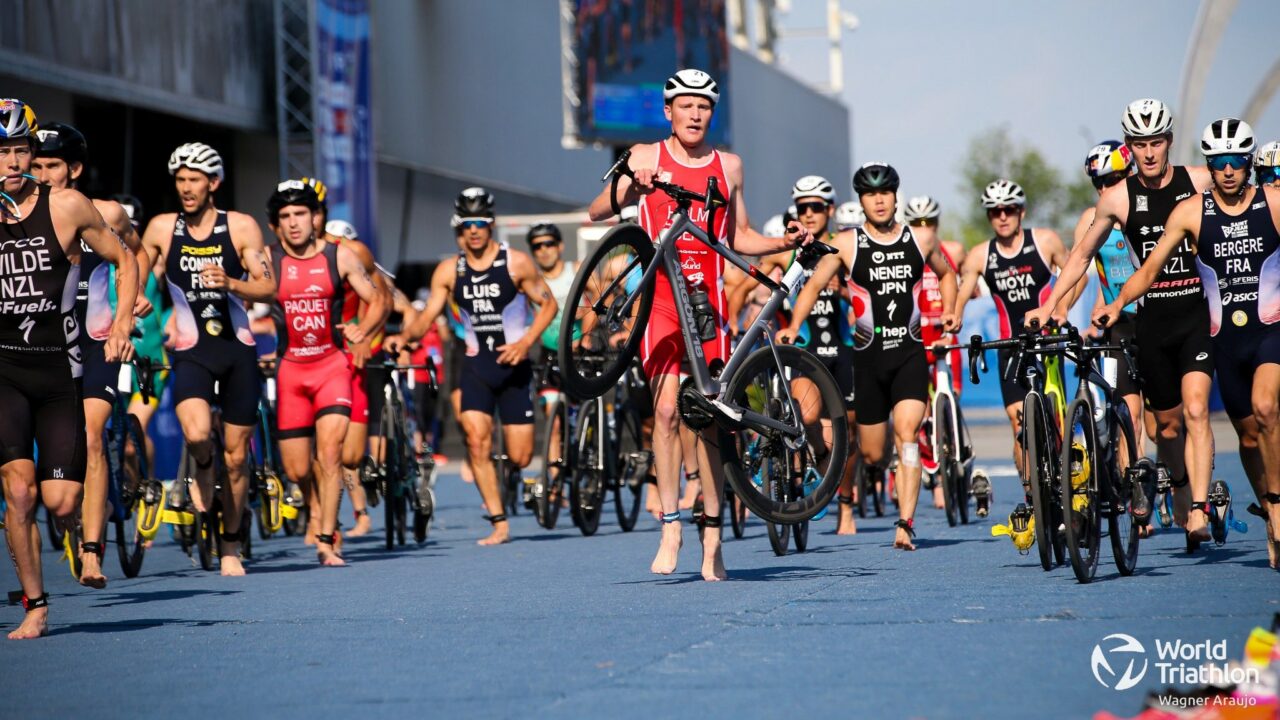 The drama continued when French front runner, Dorian Coninx, pulled up with an injury. With so much going on, Yee managed to sneak up into fourth place and secure his place in Round 2.
Jelle Geens (BEL) took the win in 22:08, marginally ahead of Manoel Messias (BRA) and Wilde in second and third. Genis Grau (ESP) and Canadian golden boy, Tyler Mislawchuk, were surprisingly eliminated after finishing 1st and 2nd at the World Triathlon Cup in Huatulco, Mexico last weekend.
Race 2 (20 started, 10 to qualify for final)
With ten athletes eliminated, Miguel Hidalgo (BRA) led out the swim first. Yee struggled and had to work hard on the bike to catch the early leaders, who had set off at an intense pace.
However, their initial burst of energy gave way to some tentative riding and the favourites were all back together by the time they reached T2. Manoel Messias (BRA) was first off the bike. Yee was back in 19th, with only the top ten to progress to the final.
Messias eventually finished second to Wilde, who won in 21:57. Yee was reliable as ever on the run, moving up to third place and crossing the line at a gentle jog pace.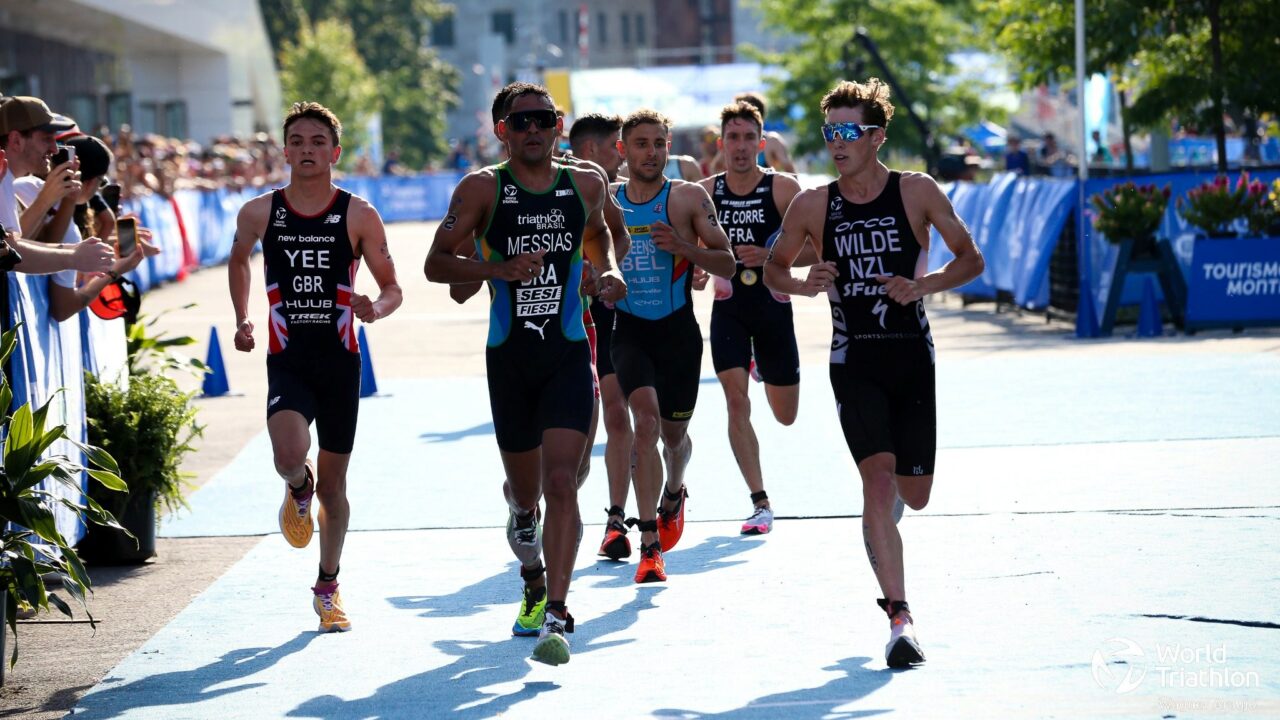 Richard Murray was the highest profile athlete to be eliminated, commenting, "This racing is so hard." Still, it was another step forward in his return from heart surgery.
Race 3 – The Final
Vincent Luis was transformed from the nearly eliminated runner in round two to the fastest swimmer in the final. Along with Léo Bergere and Pierre Le Corre, the French were in control heading into T1.
The big news on the first of three short bike laps was that Wilde suffered a mechanical problem and dropped back significantly. Barely moving, he managed to put his chain back in position and, fortunately for him, the group hadn't taken off without him.
Perhaps they regretted that when he took the lead early on the run and kept running further away. Only Yee had the speed to catch him, stalk him and eventually pass him. In a repeat of the Yokohama sprint finish, Yee won and was clearly delighted.
Yee said: "That one meant a lot. I came into this race more fired up than I ever have and I think that went against me in the first three races, and in this last one I just stripped it back and said 'I'm going to have fun and do my best'.
"On that last run I was in the race the whole time and I just found a flow state and in that last 100m I felt amazing. It's great to be back racing with Hayden and Leo, these guys are pushing me to my limits."
Wilde was happy with second and thanked the field for not capitalizing on his mechanical issue. In finishing third Bergere, retained his position at the top of the Series rankings.
WTCS Montreal 2022 Results
Saturday June 25 2022 – ELITE MEN
300m / 7.2k / 2k
Alex Yee (GBR) – 21:55
Hayden Wilde (NZL) – 21:58
Léo Bergere (FRA) – 21:59
Jelle Geens (BEL) – 22:02
Manoel Messias (BRA) – 22:05
Vincent Luis (FRA) – 22:08
Pierre Le Corre (FRA) – 22:11
Jawad Abdelmoula (MAR) – 22:13
Marten Van Riel (BEL)- 22:41
Joao Silva (POR)- 24:07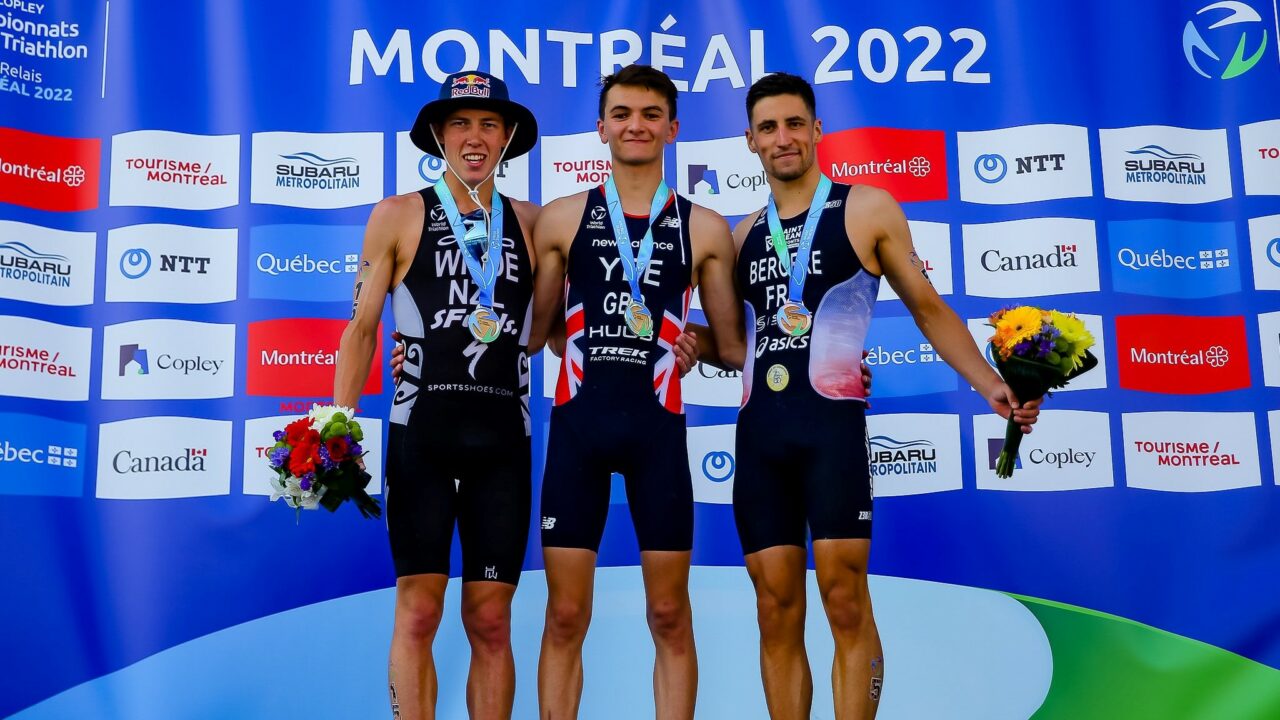 WTCS Rankings Standings after Montreal
Léo Bergere (FRA) – 3493
Hayden Wilde (NZL) – 3429
Pierre Le Corre (FRA) – 2541
Antonio Serrat Seoane (ESP) – 2459
Jelle Geens (BEL) – 2370