The Nevis Triathlon – Revisited
With yesterday (Saturday) being race day at the 2018 Nevis Triathlon (www.triathlonnevis.com), this week we've delved into the archives and been revisiting our own Nevis experience – courtesy of Paul Shanley – from his trip to the stunning Caribbean island four years ago. We hope you've enjoyed the series, and if nothing else, learned something about the island of Nevis and its people.
This is the final part of that travelogue – race day. How would island tours, mountain climbing and plenty of cocktails prepare him for swim, bike and run, and how would he sum up his experience? Rather well on bouth counts!
Full links to Nevis Triathlon 2014 coverage
---
Postcard from Nevis – Race Day
With another early start and having learned my lesson yesterday, I had asked the Montpelier kitchen to prepare me a breakfast to take away before the race. The triathlon was due to start at 8am so I had plenty of time to eat and get myself down to the start area on Oualie beach. The morning started with a downpour, but I knew this wouldn't last long and the heat would rise pretty quickly to clear the puddles before the race.
Arriving at Oualie beach, Winston had everything set up and race registration was at his bike shop (shack…). I quickly picked up that most people were looking to race the Sprint distance race, so my dream of making a triathlon race podium might be on if I did the Olympic distance race! The winners of the Always Aim High "S races" (Sandman, Slateman & Snowman triathlons) were racing. Ewan Brown was doing the Olympic distance race and due to an injury, Suzie Richards was looking to do the swim leg in a relay team. The atmosphere was lovely and laid back and I have to say its the most relaxed I have been before a race.
The time was ticking on, getting close to 8am and myself and a couple of fellow competitors were nowhere near ready to race, but no one was panicking as Winston would only start the race when everyone was ready to go. I can only imagine this is what triathlon was like back in the early days when everyone knew each other, and as well as racing, the idea was for everyone to have a good time. In such a tropical setting I half imagined that I was at an early Ironman Hawaii.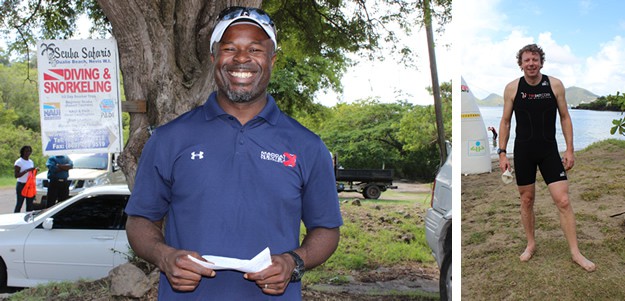 The race briefing took place on the outside of transition as this just happened to be where Winston was standing when he decided it was time to do the briefing. The race was much more low key than the previous years when it was part of the TriStar series and had triathlon legend Chris McCormack racing. The plan was to grow the race and make it a major player in the worldwide triathlon circuit, but unfortunately TriStar experienced some growing pains and is now no longer. Winston was left with plenty of TriStar branding (including a big inflatable start banner), and is still planning to grow the race. Online retailer ChainReaction (www.chainreactioncycles.com) has been a supporter of the race and Grant Plant from CRC was able to come out to not only brand up the race, but also to bring a bike that one lucky winner won from a competition promoted worldwide.

The competitors were a mixture of locals, tourists and a number of overseas workers based in Nevis or St Kitts (Nevis has a large veterinary school and a number of competitors were from there).
We were soon on the beach under the start gantry waiting for Winston to give the signal to get going. The swim was a 750m lap (twice for the Olympic distance race), with a standing beach start. I did take the opportunity to practice a beach start while swimming over the last few days and while I can't say I am great at it, it does make you feel like a professional triathlete.
The start was laid back, but once we were under way it was race conditions and I knew Ewan would be looking to win it. For the first 50 meters I felt I was in the mix; Jane Hansom was racing the Olympic distance race and I was aware she was swimming near me. Then, just as quick as the race started, they all left me… I thought I was doing well swimming with them but I think they were just all humouring me and had then put the hammer down and watched me fall off the back!
The water in Nevis is what you would expect from a Caribbean island, warm, clear and full of life. Swimming without a wetsuit and looking down into the clear waters I spent the first lap in disbelief that I was actually doing a triathlon in November and how lucky my life was. Exiting the sea to run down the beach and start my second lap I realised I really was in paradise and couldn't wait to start the next 750m.
On the second lap I was just getting into my rhythm when I noticed a turtle swimming directly below – about two meteres away. The turtle seemed to be following the same line I was taking and I was up above him for what felt like a couple of minutes. It truly was a magical experience and although I had started my Garmin before the race, one of the last things on my mind at this point was how fast I was going or where I was in the race. This race was all about the experience and the opportunity to race in paradise. Exiting the water I had the biggest smile of my face and a number of locals and guests were there giving me a cheer on. As most people were doing the Sprint distance race transition was looking fairly empty when I arrived, but I didn't mind.
This was probably one of my slower transitions as I spent a bit too long messing about with my socks (I so should have not raced with socks…), but soon I was heading out on the road with my loan bike. I had borrowed a Trek 2000 from Winston but he had to take it back for another event on the Friday and I ended up with another bike – I couldn't even tell you the name and I had just moved the saddle to what I thought would be ok and off I went. As much as you could take your bike, there is something exciting about using different equipment. I have been to Ironman events around the world and every now and then someones bike gets lost on the flight and they have to borrow one – and most just get on with it. I think being able to stay calm and just adapt to the situation can make you a good racer. The plan often changes and being able to adjust and remain mentally strong can be vital. I told myself a bike is a bike and for what I was doing, this bike would be fine and it was.
The bike course was four laps on the main road leading out past the airport, the Nisbet Plantation Inn and turn around near the St James Anglican Church. The road wasn't closed to traffic but it felt like it was as there was very little traffic around and what was on the road couldn't be any more accommodating for the race. Once I was into my groove on the bike I started to use the lap course to work out where I was and what was happening in the race. Ewan was flying as I expected, but still took the time to say hello as we passed. From my ride around the island early in the week I knew the roads are not super smooth but still fun to ride on and you just have to keep your eyes open for any big stones or donkeys as you go around.
The sun was well up in the sky at this point and it was getting pretty hot, but the course had plenty of aid stations with ice cold drinks and happy friendly volunteers. Again, a lot of my ride was spent enjoying the scenery, saying hello to fellow competitors and waving at the locals going about their normal day. As it was hot my plan was to just maintain a consistent speed on the bike and keep the pedals turning. Just before the end of each lap there was a fairly significant hill which you went over and down to transition and then out on the lap again back up and down it again. The first part of the bike was also the run course, so I knew that this hill would be fun on the run so I was trying to keep as much energy as possible for later.
Heading back into transition from the bike I had already seen Ewan flying along the run course so I knew he would soon be finishing and probably showered and changed before I would cross the finish line. On the bike you do feel a breeze so it was only once I was off the bike I got to appreciate how hot it was. I headed off on the run feeling like I was running on the surface of the sun! I spent the first part dreaming of an aid station and cold water. You know it's hot when you pour ice cold water over your head and you don't even feel it. Needless to say my run wasn't the strongest run I have ever done and it was all about trying to reduce the suffering. I did play a game where I imagined myself running in the Ironman World Championship about to take the win if I could just keep going in the heat. I suspect I didn't look like I could win anything to anyone watching, but it was fun in my head as the sun shone down.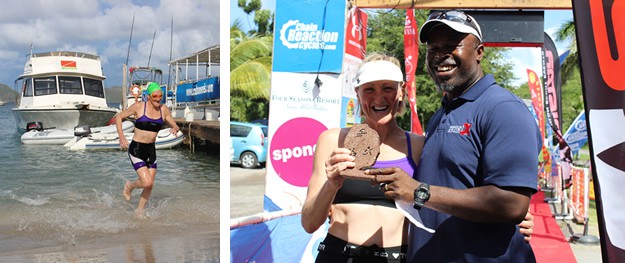 A two lap run course was going to be bearable I thought but then the games started – on the bike I was aware of an American girl who I was sure was doing the Olympic distance race, and getting off the bike she started running really well. Now, I have no problem with being "chicked" as its known – I find it surprising that any male triathletes do as its pretty much a regular occurrence at most events – this was more about just holding my position and I was determined to try and not let her pass. This was all good on the first lap of the run but by lap two I was broken. Mentally she had won. I kept telling myself she was running well and with the heat I had accepted that she would be running past me.
On the last turn around I grabbed a water and the helpers on the aid station joked that she was coming to get me. I headed back to the finish happy with my days racing and then it happened – I turned a corner and expected to see her and she wasn't there. This wasn't in the plan. I found myself getting mad with her "why hasn't she caught me", "what is she playing at" and then had a stretch of road with the dilemma of do I try again to run and see if I could hold her off. It was such strange experience but I was given another lifeline to keep running and see if I get to the finish before her.
In this kind of situation I was reminded that it's not about the person who runs the fastest, it's about who slows down the least and it took as much energy as I could to just keep going and try and stay cool. The majority of the field had already finished and were enjoying a beer and gave me a good cheer as I headed down the finish chute. Another triathlon done in 2014, and this had to be favourite by a long way. I did manage to keep the American at bay by a few minutes, although I dont want to tell you how far behind Ewan I was!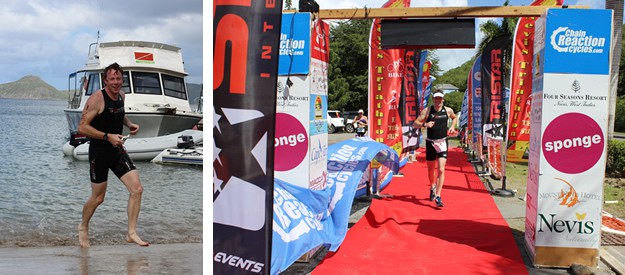 All-in-all the Nevis Triathlon was an amazing experience. This wasn't just about doing a triathlon as more about experiencing a triathlon. As if the race wasn't good enough, we then had prize giving and it turns out a I got second place! My first ever podium in a triathlon. Ok, yes, I was a good bit (!) behind Ewan and not many people did the Olympic distance race, but a podium is a podium and as well as my medal made from local stone I also got a trophy made from the local stone and in the shape of the island. A nicer looking memento of my stay would be hard to find. I do like to think it was a close race with Ewan, we were shoulder-to-shoulder at the start line and I could see his feet in the swim. For the first 50 meters…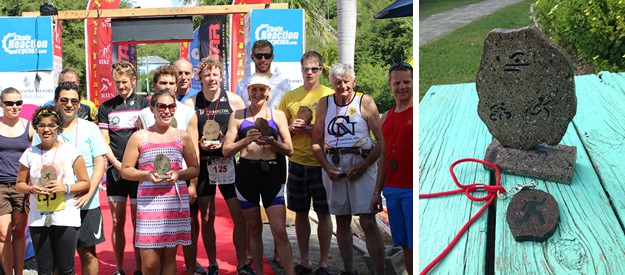 One performance that does deserve a mention was Dr Gordon Avery, at 78 years old the oldest competitor in the event.  Dr Avery came to the Caribbean in 1998 to become the Chief Medical Officer in Montserrat. His work, in particular into Cancer, led him to St Kitts and Nevis and it was on the island of Nevis he entered his first triathlon. We spoke to Dr Avery at the finish line where you can see the wind was starting to pick up:
Off camera, I spoke with Dr Avery who has a real passion for triathlon which is impressive as he only took up the sport when he was 71 years old! Mrs Avery also gets involved and looked after race day registration for the race. You can find out more about his career HERE.

Relaxing on the beach afterwards and thinking back, I can't promote Nevis and this event enough. Nevis has all the elements to host one of the world's best triathlons. From what I have read I can imagine it feels like Kona in the early days; a race that gives you a unique natural experience of the island and the culture. I can envisage a long distance race here that attracts the best athletes from around the world and I am sure that was TriStar's vision when they originally got involved with the race.
The question that I then ask is if you did create that big race, does that mean you lose the natural and unique experience this event provides? This is a problem that Nevis has faced for a long time and not just in the triathlon – how do you grow and improve the island without spoiling it and losing that natural feel? Nevis appears to have handled this dilemma till now very well. The island is a great mix of the modern and the traditional. The people of Nevis are very proud and very friendly. The island has been commercialised to some extent, but not overly (none of the food chains are allowed on the island, you have to go to St Kitts for your KFC…). Some people have lots of things and others very little, but they all seem happy and I assume that is because they all have this wonderful island to live on.
As I jumped aboard my ferry back to St Kitts and we set off across the sea – but this time in the daylight – looking back at the island and Mount Nevis with the clouds above it, the place lived up to all my expectations of adventure. They say you are not a stranger for long on the island and I left feeling I had made lots of friends and a real connection with Nevis. That, in the space of four days, is a pretty impressive feeling to be leaving with. The tourist board promotes the island with the line Nevis… Naturally. I would add one word to the Nevis tag line :
Nevis … Naturally AMAZING.
The place is pretty special and I do hope it stays that way.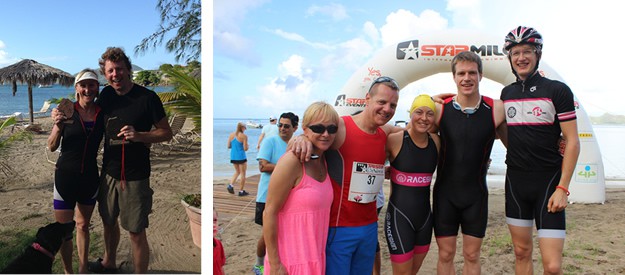 I'd like to say thanks to the tourist board of Nevis and all the wonderful people I met on my stay. I also want to thank Jane Hansom, Chain Reaction Cycles, Always Aim High Events plus Ewan, Suzie and their partners. A particular mention to Ewan for finishing so far ahead of me and allowing me to keep my feet on the ground and not start to think I am any good at this triathlon lark!
You can find out more about the event on the event website (www.triathlonnevis.com), and follow them on Facebook www.facebook.com/NevisTriathlon
For more details on Nevis visit www.nevisisland.com
You can also view nice pictures from the event on the Chain Reaction Facebook page HERE.
Results for Nevis Triathlon 2014
Olympic Male
Ewan Brown 2:21:27
Paul Shanley 3:20:32
Olympic Female
Jane Hansom 2:44:56
Stephanie Snyder 3:24:05
Sprint Male
Matt Wheaton 1:16:53
Ninian Blake 1:23:27
Nat Wright 1:24:47
Sprint Female
Sarah Petre Mears 1:31:20
Valarie Gregoire 1:37:43
Karen Nann 1:38:30
Relays
Always Aim High 1:16:53
El Trio 1:47:41
Nevis Nice 1:57:52
Full links to Nevis Triathlon 2014 coverage