Super League Triathlon is back
Watch the fast-paced racing from Jersey on Saturday and Sunday
Vincent Luis (FRA) and Katie Zaferes (USA) both won Super League Jersey 2018. They both went on to win the 2018/19 Championship season of Super League Triathlon – and in August, both collected their first ITU Triathlon World Championship titles in Lausanne.
Both are back in St. Helier, Jersey this weekend for the third edition of the event, in great quality fields which include Mario Mola, Kristian Blummenfelt, Jonathan Brownlee, Gustav Iden, Cassandre Beaugrand, Vicky Holland, Taylor Spivey and Georgia Taylor-Brown, just to name a few. And you can watch all the action live.
SATURDAY
Semi-Finals in 'Shortened Enduro' format: swim-bike-run x2 continuous. Top five athletes from each semi-final, plus the next five fastest from across both groups, will progress to Sunday's final.
SUNDAY
The finals will take place in 'Enduro' format:swim-bike-run x3 continuous.
The course will be 300m swim / 4km (3-laps) bike / 1.6km (2-laps) run.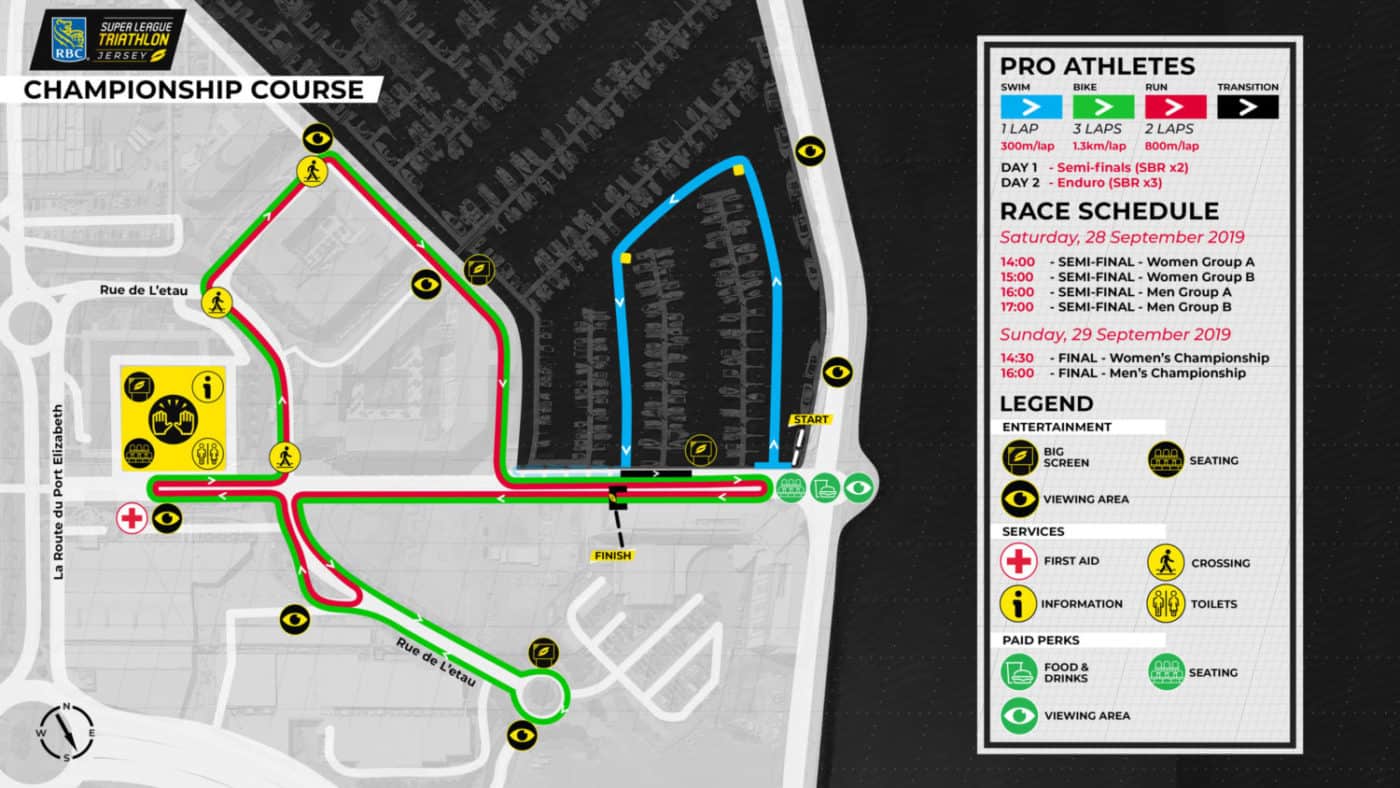 HOW TO WATCH SUPER LEAGUE TRIATHLON
There are several avenues to watch the events live on both Saturday and Sunday.
Below are the start times for the four semi-finals on Saturday 28th September.
The finals will be on Sunday 29th September at 14:00 (Women) and 16:00 (Men).
WOMEN'S STARTING POSITIONS:
GROUP A – 14:00 START TIME
1. Cassandre Beaugrand – (FRA) – #03
2. Taylor Spivey – (USA) – #04
3. Yuko Takahashi – (JPN) – #08
4. Felicity Sheedy-Ryan – (AUS) – #13
5. Claudie Simard – (CAN) – #18
6. Emilie Morier – (FRA) – #53
7. Annamaria Mazzetti – (ITA) – #55
8. Vittoria Lopes – (BRA) – #43
9. Ilaria Zane – (ITA) – #58
10. Vicky Holland – (GBR) – #34
11. Kerry Morris – (AUS) – #12
12. Sandra Dodet – (FRA) – #11
13. Katie Zaferes – (USA) – #01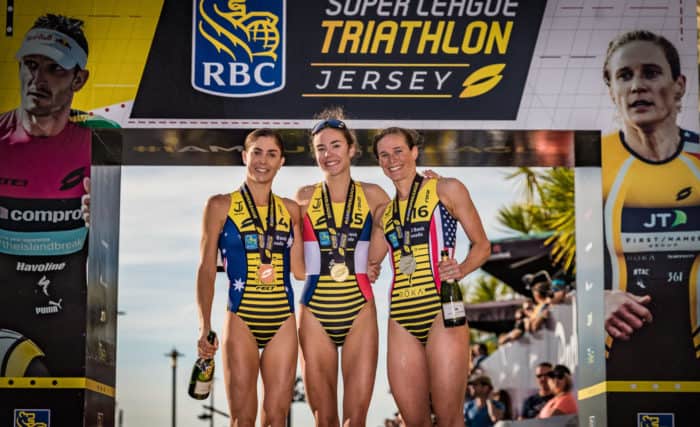 GROUP B – 15:00 START TIME
1. Rachel Klamer – (NED) – #02
2. Summer Rappaport – (USA) – #06
3. Emma Jeffcoat – (AUS) – #09
4. Léonie Périault – (FRA) – #10
5. Zsanett Bragmayer – (HUN) – #15
6. Megan Foley – (USA) – #19
7. Carolina Routier – (ESP) – #37
8. Luisa Baptista – (BRA) – #42
9. Sophie Coldwell – (GBR) – #32
10. Alice Betto – (ITA) – #44
11. Georgia Taylor-Brown – (GBR) – #30
12. Olivia Mathias – (GBR) – #14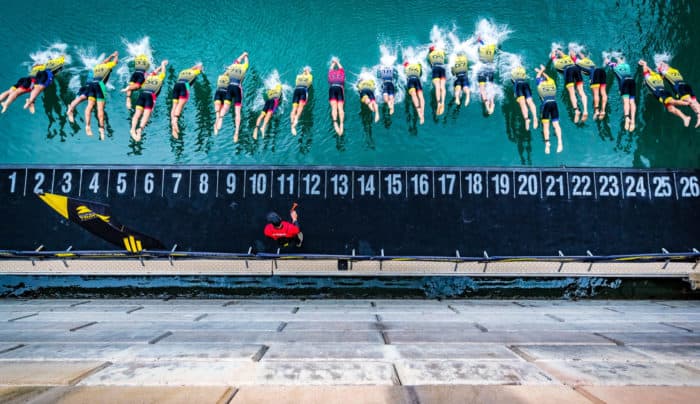 MEN'S STARTING POSITIONS:
GROUP A – 16:00 START TIME
1. Vincent Luis – (FRA) – #01
2. Tyler Mislawchuk – (CAN) – #04
3. Léo Bergere – (FRA) – #06
4. Matthew Sharpe – (CAN) – #10
5. Kristian Blummenfelt – (NOR) – #32
6. Igor Polyanskiy – (RUS) – #14
7. Mario Mola – (ESP) – #38
8. Sylvain Fridelance – (SUI) – #47
9. Pierre Le Corre – (FRA) – #11
10. Oliver Turner – (JEY) – #51
11. Michael Arishita – (USA) – #19
12. Joshua Lewis – (GGY) – #52
13. Marten Van Riel – (BEL) – #30
14. Vasco Vilaca – (POR) – #46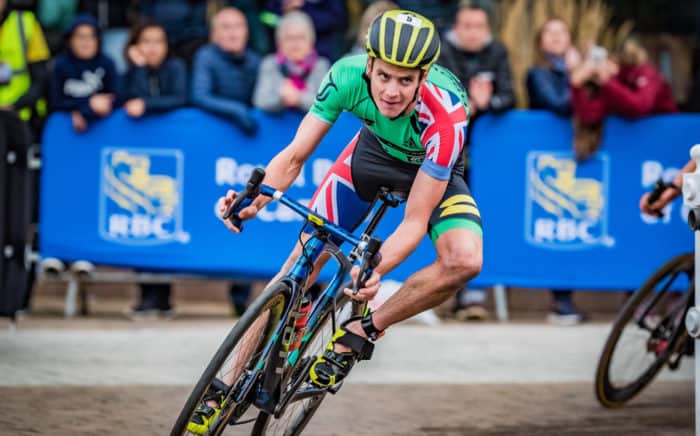 GROUP B – 17:00 START TIME
1. Jonathan Brownlee – (GBR) – #03
2. Ben Kanute – (USA) – #07
3. Hayden Wilde – (NZL) – #08
4. Aurélien Raphaël – (FRA) – #12
5. Jonas Schomburg – (GER) – #09
6. Gustav Iden – (NOR) – #33
7. Matthew Hauser – (AUS) – #31
8. Dorian Coninx – (FRA) – #54
9. Constantine Doherty – (IRL) – #50
10. Aaron Royle – (AUS) – #55
11. Aiden Longcroft-Harris – (CAN) – #18
12. Christopher Perham – (GBR) – #15
13. Anthony Pujades – (FRA) – #13