Sub7Sub8 created a huge buzz around the world of professional triathlon on Sunday, and the data provided a fascinating subplot to an epic day in Germany.
We had two epic races with all four athletes producing performances for the ages as this much-hyped event delivered in a big way.
Kat Matthews clocked an eye-popping 7:31:54 to finally overcome triathlon great Nicola Spirig after a battle royale, while Kristian Blummenfelt had bite as well as bark to come home in 6:44:25 ahead of the gallant Joe Skipper.
But once the dust had settled, what did the numbers tell us? Who better to answer that question than Graeme Acheson of Sports4Cast, who is data expert for both Sub7Sub8 and Super League Triathlon.
He joined us to provide an in-depth review on both races, as well as the performances of all four of those superstar triathletes.
The women's race was extremely exciting, amazing given there were only two athletes in the field, racing for longer than seven-and-a-half hours. However, with four passes in total (two on the swim and two on the run) it genuinely kept people guessing until close to the end. In the end Kat took a win which was built on phenomenal consistency.
Nicola chased down a near three-and-a-half minute deficit on the run with some monotonously fast splits of her own, consistently churning out the first 10 laps at 3:48/km pace compared to Kat's 3:58.
When Nicola went past at 33km, it looked like that was the race done and dusted. Kat was hot, she'd pulled her trisuit down to her waist in an effort to cool off, whilst Nicola had erased the deficit and looked impassive behind her sunglasses and cap.
Very soon though it was Nicola now finding the pace too hot to maintain, and she slowed shortly after passing Kat – 'bonking' – and had to send her pacers in to fetch some flat coke for a sugar burst.
The really impressive thing the data shows us is that Kat didn't panic and try to chase Nicola down after being passed. Her pace for that lap didn't really deviate – she clearly backed her tactics and pacing and was prepared to stick to it and trust that Nicola would come back to her, which she did shortly thereafter.
A big part of iron distance racing is the mental and nutritional preparation, and while Nicola clearly has the fitness, perhaps she was lacking some of the experience Kat has. Spirig, remember, had only ever completed one full-distance race before – in Cozumel way back in 2014. Kat trusted her experience, got the pacing and nutrition right, executed her race plan and took the win. Fantastic work from her and her team.
What a swansong for Spirig
Nicola Spirig was the underdog (in some eyes perhaps) given her injuries earlier in the year and her relative experience over the iron distance. However, she produced the goods on the day – as she has done on so many occasions in the past – and gave a final performance which did justice to her glittering career.
If their targeted times were to be believed, this was not going to be a close race. Kat's 7:31 far outstripped Nicola's 7:55 and given Nicola's aforementioned injuries you had to be concerned this might be a rout. Nicola though had more in the tank than she let on and, with her team of pacers she produced a fantastic bike split – 3:53 compared to her target time of 4:19 – leaving her only three-and-a-half minutes down heading to a thrilling marathon.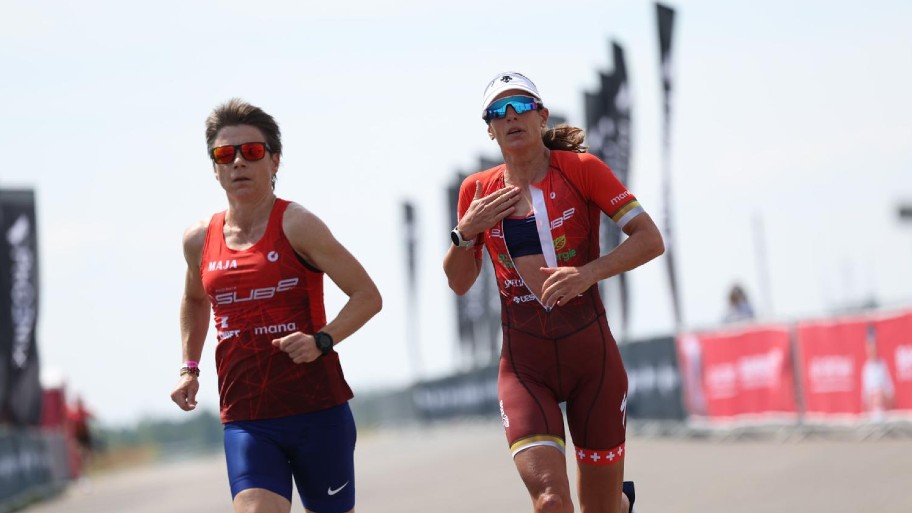 It's unclear if Spirig just threw out a very conservative bike target and knew she would go faster on the day, but either way she finished nearly 26 minutes up on target, which was just under 20km in terms of distance. She actually got faster and faster as the bike leg progressed, with her first bike lap on the Dekra Lausitzring completed at an average pace of 46.6kph. She then built into the race and eventually completed the last lap at her fastest average pace of 48.6kph. It was a masterclass in bike pacing from Team Spirig.
It was also notable how close she was to her targeted run time of 2:45 (2:45:07) despite the fact she 'bonked' quite badly on the run. It won't have been the way she wanted to run that time – positive splits are never the ideal way to run a marathon – but it's still impressively close! She split (roughly) 1:20 / 1:25 for both halves of her marathon.
Kat the model of consistency
Kat's story was one of consistency – her pacing across all three disciplines was nothing short of amazing. With her pace rarely deviating by more than 3sec/100m in the swim, she completed the bike with little more than 2.5kph variation and consistently stayed within 5 sec/km of her run pace. She clearly had a plan and she was sticking to it in classic, military style.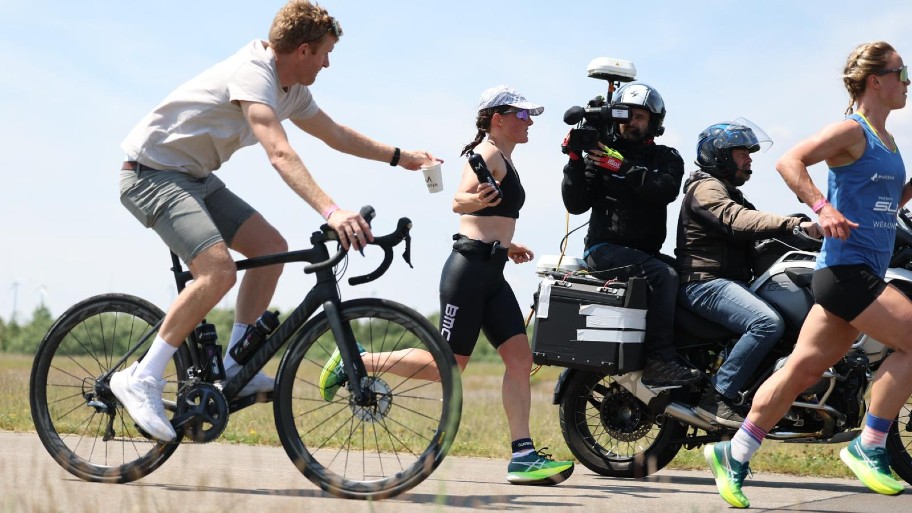 This is also demonstrated in her target v actual times – she aimed for 7:31 and finished in 7:31:54, less than a minute outside her target. Given that there were some reasonable fluctuations in each of the disciplines relative to her targets, it's just possible of course that this was more luck than design! Either way, it all balanced out in the end.
This was a phenomenal performance to witness, and an extremely well-disciplined effort which saw her beat Nicola and become the first women to dip under 8 hours for the iron distance.
The men's race was largely about the bike leg. We knew Kristian had Joe on the swim and the run and we suspected Joe's bike team were a bit better on two wheels. That is largely the way it played out.
But somehow, it was still amazing to see it unfold first-hand, and compelling viewing right until the end. There was a moment early on the run where it looked like Joe might have the pace to challenge 'Big Blu', but once both settled down it became clear Kristian would eventually pass him and take the win, unless he ran out of steam like Nicola.
However, with Olav Aleksander Bu and the new 'Secret Squirrel Squad' behind the scenes, that was unlikely to happen – Kristian just doesn't seem to blow up does he? He ground out the splits, passed Joe (with a retaliatory bark) and carried on to take the win and crown a ground-breaking day.
Were Blu's clues for real?
Kristian's race was different to his planned one if you check those pre-event targets, although perhaps his private plan was different to his public one!
I like that he set his target time to be exactly 7 hours, but I think Olav and the team knew he would go faster. However, targeting 45 minutes on the swim and 2:25 for the marathon was perhaps pushing the envelope a little. By taking 20 minutes off his target bike time though, he put enough time in the bank to make up for those missed targets in the water and on the marathon.
I'd be really interested to know his thoughts about that incredible bike leg – it must have shaken him just a little bit to get passed by Joe and his team like that.
Imagine the scene – he's left his opponent dead in the water, literally taken five minutes out of him on the swim alone. He's now cruising along at 53kph behind a professional bike team and he has the third fastest run time in iron distance history waiting in his locker. He is Kristian Blummenfelt: Olympic Champion; IRONMAN World Champion; World Record Holder. He must have been feeling bulletproof. Nobody could possibly touch him, right?
Wrong. Unbelievably, impossibly, he's being caught. Slowly but surely, lap by lap, he's inexorably being reeled in by a superhumanly well-gelled bike team cruising at the even faster pace of 55kph. And around halfway through the bike leg the unthinkable happens – he is passed, his advantage already completely erased. And, to add insult to injury his opponent barks at him as he goes past, barely out of breath.
What must Blummenfelt have been thinking right then?! Surely he must have had a moment where he just wondered what was happening, and if he'd have the legs to catch Skipper on the run.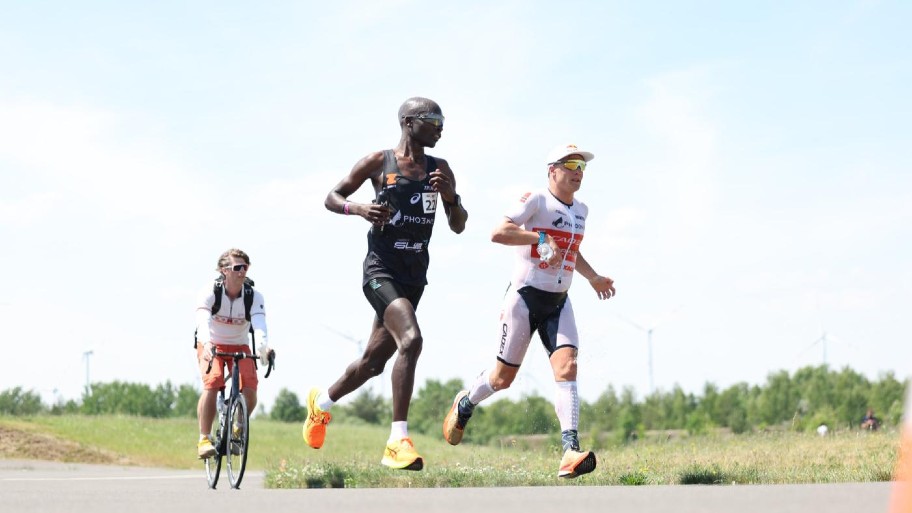 It soon became clear though that Joe was probably not going to eke out a big enough advantage on the bike to truly worry Kristian. I thought Blummenfelt could run around 5 minutes out of Joe, perhaps a little more if required, so only two-and-a-half minutes at the end of the bike likely left the Norwegian feeling quietly confident.
Sure enough, he churned out some impressively consistent run splits, deviating only between 3:29/km and 3:32/km pace per lap, chasing Joe down like the Terminator he is and eventually passing him around 25km.
Kristian did slow a little towards the end – perhaps showing he is human after all! However, he still finished with the fastest iron distance run ever, stopping the clock at just a shade over 2:30 for the marathon.
It was yet another amazing day in the Year Of Kristian Blummenfelt.
All about Joe 3:16
Joe's story is surely all about that bike leg. We (I!) said their targeted time of 3:20 was completely bonkers and that they'd never hold that pace – but they surpassed it.
Seeing it play out live at trackside was really something else – despite the incredible TV broadcast nothing could really convey the speed at which they rode past you.
Joe and Team Ribble averaged an incredible 54.9kph for the bike leg, recording 3:16:42 for the 180km. They actually averaged over 55kph on the Dekra Lausitzring track, almost beating Victor Campenaerts' Hour Record of 55.089km three times in a row (admittedly with an eight-man team for most of it). They took 8 minutes out of Kristian's team, more than a full lap of the Lausitzring 5.8km track, and absolutely smashed expectations out of the water.
Even allowing for the naysayers (truthfully) claiming it wasn't a legitimate attempt at the iron-distance, this was a truly amazing athletic achievement to witness on the bike. If Pho3nix are listening, I'd pay to watch a 100-mile TTT World Championships round the Lausitzring in future …
Unfortunately for Joe however, even this superhuman effort on two wheels wasn't quite enough. He was eventually chased down and passed by Kristian around 25km into the run, and finished about three minutes down at the end.
It was an incredible effort from Skipper having only been drafted into the attempt seven days before following the withdrawal of Alistair Brownlee. To perform like this on that preparation was something else, and he deserves monumental credit for doing so.
Similar to Kat, he finished incredibly close to his predicted time of 6:47, missing it by just 36 seconds. He was actually – ironically given his last-minute status in the event – the closest of all athletes to his predicted splits. He missed the swim by just 4 minutes, the bike by 3 minutes, and the run by just 17 seconds – running a 2:36:43 instead of his target of 2:37. Amazing.