TRI247 Workout Series #58 – Dare To Tri
Wednesday, 6th

 February 2019 7.00pm UK time on Zwift
For this week's TRI247 Group Workout Series of Zwift we'll be joined on session ride by BBC Breakfast presenter, Louise Minchin, for the Dare To Tri workout.
Dare To Tri session details
Wednesday's session has been set by Louise's coach, Claire Sutcliffe from Total Tri Training.
In this week's session the focus is on building strength, rather than hitting particularly big power targets. The main sets have been prescribed with low cadence targets, so make sure you stick to them in order to achieve the session aims!
The main set on Wednesday consists of three sets of ascending (10 minutes in total each), big gear intervals. As the set progresses, the effort gets longer and harder, finishing up with four minutes at 105% of FTP.
The session name is derived from Louise's popular book, 'Dare to Tri: My Journey from the BBC Breakfast Sofa to GB Team Triathlete', which will be available in paperback from from this Thursday, 7th February.
Very excited that the paperback version of my book has arrived! A big thank you to all of you who have already bought it/read it. If you haven't I think you can find it here https://t.co/XJpgbWuRo1 #DareToTri pic.twitter.com/EpxSeoQ1kE

— Louise Minchin (@louiseminchin) January 18, 2019
This is what you'll be riding this evening: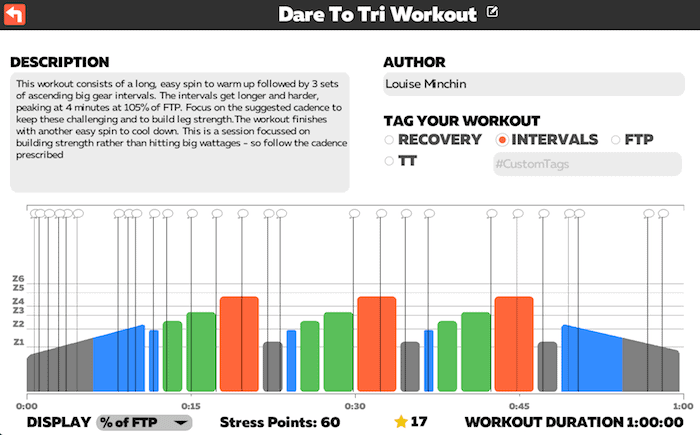 Join us at 7p.m. on Wednesday 6th February 2019 (UK time) for another quality workout. Set your reminder now on the link below or via the Zwift Companion app.
You can find the custom workout files from all of the previous TRI247 Workout Series sessions on these links, to download and do ride again in your own time:
Custom Workout downloads from previous Zwift sessions:
Joining Instructions:
The workout will begin promptly at 7.00pm UK time, Wednesday 6th February 2019. It is worth logging in 10 or 15 minutes before the session to make sure you are set up and ready to go, where you will be able to warm up in the virtual 'holding pen'.
https://www.youtube.com/watch?v=XNTXAkky4qE
Look for the TRI247 Workout Series event in the list on the right of the screen once you have paired your sensors. Click to JOIN and you will be taken to the start line ready to begin the workout.
Make sure you have set your FTP level correctly before you join the workout as all the intervals are based on a percentage of FTP so it is important to get that right. If in doubt, dial the FTP number down 10 or 20 watts as it is better to finish the session than to feel like it is too challenging.
If you have never used Zwift before but don't want to miss out, head to the Zwift support page for tips on how to get the most out of your setup.
After the session head over to the TRI247 Facebook page for some post ride chat.
Zwift Group Rides: TRI247 Workout Series
The cool thing about a group workout on Zwift is that varying levels of ability can ride together in a group and all finish the session together having done the same relative effort, even if the actual watts are significantly different. It is not a race, but a shared goal to get a good session in the training log.