Who's racing at the IRONMAN World Championship on Saturday?
Having collated the equivalent information for the women (HERE), we now take a look at the 120+ UK and Ireland Age-Group MEN who will be racing at the IRONMAN World Championship on Saturday.
The amateur men's field will be starting ** their race at 6:55 a.m. (local time) / 5:55 p.m. (UK time) on Saturday.
(** For 2019, the Age-Group waves starts have been changed from what was previously one mass start per gender).

A few names to look out for…
Pictured in the header image is Brian Fogarty (35-39), the overall winner at IRONMAN UK this year, who was also the fastest amateur at IRONMAN Lanzarote this year as well. A powerhouse on the bike, he'll be looking to make significant moves on the field after getting the opening 2.4 mile swim out of the way, his weakest discipline.
Neil Eddy (30-34) set the second fastest GB Age-Group time ever in Kona last year, when finishing 8th in his category. Since then he's won the ITU Long Distance Triathlon Championships (where he was fastest across all AG's) and matched that at IRONMAN Vitoria-Gasteiz in Spain with a PB of 8:39:49. He'll have sights on a top-5 finish in Hawaii and an Umeke award.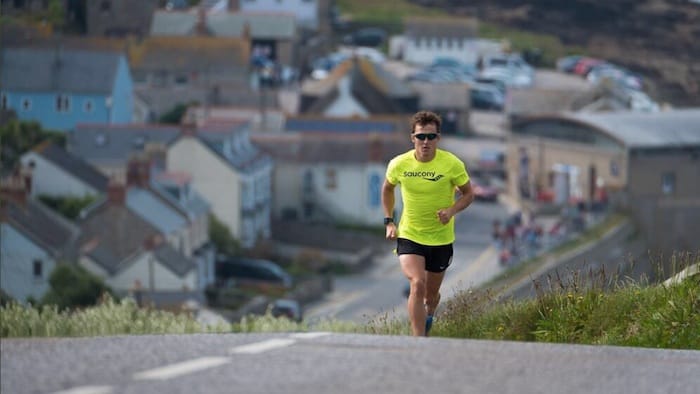 One man who has already made the stage at Sunday night's awards is Martin Gannon (60-64). Martin took fourth last year to earn one of the coveted trophies, which go to the top-five finishers in each Age-Group.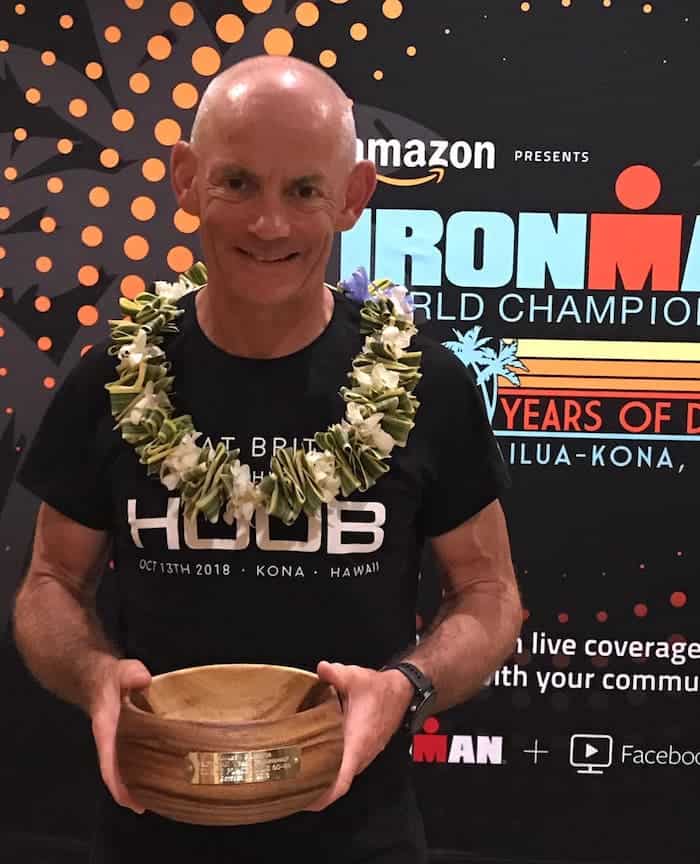 Going one better than Martin with two 'fruit bowls' is Paul Lunn (45-49). Fifth in 2017 and third in 2018, this year Paul has the backing of the Specialized Zwift Academy Triathlon Team – will he be able to continue with his podium success in Hawaii and, perhaps, move up even further?
https://www.instagram.com/p/B3Y4M4YhsTj/
Back for a second attempt in Hawaii after a strong debut two years ago is Lewis Eccleston (25-29). Lewis took second place at IRONMAN Lanzarote this year – and recently won the Sundowner Middle Distance Triathlon – ahead of another Kona athlete, John Thelwell (30-34)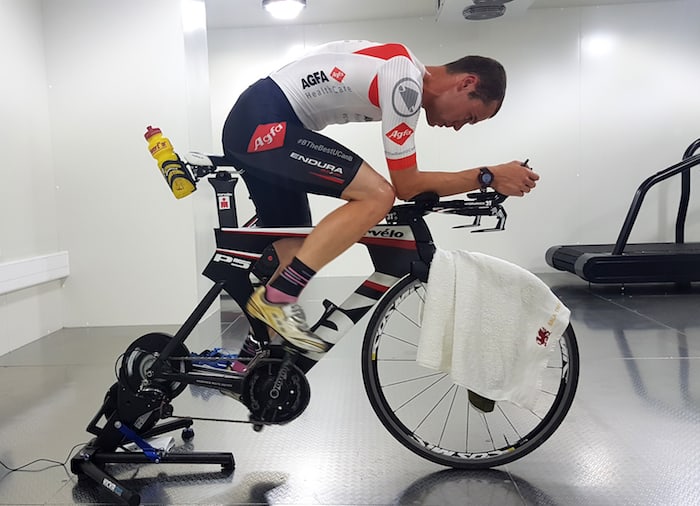 Making his Kona debut is John Borton (30-34), who we heard from earlier this year after his great run at the Boston Marathon. That proved to be great start to his triathlon season, as he went on to finish fourth in a rapid time of 8:46:41 at IRONMAN Copenhagen.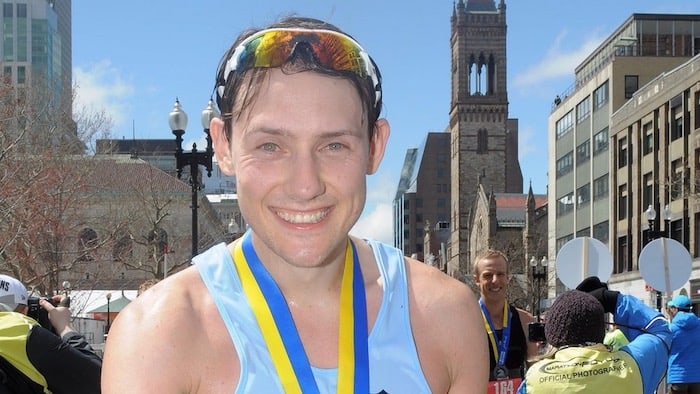 *** NOTE *** The athlete information below was extracted from the official race start-lists (HERE), based on data as at 23rd September 2019. Therefore, if there are any errors then that is probably the source! However, we would like to ensure we have the correct information, so if you do spot any mistakes then please do get in touch with us via editor@tri247.com and we will get it fixed for you.
Plenty of other talented athletes who will be challenging for the the podium on the full list below – good luck to you all.
UK and Ireland Age-Group MEN 2019
| BIB | NAME | CATEGORY | COUNTRY |
| --- | --- | --- | --- |
| 2379 | Finn Arentz | M18-24 | GBR |
| 2408 | George Patterson | M18-24 | GBR |
| 429 | Donal Mcgoldrick | M25-29 | IRL |
| 2242 | Jocelyn Cheli | M25-29 | GBR |
| 2243 | Matt Chipping | M25-29 | GBR |
| 2249 | Lewis Eccleston | M25-29 | GBR |
| 2261 | Ross Harper | M25-29 | GBR |
| 2269 | Thomas Kebbell | M25-29 | GBR |
| 2296 | Christopher Pocock | M25-29 | GBR |
| 2308 | William Shenton-Brown | M25-29 | GBR |
| 2318 | Aaron Tomasz | M25-29 | GBR |
| 418 | Graham Hill | M30-34 | GBR |
| 2025 | John Borton | M30-34 | GBR |
| 2030 | Duncan Chedburn | M30-34 | GBR |
| 2035 | Neil Eddy | M30-34 | GBR |
| 2040 | Joe Fellows | M30-34 | GBR |
| 2086 | Charles Legget | M30-34 | GBR |
| 2094 | Mark Matthews | M30-34 | GBR |
| 2112 | Chris Palfreyman | M30-34 | GBR |
| 2123 | Tom Rigby | M30-34 | GBR |
| 2143 | Matthew Smith | M30-34 | GBR |
| 2146 | Sion Stansfield | M30-34 | GBR |
| 2152 | John Thelwell | M30-34 | GBR |
| 383 | David Allen | M35-39 | GBR |
| 1758 | David Bartlett | M35-39 | GBR |
| 1772 | Grant Carter-Moore | M35-39 | GBR |
| 1780 | Chris Cope | M35-39 | GBR |
| 1785 | James T. Curran | M35-39 | IRL |
| 1799 | Thomas Elliott | M35-39 | GBR |
| 1803 | Guy Evans | M35-39 | GBR |
| 1808 | Brian William Fogarty | M35-39 | GBR |
| 1820 | Craig Hartley | M35-39 | GBR |
| 1821 | Haukur Heimisson | M35-39 | GBR |
| 1831 | Emmet Kelly | M35-39 | IRL |
| 1841 | Matt Lawrence | M35-39 | GBR |
| 1847 | John Lenehan | M35-39 | IRL |
| 1863 | Daniel Mcparland | M35-39 | GBR |
| 1877 | James O'Sullivan | M35-39 | GBR |
| 1885 | Chris Pike | M35-39 | GBR |
| 1891 | Nathan Risbey | M35-39 | GBR |
| 1906 | Edwin Sutton | M35-39 | IRL |
| 1913 | Michael Taylor | M35-39 | GBR |
| 1918 | Sam Thompson | M35-39 | GBR |
| 1934 | Jason Williams | M35-39 | GBR |
| 360 | Steven Middleton | M40-44 | GBR |
| 1458 | Jason Corbett | M40-44 | IRL |
| 1480 | Philip Ellison | M40-44 | GBR |
| 1483 | Kevin Fennessy | M40-44 | IRL |
| 1510 | Bruce Greenhalgh | M40-44 | GBR |
| 1520 | Eddie Hirst | M40-44 | GBR |
| 1554 | John Littlewood | M40-44 | GBR |
| 1567 | Mathew Matonti | M40-44 | GBR |
| 1577 | William John Newbery | M40-44 | GBR |
| 1585 | Stephen Palmer | M40-44 | GBR |
| 1588 | John Parr | M40-44 | GBR |
| 1620 | Oliver Simon | M40-44 | GBR |
| 1627 | Graeme Stewart | M40-44 | GBR |
| 1636 | Alex Taylor | M40-44 | GBR |
| 267 | Stephen Dermody | M45-49 | IRL |
| 311 | Adrian Tan | M45-49 | GBR |
| 318 | Iain Young | M45-49 | GBR |
| 1096 | Richard Allen | M45-49 | GBR |
| 1098 | Stuart Anderson | M45-49 | GBR |
| 1102 | Mark Arndt | M45-49 | GBR |
| 1125 | Nick Buss | M45-49 | GBR |
| 1134 | Damien Cosgrove | M45-49 | IRL |
| 1169 | Andy Giles | M45-49 | GBR |
| 1171 | Martin Goodlad | M45-49 | GBR |
| 1172 | Tony Goodyear | M45-49 | GBR |
| 1190 | Daragh Hendley | M45-49 | IRL |
| 1206 | Mark Julier | M45-49 | GBR |
| 1221 | Roman Lacko | M45-49 | GBR |
| 1225 | Paul Lewis | M45-49 | GBR |
| 1231 | Paul Lunn | M45-49 | GBR |
| 1235 | Owen Martin | M45-49 | IRL |
| 1241 | Jamie Mcintyre-Brown | M45-49 | GBR |
| 1242 | Julian Middlewick | M45-49 | GBR |
| 1259 | Mark Patterson | M45-49 | GBR |
| 1261 | Carlo Paul | M45-49 | GBR |
| 1275 | Con Ring | M45-49 | IRL |
| 1283 | Paul Rutherford | M45-49 | IRL |
| 1296 | Carl Shawcross | M45-49 | GBR |
| 1320 | Karl Watts | M45-49 | GBR |
| 1322 | Scott Whittlestone | M45-49 | GBR |
| 1328 | John Woods | M45-49 | IRL |
| 184 | Richard Collins | M50-54 | GBR |
| 197 | Jon Ellis-Smith | M50-54 | GBR |
| 199 | Jeremy Furniss | M50-54 | GBR |
| 213 | Jeremy Nock | M50-54 | GBR |
| 230 | Paul Tuck | M50-54 | GBR |
| 854 | Charles Ashwanden | M50-54 | GBR |
| 880 | David Clements | M50-54 | GBR |
| 901 | Adrian Garvey | M50-54 | IRL |
| 909 | Mark Gray | M50-54 | GBR |
| 920 | Steve Hobson | M50-54 | GBR |
| 923 | Martin Howie | M50-54 | GBR |
| 942 | Andrew Ley | M50-54 | GBR |
| 961 | Salim Mohamed | M50-54 | GBR |
| 992 | Mark Rushby | M50-54 | IRL |
| 1010 | Aubone Tennant | M50-54 | GBR |
| 1011 | Paul Thomas | M50-54 | GBR |
| 1030 | Allan Youp | M50-54 | GBR |
| 149 | Andy Harries | M55-59 | GBR |
| 156 | Richard Parnell | M55-59 | GBR |
| 712 | John French | M55-59 | GBR |
| 716 | James Graham | M55-59 | GBR |
| 721 | Barry Harriss | M55-59 | GBR |
| 722 | Terry Harvey | M55-59 | GBR |
| 735 | David Labouchere | M55-59 | GBR |
| 746 | Mike Morris | M55-59 | GBR |
| 751 | Peter Openshaw | M55-59 | GBR |
| 586 | George Burns | M60-64 | GBR |
| 587 | Charlie Collins | M60-64 | GBR |
| 589 | Evan Davies | M60-64 | GBR |
| 590 | Richard Thomas Dunbabin | M60-64 | GBR |
| 591 | Nick Farnell | M60-64 | GBR |
| 595 | Martin Gannon | M60-64 | GBR |
| 603 | Nicholas Kinsey | M60-64 | GBR |
| 509 | Mike Anthony | M65-69 | GBR |
| 548 | Gerard Turbitt | M65-69 | IRL |
| 102 | Barry Short | M70-74 | GBR |
| 470 | David Borrell | M70-74 | GBR |
| 479 | John Heaney | M70-74 | GBR |
| 486 | Bob Martin | M70-74 | GBR |
PRO Start-Lists: MEN | WOMEN
GB and Ireland Age-Group Start-Lists: MEN | WOMEN