Tri-Anglia and Greenlight PT retain top spots after Race Three
Oliver Milk and Leanne James repeat individual victories from Race One
Monday night (2nd March) was the third round (of six) of the Super League Triathlon Arena Games Club Championships.
A chance for you – and your club – to win a variety of prizes by competing (virtually) on Zwift, across the next three weeks, leading up to the Super League Arena Games London on 27th March.
CLICK HERE TO FIND OUT WHAT IT'S ALL ABOUT & HOW TO JOIN
REPORTS: RACE ONE | RACE TWO | RACE THREE

A quick look at the winners this week has a certain sense of Deja Vu, with Oliver Milk (Tri-Anglia) and Leanne James (TRI2O Tri Club) topping the leaderboard once again, in the bike (men) and run (women) events of Race 3.
The men's Crit City race saw another close finish and a big sprint for the line, with the top 10 separated by less than four seconds. With Matthew Ellis in eight adding to Oliver's win, the Tri-Anglia men now have a bid lead in the club competition at the halfway stage.
The top-three teams in the women's competition – Greenlight PT, Serpetine Running Club and TRI20 – maintain their positions after the third event, but the points gap between them has narrowed. All to play for at the halfway stage.
The Experience
As he did last week, Doug Hall – who is perhaps best known for race in XTERRA and Cross Triathlon events (representing his Race Off Road Club) – managed to but a summary together, after first letting his heart rate return from the moon after another top-10…
"Another massive field tonight! Thought I'd learnt from last week's mid pack start, and joined 25mins before the start, but obviously everyone else had the same idea and I found myself 3 or 4 rows back.
"Hard out the gate as per normal with Zwift, but up the first climb it went berserk! Perhaps a bit of team tactics to take a smaller grouper away, I made the split and spent the next 8-laps surfing wheels and throwing all the power ups to save some powder for last lap shenanigans.
"Knowing it would kick off last time up the cobblestones, I did the first sprint of the race, stayed mid-pack and backed myself for a diesel sprint. Wound it up from 500m out with an aero power up and rode through most of the group to finish 5th. Happy with that!"
Men – BIKE – Crit City (19km Road Race) – Race 3
Top 10 below / FULL RESULTS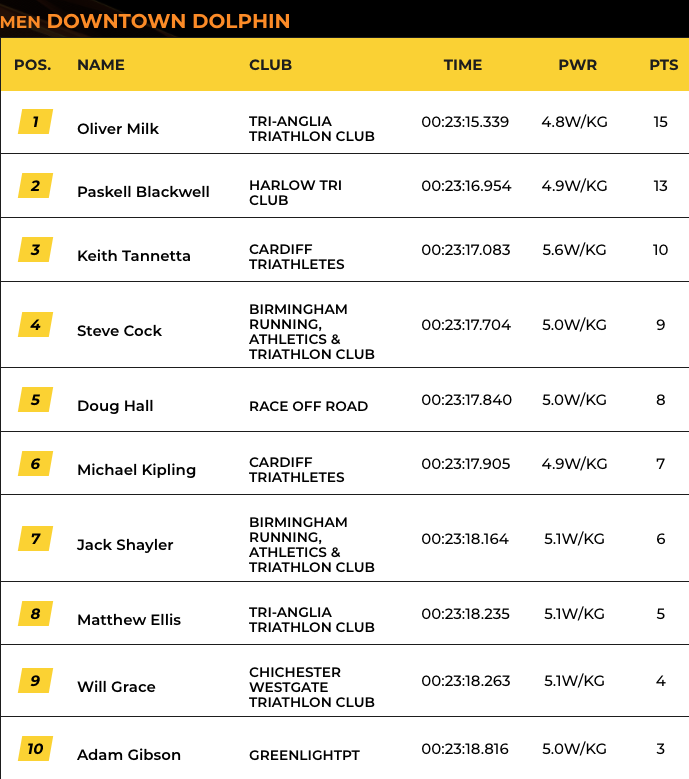 Women – RUN – Chilli Pepper (8.25km) – Race 3
Top 10 below / FULL RESULTS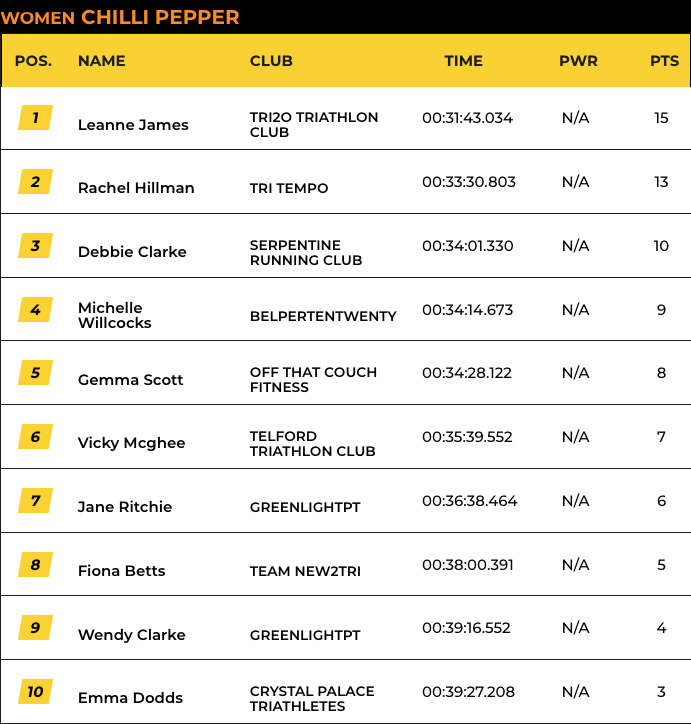 Club Standings after Race 3
Click HERE for the full standings.

The Races
If you want to take part, you can still sign up – and get your club members to join you – for the remaining three rounds of racing. You can find out all about it HERE.