Belgium and Switzerland take the Elite World Championship titles in Zofingen
Six medals for the Great Britain Age-Group team
While the IRONMAN 70.3 World Championship in Nice took almost all the headlines over the weekend across the multisport world (reports here: Pro Women | Pro Men | GB Age-Group), that wasn't the only championship event on the schedule.
Over in Switzerland, the 31st edition of Powerman Zofingen was being races, once again hosting the ITU Long Distance Duathlon World Championships, for both Elite and Age-Group athletes. It's a tough event, comprising a 10km opening run, 150km on the the bike and then to finish you off, 30km of running on far from flat terrain. If you like tough and don't like swimming, Zofingen is for you.
Elite
Following four consecutive wins from Great Britain's Emma Pooley (2014/15/16/17), Switzerland's Petra Eggenschwiler was the defending champion in the women's Elite race. A crash on the bike would ultimately lead to her withdrawal from the race, but the Swiss women would still dominate, taking a podium sweep with Nina Zoller the new champion, just over two minutes clear of Melanie Maurer who repeated her Silver medal from 12 months ago.
The men's elite race was also very close, the race effectively decided on the second run, where Diego Van Looy (BEL) prevented a Swiss Elite double, finishing 1:55 clear of Jens-Michael Gossauer. Van Looy finished fifth at IRONMAN Wales last year – and is also on the start list for Sunday's race in Tenby. With fifth at IRONMAN Lanzarote and fourth at IRONMAN France already this season, he is a quality athlete. It will be interesting to see if he does attempt the Zofingen-Tenby double.
Age-Group
The 154 Age-Group athlete who race were represented by 21 nations, of which 24 were British. The USA, with 25 athletes, just topped the 'most athletes' list.
The six British podiums (full details below), included Jane Ritchie (F55-59) matching her Gold from last year, Lise Soerensen (F40-44) improving on her 2018 Bronze to take Gold, Kirsty Prior (F45-49) taking Gold after finishing fifth (2016) and fourth (2017), and Stuart Hall (M55-59) matching Lise's results with Gold this time after Bronze 12 months ago.
Greenlighter Jane Ritchie successfully defends her World AG Long Course Duathlon Title at Powerman Zofingen 🇨🇭 🙌@tri247 pic.twitter.com/bXaYCfvmXj

— GreenlightPT (@GreenlightPT) September 8, 2019
Zofingen ITU Powerman Long Distance Duathlon World Championships – Sunday 8th September 2019
10km run / 150km bike / 30km run
ELITE MEN
1st – Diego Van Looy (BEL) – 6:14:29
2nd – Jens-Michael Gossauer (SUI) – 6:16:24
3rd – Daan De Groot (NED) – 6:20:16
13th – Peter Ellis (GBR) – 6:59:32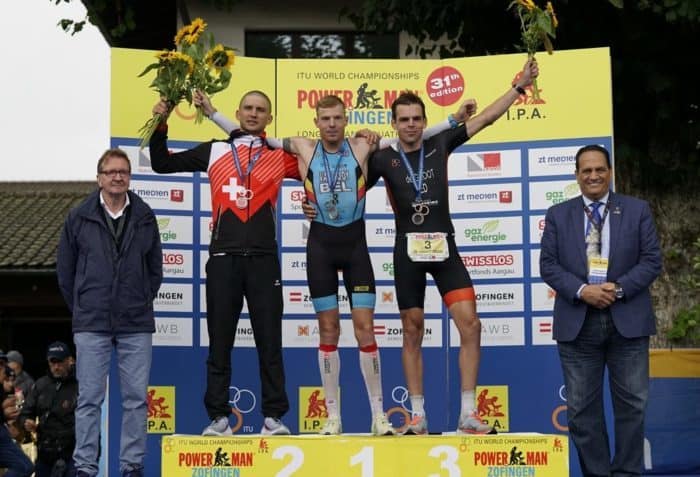 ELITE WOMEN
1st – Nina Zoller (SUI) – 7:14:54
2nd – Melanie Maurer (SUI) – 7:17:11
3rd – Corine Hengartner (SUI) – 7:27:47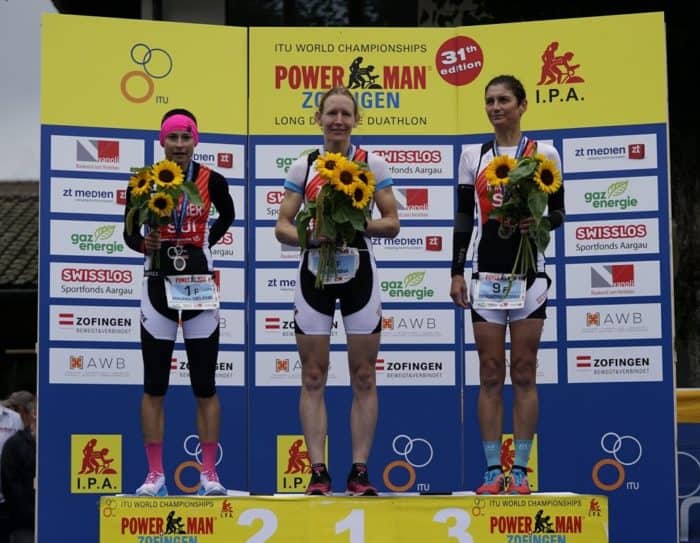 Great Britain Age-Group Medals (6)
Gold (4)
Lise Soerensen – 40-44 Female AG
Kirsty Prior – 45-49 Female AG
Jane Ritchie – 55-59 Female AG
Stuart Hall – 55-59 Male AG
Silver (1)
Andrew Macrae – 30-34 Male AG
Bronze (1)
Bryan Vaughan – 50-54 Male AG