With a long run for home that her esteemed countryman, Kristian Blummenfelt, will be very proud of, Norway's Solveig Løvseth (NOR) ran to victory in Krakow, Poland at the 2023 European Games.
The effort saw her secure the second ever triathlon gold medal at the European Games, following in fine footsteps, with London 2012 Olympic gold medallist Nicola Spirig winning the debut back at Bilgah Beack, Baku, Azerbaijan in 2015.
Having worked her way back into the race from the second chase pack on the bike and into podium contention, the gold looked to be heading elsewhere into the late stages of the run, with Audrey Merle (FRA) and Jolien Vermeylen (BEL) setting the pace late into the 10km.
That all changed with a lap to go, when the Norwegian played her hand, upped the pace and held strong for her first international victory, 10 seconds ahead of Julia Hauser (AUT) with Vermeylen completing the podium.
Here's how it all played out.
Swim – Alden, Gautier set the pace
Beginning with a non-wetsuit, two-lap, 1.5km swim, it was Great Britain's Sophie Alden and Mathilde Gautier (FRA) who lead a long line of athletes at the halfway mark. The field was already spreading significantly, evidence of a mix of World Cup / WTCS veterans, alongside plenty more athletes further down the development pathway. Ten minutes in, this was clearly not going to result in a massive group of 50+ simply riding around together once they reached dry land.
The Anglo-French leading duo extended their three second advantage to 16 seconds over the second lap, as the former British Elite Champion and Holten Europe Triathlon Cup winner from 2022 put themselves in position, perhaps, to set up a breakaway from the very start of the 40km ride.
Marta Kropko (HUN) lead in the large chase group, which with the bike strength of athletes including Verena Steinhauser (ITA) and Sian Rainsley (GBR) amongst others, was going to make the prospects of our leading duo staying away, pretty tough, despite their swim advantage.
Bike – And then there were 22
While racing conditions were dry, there was evidence of pre-event rainfall on the roads. Combined with some tight turns, plenty of painted road surfaces and the tram line or two, the otherwise flat eight-lap course was going to provide a few technical challenges.
18 seconds up after lap one, that was down to just four seconds 10km in. Early into lap three it was back together and we had a leading group of around 14 athletes. Their chasers – driven by the Norwegian duo of Lotte Miller and Solveig Løvseth – were moving well also, just 25 seconds down on the leaders and closing in fast. By the time they hit the 20km halfway mark at the end of lap four, those groups had merged to create a group of 23.
That also meant that the fast running legs of Audrey Merle (FRA), former World Junior Champion Jule Behrens (GER) plus Team Norway, were in prime position. Løvseth for example, showed earlier this season her progress in the final discipline, while Merle was top-10 recently at the European Championships in Madrid. One place ahead of her in Madrid was Petra Kurikova (CZE), also now part of the leading pack.
Into the final two laps and the Norwegians, Miller and Løvseth made a break, joined by Merle and Steinhauser. All experienced names on the WTCS circuit, could they make it stick with less than 10km to ride? No. While Ireland's Erin McConnell was a casualty of the pace at the front, we were still left with 22 athletes reaching T2 within 18 seconds of each other.
Run – Norway takes it!
The rain started to come down strongly as the run started, and as the race started to settle over the opening kilometre, it was Solveig Løvseth, Verena Steinhauser, Audrey Merle, Alissa Konig (SUI), Mathilde Gautier (FRA), Sian Rainsley (GBR), Selina Klamnt (GER), Julia Hauser (AUT), Jolien Vermeylen (BEL) and Zuzana Michalickova (SVK) to the fore.
At the beginning of the second of the four 2.5km run laps, Audrey Merle looked to be the athlete keen on pushing the pace. A former U23 and Mixed Team Relay World Champion, the French athlete was also a World Triathlon Cup winner last year in Tongyeong, South Korea, and well known for her run speed. Her injection of pace saw Rainsley, Gautier and Michalickova distanced, as the attrition process began. Those seven athletes started the final 5km in close order – but it was the French athlete dictating terms and looking in control.
Belgian athlete Vermeylen – second in that amazing sprint finish in Bergen last year – upped the pace on lap three, and that injection saw the leading seven become four, leaving her in the company of just Merle, Løvseth and Hauser. Four athletes and three medals… who would make the next move?
As the bell rang with 2.5km to go, it was Solveig Løvseth who was next to play her hand, and perhaps in 'Blummenfelt style', going for a long effort, rather than prepping for a blue carpet sprint. The impact was significant, as while Austria Hauser matched her, Vermeylen and Merle were going in the wrong direction. This really was changing minute-by-minute.
While she's been a multi-time Norwegian National Champion, Løvseth's best international result before today was second in a European Cup and third earlier this year at the New Plymouth World Triathlon Cup. She wanted the top step of the podium and was going all-in to take it.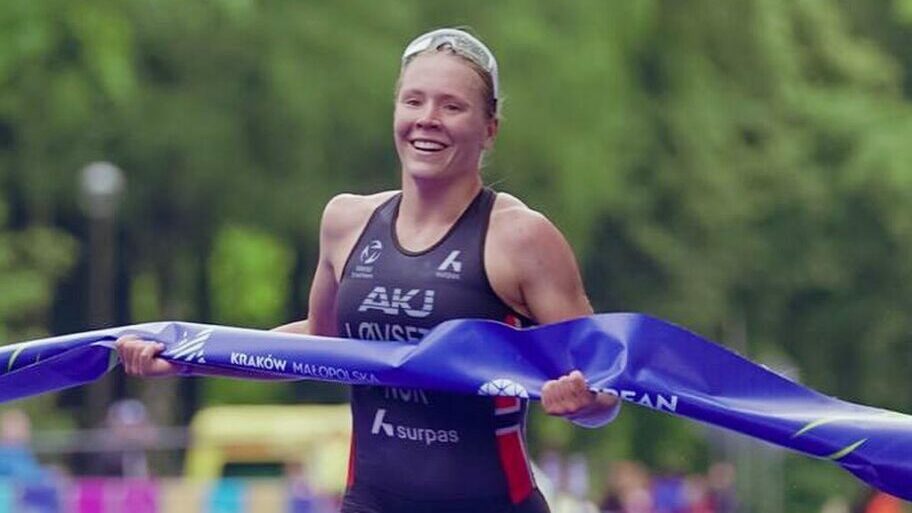 That effort from Solveig proved to be tactically perfect, and she held strong and displayed the run form she has shown this year to hold strong to the finish and take over the European Games title, won eight years ago in Baku, Azerbaijan, by Nicola Spirig.
Speaking to World Triathlon Media, race winner Løvseth said:
"Im really surprised with this. Montreal was my prority but things were not as planned there, I DNF and then the Mixed Relay was cancelled. I landed here, my bike arrived late but then today it all went to plan.
:When I saw that I was out of the water together with Lotte (Miller) I was happy cause I knew that we both could work together on the bike. We did and I really enjoyed it. I think we both made the bike quite hard for the others. And I was able to do a hard and fast run after a hard bike, so I am really pleased. It is also my best result internationally, is the first time that I will get to hear the National anthem on the podium. I am really happy"
2023 Krakow-Malopolska European Games Triathlon results
Tuesday 27 June 2023 – 1.5km / 40km / 10km
Elite Women
1. Solveig Løvseth (NOR) – 1:57:05
2. Julia Hauser (AUT) +0:10
3. Jolien Vermeylen (BEL) +0:12
4. Selina Klamt (GER) +0:22
5. Audrey Merle (FRA) +0:23
6. Jule Behrens (GER) +0:25
7. Verena Steinhauser (ITA) +0:25
8. Mathilde Gautier (FRA) +0:30
9. Alice Betto (ITA) +0:31
10. Alissa Konig (SUI) +0:38