Team Jenkins (Jinx Sport) Monthly Column – March 2020
Keeping up with slowest, not the fastest, in society…
ITU Triathlon World Champion in 2008 and 2011, Helen Jenkins has also represented Great Britain at the last three Olympic Games.
Since then, she's had a child (Mali), had to go through major spinal fusion surgery (2018), and in 2019 she and her husband, coach and Olympian himself, Marc Jenkins, welcomed their second child (Max) into the world. Family life, time to move on, racing days over and time to reflect back on a great career? Absolutely not! Helen returned to racing in February at IRONMAN 70.3 Dubai.
Each Month, Helen and Marc will give us their separate and individual takes on the past month, as they strive for their next success in the sport they love.
Here's their latest update, which of course covers the month of March 2020, when life changed significantly for all of us…
You can find previous updates here:
Aug 2019 | Sept 2019 | Oct 2019 | Nov 2019) | Dec 2019 | Jan 2020 | Feb 2020
HELEN WILL BE LEADING WEDNESDAY'S TRI247 GROUP WORKOUT ON ZWIFT
---
Helen Jenkins
I am finding it hard to get my head around the developments of the last month. At the start of March I was picking my next race and training was picking up again. Now, we have no idea what comes next.
Obviously, racing is such a small concern in the scale of the global events, but it does leave me rather aimless.
I am not training with any goal in mind, I am training for fitness, because I enjoy it and to keep myself sane! I choose things I enjoy doing on Zwift, like the group rides. I really miss being in the pool, it will be the longest period I have ever had out of the water.
Both myself and Marc are probably better parents when we have exercised, so we make sure to plan the day before, for who will train when and then the other has the kids. I am so thankful we have a little home gym. It's not as fancy as some I have seen, but it has our bikes set up on Zwift, a treadmill and cross trainer… and a lot of smelly bike and run shoes too! I have always done a lot of training on the turbo, so it doesn't bother me too much not going out riding.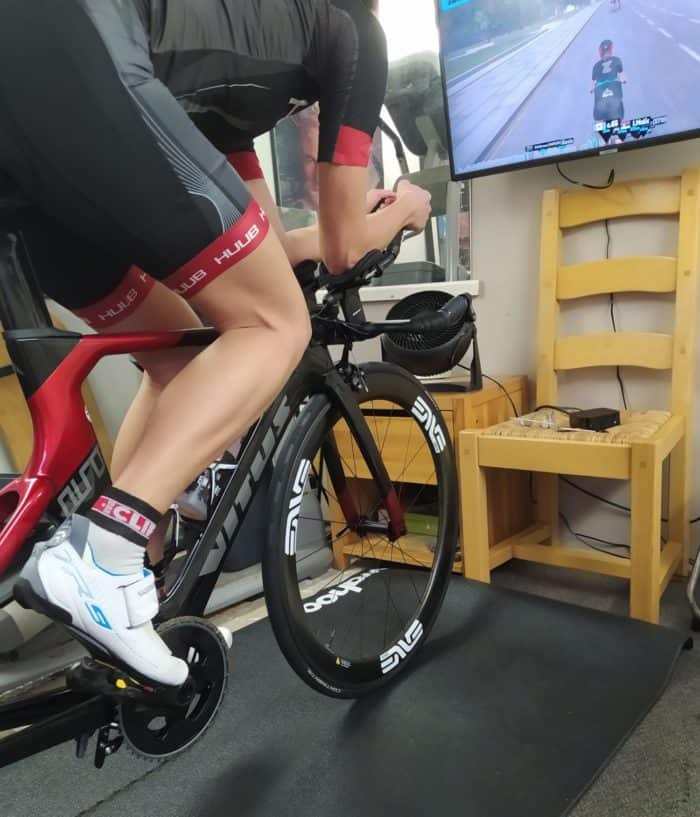 It is pretty full-on having the two kids at home all the time with nowhere to go. I didn't realise how much going to the park, a quick visit to grandparents or friends breaks up the day. I use my daily outing to take the kids for a walk in my Thule running pram; we are lucky we have some nice places to walk so they can have a little play by the river.
There is so much on social media about how to be productive in your time, learn something new, fitness videos, but I feel too exhausted for that. At the end of each day after the kids are asleep, we tidy up the house… how do two small children can make so much mess?!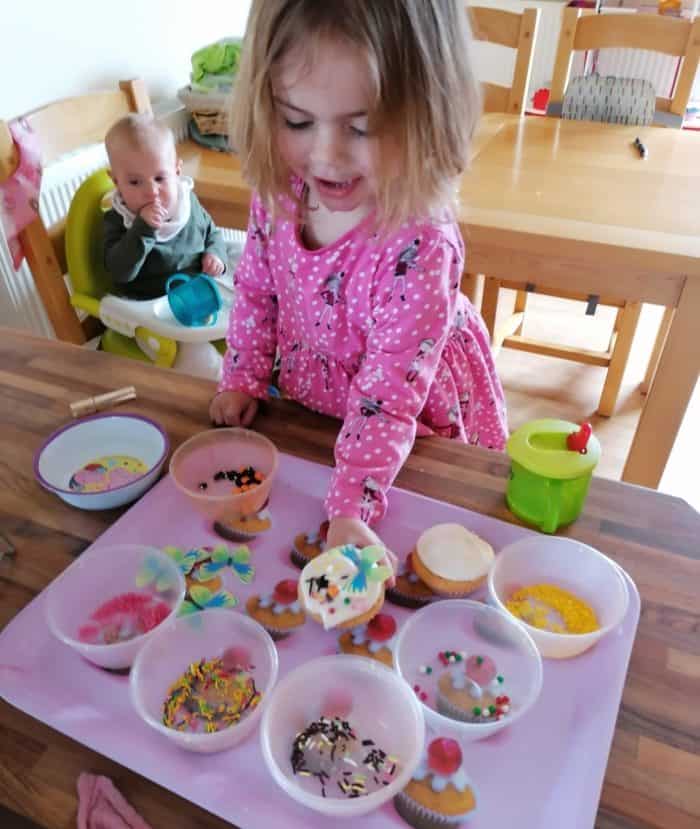 As soon as Max has finished eating, he hurls anything that is left onto the floor or across the room, so we regularly have food to clean off the walls! We then sit and eat dinner in front of the TV (currently watching), and drink a glass of wine! It is hard to find the time to do anything productive!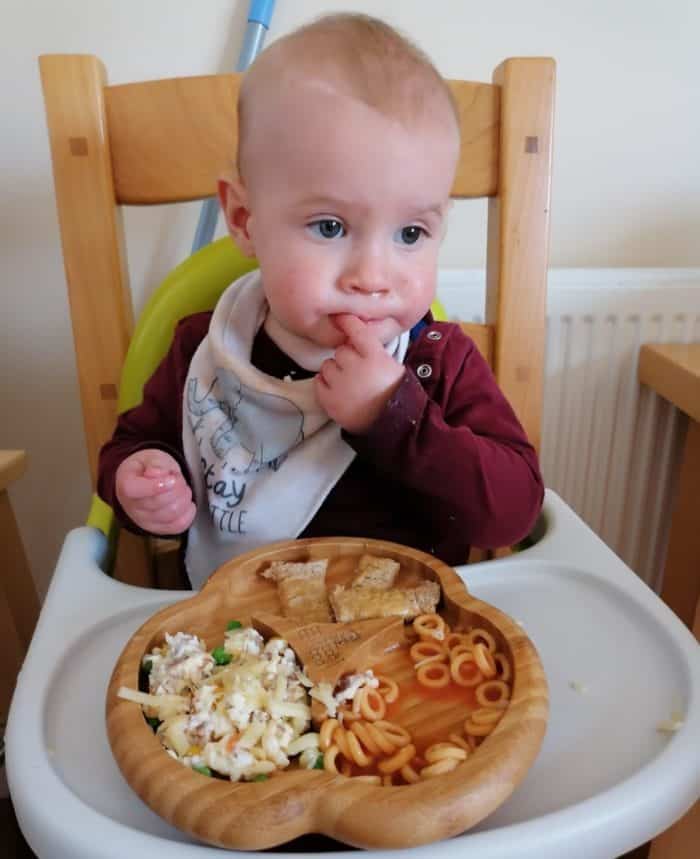 It's a big adjustment for the kids to be with us all the time. I am sure Mali is bored of us already and I think we have a long time to go in this situation. We are spending time baking, painting, playing in a beach tent in the garden, and probably more TV than they should be watching. The biggest winner the other day was half an hour sat in our van, while Mali pretended to drive us around. Her destinations of choice… the doctors, then Lanzarote? How a two years olds mind works? So, while it's not exactly productive, I'm sat in our VW van listening to the radio with my kids, but loving it!
A big thank you to all the key workers, they are the ones who have it hard, all we have to do is stay at home!
Stay safe and see you on Zwift!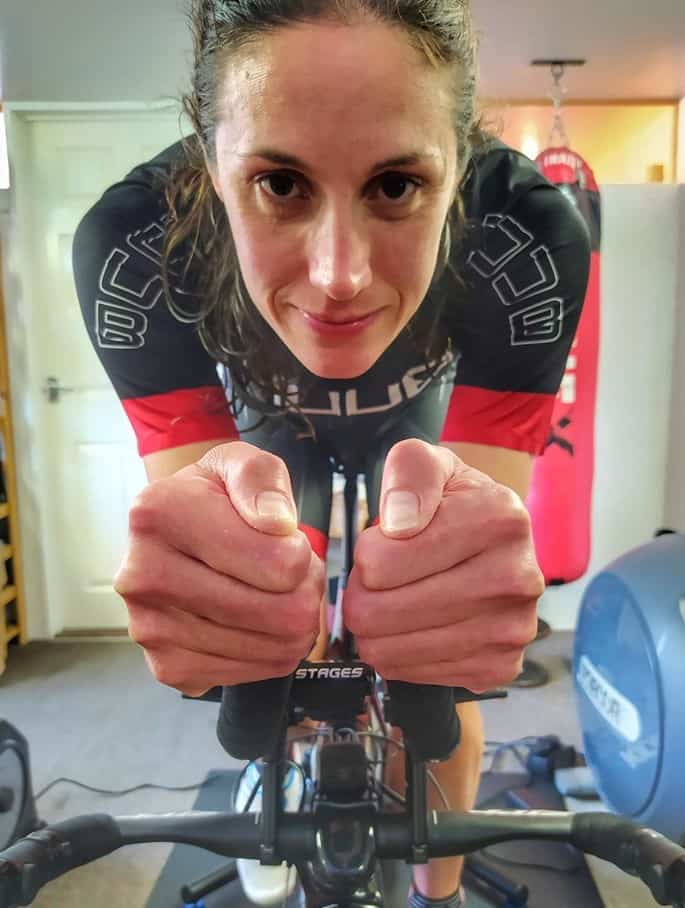 Helen's Workout of the Month
Helen's Workout of the Month is based on Helen's FTP of 250 Watts (with % percentages, so you can tailor to your own).
You can do this very workout with Helen, virtually, on Wednesday (15th April, 7pm UK-time), in this week's TRI247 Group Workout Series on Zwift.
Full details here >>> https://www.zwift.com/events/view/526287
(ALL abilities welcome – the Group Workout mode will automatically tailor the power targets to your personal level – all while riding with athletes around the globe.)
Warm Up – 17 minutes
4 mins @ 140 Watts or 56% of FTP
3 mins @ 165 Watts or 66% of FTP
2 mins @ 225 Watts or 90% of FTP
3 mins @ 140 Watts or 56% of FTP
10 seconds @ 425 Watts or 170% of FTP
50 seconds @ 125 Watts or 50% of FTP
10 seconds @ 425 Watts or 170% of FTP
50 seconds @ 125 Watts or 50% of FTP
3 mins @ 140 Watts or 56% of FTP
Main Set – 40 minutes (4 x 10mins)
Set one:
6 mins @ 235 Watts or 94% of FTP
1 mins @ 275 Watts or 110% of FTP
3 mins @ 140 Watts or 56% of FTP
Set two:
1 min @275 Watts or 110% of FTP
6 mins @ 235 Watts or 94% of FTP
3 mins @ 140 Watts or 56% of FTP
Set three:
30 Seconds @ 300 Watts or 120% of FTP
30 seconds @ 200 Watts or 80% of FTP
5 mins @ 235 Watts or 94% of FTP
30 seconds @ 200 Watts or 80% of FTP
30 seconds @ 300 Watts or 120% of FTP
3 mins @ 140 Watts or 56% of FTP
Set four:
2 mins@ 225 Watts or 90% of FTP
2 mins@ 240 Watts or 96% of FTP
2 mins@ 255 Watts or 102% of FTP
1 min @ 270 Watts or 089% of FTP
3 mins @ 140 Watts or 56% of FTP
Cool Down – 3 minutes
3 mins @ 120 recovery Watts or 48% of FTP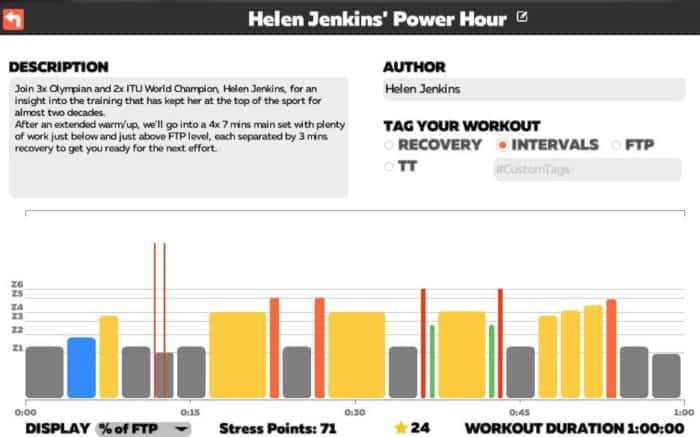 Marc Jenkins
Now we all keep up with the slowest person, not the fastest, right?
What a series of events and how have we got to this point. All sporting events and mass gatherings are cancelled for a while. We aren't meant to be in close social contact with people other than those in our own household and we aren't meant to be taking any unnecessary trips or exercising for too long, an hour a day. All quite straight forward and easy to understand. While not ideal for any of us, life has changed very quickly from the one we all lived three weeks ago.
I am guessing things may stay the same for a while, even likely become stricter. While I don't like that, I fully accept it. As a society, we are all keeping up with the "slowest" – not what we would aim to do in sport and aim for the fastest – the ones who need things explained to them a little bit more clearly than everyone else, so they aren't sunbathing on the beach, taking picnics, going out training for hours on end and thinking its ok… because it's not! We've all been told this quite clearly in the same constant messaging. It always takes a little while longer for a minority to understand, hence the majority wait for the simplest of rules to be processed.
So, what do while waiting for the special minority to conform so we get out of this situation sooner? How do we occupy a day? Easy, run around after a 10 month and 2-and-a-half-year-old all day while trying to explain to them why they can't go swimming, can't go to the park, can't see their friends and so on. In actual fact, my 2-and-a-half-year-old understands it more than some athletes.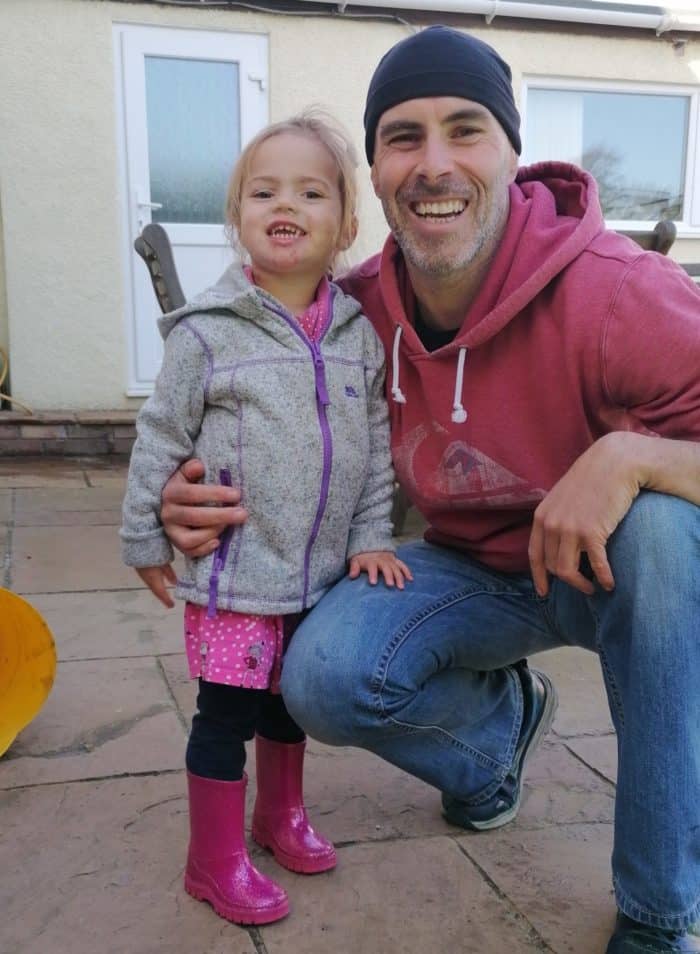 It's been a crazy two weeks and thankfully we have a good gym set up. Helen is becoming accustomed to 4am wake ups so she can get her long ride in and still spend most of the day with the kids and the weekend drink now has been extended by five days. Like anything that we perceive to be a mostly negative, there are positives. We are getting to spend lots of time as a family and we are enjoying seeing Max and Mali change every day. They are enjoying each other's company more and more which hopefully will help form some kind of bond for the future. We are seeing it while taking our daily walk with the kids that there are lots of families walking with their kids, both young and old so these three weeks could a good thing for lots of us and our relationships in our own homes.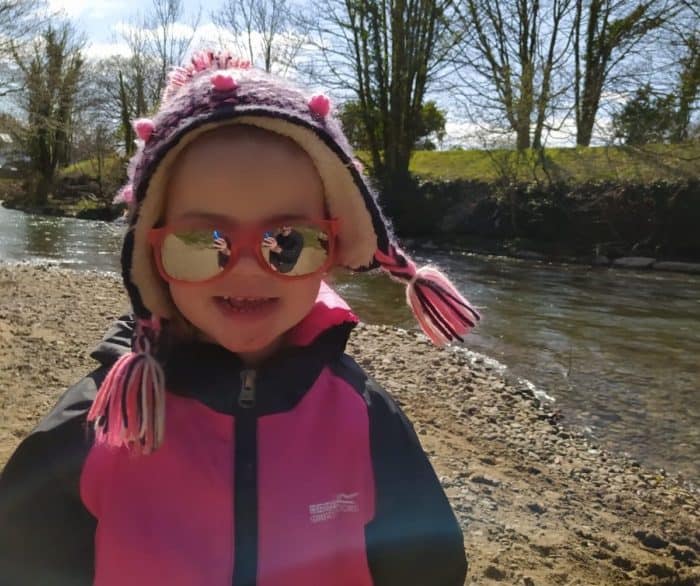 As always with Helen and I, the best way to get through anything Is to have a plan and now more than ever, that plan is helping us with structure; both entertaining the kids and getting some form of training done every day, meals, games, TV time. The more organised we are the better and easier it is with Max and Mali.
I decided to be a bit more careful this month with what I eat while I started to do a bit more training and try and drop some weight. I weighed in the first day of lock down at 73kg, that's a bigger number than I've seen before and after a week of what I considered healthy eating and more training, I managed to get to 75kg. Not sure it's heading in the right direction?!
Stay healthy everyone and enjoy the family time and time to catch up on all those things you were going to do when you found you had chance
Marc's Coaching Tip of the Month
If you are able to get out running at the moment then brilliant. Some people may have more time to be training now than they've ever had, so make the most of it and build on your usual routine. Time on your feet is always a benefit so extend those runs if time allows but keep them nice and easy/controlled so you are getting the benefit of the long run.
Hopefully racing will return soon so now may be worth bringing in the build run.
Coach Marc's Build Run
20 mins @HR 140-155.
15 Mins @ just below race pace (for your target race) – HR 155-170
10 Mins as hard as you can go, 170 +
(Note: these HR's are as an example where an athlete's max is around 180 and running steady is @ just over 140 BPM).
If you aren't able to get out as is the case in some countries then it's worth thinking how do you limit the risk of injury when you start back. So, keep those lower limbs working with;
Lots of controlled calf raises.
Skipping, which is a good work out for lower limbs and a pretty good all-round aerobic activity if you are in total lock down.
Keeping mobile with a good stretching routine you can get done every couple of days.