This is a preview of IRONMAN 70.3 Boulder 2022 – you can read a full report on how Matthew Sharpe and Rach McBride claimed the titles.
Long course racing is heading back to the multisport Mecca that is Boulder, Colorado this weekend, as the 20th edition of IRONMAN 70.3 Boulder gets underway on Saturday, August 6th.
There is a star-studded contingent of professional athletes up in the foothills of the flatirons who will be chasing qualifying spots for the 2022 Intermountain Healthcare IRONMAN 70.3 World Championships in St. George, Utah.
And a quick note that IRONMAN have just announced that 70.3 Boulder will move in the calendar for 2023, shifting to Saturday 10 June.
Start time and how to watch live
The race takes place on Saturday 6 August 2022, starting from the Boulder Reservoir at 0705 (MDT) on Saturday morning for the men, with the women five minutes later. That corresponds to 1405 in the UK and 1505 CET.
The race will be shown live, one of the 11 IRONMAN 70.3 events to be broadcast in 2022 in a new partnership with Outside TV. You will be able to watch for free via web, mobile or connected TV app.
The pre-race coverage will begin at 0630, which will give viewers an overview of the challenging course the athletes will face and will also feature a preview of the pre-race favourites, including interviews with some of the stars of the men and women's fields.
As always, the ever reliable IRONMAN Tracker is the perfect data addition to support your viewing. If you haven't got it on your phone already, where have you been?!
Pro Men
In the men's field, 2019 IRONMAN 70.3 Boulder champion Chris Leiferman is wearing number one.
The American finished fourth at the IRONMAN World Championships in St. George, Utah earlier on this year.
And he'll also be representing Team US in the Collins Cup on August 20th, and will be hoping that a strong race in Boulder can set him up well to perform at his best in two weeks' time after sickness forced him to take a short mid-season break at the end of June.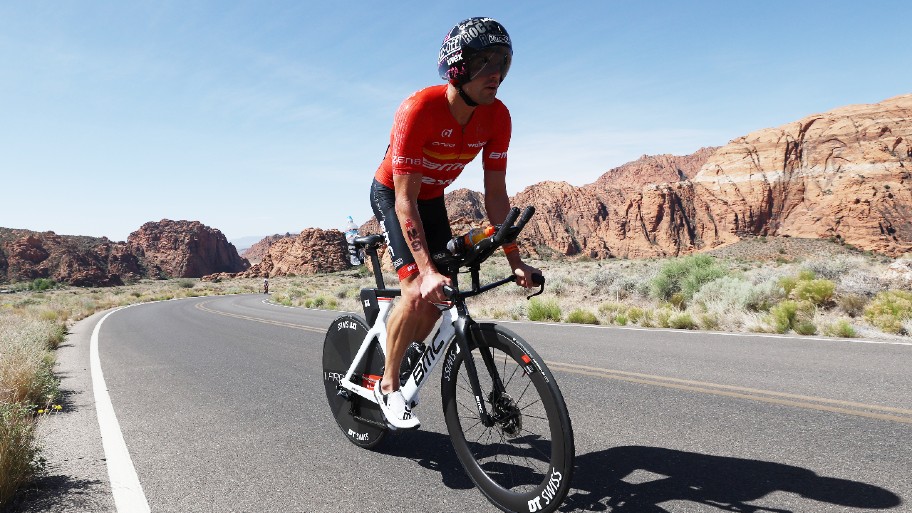 Leiferman's chances of winning his second 70.3 Boulder title won't be easy however, as there are several strong American men on the start list, including IRONMAN Texas winner Ben Hoffman.
Hoffman missed out on Collins Cup selection this week so has an added point to prove.
Some other athletes to look at for on the start line include Canadian Olympian Matthew Sharpe, who after competing strongly at the PTO Canadian Open in Edmonton a fortnight ago will be looking to continue what has been a strong first season in long course racing after announcing his retirement from the ITU circuit in February.
Another athlete starting out on his professional long course career to look out for is Trevor Foley. The 23-year-old American, who previously ran track at the University of Florida, finished an impressive fifth in IRONMAN 70.3 Indian Wells in 2021, whilst so far in 2022 has completed his first full distance race at IRONMAN Texas, where he finished sixth.
Having already qualified for the 70.3 World Championships in October, expect Foley to go all out when chasing his first IRONMAN win this weekend, and don't be surprised if this young man is your first American finisher.
Pro Women
The women's field is clearly headed in PTO rankings terms by Holly Lawrence.
Lawrence, who most recently finished third at the North American 70.3 Championships in Chattanooga and sixth at the PTO Canadian Open in Edmonton, will be hoping that her debut race in Boulder will be a success, as she is another athlete on Saturday who will have half an eye on the Collins Cup in two weeks' time, after being selected as a Captains' Pick for Team Europe.
There is a strong squad of women who will be hoping to challenge Lawrence for the win, with uber-swimmer Lauren Brandon, who finished at IRONMAN Texas in April.
Additionally, recent IRONMAN 70.3 Oregon winner Danielle Lewis is racing. Lewis will be hoping to maintain the form she displayed up in the Pacific Northwest earlier on this summer, where she beat Mirinda Carfrae to the top step of the podium, but will be coming off a disappointing result in Edmonton a fortnight ago, which she'll be looking to amend on Saturday.
You can click here for the full start list.
Ironman 70.3 Boulder Recent Winners
2021 – Sam Long and Emma Pallant-Browne.
2019 – Chris Leiferman and Skye Moench.
2018 – Callum Millward and Ellie Salthouse.
2017 – Tim Don and Jeanni Seymour.
Prize Money: What's on the line?
The prize purse on offer this weekend is $30,000 – with each of the winners collecting a $4,000 share of that total.
In addition to money, there will be a total of four qualifying slots (two MPRO / two FPRO) for the IRONMAN 70.3 World Championship in St George, October 28-29 2022.
The total funds will be paid eight-deep, as follows:
$4,000
$2,750
$2,000
$1,750
$1,500
$1,250
$1,000
$750
Of course, thanks to the formation of the Professional Triathletes Organisation, financial rewards from performance are not solely from on-the-day performances.
The PTO World Rankings will see a total of $2million awarded at the end of 2022, based up on the final standings in those points tables. The rewards there can be substantial, with a move up or down the rankings system potentially earning you more than any individual event.