Round two of the 2022 Collins Cup Captains' Picks have been revealed, with Team Europe adding Holly Lawrence, Nicola Spirig, Daniel Bækkegård and Sam Laidlow to their already impressive auto-qualified eight.
Captained by Normann Stadler and Natascha Badmann, they'll once again start as the odds-on favourites to retain the crown they won 12 months ago, with the rarely understated Stadler having previously stated he believes Team Europe can win all 12 matches. Possible – but highly unlikely!
This follows Tuesday's news that completed the Team USA 12 for Slovakia, and we expect final news from Team Internationals to follow later this week.
Youth and experience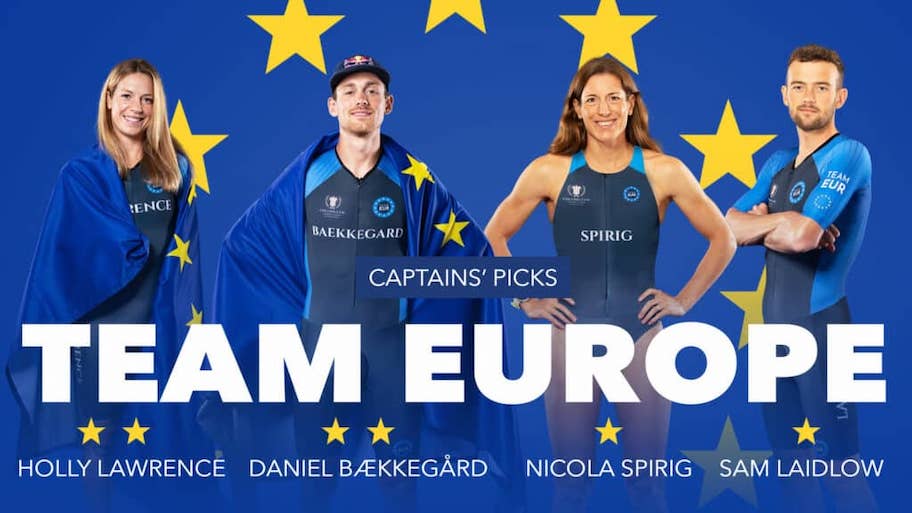 Stadler commented: "It is always very difficult to choose the European Captains' Picks as there are so many outstanding athletes. In Daniel Bækkegård, we have an experienced Collins Cup campaigner who knows the course and conditions well and had the third fastest time at last year's Collins Cup. Daniel, as PTO World #7 in the world, is also the highest PTO ranked athlete to not automatically qualify for any team.
"Sam Laidlow's tremendous performance at the PTO Canadian Open put on display that he is ready to compete with the best and join our Championship team. He will be the first athlete from France to participate in the Collins Cup."
On the women's side, Captain Badmann, noted: "For the European Women, these picks were extremely difficult to make as there are so many outstanding athletes who deserve to race for Team Europe.
"As last year's winner of the Julie Moss Award for the grittiest performance, Holly Lawrence demonstrated the true spirit of the Collins Cup and the determination of Team Europe. With Team Europe unexpectedly behind, Lawrence fell on the bike costing her a massive amount of time. Bloodied and battered and robbed of her chance to win her match, she fought on the run and denied Team US and Team Internationals vital bonus points. Her performance is already part of the Collins Cup lore.
"While Nicola Spirig is a rookie for the Collins Cup, she is a seasoned veteran with an unprecedented career. Five time Olympian and Gold and Silver medal winner, Nicola is one of the greatest women on the Olympic distance the sport has produced. It will be a joy to see her join Team Europe."
Strength-in-depth
"While we sadly will miss our high point catchers Jan Frodeno and Lucy Charles-Barclay because of injury, adding Kristian Blummenfelt, Magnus Ditlev and Laura Philipp certainly demonstrates the depth and strength of Team Europe.
"As we experienced last year in the early part of the race when we fell behind, the Collins Cup raises the performance of all athletes as they race for their teams. Team Europe will take nothing for granted. We expect a tremendous battle but are confident Team Europe will once again reign as Collins Cup champions."