It may have been her first victory over the distance, but Taylor Knibb's stunning win at Saturday's Athletic Brewing IRONMAN 70.3 Oceanside 2022 was far from a shock result.
Third at the IRONMAN 70.3 World Championship in her second start, Knibb is the real deal across all formats – and she showed just why in California on Saturday.
Swim – Fast five make a break
Knibb had made a huge mark on the sport in 2021. An Olympic silver medallist in the Mixed Team Relay, she also excelled in sprint, Olympic and middle-distance formats, including that third place at the IRONMAN 70.3 World Championship.
In her first race of the 2022 season, Taylor was to the fore again, leading out a loose group of five athletes with a 23:22 swim split, followed by Pamella Oliveira (BRA), Lauren Brandon (USA), Holly Lawrence (GBR) and Luisa Baptista (BRA), who was 16 seconds back. Ashleigh Gentle (AUS), the recent winner of CLASH Miami, who was swimming alone, would likely be pretty pleased to have reached T1 just 40 seconds down on some serious swim talent.
A further minute passed before some of the key pre-race favourites started to arrive, including Paula Findlay (CAN), Chelsea Sodaro (USA) and Daniela Ryf (SUI) – leaving them 1:45 down on the lead. US duo Jackie Hering and Skye Moench were 2:30 down, with Heather Jackson (USA) and Ruth Astle (GBR) over four minutes behind the leader Knibb.
Bike – Taylor rides away
With Knibb taking additional time in T1 to put on socks ahead of the bike leg, it was 2016 IRONMAN 70.3 World Champion Lawrence who was first out onto the 90km bike course. While Taylor lost half a minute prepping, it didn't take too long before the Cornell University graduate was back at the front and riding away, solo. Unlike last year, on her new TT bike too.
An hour into the ride and Knibb was 90 seconds up on Baptista, with Lawrence two minutes down and the Ryf/Findlay duo now three minutes back. Gentle was just 15 seconds behind Daniela and Paula, but in danger of losing touch with the front of the race.
Through some of the hills in Camp Pendleton and 40 miles in, Knibb was still in control in front but Baptista was riding strong and just 1:44 down. Findlay had pulled clear of Ryf to join Lawrence, that pair were now 3:45 down. Daniela meanwhile was in the unusual position of riding in fifth place, 4:41 back and losing time.
Once the 90km was ticked off, Knibb headed into T2 with a three=minute advantage over Lawrence and Baptista, with Findlay losing 30 seconds over the closing miles in fourth. Fifth and sixth into T2 and pretty much together were Ryf and Jackie Hering, 5:41 back.
Gentle, Moench, Sodaro and Astle came next – and separated by less than a minute – there was still plenty of racing to be done over the half marathon.
Run – Knibb brings it home
Based on her 2021 form and performances, a three-minute lead for Knibb had a strong sense of 'race over' in terms of the top step on the podium, even with 21km of running to come. That would prove to be the case.
Baptista was looking fantastic in second place, but 6km in and her gain on Knibb was just 11 seconds – still 2:49 back. Lawrence was still moving well in third (+3:11), with Findlay now five minutes down in fifth. Ryf, unfortunately for the sport, was fading down the field.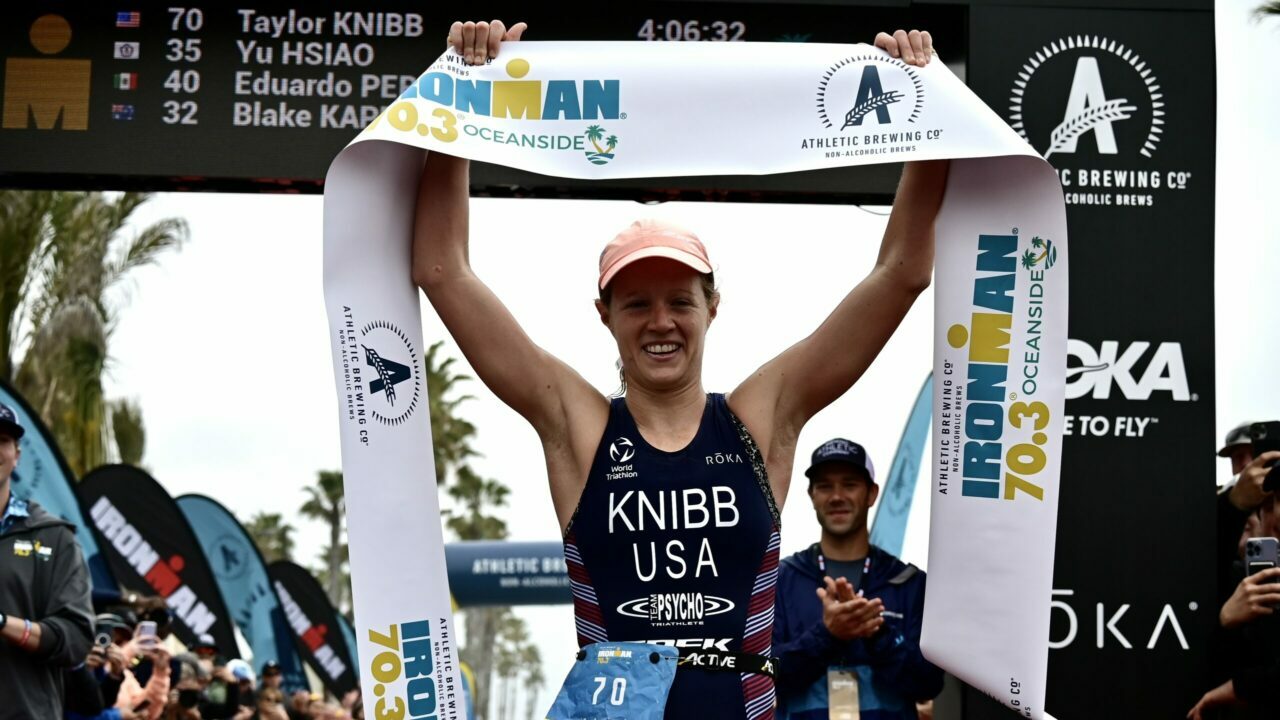 There were none of the dramatics we saw late in the men's race. The top three finishers all ran 1:17 half-marathons, leaving the final podium as Knibb came home with a winning margin of more than two minutes on Baptista, with Lawrence – and blisters – a strong third.
No podium this week for Gentle, but a 1:16:36 run shows that she will have a strong future in this format. Hering rounded out the top five.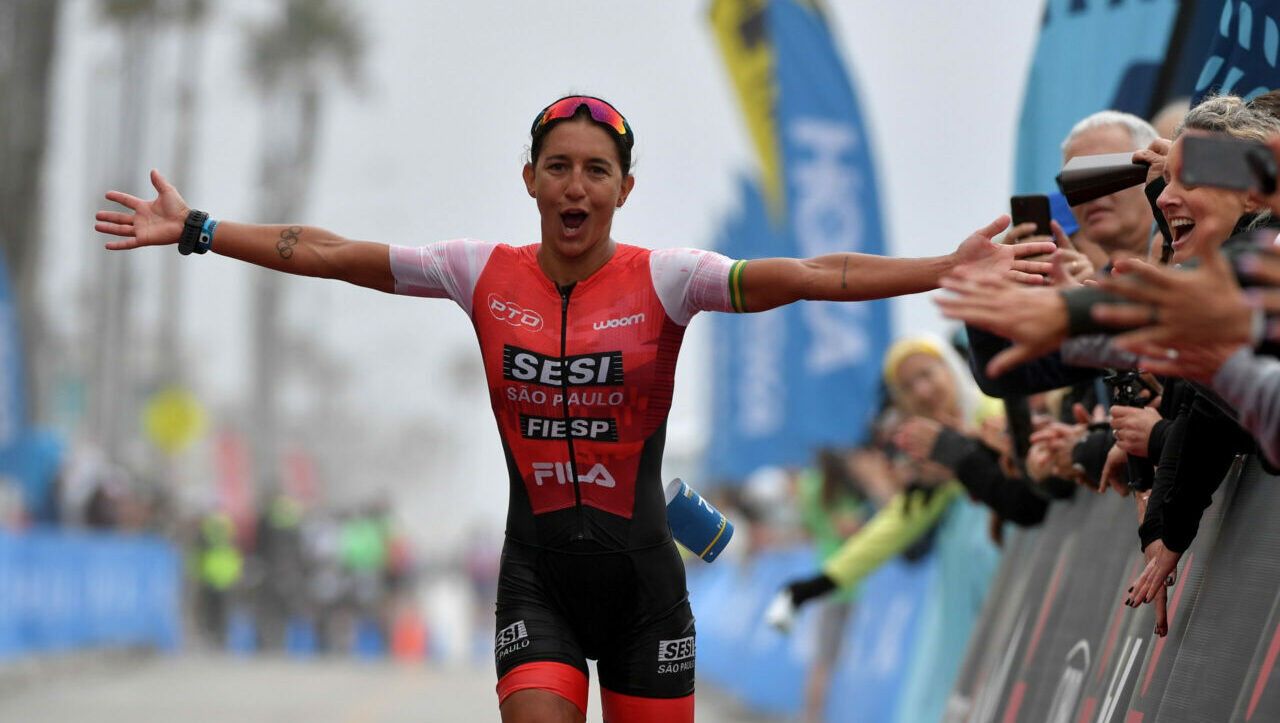 Ryf eventually came home in 10th, and would later be a DQ for speeding on the downhill. A 'tough day at the office' for Daniela, as she would later reflect.
IRONMAN 70.3 Oceanside 2022 Results
Pro Women
Saturday April 2, 2022 – 1.9km / 90km / 21.1km
1. Taylor Knibb (USA) – 4:06:32
2. Luisa Baptista (BRA) – 4:08:45
3. Holly Lawrence (GBR) – 4:09:17
4. Ashleigh Gentle (AUS) – 4:12:21
5. Jackie Hering (USA) – 4:13:46
6. Paula Findlay (CAN) – 4:15:09
7. Chelsea Sodaro (USA) – 4:16:07
8. Skye Moench (USA) – 4:18:17
9. Ruth Astle (GBR) – 4:18:37
10. Danielle Lewis – 4:22:51
NB: Daniela Ryf originally finished 10th, then DQ for speeding in the downhill