The Women's IRONMAN 70.3 World Championship takes place on Friday, October 28 and the final start list with bib numbers has been published. Lucy Charles-Barclay dons the F1 bib as she looks to defender her title.
[Click here for the Pro Men start list]
Pro Women racing at St George
51 of the world's finest middle-distance triathletes will take to the start line in the Women's Pro race in St George, Utah, with Charles-Barclay and fellow Britain Holly Lawrence (F7) the two former winners in the field.
Charles-Barclay took top honours in 2021 – in addition to a podium finish in 2018 – while Lawrence earned the crown in 2016, also finishing second in 2019. Other former medallists racing in Utah are Taylor Knibb (F2) and Emma Pallant-Browne (F4).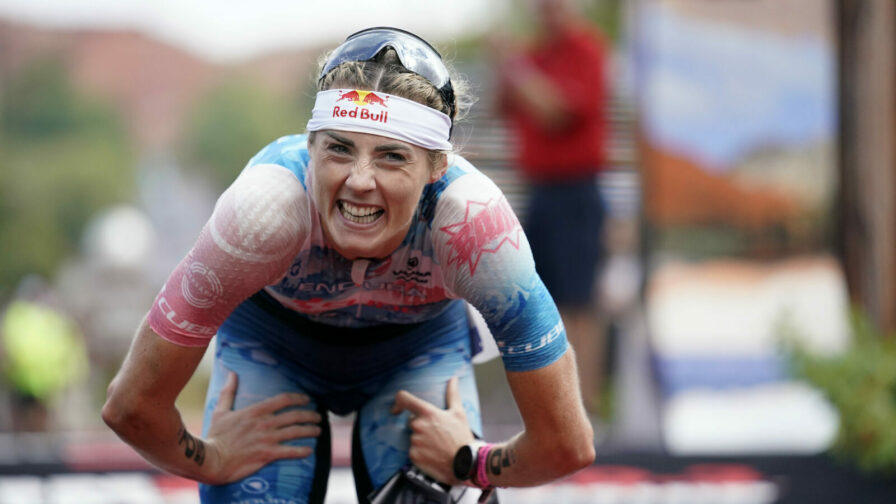 Great Britain brings a healthy stable of athletes to the event. In addition to Charles-Barclay, Lawrence and Pallant-Browne, GBR has Nikki Bartlett (F8), Ruth Astle (F16), Lydia Dant (F21), India Lee (F27), Olivia Mitchell (F53) and Frankie Sanjana (F65) hunting for glory.
Other contenders who are in good form include Switzerland's Imogen Simmonds (F22), who took victory at Challenge Paguera Mallorca on October 15, Grace Alexander (F45), who won IRONMAN 70.3 Augusta in September, and Lotte Wilms (F24) who topped the podium at IRONMAN 70.3 Sunshine Coast, also in September.
Other notable names include Bermuda's Olympic Champion – racing in her first IRONMAN 70.3 World Championship – Flora Duffy (F10), Australian duo Ellie Salthouse (F19) and Grace Thek (F29), and Canada's Paula Findlay (F14).
Start list and bib numbers – Pro Women
| | | | |
| --- | --- | --- | --- |
| BIB | FIRST | LAST | COUNTRY |
| F1 | Lucy | Charles-Barclay | GBR |
| F2 | Taylor | Knibb | USA |
| F4 | Emma | Pallant-Browne | GBR |
| F6 | Jackie | Hering | USA |
| F7 | Holly | Lawrence | GBR |
| F8 | Nikki | Bartlett | GBR |
| F9 | Anne | Reischmann | GER |
| F10 | Flora | Duffy | BER |
| F14 | Paula | Findlay | CAN |
| F16 | Ruth | Astle | GBR |
| F17 | Tamara | Jewett | CAN |
| F19 | Ellie | Salthouse | AUS |
| F21 | Lydia | Dant | GBR |
| F22 | Imogen | Simmonds | SUI |
| F23 | Danielle | Lewis | USA |
| F24 | Lotte | Wilms | NED |
| F25 | Barbara | Riveros | CHI |
| F26 | Manon | Genet | FRA |
| F27 | India | Lee | GBR |
| F28 | Marjolaine | Pierre | FRA |
| F29 | Grace | Thek | AUS |
| F30 | Lesley | Smith | USA |
| F31 | Aleksandra | Jedrzejewska | POL |
| F33 | Kelly | Fillnow | USA |
| F34 | Alexia | Bailly | FRA |
| F35 | Charlene | Clavel | FRA |
| F36 | Natia | Van Heerden | RSA |
| F37 | Dimity-Lee | Duke | AUS |
| F38 | Justine | Guerard | FRA |
| F39 | Amy | Cymerman | USA |
| F40 | Sonja | Catano | USA |
| F42 | Ali | Brauer | USA |
| F43 | Giorgia | Priarone | ITA |
| F44 | Diede | Diederiks | NED |
| F45 | Grace | Alexander | USA |
| F46 | Daniela | Kleiser | GER |
| F48 | Katharina | Krüger | GER |
| F49 | Sarah | Bishop | USA |
| F50 | Romina | Palacio | ARG |
| F52 | Julie | Iemmolo | FRA |
| F53 | Olivia | Mitchell | GBR |
| F54 | Mariella | Sawyer | RSA |
| F55 | Eloise | Du Luarte | FRA |
| F56 | Pamela-Ann | Bachelder St Pierre | CAN |
| F57 | Stephanie | Demestichas | AUS |
| F58 | Paulina | Kotfica | POL |
| F59 | Palmira | Alvarez | USA |
| F61 | Lottie | Lucas | UAE |
| F63 | Rachel | Olson | USA |
| F64 | Tiina | Pohjalainen | FIN |
| F65 | Frankie | Sanjana | GBR |