Great Britain's Lydia Dant has seemingly made the transition from top age-group athlete to competitive professional, look seamless.
In 2021 she was winning the Outlaw Half Nottingham and the first age grouper across the line at IRONMAN 70.3 Staffordshire. Pro licence secured, among the highlights since then have been victory at IRONMAN Lanzarote and a second place at IRONMAN 70.3 Luxembourg.
Dant, who also runs a bike fitting and cycling consultancy, added another podium to her C.V. on Sunday, courtesy of a second place finish at IRONMAN 70.3 Swansea.
A stunning race
I spoke to Lydia shortly after the podium presentations, and while a result is one thing, she was just as excited about the event itself.
"It was epic really. You couldn't ask more from an event – it's Wales and it's sunny – so just from start to finish the whole atmosphere has been incredible. The bike course, the scenery is just stunning. Swansea has put on a pretty epic race to say the least.
"My goal for the bike course was just to go and enjoy it. I came and recce'd it a couple of weeks ago, so I knew what to expect and was pretty hyped for it already. So the aim was to just to ride a technically sound race really and leave no stone unturned, leave it all out there, but also just riding within my own limits.
"It was pretty cool – not bunny-hopping the cattle grids, being sensible – I just took it all in and just appreciated the best of the Gower."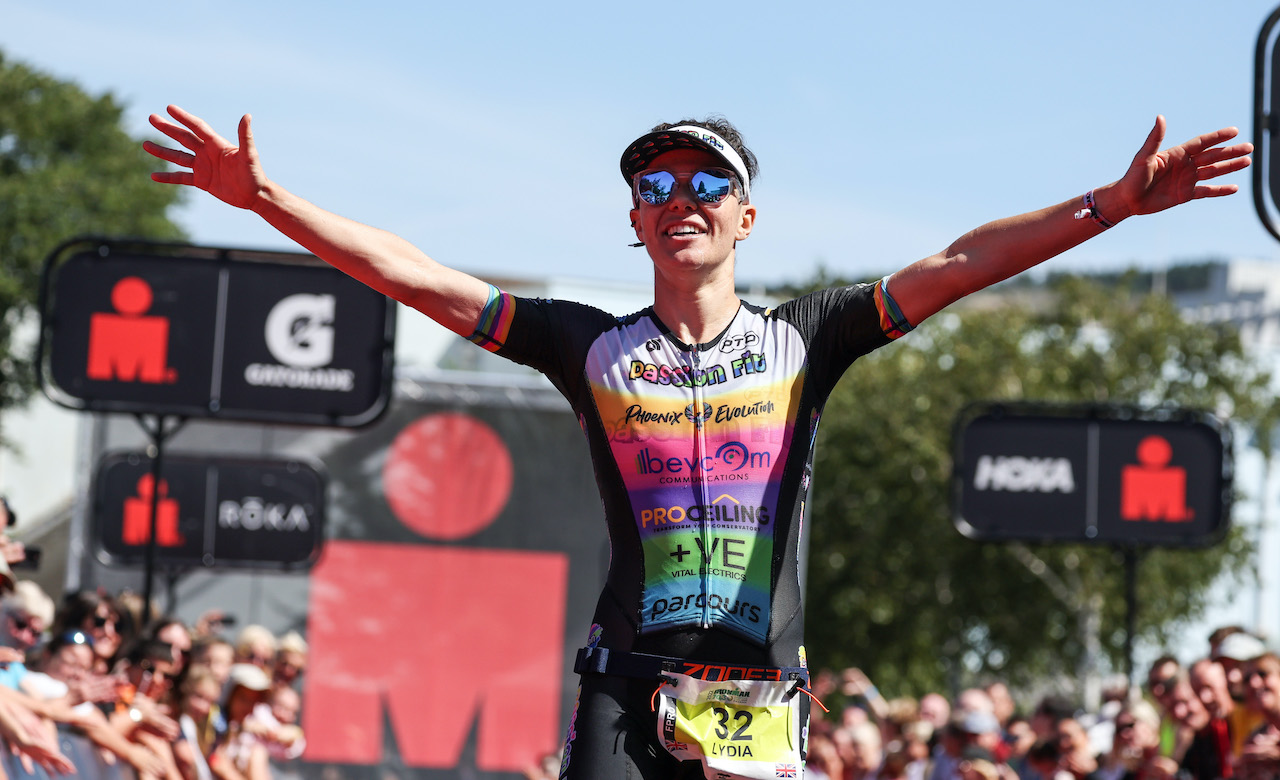 Savouring the run
Off of the bike in third place, Lydia was able to pass Ruth Astle on the run to take second, but when asked if she felt good going starting the half marathon, she was quite clear! That, and more references to the course and support.
"No! But, I got into it. I had no pre-conceived notions of what to expect going out onto the run, just an open mind and enjoying looking over the bay. There was amazing support, Swansea Vale Tri were out in force, and so I was just savouring the atmosphere and taking it all in really. It was exciting to try and put that jigsaw puzzle together today."
What's next?
With the three back-to-back Pro podiums now, Lydia also outlined the rest of her year, which looks set to include three more races, including a second full-distance start.
"I've got Vichy 70.3 in two weeks so I'm looking forward to a new race again, and then we'll be going to the 70.3 World's in Utah, where we have 12 athletes qualified from Passion Fit. That will be phenomenal to share that whole experience together, and then probably staying on to do IRONMAN Arizona after and that will be my season."