Sophie Coldwell is going all in on this week's Paris Olympics Test Event and next month's WTCS finale in Pontevedra, having only raced one individual event since her breakthrough success in Yokohama in May.
That commanding victory in Japan was the Brit's first at the sport's highest level and it came on the back of a strong start to the season when she had been runner-up to Beth Potter in Abu Dhabi.
Coldwell did line up in Montreal in June when 13th in the individual, but her only other appearance was in the Mixed Team Relay in Hamburg.
Dual focus
Speaking to TRI247 ahead of the Olympic Games Test Event in Paris this week, she explained: "I am just not an athlete that can race that much, if I'm brutally honest.
"I know that I normally race better if I just have blocks of training and the priority for me this year was to try and target this week and then the Grand Final and in doing that, I just have to sacrifice racing as frequently.
"So it's a decision I made and whether it pays off or not is yet to be determined, but I'm happy with that decision regardless of what happens in Paris."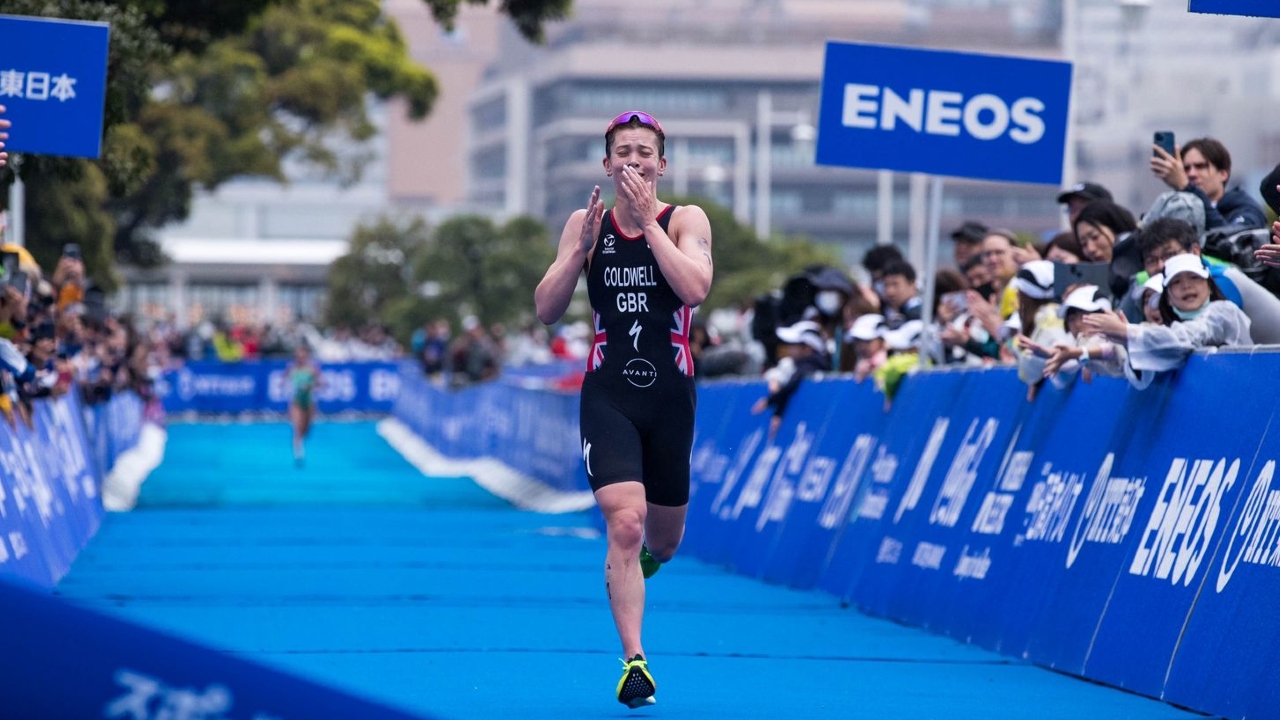 It means she'll be something of an unknown quantity in Thursday's women's race and she added: "I feel like I'm in good shape. But it's hard if you're not racing as much to know exactly what form you're in.
"Montreal wasn't as good as I'd hoped for. I didn't feel great at all, so hopefully I'm in better shape than that."
Pros and cons for GB women
Team GB look on track to qualify three women for the Olympics and once again have strength in depth on the female side, even though Coldwell's great friend Georgia Taylor-Brown is currently on the sidelines with a torn calf muscle.
Referencing GTB's ongoing recovery, Coldwell said: "When she told me, I just felt really sorry for her. No-one likes to be out with an injury.
"I know that she's had a couple of weeks to kind of get over the lows of it and is starting to get back into training now and just preparing the best she can. And, yeah, she'll be back when she's ready – I'm sure she'll be all guns firing for next year."
Coldwell was one of the unlucky ones to miss out ahead of Tokyo and she said: "It's obviously tough regardless of what nation you're from. It's the Olympic Games, the pinnacle of our sport and I suppose being from GB has its pros and cons.
"We have the three spots there to qualify, but there's more than just three British girls that are after those places at the end of the day."
Opportunity knocks for Mathias
One person who could yet be vying for a spot is Olivia Mathias, who won a Commonwealth Games silver medal in the Mixed Relay with Wales last year – though the youngster says Los Angeles 2028 is a more realistic target for her.
Last time out she helped animate the front of the race on the bike at WTCS Sunderland on what was her comeback from a hamstring injury, but unfortunately she was one of the many athletes laid low by a sickness bug after the swim off the North East Coast and missed the Mixed Relay.
She says she's fully recovered now, adding: "Yeah, I'm fine thanks. Back training and back in the swing of things, so can't complain.
"This year hasn't been kind of what I hoped for it to be so far, but I think I can take a few positives out of Sunderland and hopefully build on that in the next few races towards the end of the season.
"For me, this race is a bit different to the other girls. I'm kind of using it as a bit of experience for being in that position, hopefully in four years' time and learning that way.
"But I guess I'm on the start line, so I have the same opportunity and it's triathlon, a sport where anything can happen, so I'll just give it my best shot."