This is a preview of WTCS Montreal 2022 – you can read full reports on how Georgia Taylor-Brown took the women's elite race while Alex Yee beat Hayden Wilde to win the men's.
The third (in the calendar year) round of the 2022 World Triathlon Championship Series takes place this coming weekend at the World Triathlon Sprint & Relay Championships Montreal. With Hamburg and Abu Dhabi points added from 2021, this will then be the fifth round of the 2022 World Triathlon Championship Series, following Yokohama and Leeds this year.
Two weeks on from a weekend of action at WTCS Leeds, we have three days of racing in Canada, with the event hosting a wide range of different championship races across the schedule. Given that complexity, let's start with a quick overview.
What's on?
Friday
Junior World Championships (Junior Men / Junior Women) – Sprint Distance
WTCS Elite Qualifications (Elite Men / Elite Women) – Super Sprint Distance
WTCS Elite Repechage (Elite Men / Elite Women) – Super Sprint Distance
[UPDATE – All races on Friday will be in duathlon format following the cancellation of the swim. This follows significant rain in Montreal, meaning that the gates to the sewer pipes to St Lawrence River having to be opened to avoid flooding in the city.]
Saturday
Age Group Sprint Distance World Championship (Draft Legal)
WTCS Elite Women Eliminator Finals (3 races) – Super Sprint Distance
WTCS Elite Men Eliminator Finals (3 races) – Super Sprint Distance
Sunday
Age Group Mixed Team Relay World Championship
Junior/U23 Mixed Team Relay World Championship
Elite Mixed Team Relay World Championship
Start times and how to watch live
The events will be covered in-depth via World Triathlon's subscription service, TriathlonLive.tv. For those in the UK, the Eliminator Finals (Saturday) and the Mixed Relay World Championship (Sunday) will also be shown on the BBC Red Button, BBC iPlayer and the BBC Sport website.
With such a busy schedule and multiple races across three days, here are a few of the key timings. You can find the full schedule of event here.
Friday – World Junior Championships
Junior Women: 0800 local time / 1300 UK time / 1400 CET
Junior Men: 1000 local time / 1500 UK time / 1600 CET
Saturday – WTCS Eliminator Finals
Elite Women (first race): 1406 local time / 1906 UK time / 2006 CET
Elite Men (first race): 16:46 local time / 2146 UK time / 2246 CET
Sunday – Elite Mixed Team Relay World Championships
1645 local time / 2145 UK time / 2245 CET
The Eliminator format
Ok, so as with the event in 2021, Elite athletes in the WTCS event will race multiple times this week.
Stage 1 (Friday) – Qualify
On Friday, the Elite Men and Elite Women entries will be split across two starts ('Qualifier 1' and 'Qualifier 2'). Race distances across all events are 300m / 7.2km / 2km. The first 10 finishers in each Qualifier will progress directly to Saturday's finals.
Those who don't make the top-10, will get a second chance – and will race again on Friday, split into two Repechage events. The top-5 finishers in each of those will progress through to Saturday. That will leave us with 30 athletes for Saturday.
Stage 2 (Saturday) – Finals
Event 1: 30 athletes start, and the first 20 athletes across the line progress. Everyone else is eliminated.
Event 2: 20 athletes start, and the first 10 athletes across the line progress. Everyone else is eliminated.
Event 3. The final race, to determine the top 10 finishers in the WTCS race.
Who's NOT racing?
That seems a reasonable place to start.
For the men, no Jonathan Brownlee of course following his crash and broken elbow in Leeds.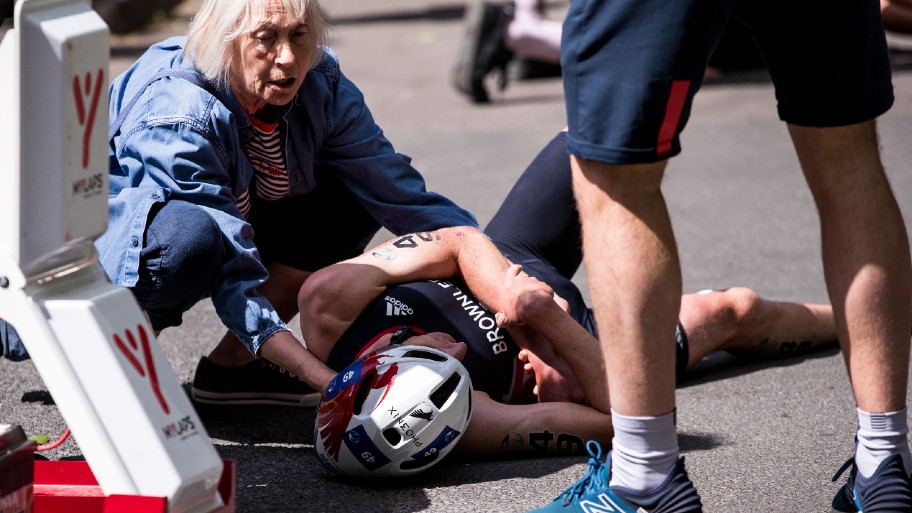 Also absent from the current WTCS top-10 standings are Vasco Vilaca (POR) who was fourth in Leeds, plus all of the German squad. That includes Lasse Lührs and Lasse Nygaard Priester, who were third and fifth respectively in Leeds. No Tim Hellwig either, winner in Hamburg last year and currently ranked #7 in the WTCS standings. It also means that Germany – Mixed Team Relay winners in Leeds – won't even start a team in the MTR World Champs on Sunday.
For the Women, we've already highlighted the absence of Olympic champion (and 2021 Montreal winner), Flora Duffy (BER), who may possibly be racing at IRONMAN 70.3 Mont Tremblant on Sunday.
Other athletes absent from the current WTCS top-10 rankings are the German duo of Laura Lindemann and Anabel Knoll, plus Great Britain's Sian Rainsley.
Big names from outside the current rankings who will be missed are Taylor Knibb (second last year) and Leonie Periault of France.
Who IS racing
Despite a few absences, you never get a weak WTCS start list, and so we still have the likes of Alex Yee, Hayden Wilde, Vincent Luis, Jelle Geens, Marten Van Riel, Leo Bergere, Richard Murray and more in the men.
Team France swept the podium last year via Coninx, Luis and Bergere – and all return. Indeed, the top nine finishers from 2021 all start.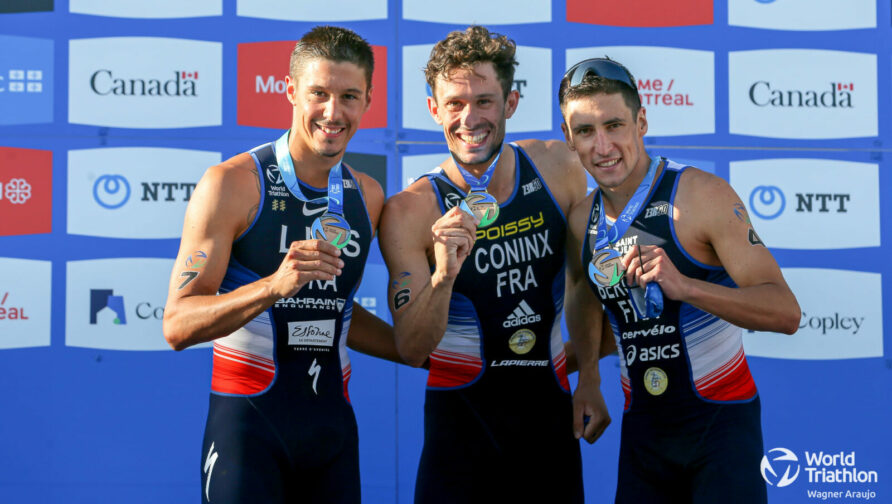 Yee and Wilde looked to be in a class of their own in Yokohama, but even two weeks on and hopefully with only road rash as a memory, it's difficult to know what impact in the short term that crash will have had on Alex.
Wilde raced again last week (and well too), as part of a Team Lievin 1/2/3 in the French Grand Prix Series in Dunkerque. A 300m swim would appear to play to his strengths – and as a relative veteran of Super League racing, back-to-back efforts won't be an issue. He's already approach double figures for triathlon starts this year, and hasn't finished lower than second yet. A busy schedule and travel, perhaps, looks like the only thing that could slow him down at the moment.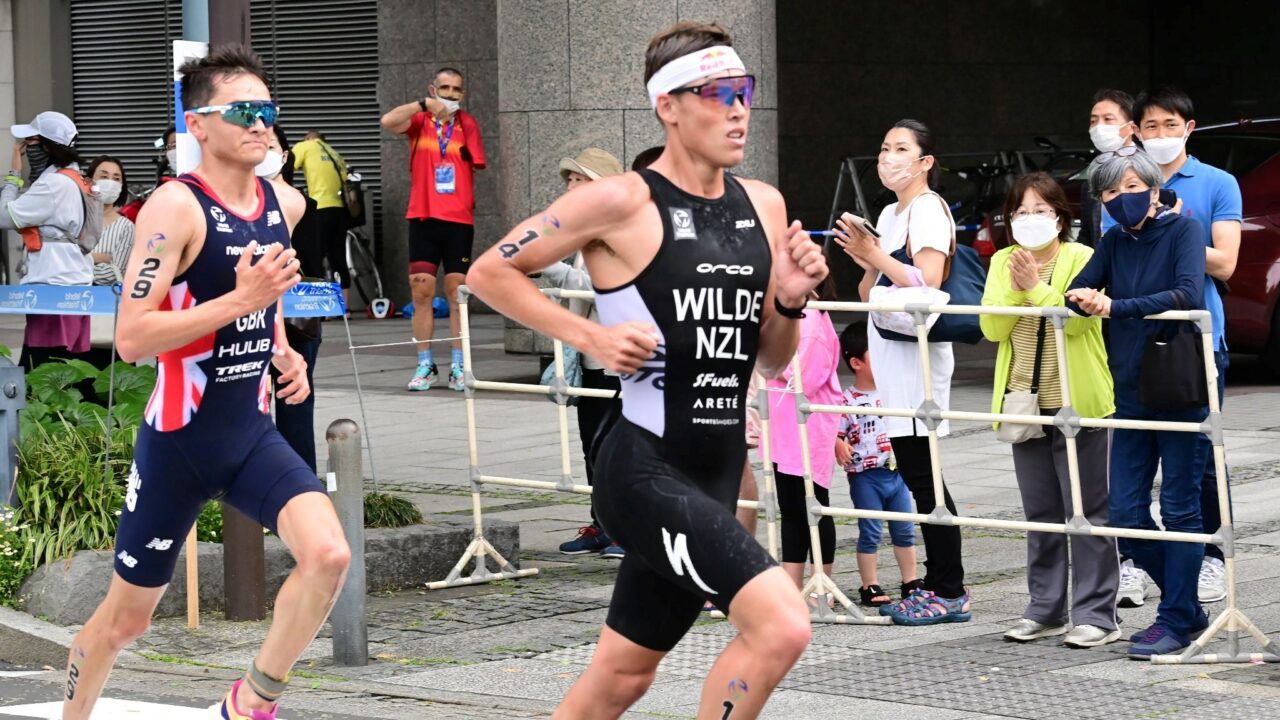 On the women's side, the British trio is very strong with Georgia Taylor-Brown, Sophie Coldwell and Beth Potter having finished 2nd/3rd/5th at Leeds. The winner from Yorkshire, Cassandre Beaugrand will be in Canada and hoping to continue with that form (minus the mount line errors).
Having done lots of early season, short-distance, back-to-back racing while winning the Arena Games eSports World Championship, to me this race looks ready for Beth Potter to make a World Triathlon Championship Series podium – something I've consistently said she will do at least once this year, such has been her progress.
I'll go for Beaugrand, Taylor-Brown and Potter as my podium picks.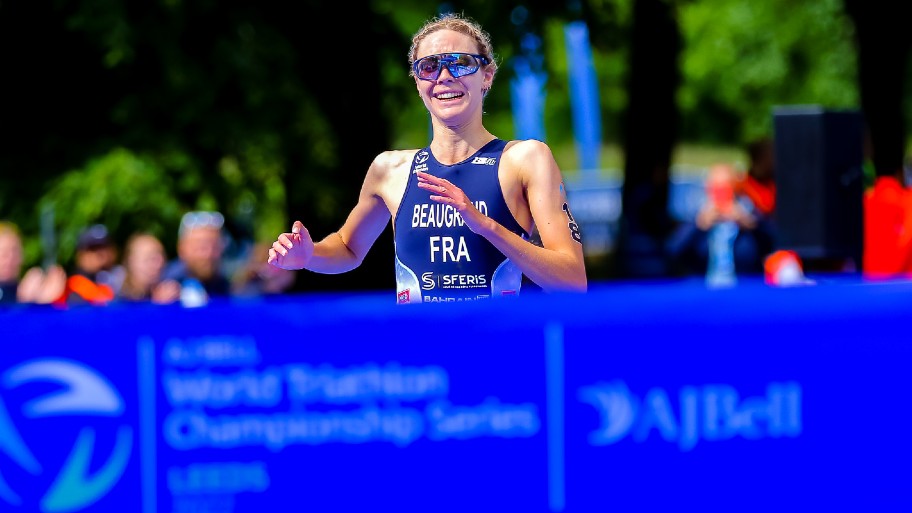 Click here for full start lists across all races in Montreal.
WTCS Rankings after Yokohama
1. Georgia Taylor-Brown (GBR) – 2619 points
2. Flora Duffy (BER) – 2326 points
3. Beth Potter (USA) – 1634 points
4. Taylor Spivey (USA) – 1632 points
5. Laura Lindemann (GER) – 1621 points
1. Leo Bergere (FRA) – 2769 points
2. Antonio Serrat Seoane (ESP) – 2325 points
3. Hayden Wilde (NZL) – 2254 points
4. Vasco Vilaca (POR) – 1846 points
5. Lasse Nygaard Priester (GER) – 1832 points