Hayden Wilde put a flat tyre in Abu Dhabi behind him in perfect style as he ran away with the win at WTCS Yokohama.
The New Zealander, who was second to the absent Alex Yee here last year, had a great swim and was then a driving force in a huge group on the bike – and thankfully this time there was no mechanical mishap to derail him.
With the race effectively boiling down to the 10km run, Wilde took the lead early on alongside reigning WTCS champion Léo Bergere (FRA) before kicking clear on the second of four laps en route to a dominant win.
He had plenty of time to celebrate on the blue carpet but behind him there was a thrilling battle for the podium places – Matt Hauser (AUS) sprinting to second, with Vasco Vilaca (POR) in third.
Reigning Olympic champion Kristian Blummenfelt, second last week at the PTO European Open in Ibiza, was eighth while his Norwegian compatriot Gustav Iden was nearly five minutes back in 39th.
Meanwhile earlier in the day Britain's Sophie Coldwell notched her biggest-ever win in the women's race – click here for that report.
Swim: Solid start for Wilde
Setting the tone for the race as a whole, bar Wilde's running masterclass, the swim was seriously tight.
Dylan McCullough (NZL) led after first 750m loop in relatively calm conditions in the Port of Yokohama – at which point reigning IRONMAN World Champion Iden was 60th and last, 35 seconds behind.
By the time they exited the water for a second and final time, Márk Dévay (HUN) led it out in 17:11, ahead of Jonas Schomburg (GER), Hauser, Kenji Nener (JPN) and McCullough.
Bergere was seventh, Marten Van Riel 10th on his comeback from injury, Wilde not far back in 21st, with Blummenfelt 51st at +44s and Iden 59th at 1:07 at this point.
Bike: 'Big Blu gets in the mix'
Wilde erased his deficit almost straight away, with he and Bergere on the front of a huge front group after the first of nine laps.
But the next question was whether Blummenfelt could bridge up. He had cut the gap to 25 seconds after lap two and by the end of the fourth loop he'd made contact with the back of what was now a 44-man pack.
Light rain had become torrential by the penultimate lap but the race situation remained static, meaning it was all going to come down to the 10km run.
Run: Wilde a class apart
Early on the run what had been a huge group was suddenly looking like a duel as Wilde – who had been in great running form back home in New Zealand in the build-up to this race – and Bergere forged clear of the rest.
But on the second of four laps, Wilde put in a kick which quickly put daylight between himself and the Frenchman.
From that moment onwards he was never in danger – but there was an absorbing battle going on behind him.
When the bell came, Wilde was nearly half a minute clear but just a handful of seconds separated the next seven men – Vilaca, Dorian Coninx (FRA), Bergere, Adrien Briffod (SUI), Hauser, Jelle Geens (BEL) and Henri Schoeman (RSA).
And the podium places weren't decided until the finishing straight as Hauser conjured up a stunning late burst to grab second, with Vilaca in third as French pair Coninx and Bergere had to settle for fourth and fifth respectively.
Wilde spent so much time celebrating on the blue carpet that his lead had been whittled down to just four seconds when he stopped the clock in 1:42:13.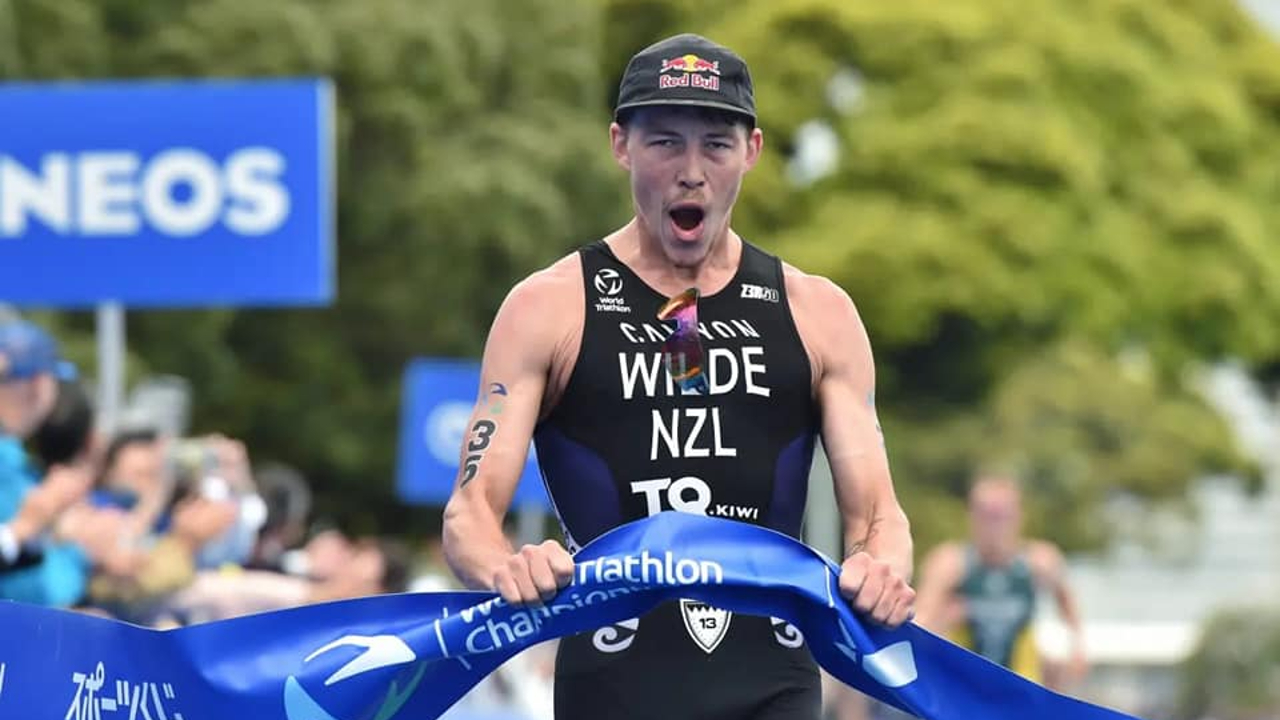 Next up is WTCS Cagliari when we should get the chance to see the latest instalment of the Wilde / Yee rivalry, with the Brit absent here in Japan following his season-opening victory in Abu Dhabi.
But it's Vilaca who leads the way in the overall standings after a second and third to start the season.
WTCS Yokohama 2023 Results
Saturday May 13 2023 – ELITE MEN
1.5km / 40k / 10k
1. Hayden Wilde (NZL) 1:42:13
2. Matt Hauser (AUS) 1:42:17
3. Vasco Vilaca (POR) 1:42:18
4. Dorian Coninx (FRA) 1:42:22
5. Léo Bergere (FRA) 1:42:26
6. Adrien Briffod (SUI) 1:42:37
7. Jelle Geens (BEL) 1:42:42
8. Kristian Blummenfelt (NOR) 1:42:48
9. Csonger Lehmann (HUN) 1:42:53
10. Henri Schoeman (RSA) 1:43:01
WTCS Rankings Standings after Yokohama
1. Vasco Vilaca (POR) 1549.38pts
2. Dorian Coninx (FRA) 1340.52pts
3. Léo Bergere (FRA) 1239.98pts
4. Matt Hauser (AUS) 1124.28pts
5. Adrien Briffod (SUI) 1049.01pts