Fourth World Triathlon Series win of 2017 for World Champion Mario Mola
Birtwhistle recovers from lap-count error to take another Silver
In a race that was very different to the Elite women's race two hours earlier (read about that HERE), the result still ended up following a similar pattern. Like Flora Duffy, defending ITU World Champion also won his fourth consecutive World Triathlon Series race of the season in Edmonton.
There was a swim (lead by Richard Varga), there was a bike (which briefly had a group of nine with a ten seconds gap, and then a brief attack by Ben Kanute (USA), but ultimately 31 men reached T2 within a few seconds of each other and it would be a 5km run to decide the podium. Short odds on Mario Mola from that point. It was certainly class as the front – Jonathan Brownlee, Richard Murray, Javier Gomez, Jacob Birtwhistle and Mola were soon shoulder-to-shoulder at the front. Gomez tried to push the pace, but his attack was soon extinguished and Mario Mola turned up the pace and pulled away.
And then… towards the end of lap two (of three), Australia's Jacob Birtwhistle attacked, and swiftly moved from fifth, to fourth to third…. and soon blitzed by Mario too. Something was up, and my instant thought was…
Mola has gone, @JakeBirtwhistle putting in a HUGE effort? Hope he hasn't mis-counted laps….

— TRI247 (@tri247) July 29, 2017
No way can he keep that up.

— TRI247 (@tri247) July 29, 2017
Turning into the finish straight, Birtwhistle veered to the right and headed towards the finish line one lap earlier. Thankfully he realised, ended up hurdling the barriers and got back on to the correct course. But, he must have been in a world of lactic pain at this point. Matches burned, all over? Remarkably, no! While Mario kept his focus and took the win, Birtwhistle somehow managed to still set the second fastest run split and take second, ahead of Richard Murray, with Jonathan Brownlee crossing the line in fourth.
A solid race from Brownlee, but not spectacular. Given he was judged too ill to start in Hamburg two weeks ago, perhaps all we could reasonably expect though. After fourth last year, Grant Sheldon rounded out the top ten.
ITU World Triathlon Hamburg – Saturday 29th July 2017
750m / 20km / 5km
ELITE MEN
1st – Mario Mola (ESP) – 54:51
2nd – Jacob Birtwhstle (AUS) – 55:01
3rd – Richard Murray (RSA) – 55:06
4th – Jonathan Brownlee (GBR) – 55:14
5th – Raphael Montoya (FRA) – 55:19
6th – Javier Gomez (ESP) – 55:24
7th – Pierre Le Corre (FRA) – 55:28
8th – Kristian Blummenfelt (NOR) – 55:31
9th – Fernando Alarza (ESP) – 55:36
10th – Grant Sheldon (GBR) – 55:39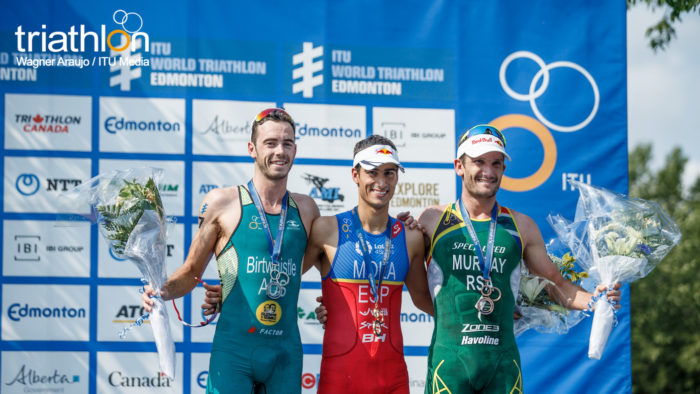 WORLD CHAMPIONSHIP STANDING AFTER EDMONTON
1st – Mario Mola (ESP) – 3664
2nd – Fernando Alarza (ESP) – 3172
3rd – Javier Gomez (ESP) – 2990
4th – Richard Murray (RSA) – 2512
5th – Jacob Birtwhistle (AUS) – 2132