Since its first edition in 2013, the Outlaw Half Nottingham has quickly developed into one of the most popular Middle Distance events on the domestic calendar. Another sold out event is all set for Sunday, and we'll be there once again to be part of the action.
The 2018 race was won by Lucy Charles and this year another British long distance star, Will Clarke, is set to headline at an event which is very local to him, his final preparations ahead of IRONMAN Brazil next weekend.
Good luck to everyone who is racing.
---
The National Water Sports Centre will host around 2500 triathletes this weekend for the Nottingham Sprint Triathlon and Outlaw Half Nottingham. The ever-popular Outlaw Half event sold out in just a few days and will see the biggest ever field take part over the Middle Distance course, which will feature Olympian, Will Clarke.
Sunday's Outlaw Half covers a 1900m swim, 56mile bike ride and 13.1mile run and features an elite wave of the fastest athletes starting at 6:10am followed by five age group waves with athletes from age 19 to 73. The event also hosts the Police Middle Distance Championships.
Course records may be tough to beat, but there is a prize pot of £1500 available if the individual top male and female athletes are able to do so – and conditions are looking fairly favourable.
Course records:
Men – 3:56:00 – Mark Threlfall (2017)
Women – 4:18:56 – Cat Faux (2014)
Relay – 4:01:18 – TFN (2016)
Professional long-distance triathlete, Will Clarke is a firm favourite in the men's race. Kit Walker, the current Outlaw Triathlon (full distance) record holder is set to line up after a period of injury and there's a host of up-and-coming middle-distance athletes who could impress.
Ruth Purbrook might have been favourite in the women's race but has withdrawn leaving time-trial specialist, Bex Rimmington and last year's runner-up, Naomi Keira Wright as front runners. Outlaw Half Holkham winner from last summer, Rachel Hawker is also one to watch.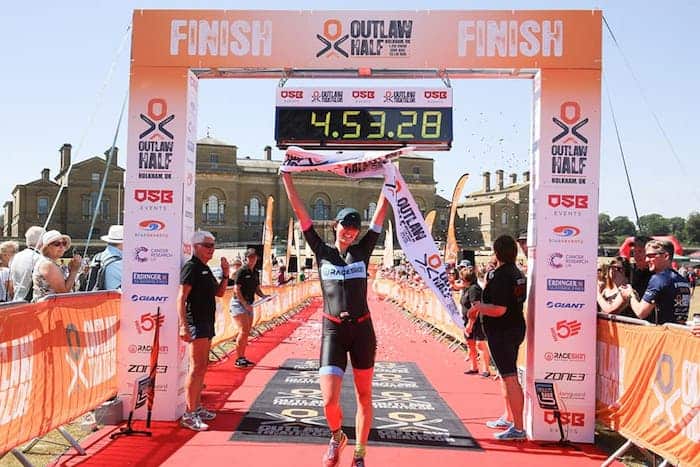 The first finishers are expected to complete the course shortly after 10:00am, and the event will continue through to 4pm. Spectators are welcome, and competitors will be within the grounds of the Water Sports Centre for much of the event. Parking is charged at £5 (cash) per vehicle and there is an event expo and various cafes and food outlets on site.
Saturday's Nottingham Sprint Triathlon offers flat and fast racing in a friendly, traffic-free environment. This event takes place entirely within the grounds of the National Water Sports Centre. Late entries will be accepted on site.
Entries for Outlaw Half Holkham in North Norfolk on 7 July are still open, as are entries for Outlaw X on 22 September 2019.
Visit https://www.outlawtriathlon.com for more information.