It's the Weekend Preview…
Is this week the calm before the storm? Sort of, though – perhaps? – the (actual) storms might be visiting many of us this weekend, if the current weather outlook is to be believed.
Events wise – it's a quiet one, with really just a couple of IRONMAN 70.3 events of note on the international Pro calendar, while the domestic schedule is a light one too. That said, one of the contenders for GOAT (Greatest Of All Time) will be racing, so that alone makes one race worth following.
With that, here's the Weekend Preview…

INTERNATIONAL RACING
IRONMAN 70.3 Gdynia, Poland (Sunday)
Perhaps the highest profile race of the weekend is in Poland. Won last year (HERE) with an incredible performance from Daniela Ryf, the 2019 looks set to welcome another legend in the form of Jan Frodeno, recent winner of the IRONMAN European Championship in Frankfurt. When Frodeno – the reigning IRONMAN 70.3 World Champion – starts, you are more often than not looking at who might come second, and that doesn't look any different here. There are some quality athletes racing, but you would struggle to bet against Jan.
At the time of writing, I can't find an online Pro start list, so this extract from the race magazine is the nearest I can get!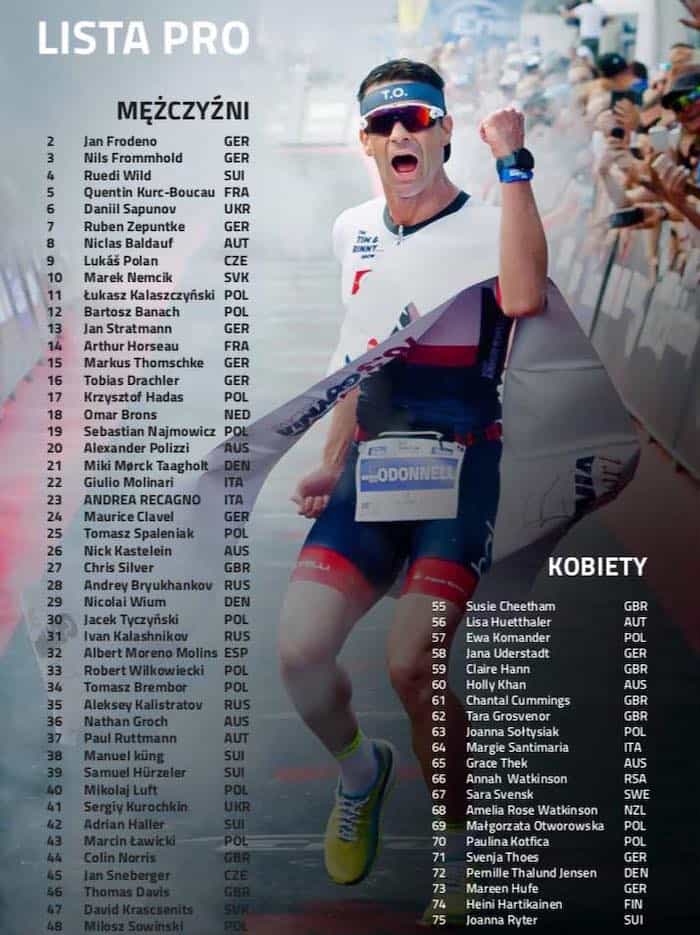 It wouldn't be a surprise if several of the athletes above don't start on Sunday, but the listing includes the following Brits – Chris Silver, Colin Norris, Thomas Davis, Susie Cheetham, Claire Hann, Chantal Cummings and Tara Grosvenor. Recent winner at IRONMAN Hamburg, it wouldn't be a complete shock if Susie was to skip this one, but she has confirmed that she will be racing on Sunday.
https://www.instagram.com/p/B05EaqphMR_/
Challenge Turku, Finland (Sunday)
Sebastian Kienle and Great Britain's Sarah Lewis won this one 12 months ago – but no Pro race in Finland this year.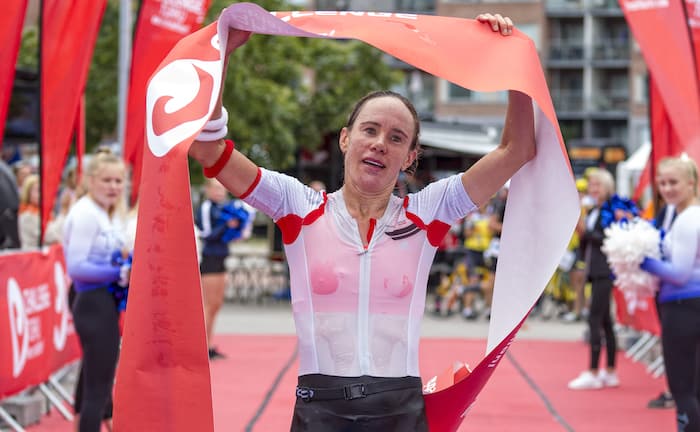 IRONMAN 70.3 Cebu, Philippines (Sunday)
The Philippines might not usually feature in the preview – but it's a relatively quiet week, plus I spotted Great Britain's Frankie Sanjana (winner of 70.3 Les Sables d'Olonne) on the start list – but interestingly, she won't be racing, for health reasons – you can check out why in her Instagram post below.
https://www.instagram.com/p/B05RoaKBsGl/
CLICK HERE for full Cebu start list
Riga ETU TriathlonJunior European Cup (Latvia) – Sunday
Very quiet on the ETU/ITU from this weekend – which you would fully expect, with the Tokyo Test Events taking place next week.
A huge British contingent heading to Latvia, with nine Junior Men and eight Junior Women set to race.
CLICK HERE for full Riga start list
DOMESTIC RACING
The weather could well play a major factor in races even taking place this coming weekend, with severe weather warnings and high winds being extensively forecast. Some difficult decisions to be made by many a race organising team – and not for the first time this year. And remember, the organiser is not to 'blame' for the weather… before you go "full rant" on social media.
Much like the international schedule, with no Championship events and no AG qualifiers either, it's a relatively quiet weekend in the UK multisport calendar too.
One of those potentially impacted by the current forecast for the South East is Saturday's debut of the Castle to Coast Sportive Triathlon. Running from Windsor (Dorney) to Brighton, this is a new format which we've covered several times on the site – read more HERE. I think it's an interesting format – fingers crossed for all concerned that the weather allows it to happen. The latest weather updates and status on the event will be on their Facebook page HERE. [UPDATE – unfortunately, Castle to Coast is now confirmed as being cancelled]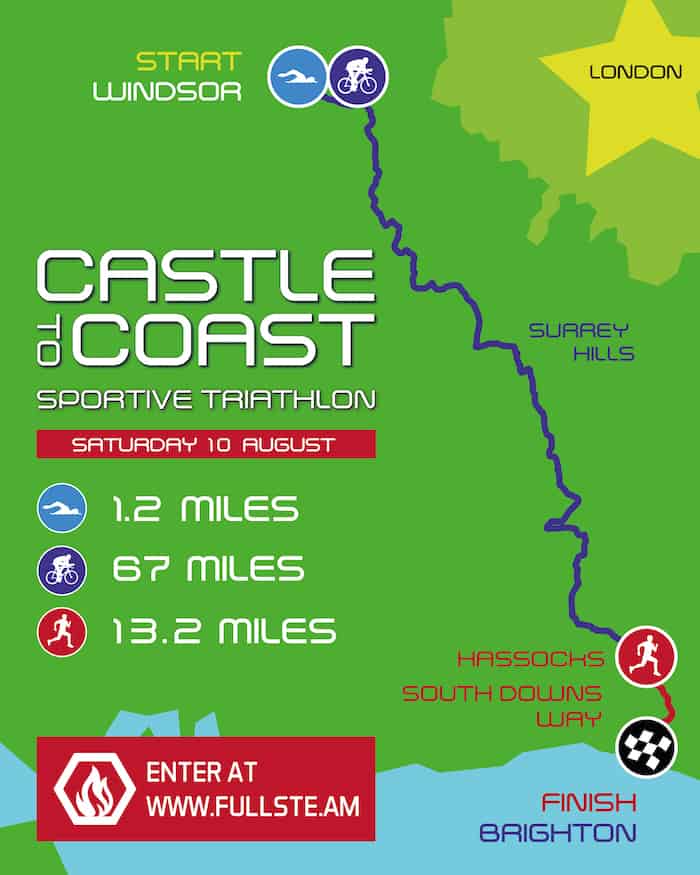 Also set for Saturday (and indeed Sunday – it runs both days), is the Cotswolds Standard Triathlon (DETAILS), while the South Coast Triathlon is already indicating the likely cancellation or shortening of the swim section of its races.
Taking place on Saturday and Sunday – it runs through the night, the clue is in the name – is the Midnightman Triathlon, with full iron, half, quarter and aquabike options based on closed roads in Dartford.
Also taking place on Saturday is the debut of the Steve Cram initiated Try on the Tyne. A closed-roads Sprint and Standard distance Duathlon based at NewcastleGateshead Quayside, they hope to develop this event in future years into a triathlon – read out interview with Steve on that HERE.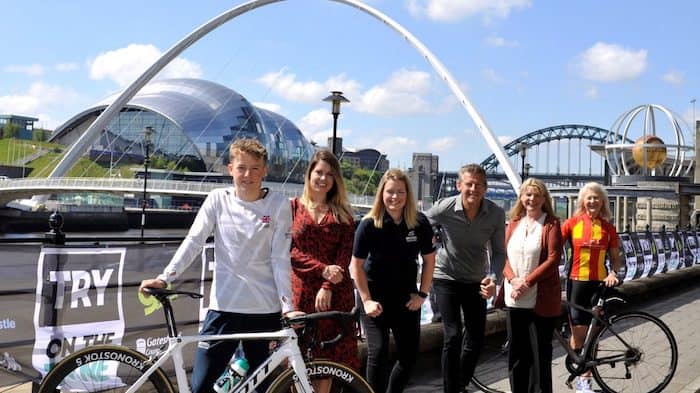 A few selected events from Sunday's calendar include the new Bedford Harriers organised Bedford Triathlon (DETAILS), the Dorney Triathlon (Sprint and Standard) from Active Training World, and the Erewash Triathlon in Nottinghamshire.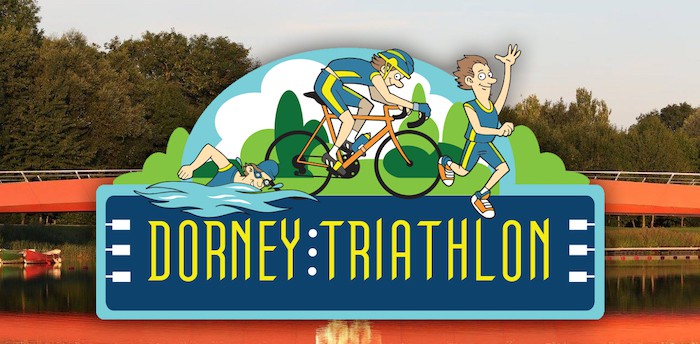 That's it for this week – stay safe and if you are racing, fingers crossed you avoid the worst of the current meteorological forecasts.

| Weekly Suggested Products from ORCA | |
| --- | --- |
| | |
| | |