Gustav Iden said it last week – and his brother and coach Mikal Iden re-iterates it now – the chance of beating Jan Frodeno on Sunday is small.
While the triathlon world is hyping up the battle between the reigning IRONMAN World Champion and the reigning 70.3 king at IRONMAN California, Mikal says there is a much bigger picture here.
Speaking to TRI247 while en route to Sacramento for Sunday's race, he provided updates on Gustav's preparation, and also what the future might hold for the 25-year-old two-time middle-distance king.
Mikal Iden on IM California
Mikal is at pains to stress that the opportunity for Gustav to take on Frodeno was not the reason for choosing Sacramento, but learning about full-distance racing was. A steep learning curve which will decide his plans for 2022.
"When Hawaii got cancelled we started looking for an alternative straight away. We ended up with California as the best alternative.
"Gustav wanted to do an Ironman within the same period and doing a US race would be the easiest since we were plaining on being there anyway. Rumours said Jan also would do this race but that was not a decisive factor in the start.
"We know he always turns up to a race 100% prepared, him having had several weeks more than us for this race, he is the big favourite."
Full-distance goals
Gustav of course is not the only Norwegian making the step up to full-distance racing before 2021 ends. Olympic champion Kristian Blummenfelt makes his IRONMAN bow in Cozumel next month. Their reasons for doing so are very different according to Mikal.
"Kristan Blummenfelt wanted to do his debut race later, giving him more time to prepare. But the goal with IM in the first place was not the same for them. Kristian will do the Sub7 next year and Gustav will maybe try doing his best in a championship next year(s)."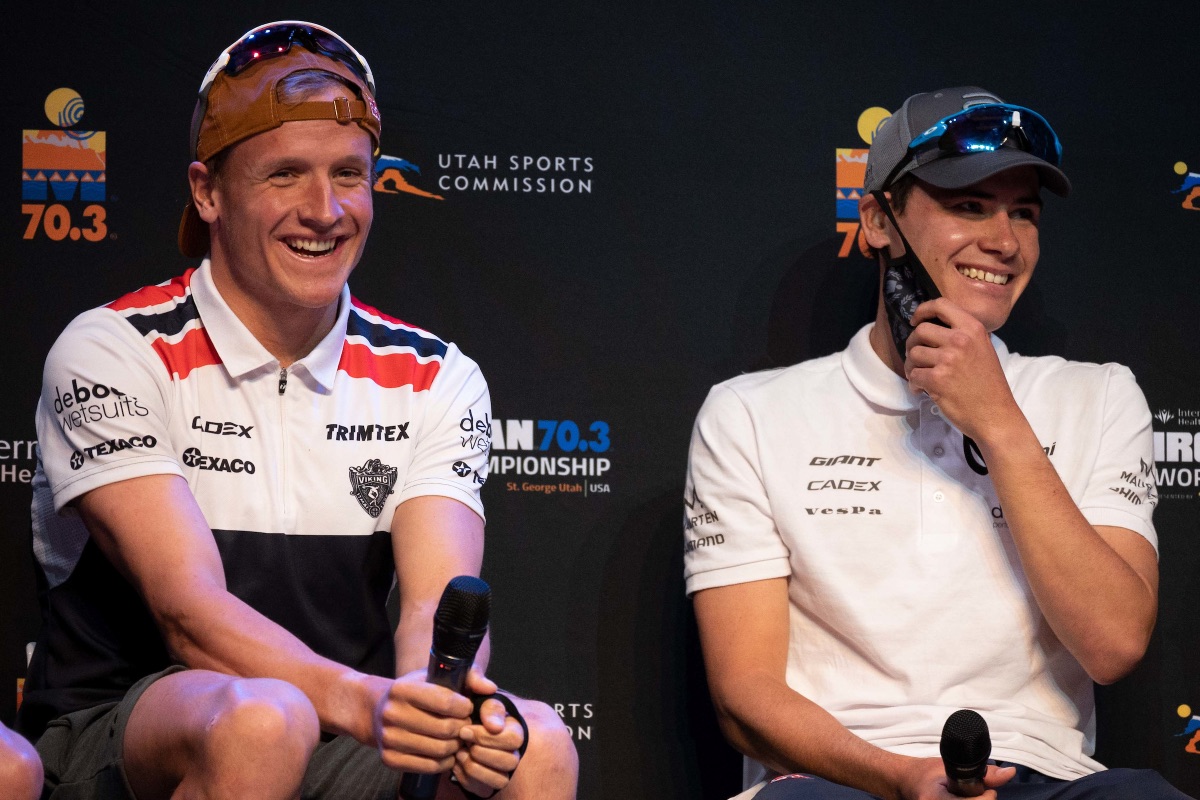 This very special generation of Norwegian talent is famed for its meticulous preparation, but there is an element of the unknown here. That comes partly from the step up to a new distance, and partly from the short preparation time.
Sacramento prep
"We know that three real weeks of training is borderline short to prepare for Gustav. With more weeks we would be more confident in saying a time or results goal given the numbers in training. Now we are more unsure what is possible and what will happen on a 7-8-hour race."
That short turnaround from St George means Gustav has not able to deviate massively from his normal training regime while at altitude in Flagstaff, Arizona. But whatever happens on Sunday, the Iden team will come away with major learnings and experience for the future.
"Racing Jan and a bigger stronger field gives more championship experience for the future which is good to have if Gustav decide to do ironmans next year. Refer to the video.
"Training-wise we have not had too much time to do to much different from his normal training. We have tried working with race intensity for IM. But it has been a bit difficult with training in altitude, not getting the same muscular fatigue since the speed/power is lower.
"Hopefully this will not be a big problem for race day and his energy system is all dialled in as best as possible."
Gustav at the crossroads
While Blummenfelt for example has said that he will have full focus on the full distance in 2022, Iden again is different. For him this is a crossroads race which will decide what he does next year.
Mikal reasoned: "Gustav is still young, 25, and have plenty of time to do Ironman when he gets older. It's only three years to the next Olympics, where he really wants to be, and wants to do well. Therefore he is holding back on this IRONMAN future.
"If California is not fun and he doesn't see his talent there from the start, he is all back on the Olympics in the next years. With a small visit to the 70.3 world championships."