Within six days last week, Dave Ellis and guide, Luke Pollard, won dominant gold medals in the PVTI (visually impaired race) at the Birmingham Commonwealth Games and then won again at the Volvo 2022 World Triathlon Para Series Swansea. 
After the heartbreak of a snapped chain when they were favourites to win gold in Tokyo, Ellis was understandably cautious not to look too far ahead to Paris 2024 when we caught up with him and Pollard after the Swansea race.
Quick turnaround
There was no time for celebrations after being awarded the first ever PTVI Commonwealth title in Birmingham. Paratriathlon was introduced in the Games programme for the first time on the Gold Coast in 2018 and wheelchair athletes had the opportunity to shine. This time it was Ellis' PVTI class that was included and he, guided brilliantly by Pollard, utterly dominated the race.
On Saturday, less than a week later, Swansea hosted a World Triathlon Paratriathlon Series (WTPS) event for the first of three years – and they dominated that, too.
Pollard said: "It's been busy, and it's been hard to recover and get back up for this race because it's a high calibre race, so it's been an unusual week to say the least."
Ellis was mindful of the challenge presented to them by the French athlete, Thibaut Rigaudeau, in Swansea. "Last year at Europeans, they were actually 30 seconds ahead of us off the bike, so we know whenever they're racing it's going to be a good race and they'll bring it to us.
"But it always feels a bit easier when you're at home and the home crowd is always really good."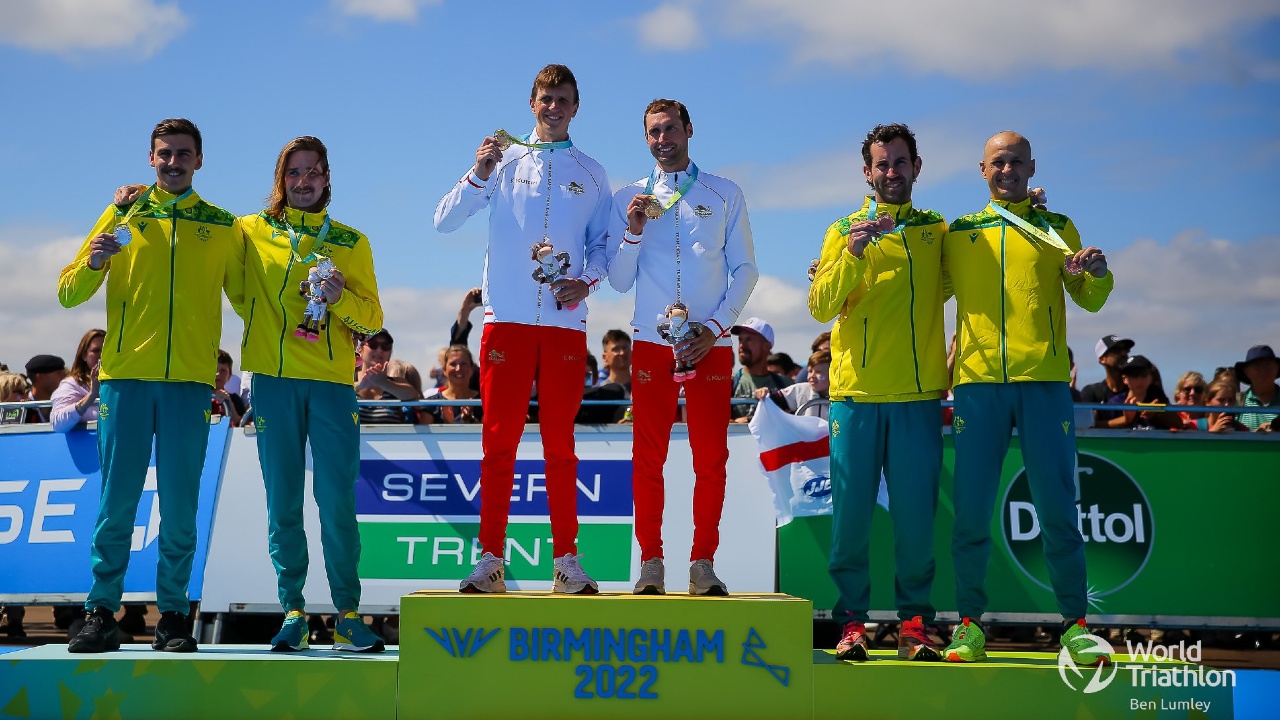 Swansea success
As the Paratriathlon events unfolded in Swansea, there were athletes registering and racking their bikes for IRONMAN 70.3 Swansea the following day. By the time Ellis was on the course in the afternoon, there was quite a crowd around the Marina area. Glorious sunshine also helped ensure they hung around to watch.
They got to see some tight racing where the leading PTVI men were off the bike in quick succession of each other. Ellis would have to run well to maintain his lead, which he duly did with a 16:27 run split over the 5km – half a minute faster than anyone else.
Pollard said: "This is a competitive field, the best in the world, so there are never going to be big gaps and there's always going to be tight racing. I'm glad we came out on top.
"The bike course was pretty quick to be fair. We got some real good speed on the tandem and that's why I think the gaps were probably not as big as if it was a hillier race, but then a quick one is always more fun, isn't it?"
Their eventual winning margin was one minute 39 seconds over Rigaudeau.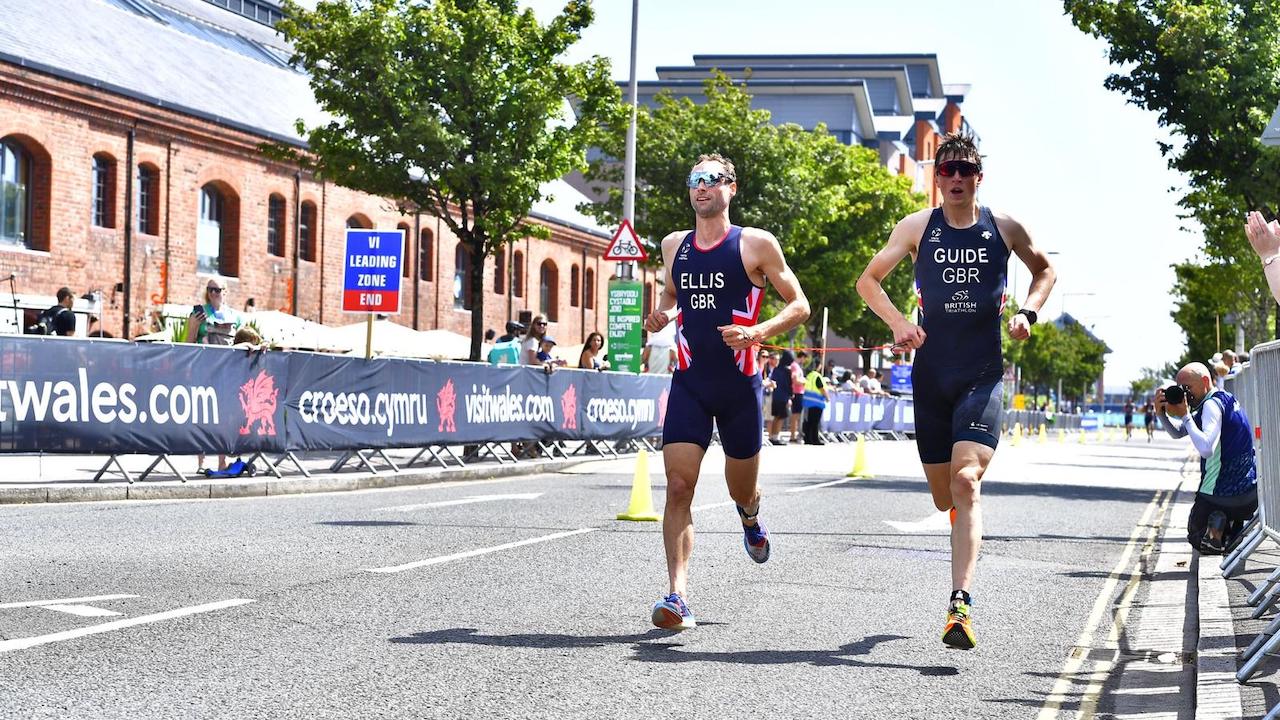 Too soon to think about Paris
Pollard referenced the 'wall of noise' on the streets of Birmingham that hosted the Commonwealth Games bike course and said, "I don't think either of us has ever experienced a race like that and it's really good for paratriathlon and parasport, and there are a lot of people out today so hopefully we can keep the crowds coming and keep the profile of parasport increasing."
Birmingham gold might not have made up for the heartbreak of Tokyo, but it was a step in the right direction towards Paris.
Ellis said: "Commies was another major championship and obviously you can start to think 'oh, we're never going to do it at a championships', so at least we've got one under our belts now and hopefully we can just keep progressing.
"It's Worlds this year, lets tick that one off and then maybe we'll be thinking about Paris."
Based on current form, you really have to back them when they get to the 2022 World Triathlon Championship Finals Abu Dhabi at the end of November.