My Zwift: with Laura Siddall
Insights from Pro athletes on how they integrate indoor training on Zwift to optimise performance
As I've said many times on the pages of TRI247 in recent years, impressive developments in both hardware and software in recent years have transformed the world of indoor training, making it arguably the fastest growing segment of the triathlon and cycling market. Smart bikes, direct-drive turbo trainers and training software of many kinds has justified the use of the 'game changer' terminology.
The market leader in terms of software applications has been Zwift (www.zwift.com), and we have been running our own TRI247 workouts on the platform every Wednesday night for three years now, connecting riders from all over the globe for an hour of (virtual) group training and banter.
How do Pro athletes use Zwift? That's the aim of a new series, starting today with our first chat with British long distance athlete, Laura Siddall (www.laurasiddall.com).
While Canada's Lionel Sanders is perhaps the poster-child of the 'pain cave' Zwifter, Laura's background, introduction to and use of Zwift has followed a different path.
Here's how the once, "train outside, rain, hail or shine" athlete has become a (partial) convert to indoor training on Zwift – and why indoor riding will remain a part of her schedule now, even if the sun is shining.
---
From my understanding, you've always been an athlete that primarily/exclusively trained outside in the 'real world' and that it was actually circumstances that lead you to indoor training / Zwift. When and how?
Yes, I think most people that know me in the Triathlon world, would know I was pretty anti indoor training and always an advocate for outside riding. Part of this was because I was (I say was because, well, 2020 has been a little different), fortunate to live in summer all year round.
I lived in New Zealand, for the Southern Hemisphere summer and then Spain for Northern Hemisphere summer making the most of being able to ride outside. Also when I started the sport as an age grouper, it was pretty much drilled into us that train outside, "rain, hail or shine" and we did. I'd also had some less than pleasant experiences of indoor trainers when I'd first turned Professional. We had two sessions a week indoors in a class environment, and whilst I loved being with the group, I just never enjoyed or got on with the sessions or the trainers and concept.
That all changed in May 2019, when I came off my bike, breaking my collarbone. Welcome to the world of the indoor trainer and Zwift! It was funny as I think I may have tagged Zwift on social media shortly after breaking my collarbone and then happened to meet them at The Championship in Samorin, just a couple of days after I had surgery. I think the internal joke in Zwift was that they'd never get Laura Siddall on Zwift!
What were your initial thoughts – were you pleasantly surprised that modern hardware / software can actually make the experience more than just tolerable?!
I think my previous experiences (and I have to say, they weren't Zwift), had left me with a probably false perspective on an indoor trainer. When I actually got on board with Zwift it was different straight away. Possibly because at the start it lures you in as you gain XP and move up levels and open up more routes and kit all pretty quickly, and of course go for the sprint jersey and QOM! ha ha!
It totally appealed to my competitive nature and what I couldn't achieve and gain at that time in the real world. Additionally, one of my very first rides on Zwift, was with a good friend of mine who was in New Zealand. I was in Spain. That was pretty cool.
The whole COVID situation would have all but forced many athletes to significantly increase their use of indoor training (whether they like it or not…) during 2020 – how have you incorporated Zwift into your training through the year?
Broken collarbones and then COVID! For me the two coincided again at the start of 2020.
I headed into lockdown off the back of further surgery on my collarbone, so was embracing Zwift and the indoor trainer – for me it was a no brainer. With further surgery I couldn't ride outside, so was almost forced onto the trainer. But it was something I came to respect and enjoy, because that was my only option to keep training and riding my bike. It actually took a while for my coach to get me back outside on the road.
During lockdown when we were only allowed out for exercise once a day, and around that hour, I decided that it made more sense to use this for my running training. It didn't feel right during lockdowns to ride my bike outside; for me was better to utilise the trainer and Zwift and then run outside.
However, I also must add that since changing coach to Julie Dibens (in December 2019), I'd actually started integrating a few trainer sessions into my weekly training. She's convinced me (!) and to be honest they were different from the experience I'd previously had (with indoor training), and I now use Zwift to do the interval sessions.
Any favourite sessions / routes / workouts etc. that you've could share with us?
My favourite sessions are the fortnightly Friday arvo session I do with my coach and our squad. Everyone joins from all over the world, wherever they are living and based, and it's a fun 90mins of hard work and pain, but lots of banter and fun too.
I enjoy heading up Alpe Du Zwift, but only when I'm in interval mode, so it flattens the real gradient and I can just work on my power intervals set, but I still gain the height and reach the top!
I also really enjoy the Crit Racing in a bazaar way and the options in Crit City – but that's racing only. Of course the Wednesday night TRI247 Sessions are always good.
I think the go to sessions I like are ones that have short sharp bursts of 10-20-30sec max power, integrated into the workout, with then some longer sustained efforts, holding aero and TT, all controlled.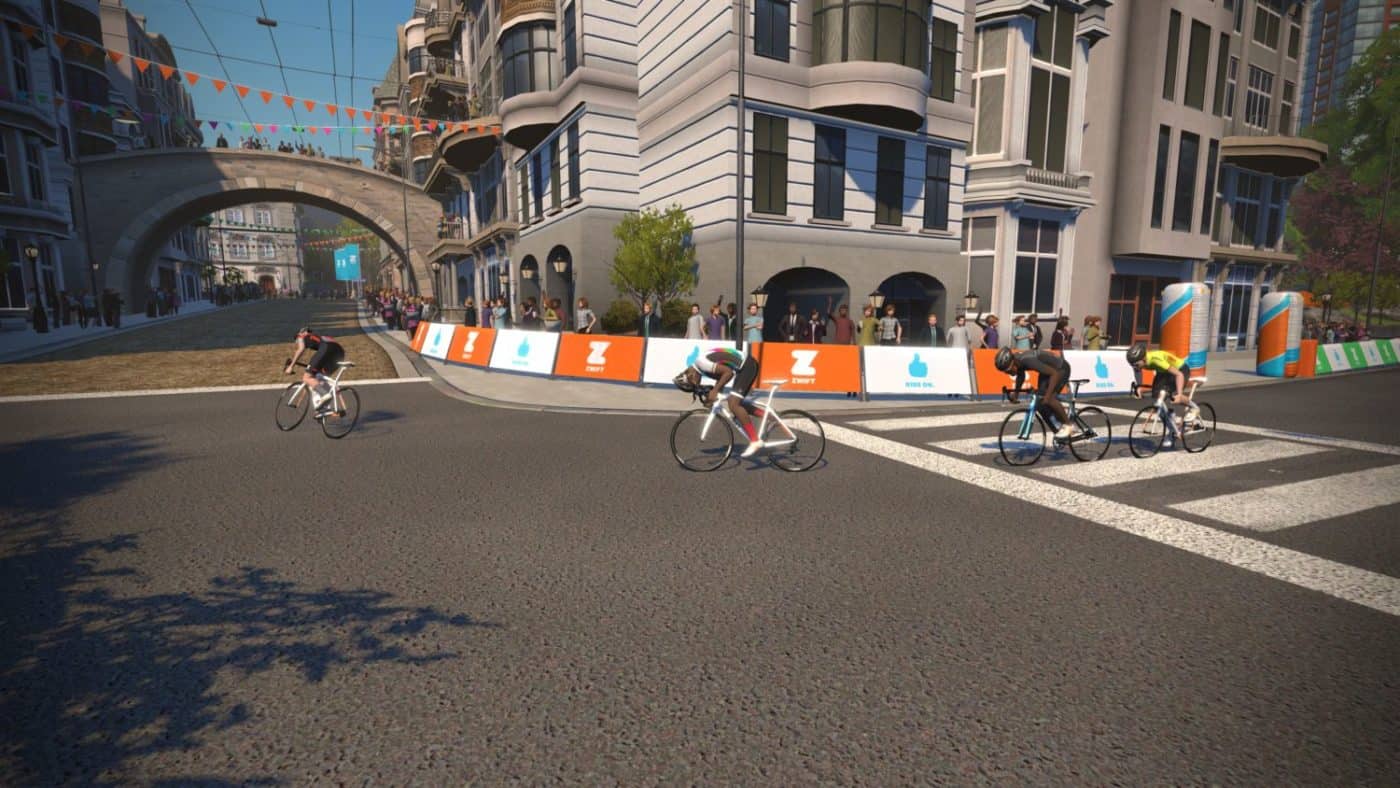 You did quite a few of the Z Pro Series races during the year and from what I saw, had a significant improvement in your performance in those as they progressed – how tough were they, and what did you learn during those events?
Zwift racing is hard! Virtual racing is hard!
It tends to be all go from the gun and just one hard max effort! Then add in the element of gaming and how that can impact the game. The algorithms also don't really help me as a 'heavier' rider in the game (relative to the other women racing), which means I have to work out how to use my strengths in other ways.
I think also, I was a bit of a swat at school, so going into the second series, I made sure I did my homework on the courses, where some of the key points were, where the race could splinter (or where I could splinter the race) or where I needed to be on my power just to stick in the game; the power ups; how I could get the most points, and give myself the best chance.
To be honest, I needed to do this, as my fitness levels were not the same as the other women. Most of those women were gearing up to Challenge Daytona and so in a different place in training… In fact my coach said before the first race…"this will hurt because you're not bike fit at the moment". I'd say over the three weeks though the races certainly helped with my fitness, but there was also a big element of luck and that the first two races each week played probably more to my strengths if I could be smart and tactical at the same time.
There weren't too many (any?!) other racing options during the summer, but what are your thoughts now on potentially including some Zwift racing into a more normal programme of preparing for middle & long distance triathlon events? Do you think, at the right time, they can be compatible?
Zwift has been great this year, where the real world racing options have been limited. It's also filled a gap of community that we have missed by not being able to travel to races and catch up with friends. It was great (even though the racing was painful…), to be online with all the other women from all over and have a bit of banter and chat and race with them, albeit via our avatars. Although… some avatars looked uncannily like their real life riders!
I do think at the right time, Zwift racing can be valuable for training. In fact I do program a few of the Zwift events into some of the plans of the athletes I coach. I'm not sure they necessarily replace our swim, bike, run race needs, but I do think that they can add and complement training and feed a competitive nature that many of us have.
You did a long (100-mile) ride on Zwift earlier in the year, supporting Louise Minchin and The Big Bike In. How was that experience? Do you do many long rides indoors now, or has your 'turnaround' in perception of indoor riding not quite stretched that far yet?!
That was one of my early experiences on Zwift for any longer duration. I think up until that point, it was all 60-90mins sessions… not 5-6 hours! It was certainly a different experience. But, it was for a great cause and again fed a gap that I think many people were looking for at the start of lock down. It was awesome to be part of something that big and to support Louise and the Sport Relief event. I loved the engagement and interaction with everyone who joined us for that night.
Since then I have to admit I've not done any longer rides indoors. I think possibly a couple of three-hour sessions during lockdown, but most of my indoor rides are around that 90mins to two-hour mark. Most as well are specific intervals and working on different power zones and positions. If I'm lucky with weather and where I live to get outside for the longer rides, then that would still be my preference. But I appreciate again that's not always possible for everyone, and so the long 4-5-6+ trainer rides sometimes are the only option.
I also did a 12-hour ride for charity, Solitary Confinement Challenge. We had to ride the Fuego Flats lap in Watopia on the hour, every hour. You had to complete one lap and/or at least for 40mins. I did this for 12 hours, some people did it for 24 hours and then some, after the 24 hours finished, just stayed on their bikes riding and weren't allowed to get off at all… it was last man/woman cycling stuff! Again, it was actually good fun and something different, although not sure I'd rush to do it again!
But it helped that again there was a great group doing it, and so lots of chat and banter. Also I made sure I kept busy each hour with different sponsors supporting the event, and live chats with people on Instagram, and also just so many people joined laps for different hours of riding which was great.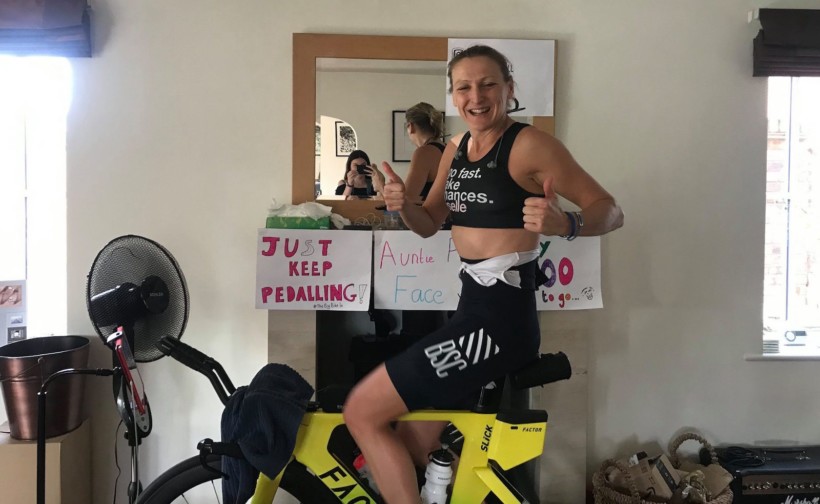 With Matt Bottrill as your cycling coach, we know he puts a huge emphasis on the importance of bike positioning / aerodynamics – is training that aspect something that fits well into a (traffic-free) environment, and what type of sessions / riding do you do for that?
I'm really fortunate that my coach Julie Dibens works closely with Matt Bottrill as a team, and so we've been working on aerodynamics and yes, this is where the indoor bike has been helpful.
I have a mirror set up in front of my trainer, to check my position and to keep making myself as small as possible. The indoor trainer has been great to really work on dialling this in, and working on different drills to build up the muscles so you can then maintain this position. The trainer also allows us to be really lazy with position, because we don't need to keep our head up looking at the road, for hazards and traffic, and perhaps people get sucked into just pushing more power. It's about being able to deliver that power whilst holding aero position, with eyes on the road, and taking that outside into the real world that is the objective.
The sessions vary from shorter intervals, squeezing our shoulders together, or turtling our neck and head. Holding this position for 1-3mins then relaxing, for a minute before holding again. Also, most of our 'efforts' during an indoor session will be done whilst holding the aero position.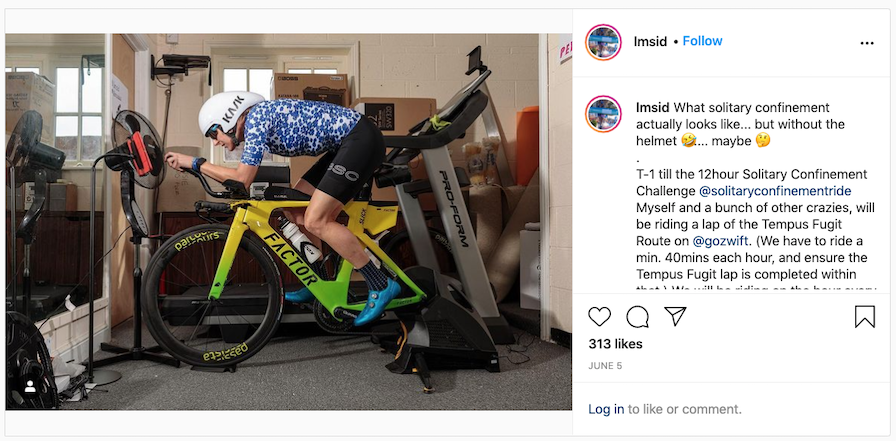 With a bit of luck, 2021 will look much different to this year. Assuming more freedom to return to regular training, which element(s) of indoor riding will you choose to retain, alongside your preference for getting outside into the great outdoors?
I think the indoor sessions will always be part of my training now. There are just some sessions that are suited to the indoor trainer, and are better executed inside. I think there are definitely gains to be made from riding the trainer and I see and understand that much better than I did previously.
I think to mix trainer rides with the outside world, if you have that as an option, is a great balance and sessions can complement and work well together to make you into a much better, stronger, more efficient rider. So, I think I've been converted… ha ha… indoor riding will be here to stay in my training.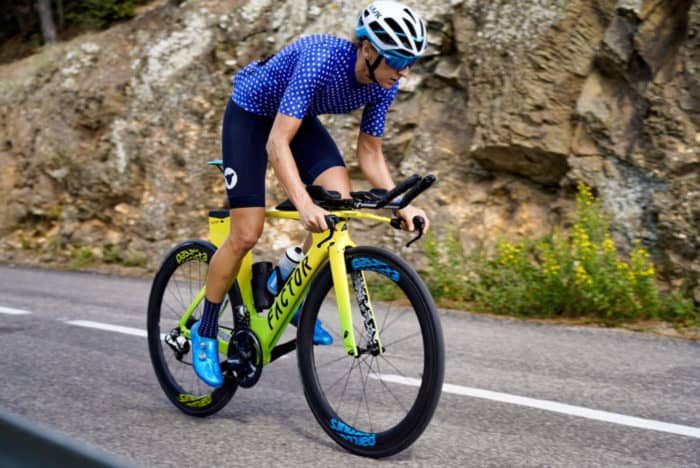 You have also spent a fair few hours using Zwift Run on your treadmill. As with cycling, is your preference to run outside – and if so, how do you incorporate Zwift when you do run indoors on the treadmill?
Yes, I think my preference is still to run outside, but again I see the benefits of sessions on a treadmill.
It wasn't really until lockdown that I had full access to a treadmill or possibly embraced it. Obviously I have had access to one at gyms etc., but this year I have invested in my own (actually two!). When lockdown loomed and I was heading to the UK, not sure on what level of lockdown we would be going into, I panic bought a treadmill when everyone else was panicking buying toilet roll. Whilst it's an expensive panic purchase, and probably hasn't fully given me the return on investment, it was definitely worth it.
Even though we were lucky that we could still run outside, I think the option of using the treadmill for different sessions has been an eye opener and beneficial to me. Needless to say, when I was returning to Spain (again, not sure if a second lockdown would materialise over winter), I bought another treadmill for my apartment there. So yes I now own two treadmills, one in Spain, one in the UK! But again it's been a good addition to my training set up.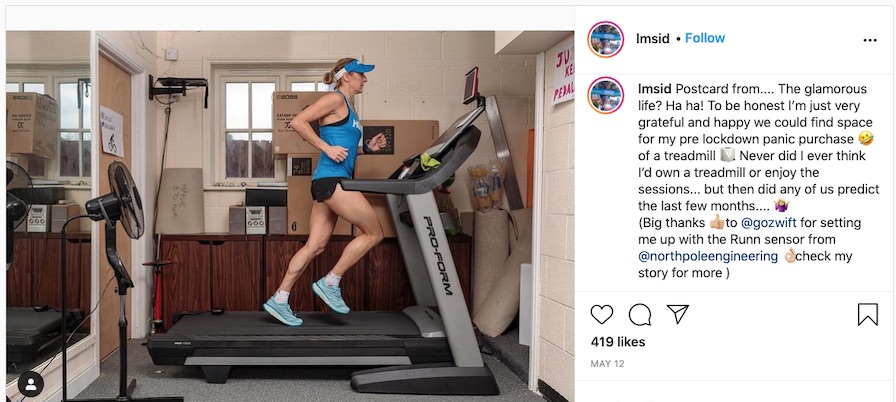 Part of this is that my coach, Julie Dibens, often plans in a treadmill session. Some sessions are just easier or better performed on the treadmill. I have one that has gradient, so if I can't find that specific hill, or perhaps it's a gradually increasing incline that I want, the treadmill is good for that.
It's also ideal for some shorter / sharper speed efforts, where you can jump on and jump off the treadmill in-between. I've used it also for a couple of runs straight off the bike, where I can get straight into my running and dialled into a set pace. In someways the treadmill is great for that, because you can set it to that pace you want to hit. It's good to note here though, that it's also good to replicate these sessions outside, so you learn to dictate and find that pace yourself.
There are definite benefits to treadmill running and form. I think previously I found treadmill sessions hard because I just wasn't going anywhere. I love running outside and the paced intervals sessions there because you feel like you are making progress and can tick off landmarks for distance and time. On a treadmill there is non of that. However, that's where syncing up the treadmill to Zwift has also helped. It gives that feeling a little more like you are moving forward, as you run around the virtual worlds of London, New York, Paris all whilst in my tiny spare room with no windows here in Spain, or my sister's garage in the UK!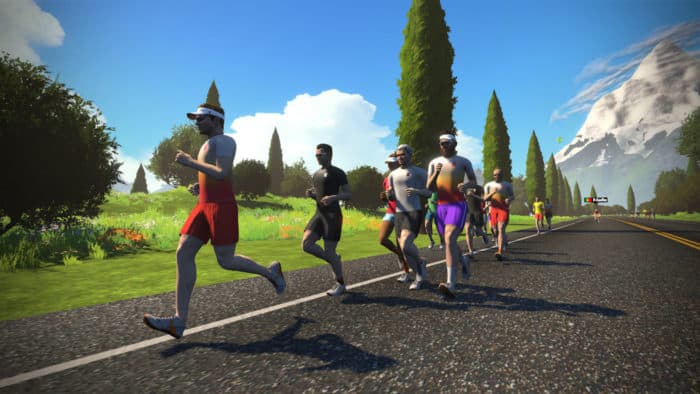 Finally, any other advice or tips that you've learned for your indoor riding / Zwift experience, that you would pass on to those considering trying it themselves?
It can certainly be addictive, as you chase XP, levels and unlock more kit! So be warned!
It's a great way to keep in contact with friends from all over the world when we can't travel to ride with them in real life. For this I'd ensure you download the Zwift Companion App so you can chat to them, or use Zoom perhaps. Make sure you have a fan, a few towels… and lots of hydration on hand. You get a lot hotter and sweat more, so the fan is a must as well as the towels to try to keep you a little cooler.
If you are tempted by a race, make sure you power up to over your FTP (and some more), 10 seconds before the start of the race, otherwise it's game over before you begin as your avatar gets left on the line. Also, make sure you know the PowerUps in a race and when to use them. (e.g. the new Anvil power up should not be used in a sprint or uphill climb).