Is Javier Gomez Noya triathlon's GOAT (Greatest Of All Time)?
When debating the divisive topic of who is triathlon's best ever athlete, there are three main metrics you need to consider: (i) the athlete's level of success (such as Olympics, World Championships, big-ticket events); (ii) the consistency and longevity of success; and (iii) the athlete's versatility and the range of the events in which the athlete has experienced success.
However, across any metric or rating you might wish to consider, Javier Gomez would score very highly.
GOAT?
Gomez has excelled at ITU short-course racing, turning his hand to sprint and standard-distance racing. He is a five-time ITU World Champion (and five-time ETU European Champion), as well as a host of victories and podium finishes at World Triathlon Series and World Cup races.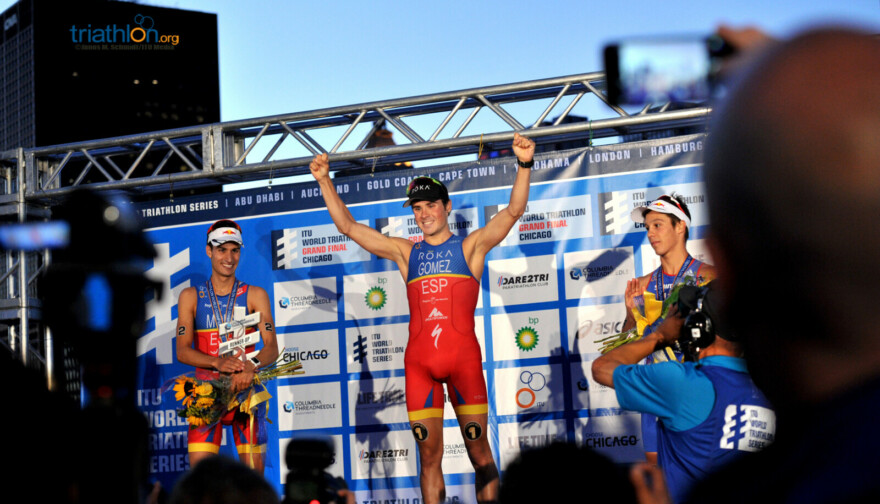 In addition, he won the off-road XTERRA World Championships in 2012.
If all of that wasn't enough, Gomez has also won the IRONMAN 70.3 World Championships on two occasions and was victorious at the ITU Long Distance World Championships in 2019 (where he bested his training partner and friend, Pablo Dapena Gonzalez).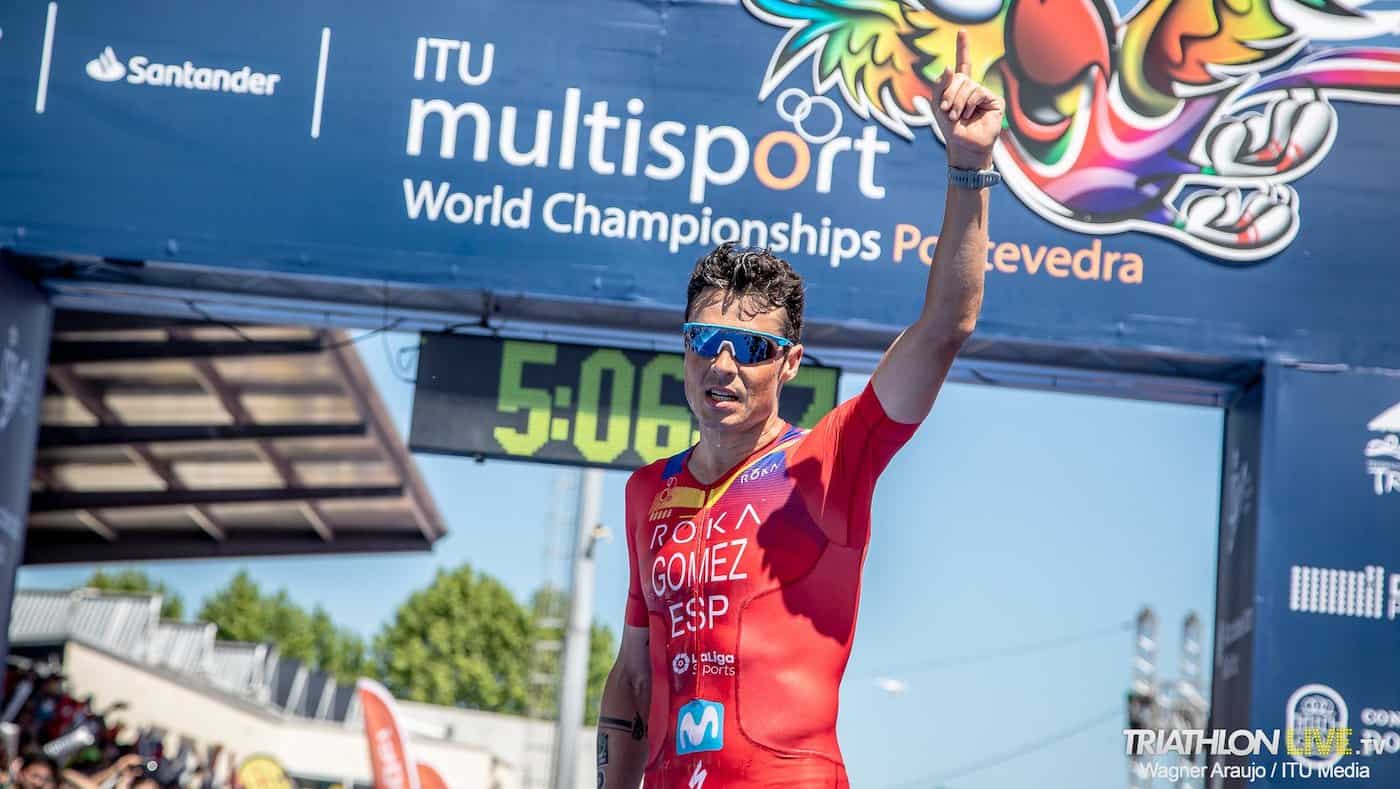 For the avoidance of doubt, I think there are numerous contenders for this (virtual!) throne, of which Gomez is certainly one.
Run Speed
You do not obtain the levels of success Gomez has without being a stellar all-round triathlete. However, especially in ITU draft-legal racing, a key-factor to any aspirations of victory is being able to run quickly, and Gomez has consistently been one of the fastest runners in triathlon.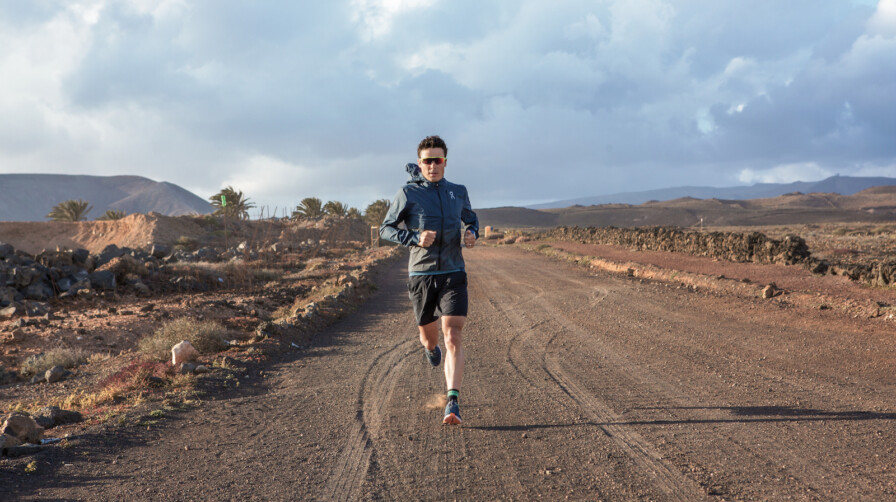 Arguably, iron-distance racing aside, the only title missing from the Gomez palmarès is an Olympic gold-medal. To help Javier seek to obtain his Olympic goal and his venture into long-distance racing (see below), he has continued his partnership with Swiss running brand On Running, and shall be wearing the company's latest carbon infused race shoes come the summer – the On Cloudboom Echo.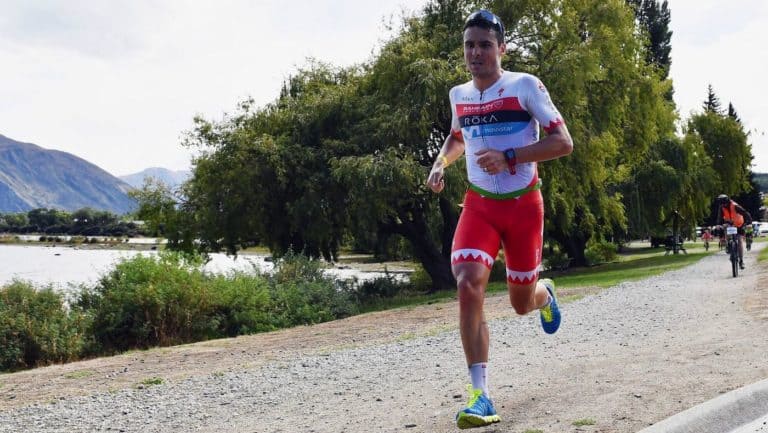 Javier talks success, challenges, Olympic aspirations, long-distance goals and the changing world of triathlon
With the delayed Olympic Games appearing on the horizon, and with that the end of another four year (well, five this time) Olympic-cycle, Gomez has some big decisions to make regarding the next steps of his triathlon career. He kindly shared his thoughts on training and racing in the pandemic, his success to date, technical innovations, and what comes next…
Pandemic challenges
How have you managed to keep training and living in a 'normal' way during the pandemic? For example, one of the biggest challenges for many has been finding a swimming pool!
Well, I would say the challenge was at the beginning of the pandemic, where it was a strict lockdown in Spain and we were closed at home during six weeks. At the beginning I kept training for two weeks; luckily I have a treadmill and bike trainer at home. Then I purchased a temporary swimming pool for children where I swam tied to an elastic band. Then I realised that there were not going to be races in the short term and I just stopped training for three weeks.
Do you think the postponement of the Olympics has benefitted your training and performance? Why?
Theoretically it [the postponement of the Olympic Games] does not benefit the older [athletes] like me, but in the end [it] is the same situation for everyone and we have to manage to be at our best shape on that day.
Secrets to sustained success?
Having been a top-class athlete for so long, how have you managed to stay at the top (people always say getting to the top is easy, staying there is a different story), and continue to excel in all formats of triathlon?
I always say that it is easier to keep motivated if your results are good and you stay in the top positions. Luckily, it is what has been happening to me. But, I would say there is no secret here… the daily hard work pays off.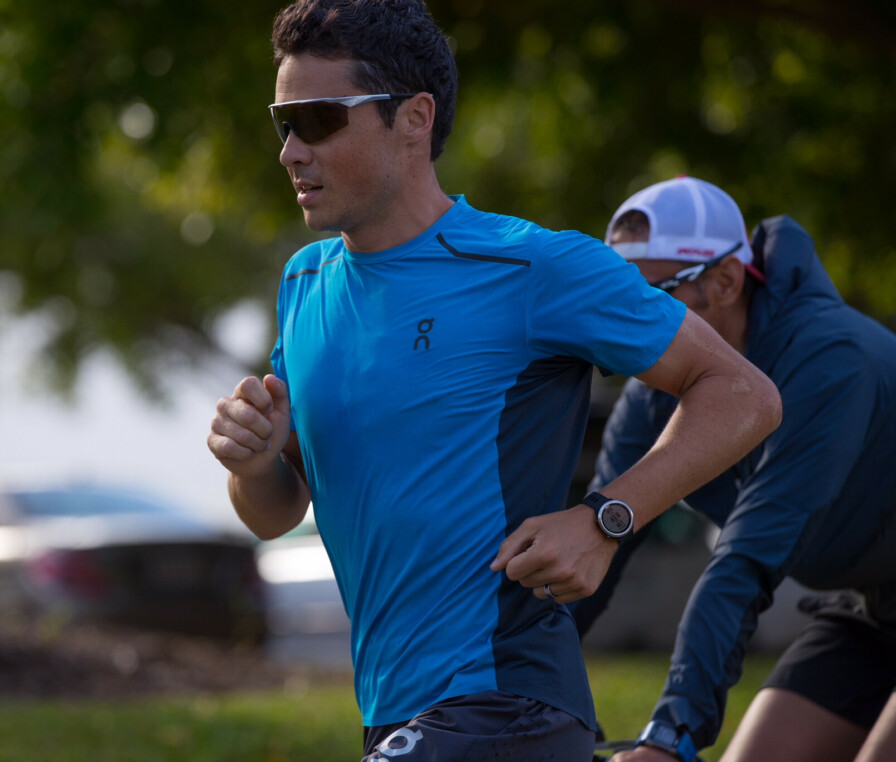 What is/are your go-to run sessions to ensure you are in top shape come your A-race?
What makes the difference on my running shape is track session interval training. If I have to choose one workout, it would be the 1,000m workout intervals.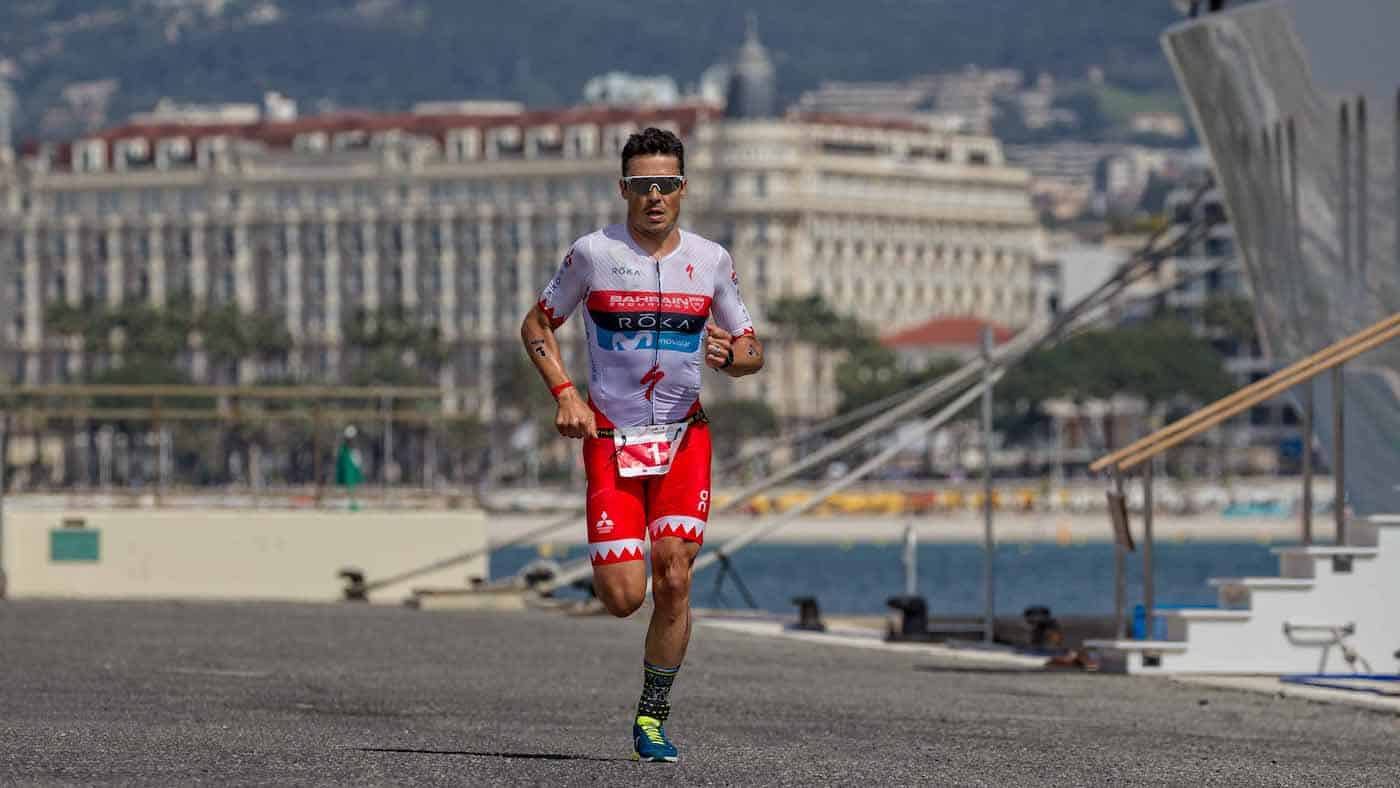 Favourite result to date?
Is there one race that stands out in your career, even if it wasn't a 'big' event, that you look back on and think that was to date the best physical performance you have ever produced – the closest that you've ever come to executing a perfect race with peak fitness?
One of my best moments is the ITU Grand Final London 2013. it probably was not my fastest race, I was coming from a long season and two weeks before I raced in Des Moines (USA). I was feeling tired all week, but at the end I managed to win that memorable sprint with Jonny [Brownlee] and became World Champion.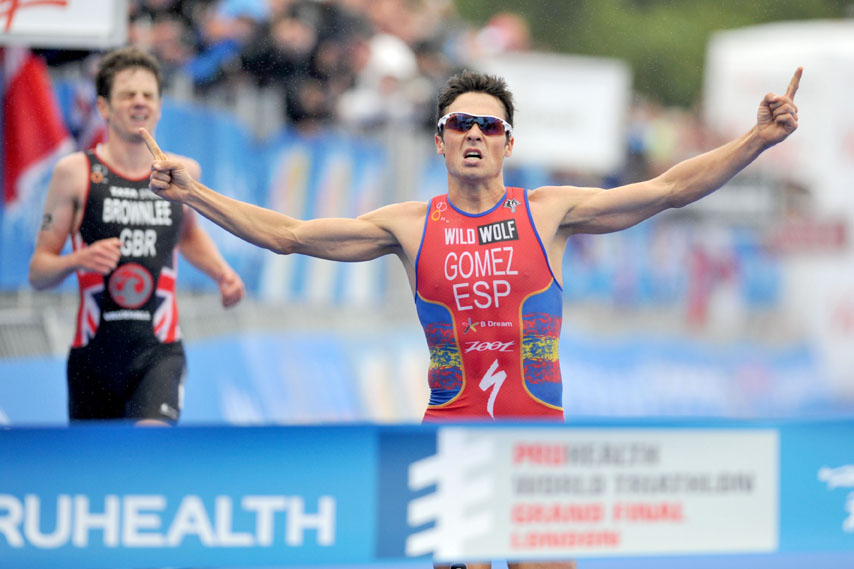 Olympic dream
You've won so much in your career, but how much would adding an Olympic Gold to the Silver you won in London mean if you could achieve that?
Obviously, it would mean a lot to me, especially because [it] is my next goal, but I am very proud of my consistency over the years, so I am not obsessed with this race. I will work hard to reach that day at my best shape, then [the] race will decide who will be the best this day.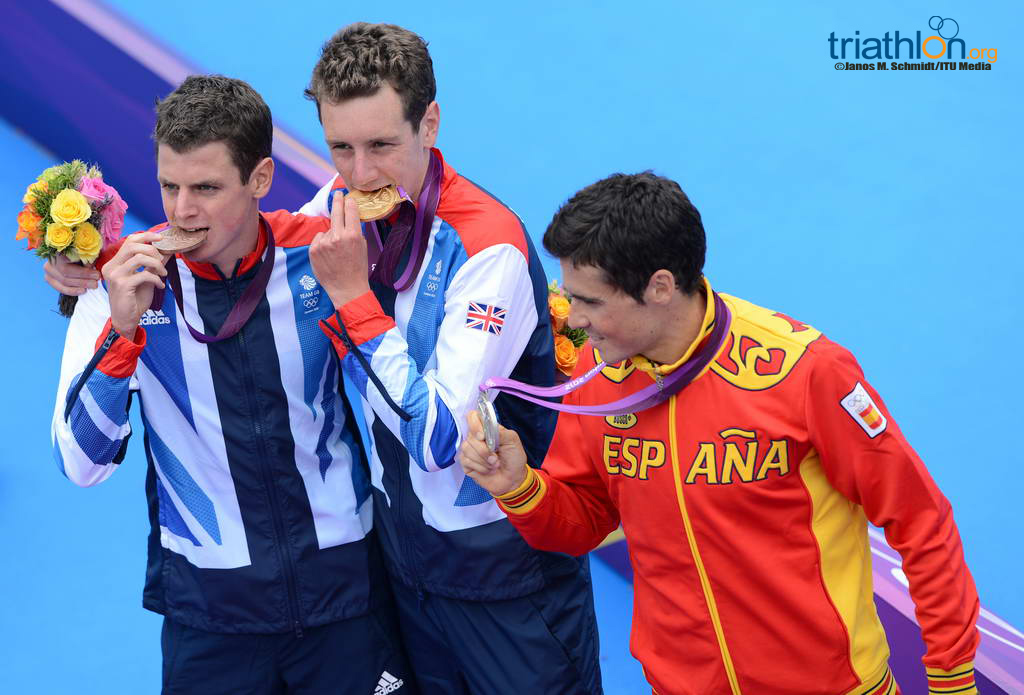 How is triathlon changing – racing and tech – and is it all positive?
From the start of your career to now, what have been the biggest changes you have seen in triathlon, from racing styles, formats, and technology (such as carbon shoes)?
I am not happy with the way of ITU triathlon is going, shorter distances – I see triathlon as an endurance sport. All this said, at the end whatever is the format, the level of demanding [level of difficulty] of the races are done by the athletes. I have been able to race with different generations.
Where do you think carbon shoes stand when it comes to the biggest tech changes in triathlon?
Honestly, as an athlete, I am not that happy that the gear [tech] can make a big difference between the athletes. I am more purist in this sense, I would like everyone to race in the same conditions.
For what races and distances will you be wearing the Cloudboom Echo? What do you like about them?
They suit pretty much for all route distances, from 5k to a marathon. What I like the most it is adaptability and versatility for all distances.
Plans for the future
You have already been very successful when stepping up from short-course racing – what are your plans and aims after the Olympics?
I will be focusing on long-distance [after the Olympics]; [However,] I do not have a clear picture if it will be just after the Olympics or at the end of 2021 season.
As an On sponsored athlete, have you been tempted to see how fast you can race in individual/standalone running events? Are you interested in running a marathon in the Cloudboom Echo?
By now I only see myself running a marathon as part of the Ironman race. However, I raced a couple of half marathons for my training [in previous years], and 'yes', I would like to test the Cloudboom Echo in my next one.

Gomez has started the 2021 season in good form and kicked off with a victory recently at Challenge Cancun, Mexico. We wish Javier good luck for 2021 and beyond!
---
Javier Gomez Noya has been an integral contributor in the development of On's new Cloudboom Echo elite marathon shoe being released this summer, and he shall be wearing the Cloudboom Echo during this summer's Olympic Games. To find out more about On's latest carbon shoe, including its development and insight from On's sponsored athletes, click HERE.