Heading to IRONMAN UK – Nikki Bartlett's Cervelo P3X
As today (Friday 25th June) is her birthday, what better time to profile the Cervelo P3X bike that Nikki Bartlett hopes will be helping her to podium success in less than 10 days time at IRONMAN UK in Bolton!
If you saw the live feed of the PTO supported race at Eton Dorney, you may have spotted Nikki speeding past on her and finishing in a highly commendable third place.
ERDINGER Alkoholfrei-sponsored athlete Bartlett, a former competitive rower, began her triathlon journey in 2012. The aim was always to go pro, and after stellar age-group results, Bartlett stepped up to pro-racing in 2015.
Since 2015, Bartlett has made consistent progress, including a win in 2019 at the notoriously tough Ironman Lanzarote and more recently she claimed to have pulled off her best overall full-distance performance when finishing third (with a 3.02 marathon) at the 2021 PTO-supported Tradeinn International Triathlon.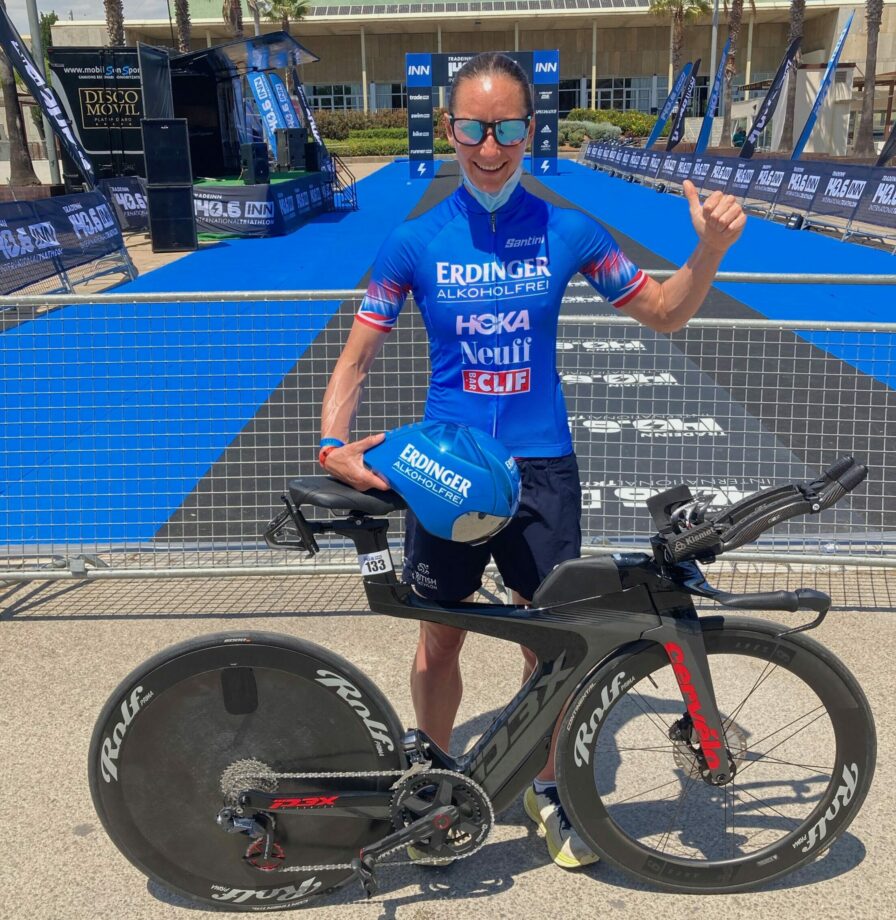 Why Cervelo? Why Nikki?
When a brand looks for and considers which athletes to support, it must be a positive when an individual has been spending their own hard-earned cash on the product before there was any hint of sponsorship or support.
With Nikki Bartlett, Cervelo found such an ambassador, a true fan of the brand. Bartlett bought her first Cervelo from eBay and this has migrated to being her training bike now she is a Cervelo athlete.
Cervelo P3X > Cervelo P5X
The Cervelo P3X is the offspring of the P5X – Cervelo's disc brake-equipped beam bike launched with much fanfare at Kona 2016, but ultimately received a mixed reception. Do not fear, the company headquartered in Southern California claims the Cervelo P3X is a substantial improvement on its predecessor: "It's lighter and stiffer than the P5X…. It's a triathlon bike first and foremost and meets the needs of the world's elite triathletes."
If you are intrigued by non-conventional beam bikes, feel free to check out our feature on Fenella Langridge's Reap Vulcan.
It seems Bartlett's positive vibes about the Cervelo brand have only been enhanced by her Cervelo P3X, she effusively explained the merits of her 2021 race bike:
"I literally love this bike, it's my absolute weapon and it's super stiff, responsive and versatile. I love hilly courses (by hilly, I mean 2200m climbing courses), and it's a dream to climb with too… It's a super easy bike to adjust for your ideal TT set up, comfy and feels insanely fast. It's an absolutely joy and privilege to ride."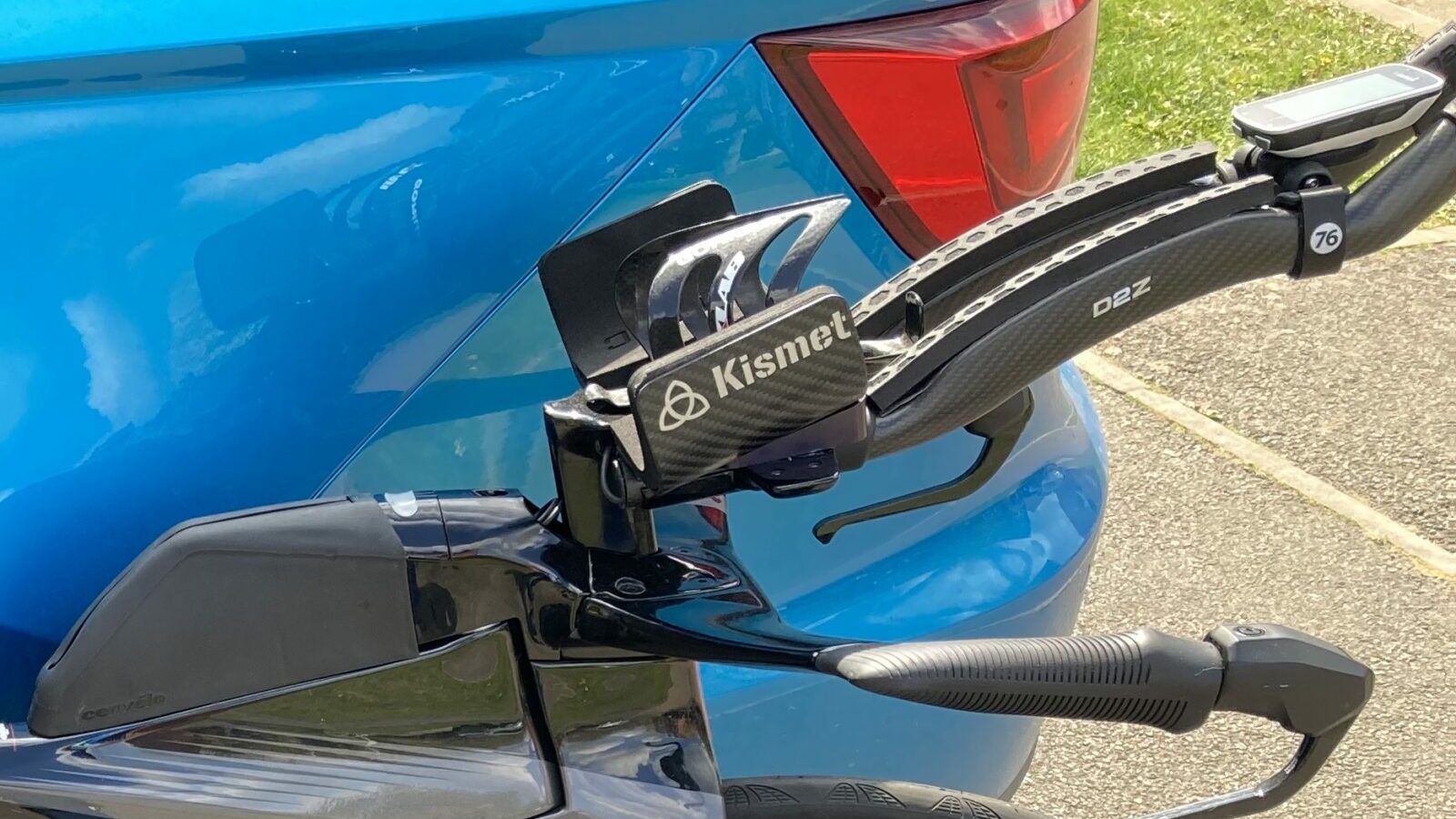 Travelling with a time-trial bike (or in this instance a triathlon focussed bike), can be challenging at times. However, standing 5 foot 9 inches tall Bartlett uses a 54cm frame and finds packing the bike straightforward:
"It's super easy to pack (in my BikeBoxAlan Triathlon Aero Easyfit Bike Box) where just the pedals and wheels come off."
Aero front-end
The front end of Bartlett's Cervelo P3X is tricked-out with aero enhancements, including Drag2Zero poles, Kismet pads, and Drag2Zero Ergo Grips. Such a set up suggests that Bartlett is well aware of the importance of aero-gains. Bartlett detailed:
"Rob Cheetham coached me from 2016 – summer 2020 and he was a fundamental part of my TT position today. Matt Bottrill has finished my complete set up now, and I often see him 1-2 times a year. In fact, I was there last week, he's always on the end of the phone to ask for advice too. He continues to evolve my set up."
Tri247's Pro Bike series has seen several pro athletes opt for crank lengths outside the common/standard range of 170mm to 175mm, but Bartlett commented that her optimum is 172.5mm:
"For me the 172.5mm cranks work a treat for a good position and angle in the TT position."
Nutrition storage and aero gains
Interestingly, reflecting Cervelo's claim the P3X is exclusively a triathlete's bike, there are plenty of options when it comes to stowing nutrition, which have been designed to aid cutting through the air – Cervelo claims: "…[the integrated storage] effectively acts as a fairing—so even if you don't need the calories, it's still faster". Bartlett espoused the benefits of the Cervelo P3X's storage options:
"The P3X has a fantastic integrated storage pouch which is HUGE. It' s actually one of my biggest draws to this bike, I love it."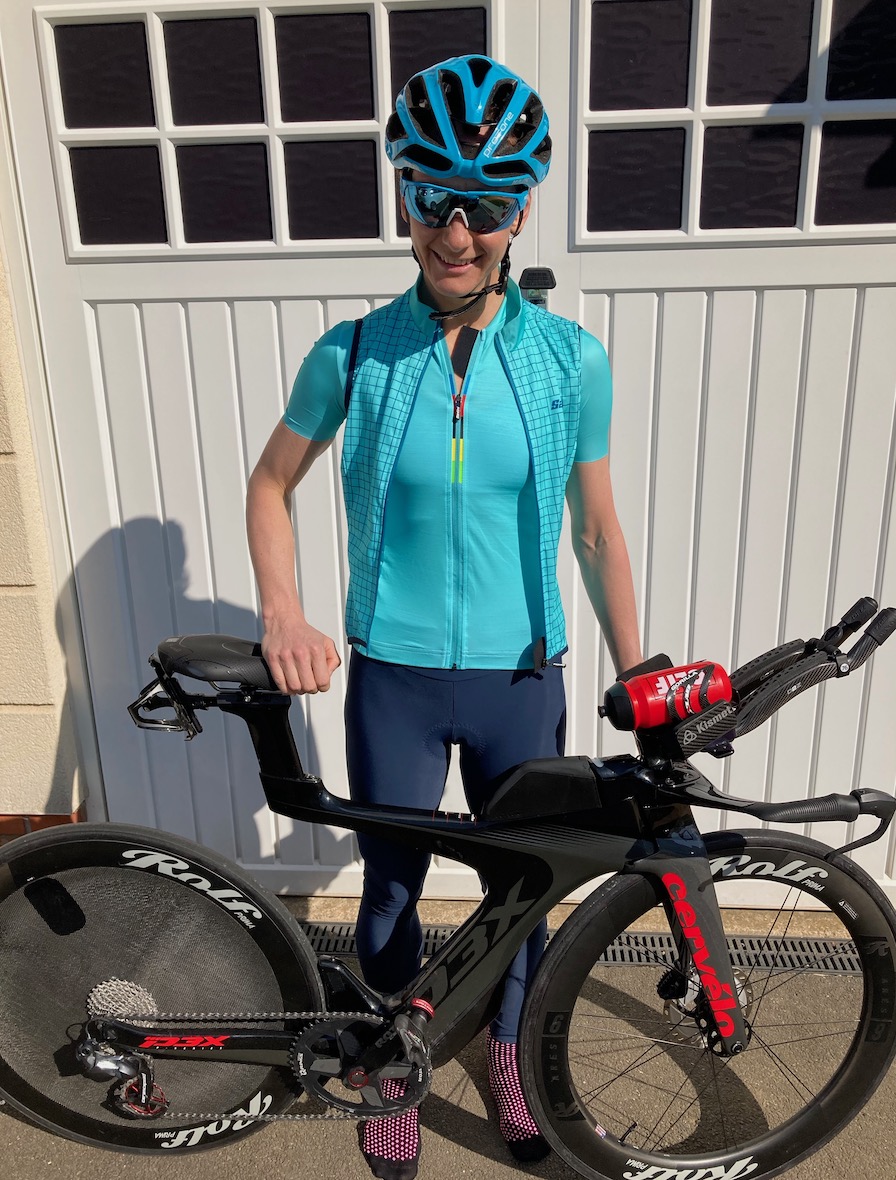 She continued:
"I never have to worry about storage space for an iron-distance race. I can pack my Clif Bars, Snickers, Clif Bloks, and even a peanut butter and jam bagel in there… [the storage options] allow me to carry everything in aero fashion."
High-end components
Bartlett confirmed that both Cheetham and Bottrill have also helped her undertake a lot of research and testing to ensure she is equipped with the best components for her race rig. Nikki's Cervelo P3X combines a Shimano Ultegra groupset with Rotor Q-Rings, a Ceramic Speed BB, OSPW (over-sized pulley wheel) and a speed chain.
The Rotor Q-ring is the Spanish company's oval chainring and Bartlett confirmed she changes her gear selection subject to the bike leg's parcours:
"… I swap [my chainring] dependent on the course. So, 1 x 54 and double 53/39 depending on the course, generally run a 32-11 cassette."
Power meter choices
In addition, Bartlett opts for Rotor's crank-based power meter, the Rotor2INpower. Power is a crucial metric that Bartlett uses when training and racing. Therefore, she needs a reliable power meter, and luckily for Bartlett it appears the dual-sided Rotor2INpower is one such power meter:
"I've used Rotor since turning Pro and I've never ever had an issue with it set up on my training and racing TT bike. [It] always read power, never cuts out, always 100% reliable and accurate."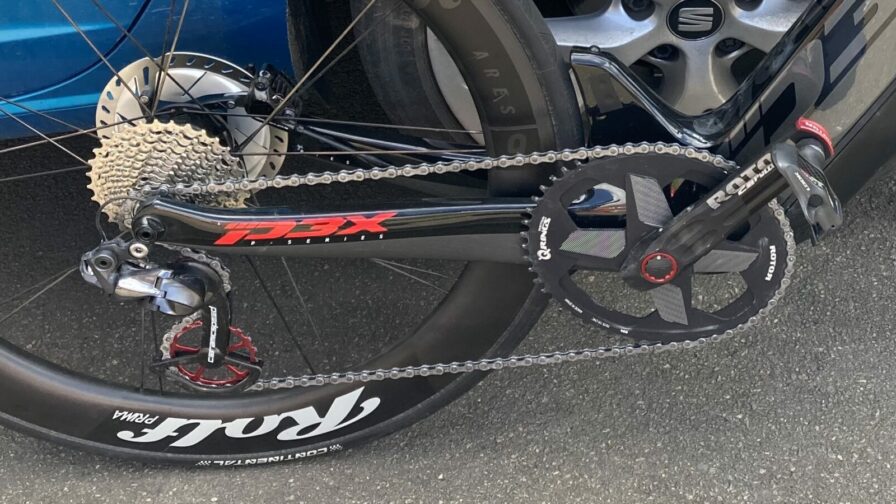 "I've had a range of power meters (not Rotor) on my road bike, and those brands have been terrible. I even still use the same Rotor power meter I got nearly six years ago now on my training Cervelo TT bike and it's still super reliable," she added.
Train to power, sometimes
Bartlett provided examples of how her reliance on her power meter for training sessions varies depending on the goals and aims of the specific session:
"Some sessions I'm super strict with specific power / average power for that effort, i.e. for Ironman-type sessions I have a smaller range of power to hold (such as, within 10 watts), VO2 sessions I have target powers, and often I do some of my long rides as a 'ride the course' type session which I aim to have an overall average NP target rather than a standard type session.
"Otherwise, a lot of my training is to feel, so my power meter informs what I do, but doesn't dictate. I often do a lot of my easy rides with no power so I can just go to how I feel on that day."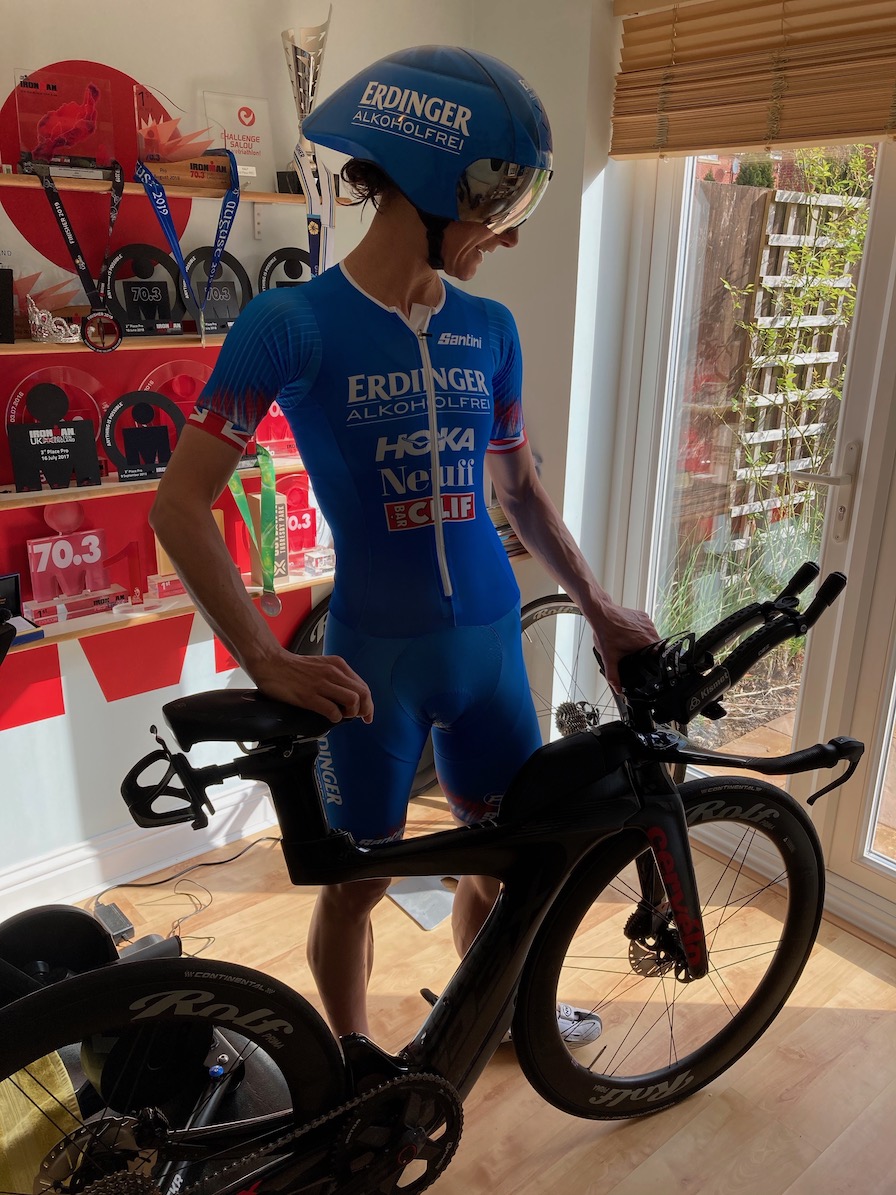 Go with the flow of the race
When it comes to race day it is all about race dynamics. Nikki explained that for her it all depends on the lay of the land when the swim ends and the bike-leg starts:
"It really does depend on who I come out of the water with, and if there's anyone around me. Sometimes I front-end the bike to catch [other athletes], or, say for instance, [when] I came out of the water with Kim Morisson at [the] Dorney Triathlon my power number target went completely out of the window, as I wanted to keep her in sight (just). So, I went with the flow of the race rather than thinking 'oh I'm completely doing the opposite to what I was planning'.
"There's certainly a fine line though, and for a short race like Dorney Triathlon (58k bike) I just went for it. But you do have to be smart and understand your fitness / capabilities if you're to go with the flow of the race, especially for long distance racing."
Disc brakes
The Cervelo P3X is only available with disc-brakes. This suits Bartlett since not all races are flat circuits with few corners like Eton Dorney or Daytona:
"I do a lot of technical [and/or] hilly bike courses, often which if they become wet, then disc brakes all the way. Even psychologically knowing you've got quick braking capacity is fab when you often see rain on race-day. Especially on some of the European slippery roads when they're full of rain. [The] drawback is the fiddly nature, however Bex [Bartlett's partner] loves the [mechanical] challenge!"
Aero wheels
Nikki's standard wheelset is the eye-catching combination of a Rolf Prima Ares 6 front wheel with a disc rear. It is clear Nikki is a big fan of her hoops for performance and aesthetic reasons:
"I love them, wheels are one of the best investments you can make, and I'm extremely lucky to be supported by Rolf Prima. They're an eye turner too, people are often fascinated by the look of the (few) spokes, and you can custom make your rim, hub and decals. They're beautifully handmade, with speed and beauty in mind."
Bartlett is not yet a convert to tubeless tyres and still opts for clincher tyres pairing Continental GP5000 with latex inner tubes. However, she does alter her tyre choices depending on the course, for example for Daytona she would use Vittoria Corsa Speed 2.0 rubber.
Race day changes?
Nikki uses Look's KEO blade pedals and an ISM saddle (she is a big fan of her perch: "so comfy and never had a saddle sore in my life"), and these are permanent fixtures on her bike set-up. In fact, when it comes to race day Nikki only makes limited changes: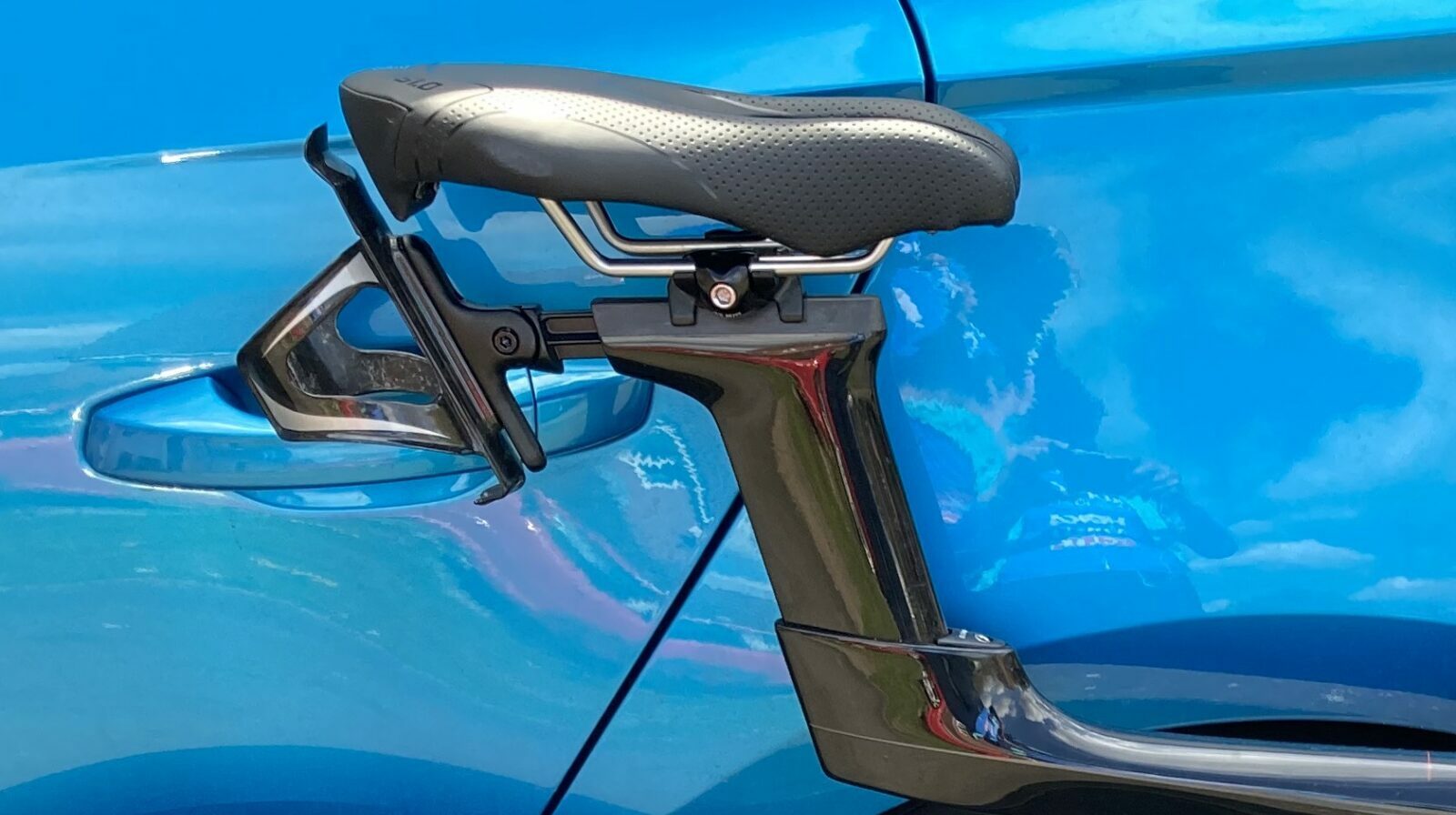 "I mainly change wheels, tyres and chain for race day and generally keep those components as good as new. Everything else remains the same."
She went on to confirm she is very protective of her bike, ensuring it is in tip top condition when she needs to race in anger (or fun):
"I won't take my race bike out on the roads if its wet / dirty roads. I keep it for best. I will do a week or so on my full race kit set up before race day….Then the [special] chain comes on 2-3 days before the race."
It won't be long until Nikki is back riding around in her full race kit preparing for race day, as her next big race is at IRONMAN UK. Good luck Nikki!
If you like what you see check out: Cervelo, Rolf Prima, and Rotor.