Tri-Anglia and Greenlight PT extend their lead after Race Four
Incredibly close racing in Crit City…
Friday night (5th March) it was a case of four down, two to go in the Super League Triathlon Arena Games Club Championships.
A chance for you – and your club – to win a variety of prizes by competing (virtually) on Zwift, across the next three weeks, leading up to the Super League Arena Games London on 27th March.
CLICK HERE TO FIND OUT WHAT IT'S ALL ABOUT & HOW TO JOIN
REPORTS: RACE ONE | RACE TWO | RACE THREE | RACE FOUR

Some incredibly close racing too, though the overall club standings see two clubs strengthening their grip on the series win.
Friday's race saw the reverse of Monday, so that means it was a women's bike race, while the men were on the treadmills.
Starting with the cycling (women) first, Rachel McKnight (Redcar Triathlon Club) took top spot, but by just two one-thousandths of a second (!) over Jennifer-Ann Kirby (Enduro Team), with Hendrinka Blackwell (Harlow Tri Club) less than a tenth of a second behind, in third. Indeed, the whole of the top-10 was split by less than five seconds on the Crit City circuit. Having finished third and second now, can Jennifer-Ann finally crack that top spot next week at the third attempt?!
It was an 8.25km run for the men, which saw a one-two for the Trythan club, courtesy of Mark McCluskie (who also won last week's run event) and Dennis Chalmers, who improved from seventh last time around.
In the overall club standings, Tri-Anglia (Men) and Greenlight PT (Women) continue to collect top-10 finishes and compete in numbers too, and their commitment on both fronts sees them in a very strong position with the final week of racing to come. Can anyone catch them?
Women – BIKE – Crit City (19km Road Race) – Race 4
Top 10 below / FULL RESULTS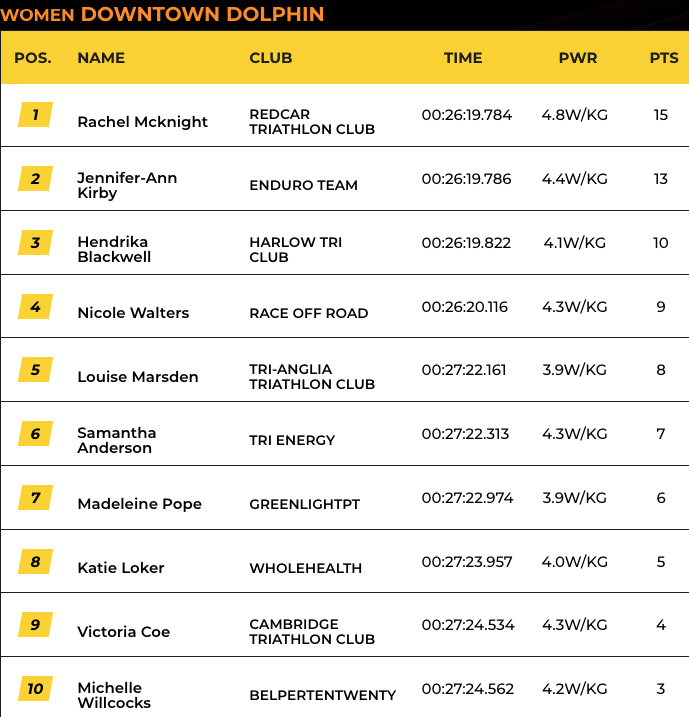 Men – RUN – Chilli Pepper (8.25km) – Race 4
Top 10 below / FULL RESULTS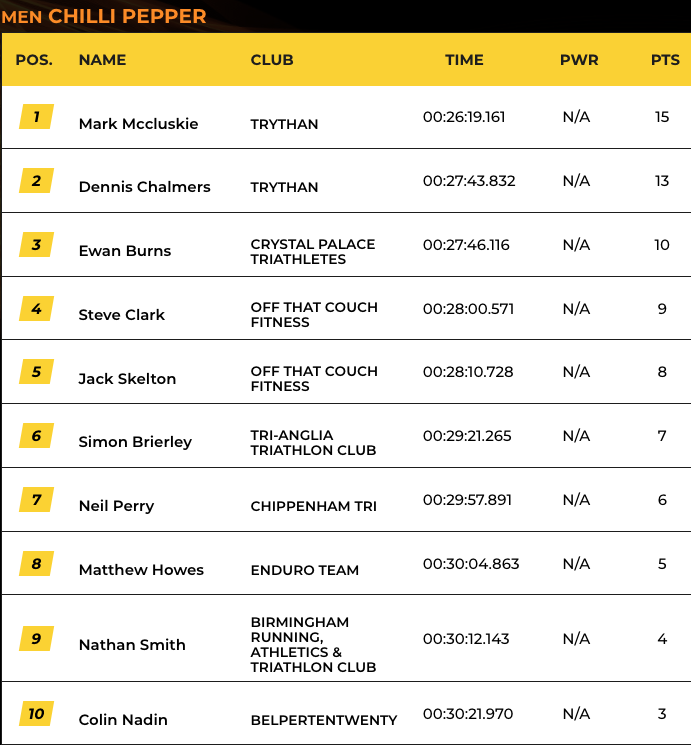 Club Standings after Race 4
Click HERE for the full standings.


The Races
If you want to take part, you can still sign up – and get your club members to join you – for the remaining two rounds of racing. You can find out all about it HERE.