Team GB Age-Group Aquathlon Euro Champs results from Transilvania
Slightly later than planned on this one (I'm blaming the seemingly absent connectivity on North Norfolk this past weekend for that), the next update from the ETU Multisport European Championships Triathlon Festival features the ETU Aquathlon European Championships.
Just under 200 Age-Group athletes for this one, with the Brits contributing 135 of those. The Age-Group medal collection was another whopper, 47 in total including 18 Gold.
Team GB also had the fastest Age-Group athletes overall in both the men's and women's races, thanks to Michael Lewis and Tina Wilson. Both Michael and Tina were also the fastest Brits at the same championship last year in Ibiza.
Check out all the reports and news from Târgu Mures on these links:
Târgu Mures ETU Aquathlon European Championships – Friday 5th July 2019
1km swim / 5km run
FASTEST BRITISH AGE-GROUP ATHLETES OVERALL
Men
1st – Michael Lewis (20-24) – 30:14 – fastest AG athlete overall
2nd – Ben Rawlins (16-19) – 30:32 – 3rd fastest AG athlete overall
3rd – James Calliss (16-19) – 30:44 – 5th fastest AG athlete overall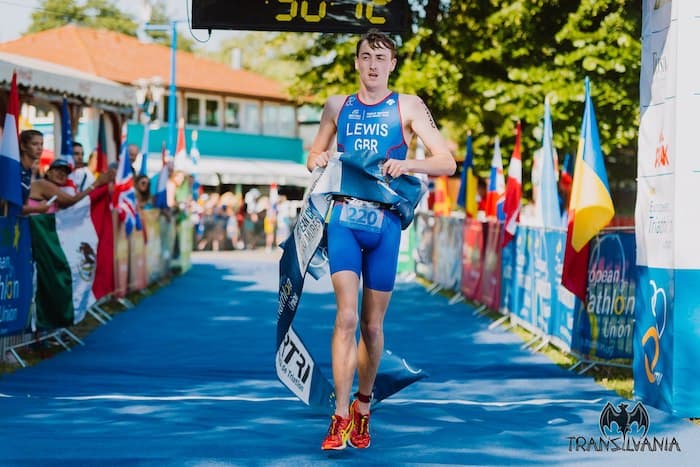 Women
1st – Tina Wilson (40-44) – 33:34 – fastest AG athlete overall
2nd – Henrietta Tarasewicz (35-39) – 34:09 – 2nd fastest AG athlete overall
3rd – Hannah Dodwell – 35:52 – 3rd fastest AG athlete overall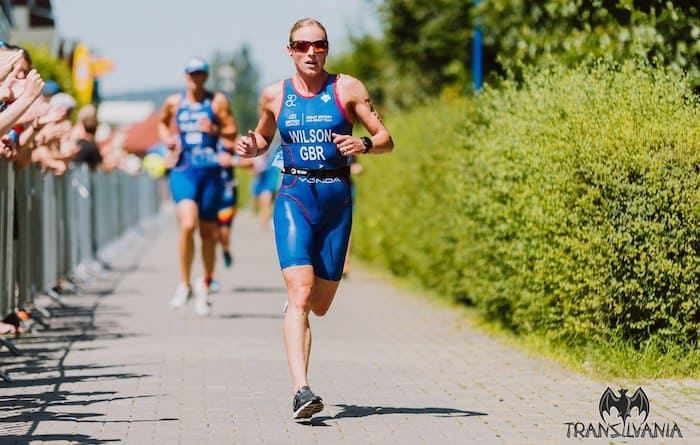 GB Age-Group Medals (47)
Gold (18)
Lara Greggs – 16-19 Female AG
Ben Rawlins – 16-19 Male AG
Phoebe Lloyd Evans – 20-24 Female AG
Michael Lewis – 20-24 Male AG
Hannah Dodwell – 25-29 Female AG
Jessica Thorpe – 30-34 Female AG
Henrietta Tarasewicz – 35-39 Female AG
Yiannis Christodoulou – 35-39 Male AG
Tina Wilson – 40-44 Female AG
Liam Goldie – 40-44 Male AG
Sarah Richardson – 45-49 Female AG
Jacqui Phillips – 50-54 Female AG
Sharon Hill – 55-59 Female AG
Julie Robertson – 60-64 Female AG
Sandra Main – 65-69 Female AG
Neil Arundel – 65-69 Male AG
Ted Hamilton – 70-74 Male AG
Peggy Crome – 75-79 Female AG
https://twitter.com/Yiannis_83/status/1147194557081280512
Silver (14)
Eleanor Mason – 16-19 Female AG
James Calliss – 16-19 Male AG
Rachael Vatter – 20-24 Female AG
Dan Elliot – 20-24 Male AG
Alex Hemsley – 30-34 Female AG
David Boyd – 35-39 Male AG
Samantha Lake – 40-44 Female AG
Nigel Gaskin – 40-44 Male AG
Rob Jamison – 45-49 Male AG
Kate Ross – 55-59 Female AG
Beverley Childs – 60-64 Female AG
Stirling Farmer – 60-64 Male AG
Graham Le Good – 65-69 Male AG
Michael Smallwood – 70-74 Male AG
https://www.instagram.com/p/BzibAl_B1ai/
Bronze (15)
Hannah Campbell – 16-19 Female AG
Rhys Davies – 16-19 Male AG
Thomas Kerfoot – 20-24 Male AG
Rebecca Wetten – 25-29 Female AG
Nicola Pollard – 30-34 Female AG
Nick Flower – 30-34 Male AG
Emma Price-Stephens – 35-39 Female AG
Jamie Hockley – 35-39 Male AG
Louise Croxson – 40-44 Female AG
Steven Paine – 40-44 Male AG
Tracey Hare – 45-49 Female AG
Ian Scott – 45-49 Male AG
Eric Wardle – 55-59 Male AG
James Howard Jeffrey – 65-69 Male AG
David Girling 70-74 Male AG
Amazing time at the ETU European Aquathlon Championship in Romania, 3rd in age group. Great to catch up with everyone especially my podium buddy Lara Greggs. Diolch @Rhyso75 for the open water training and @mikesbikeshw pic.twitter.com/nFDwTclsRd

— Rhys Davies (@RhysDavie2001) July 5, 2019