The ETU Multisport European Championships gets under way in Transilvania
The second edition of the ETU Multisport European Championships Triathlon Festival kicked off in Romania on Saturday, with the first events of a busy schedule, the ETU Cross Triathlon European Championships.
Check out all the reports and news from Târgu Mures on these links:
Second only in number behind the host country, the 37 British Age-Group athletes collected a total of 14 podium finishes.
As she was in Ibiza last year, Kerri-Ann Upham was the fastest female GB athlete and retained her title in the F25-29 category.
FASTEST BRITISH AGE-GROUP ATHLETES OVERALL
Men
1st – Ashley De Lotz (30-34) – 2:04:08
2nd – Rob Parry (35-39) – 2:06:12
3rd – Brad Pontin (35-29) – 2:09:15
Women
1st – Kerri-Ann Upham (25-29) – 2:24:57 – 2nd fastest AG athlete overall
2nd – Emily Harper (30-34) – 2:25:52 – 3rd fastest AG athlete overall
3rd – Hayley Down (35-39) – 2:31:14 – 4th fastest AG athlete overall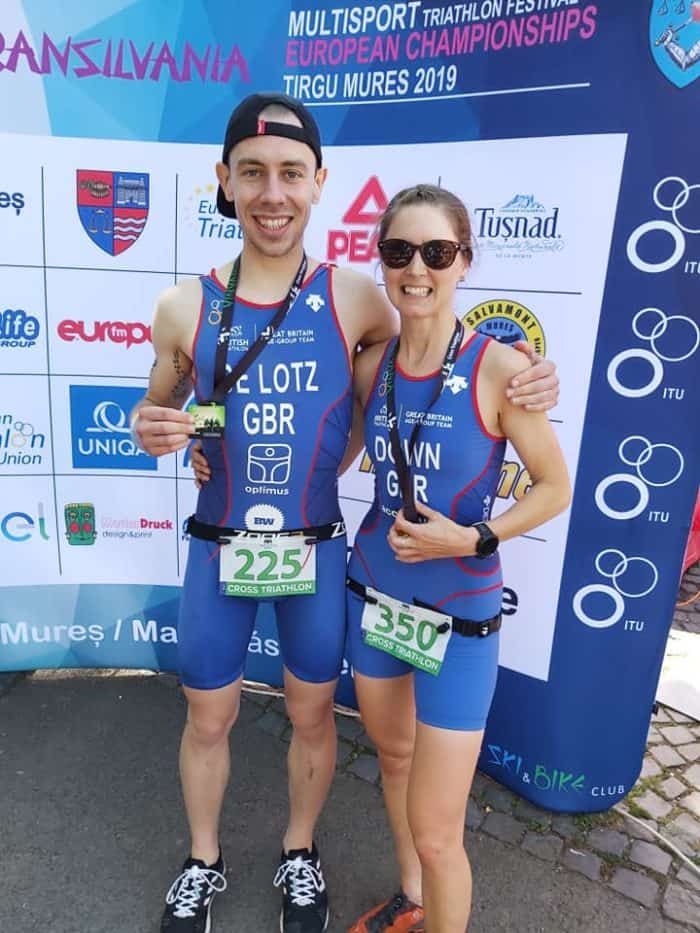 Târgu Mures ETU Cross Triathlon European Championships – Saturday 29th June 2019
1km / 23.4km / 6.2km
GB Age-Group Medals (14)
Gold (6)
Kerri-Ann Upham – 25-29 Female AG
Emily Harper – 30-34 Female AG
Ashley De Lotz – 30-34 Male AG
Hayley Down – 35-39 Female AG
Joanne Pitten – 40-44 Female AG
Renell Brennan – 45-49 Female AG
Silver (3)
Rob Parry – 35-39 Male AG
Natalie Smith – 40-44 Female AG
Simon Taylor – 55-59 Male AG
Bronze (5)
Brad Pontin – 35-39 Male AG
Louise Madge – 40-44 Female AG
Robert Moore – 55-59 Male AG
Dean Hardie – 60-64 Male AG
Colin Hunt -65-69 Male AG