Since its inception in 2006, there are six men who have managed to claim the IRONMAN 70.3 World Championship title more than once: Craig Alexander, Michael Raelert, Sebastian Kienle, Javier Gomez, Jan Frodeno and most recently, Gustav Iden.
Of those six, only three have ever won consecutive titles, Raelert in 2009/10, Kienle in 2012/13 and Iden in 2019/21. Fresh off his IRONMAN World Championship win, Iden this weekend has the opportunity to be the only man ever to win more than two 70.3 World titles – and to do it in back-to-back-to-back style.
Momentum on Iden's side
In his pre-race interview on the Breakfast with Bob show (embedded below), Bob Babbitt brought up the topic of the possibility of a historic three-peat, to which Iden just answered "we will see if it can be done this weekend".
The 26-year old, from Bergen in Norway, cemented his status as a middle distance powerhouse in 2019, where he took down Alistair Brownlee convincingly at the IRONMAN 70.3 World Championships in Nice to take his first title.
Since then, Iden has gone from strength-to-strength in the world of PTO and IRONMAN racing, with wins so far this year at the PTO Canadian Open and the IRONMAN World Championship putting him at number #2 in the PTO rankings behind training partner Kristian Blummenfelt.
Blummenfelt, the Olympic and World Champion, is widely considered by many to be the only man who can challenge Iden for the title in St George. However, Iden convincingly put Blummenfelt to bed with a three-minute gap on the Big Island at the start of the month and it is hard to see how the 2021 IRONMAN World Champion might take him down.
Blummenfelt, who last got the better of Iden over the 70.3 distance in Bahrain in 2018, has never finished on the podium at an IRONMAN 70.3 World Championship. It will be interesting to see how he has recovered from his third place finish in Kona when he is up against the likes of Sam Long in the fight for the podium in Utah.
"My career doesn't depend on this"
Addressing the race this weekend, Iden comes across as relaxed in his interview on the Babbittville channel, as he explains how Kona was "the race that I was all-in for this season", which has made getting in the right head space and recovering for St George quite challenging.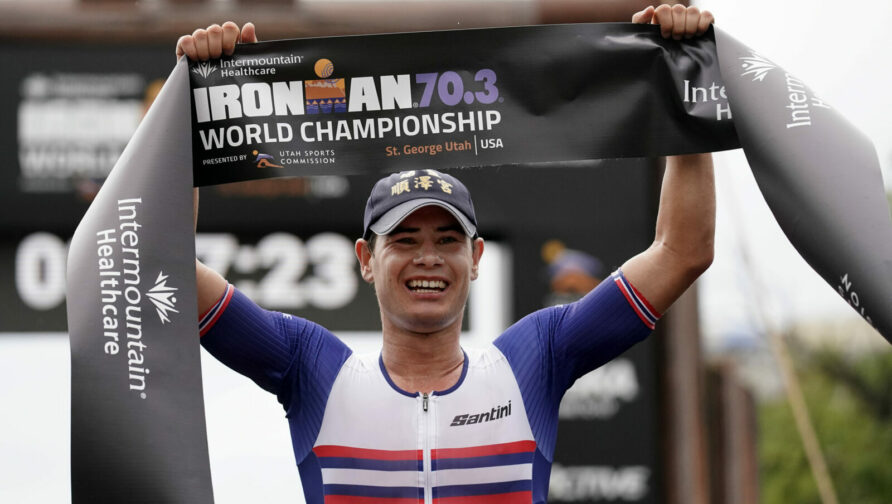 On the topic of recovery, Iden told Babbitt that he "doesn't feel like I've done the training I needed to perform this weekend", with the "change in time zone and climate" coming from Kona posing some challenges. However, it is impossible to count out Iden, and it might work in his favour that he has been forced to take more time to recover properly than he might have initially anticipated.
On his plan for the race, Iden suggested a measured approach might be the tactic he deploys this weekend, as he plans to "sit back and just see what happens" as the race unfolds. With such great experience at the top end of long course racing, the field this weekend should be wary of Iden's tactical nous as they try to take him down.
Whatever happens in St George this weekend, a strong argument can be made for Iden's name to be at the forefront of any conversations around the greatest male IRONMAN 70.3 athlete of all time. A win this weekend, however, and the possibility of a three-peat, could be the race that cements his status as the best ever.