Team Jenkins (Jinx Sport) Monthly Column – April 2020
And the Welshman wishes he was English…
ITU Triathlon World Champion in 2008 and 2011, Helen Jenkins has also represented Great Britain at the last three Olympic Games.
Since then, she's had a child (Mali), had to go through major spinal fusion surgery (2018), and in 2019 she and her husband, coach and Olympian himself, Marc Jenkins, welcomed their second child (Max) into the world. Family life, time to move on, racing days over and time to reflect back on a great career? Absolutely not! Helen returned to racing in February at IRONMAN 70.3 Dubai.
Each Month, Helen and Marc will give us their separate and individual takes on the past month, as they strive for their next success in the sport they love.
Here's their latest update, which covers the month of April 2020, another month of lockdown in South Wales…
You can find previous updates here:
Aug 2019 | Sept 2019 | Oct 2019 | Nov 2019) | Dec 2019 | Jan 2020 | Feb 2020 | Mar 2020
---
Helen Jenkins
A little late with an April blog!
I feel like every day has merged into one. I didn't realise how much I use swim sessions to tell what day of the week it is. Not much has changed since the last blog. As the parents of two young children, every day is the balance of kids/training/work. And then do it again the next day!
I have had ups and downs over the last few weeks. Times I have felt demotivated to train, times I have been motivated. To be honest, the demotivated times are when I look too far ahead; we have no idea when races are, what we are training for. I find it helps to focus on the day-to-day, only looking ahead at the next week and trying to focus on the goals for the week. Living in the moment and enjoying training for what it is, not as a stepping stone towards a big goal. It's a change in attitude and perspective from the usual build toward races.
One of the best qualities you can have an as athlete is to adapt and change when needed. It is something I have had to do during my career and many times over the last couple of years with kids and back surgery. My training currently consists of two harder bike sessions a week, and one harder run. These are the focus for the week and then around it mainly easy stuff. I have been so slack on my gym work lately; the intentions are good, but it is always the first thing to go out the window when tired. I am making a big effort now to schedule it in and get my gym session done. It takes willpower to do the sessions you don't enjoy! I am able to swim a little bit in a pool on a tethered band… not really swimming, but it keeps the shoulders flexible.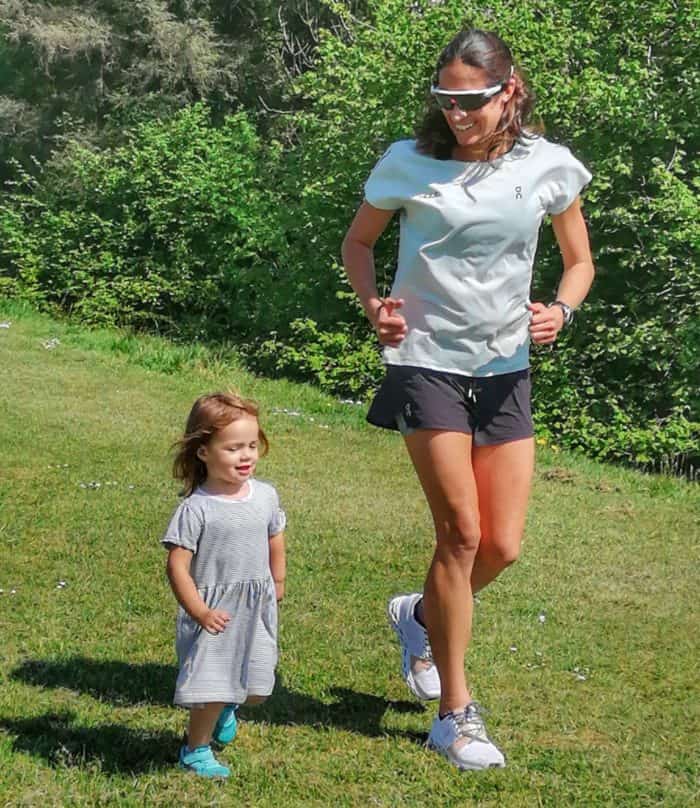 I guess everyone is looking forward to different aspects of having lockdown eased. I can't wait to see my parents and family, the kids are really missing their grandparents. A simple trip to the park to go on the swings, being able to go to the beach, go for a meal. I am looking forward to having some childcare so I can have five minutes peace! I don't think I have done anything recently without a child hanging off my leg. All the little things are going to seem so much sweeter when we finally get to do them. Until next time stay safe everyone and a massive thank you to all the key workers!
Helen's Tip of the month
There are more and more races being postponed and cancelled, it's tough to keep motivated when the goal posts keep moving. I have up and down days, I train for reasons other than just race goals but sometimes the lack of a big goal leaves me unmotivated. I have found planning week-by-week (and then day-by-day), rather than planning long term helps me. Keeping the goals short term and focusing on the other reasons why I love training and exercise. The love of being outside, the feeling when you're finished! Also being kind to yourself, don't beat yourself up if you can't maintain your usual training and exercise routine. If you really just need a break from structured training, this is the perfect time.  
Helen's Exercise Tip of the month
I have been useless at gym lately! It is the first thing I drop when I am tired or unmotivated. I set myself a few goals the last week or two to complete at least 1-2 gym sessions a week. If like me, you are skipping the gym there are a few exercises even when tired I still manage to do.
A clam circuit to get my glutes activated before running is a great one. This is a little video I have been using lately https://www.facebook.com/physiopippa/videos/3020748984671534/ by Pippa Pilates, she is physiopippa on facebook and Instagram if you need some inspiration!
Marc Jenkins
I wish I was English….
Something a Welshman has probably never said, but with Wales on a further three weeks lockdown and England with BoJo doing what he can to introduce some normality, I think a lot of Welsh people are looking over the border thinking, I'm sure he is our Prime Minister? Seems Wales has a First Minister who apparently makes some decisions for us. Enough politics, or I'll write all day.
That said, it seems like a long time now, right? Friends, family, life, all being put on the back burner and that's not living. Helen and I are juggling training and keeping the kids occupied. We are doing pretty well I think, and the kids are generally happy although Mali is sad she isn't seeing friends.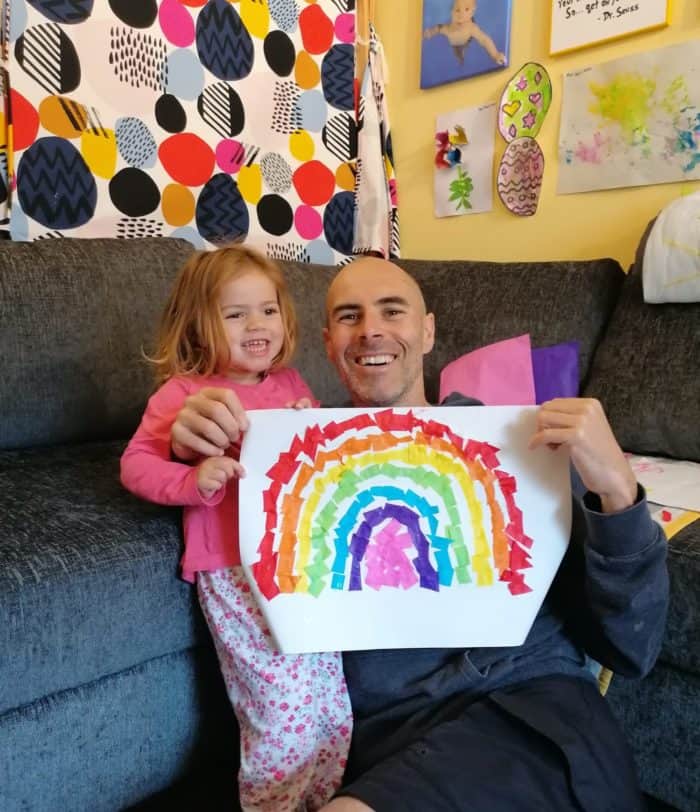 I am really missing the beach and getting in the sea. I want to go catch some waves, swim in the sea. Sure, we are all missing various things that just make life worth living.
Helen has been training very well and somehow managing to stay motivated given the fact there is no racing now, or any time soon. We are doing as much as we can in virtual groups to help with motivation and we've loved joining everyone on our TRI247 bike rides. Damn they were hard, what idiot set them?! Looking forward to doing more sessions with more people, it always helps get you on the bike. An old coach of ours and great friend always said the hardest part of the run is getting your trainers on and after spending a day from 6am to 7pm with two kids that statement holds truer now more than ever.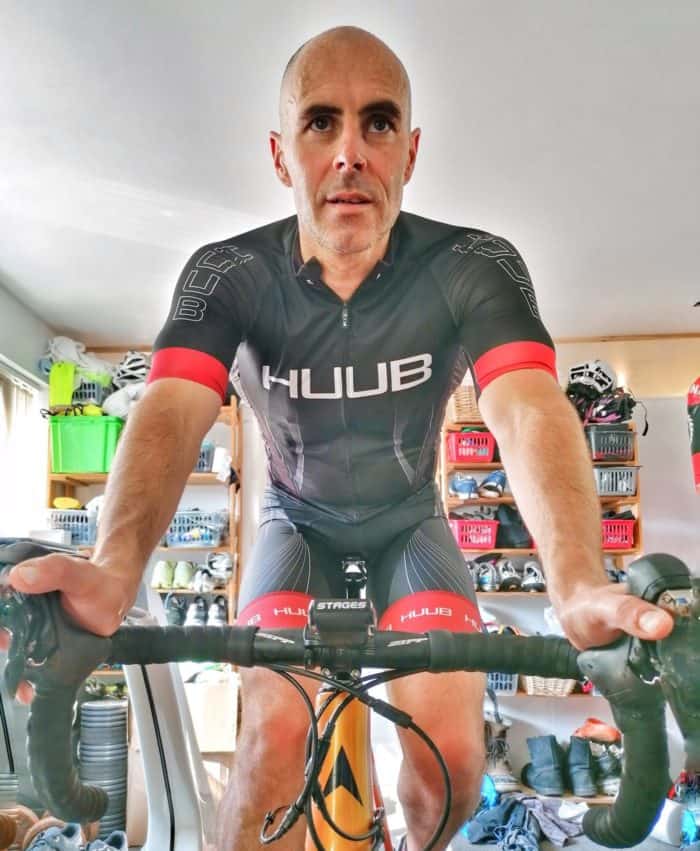 So, England, enjoy some kind of freedom and here's to hoping that this virus carries on reducing to spread and from us in Wales, good luck while we are spending another three weeks in the house.
Stay safe everyone and lets all do what we can to stop this virus from spreading. My hands have never been cleaner.