Jackson Laundry aims to defend his IRONMAN 70.3 Oceanside title this weekend against a stellar field, and whilst the Canadian acknowledges it will be a tall order, remains quietly confident he has what it takes to come out on top.
In his most recent YouTube video ahead of the race, the 2022 IRONMAN 70.3 World Championships seventh place finisher shared how his training has been going, his pre-race expectations and how he thinks the day will play out.
"People aren't expecting me to win"
Despite coming into the race as the defending champion, Laundry is aware that his success in 2022 hasn't dramatically changed people's expectations of him ahead of this weekend's stacked race.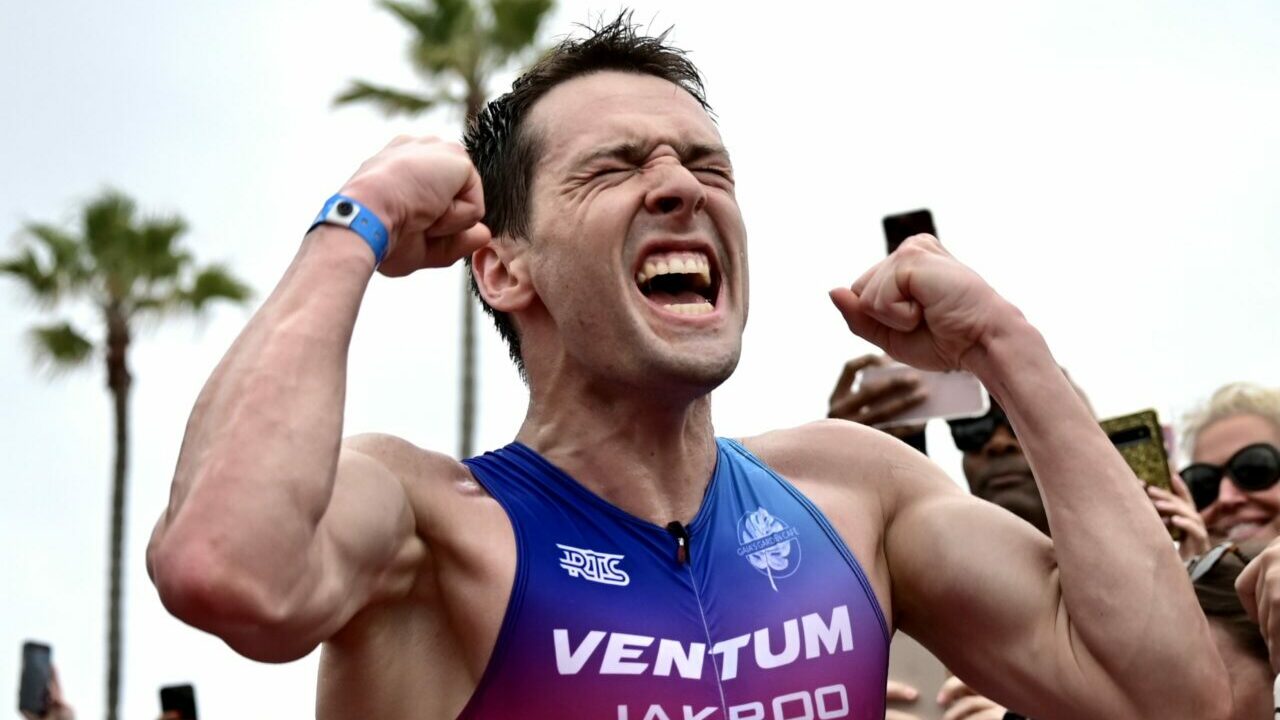 "I think this year, even though I've got the number one bib, people aren't expecting me to win. I don't think anyone's really expecting me to win but I like to think that I've got as good a chance as anybody.
"IRONMAN 70.3 Oceanside is known as one of the most competitive races around and I think if you can win in Oceanside when this kind of field shows up, then you can win on any stage."
With fellow former champions Jan Frodeno and Ben Kanute on the start line, plus a whole host of other contenders, the field in California is by far the deepest one in middle-distance racing so far this year.
Laundry, who also finished on the podium at IRONMAN 70.3 races in Indian Wells and Mont Tremblant last season, will hope a big result against a strong field in Oceanside can propel him up the PTO World Rankings, with the 29 year old currently #27.
Cold conditions could favour the Canadian
Dissecting his training leading into the race, Laundry was candid with his assessment of his fitness, stating that whilst his swim might be a second or so per 100m off last year's form, his run and especially bike shape are now in a better place.
"I'm feeling very confident in my cycling right now. It's definitely my strength. I've been able to push power like I never have before. I am confident that I'm going to be able to ride very well and go as well as anyone else in the race."
As well as his bike prowess, Laundry believes another factor that might help him get a jump on the field is his acclimatisation to the colder conditions, with Oceanside, despite the California sun, looking likely to be on the cold side with a sunrise swim start.
"One thing that really works in my favour in this race is the conditions. It's expected to be around 11 degrees in the morning and the cold conditions just suit me. I can push harder, I'm not dehydrated and I just seem to be able to elevate my game.
"A lot of the competition race well in and enjoy the heat, but you've got to be able to deal with the cold in this race too."
Whilst Laundry may well feature up at the front of the race, Oceanside isn't the only event on Laundry's calendar, and the Canadian shared that whilst he would like to defend his title, the race is really about getting the most out of himself.
"For me, it's just about focusing on the same things I did last year. I just need to do the best I can in each sport and execute my strategy in any given moment."
A full preview for Oceanside, including start times, details on how to watch and a run down of the competition, can be found here.