For professional triathletes, collisions with trucks are sadly something an occupational hazard, but for Jan Frodeno the threat became far more sinister than that.
The world's greatest long-distance star ever has spent more time than ever training indoors after a terrifying experience in Australia. He revealed the details during Friday's press conference ahead of his super Sunday showdown with Lionel Sanders in the Zwift Tri Battle Royale.
Truck trauma forced Frodeno indoors
He said: "It's become a safety thing for me. I had a close call, but a close call with intention. We all have close calls – but somebody telling me that they intended to get me with a truck was an eye-opener.
"Having two kids really made me realise – sport is beautiful but there is life after and around sport. So I took to Zwift. I hated indoor training, I couldn't stand it. It's something that's actually allowed me to close the gap on the bike a little bit. Whereas previously I struggled."
Frodeno vs Sanders rivalry
The Frodeno vs Sanders rivalry has provided plenty of interest on social media in recent weeks, and while the battle will be real on Sunday, there is a respect and element of teamwork with both keen to push the other to new limits.
"We had our first dinner together the other night. It's a different race, of course you wanna win, but we also really want to see what's possible on this course.
"At least until Sunday we're working together and then the knife fight gets going. Even then we hope to produce something positive, so it's a very different feel to the race."
Frodeno says Sunday's event was born out of a desire to do something different, to entertain and raise level of performance.
"Trying to get people off the couch, having a good time and a bit of entertainment. And now it's all about focusing on performance, trying to do that in crazy times.
"We found some guys who bought into our idea. We went out and found a course that we think is fast – unfortunately you never know until you do it. We thought 'why not invite the guy who I think is the best in the world, suited to this kind of format'.
Jan Frodeno chasing new record?
"It's a time trial. A lot of people can perform in a pack, in a race kind of scenario. But we all know Lionel for his diehardness. That's what I appreciate, and that's why I'm glad he accepted to try and see what we can do here."
While it is a long time since Frodeno has lost races on even a semi-regular basis, he can still remember what it feels like. A feeling he despises.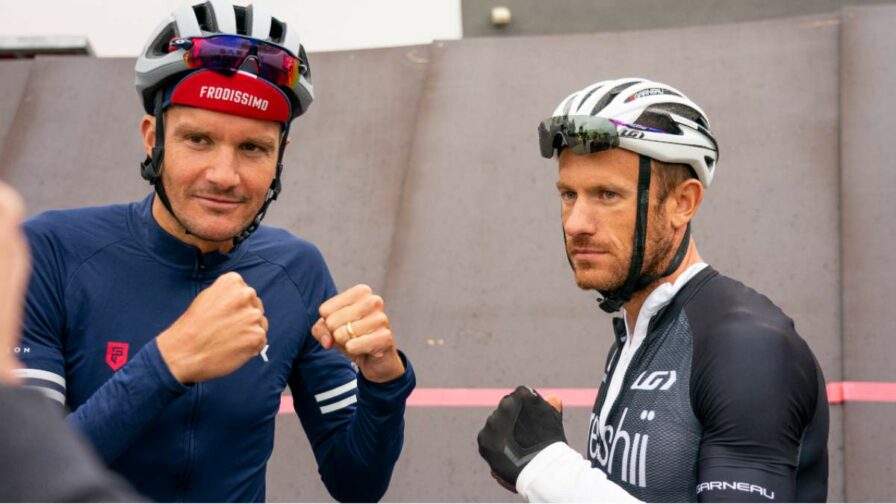 "People forget that I've been around that long, that I've still lost more races than I've won in my career," he reasoned.
"There have been people that have shaped me along the way, and experiences. I can tell you one thing, I've lost that many times that I know how much I hate it, and how much it defines me as a person, and how hard I go on myself. And that's all I have.
"I don't know how many races I've got left, so I'm treating every one like it's the last one, so I better apply myself fully."
Much of the pre-race analysis of Sunday's event centres on the potential for a new iron-distance world record. Frodeno holds the current 7:35:39 mark set at Challenge Roth in 2016. It's something which he definitely has in mind.
"I say the faster we go the better. Of course it would be awesome if we could break that world record, and I'm hoping that I'm the first to do it."
Sunday's race starts at 0900 local time (0800 BST, 0300 Eastern) and John Levison will be here throughout with a special live blog. You can read his full pre-race analysis, and check out all the details ahead of the showdown in Germany.
You can also experience just how much power Jan and Lionel are putting out during the race by hopping on Zwift.
Their avatars will be putting out the same power while cycling and be covering ground at the same speed as the athletes during the run leg transmitted live from the course.
All you need to do is follow both Jan and Lionel on Zwift Companion to be able to easily find them on the Start screen to ride or run with them on Sunday.