Ever wondered what going to a wind tunnel is really like? Well, pro-triathlete Emma Pallant-Browne has shared her recent experience of wind tunnel testing, what she learned, and how her training has changed as a result.
Pallant-Browne has been one of Britain's top middle-distance racers of recent times. Following elite-level running success, she moved to triathlon in 2013, establishing herself as a serious contender in non-drafting racing – first with Team Dillon, then BMC Pro Triathlon Team, and now as a member of the Specialized family.
Emma put the learnings of her recent testing to good use this past Saturday, when winning at IRONMAN 70.3 Boulder.
Specialized WIN Tunnel
One of the perks of being a Specialized sponsored athlete (as explained by Johan Badenhorst, Specialized Global Triathlon Program Manager), is access to the American company's wind tunnel, namely the Specialized WIN Tunnel. So, Emma headed to Morgan Hill, California, to save some watts and gain some speed on the bike, and kindly described what it was like undertaking wind tunnel testing.
However, first, Emma explained why she was attracted to Specialized, including the appeal of building bespoke relationships that were not possible when she was part of a team: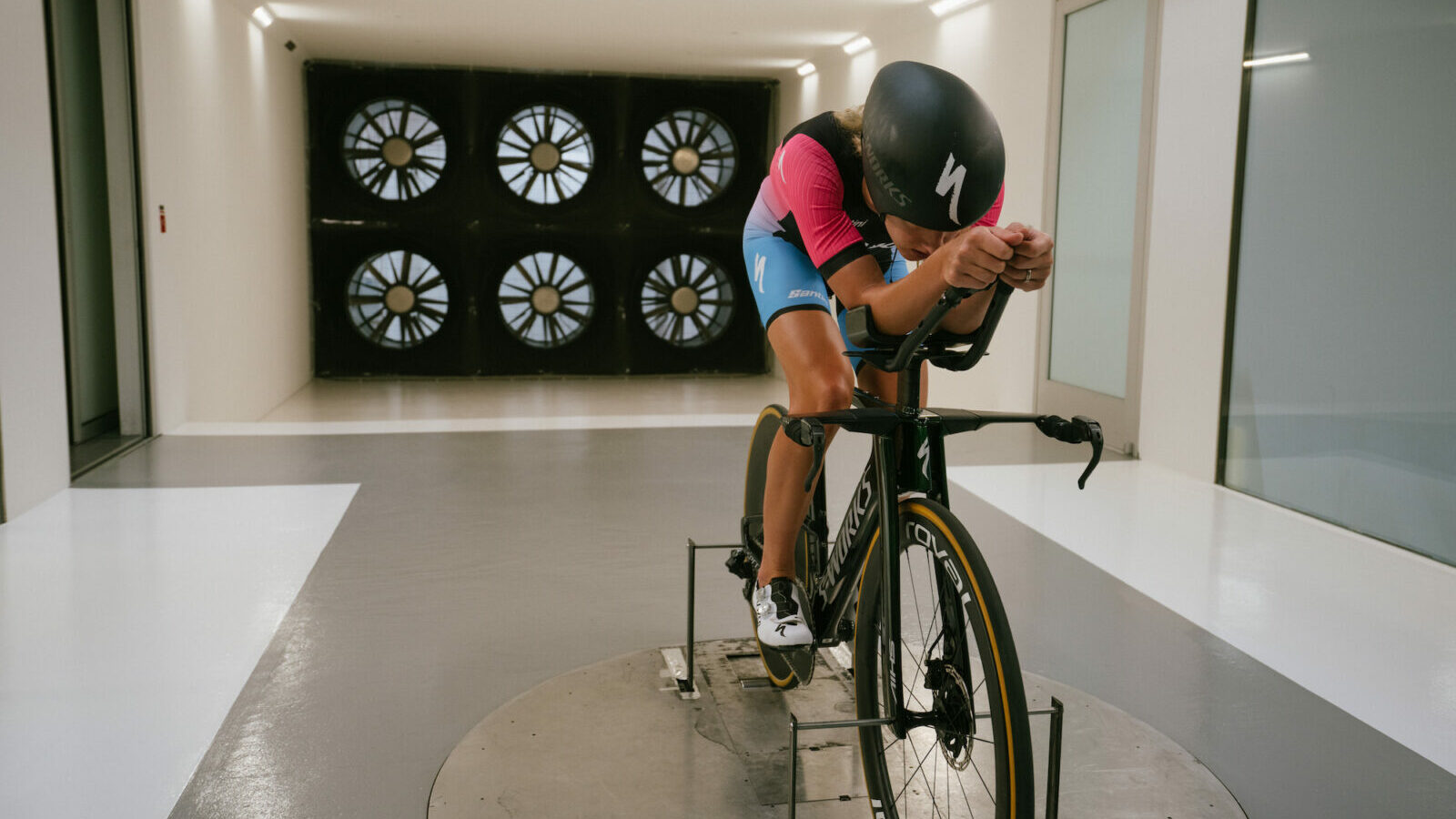 "My husband was riding a Specialized and so I already knew how great the bikes are and with the amount of areas that Specialized cover it's a massive peace of mind to know that all the bike components are tested, work superbly with each other and they are combinations that have proven results."
Aero focus for 2021
Coming from a run background, and with the swim being the weaker weapon in her arsenal, making progress on the bike is even more important. As can be the case for many of us, the power Emma was seeing on the turbo wasn't translating to the road as she hoped. This was impacting her race selection:
"I was relying a lot on hilly races to have strong bike legs and knew that my power inside wasn't always resulting in good outdoor speed and so aerodynamics was a huge focus for 2021 for us and something that as you can see by Specialized's slogan, is top on their list [Ed. 'Aero is Everything']!"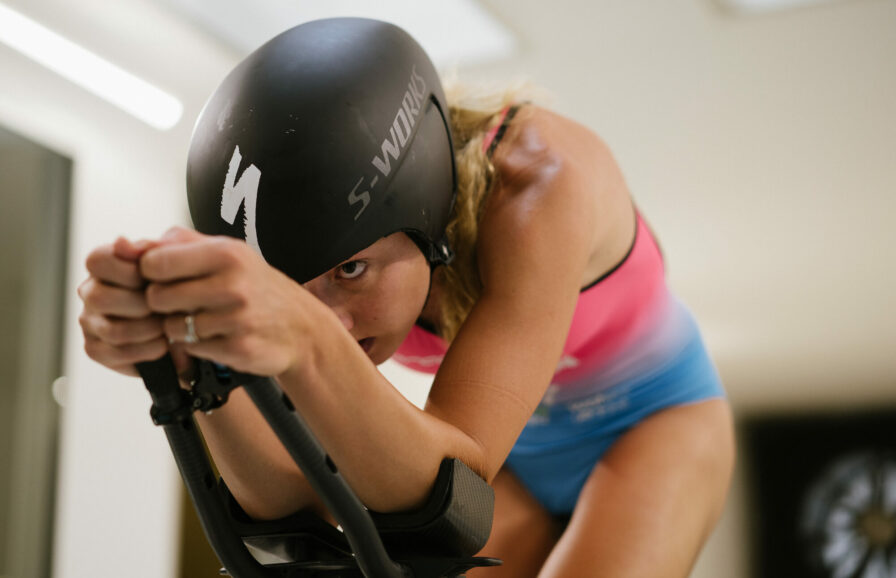 Emma also mentioned that due to her impressive ability to sweat, stowing nutrition and an efficient hydration system is a key consideration for her. It seems the Specialized S-Works Shiv answered a number of her needs:
"Another big pulling point was the integrated hydration system in the bat wing. I am a massive sweater and need a lot of hydration when I race so was looking into bikes to see the best way to have this as easily accessible and with as little aero cost as possible."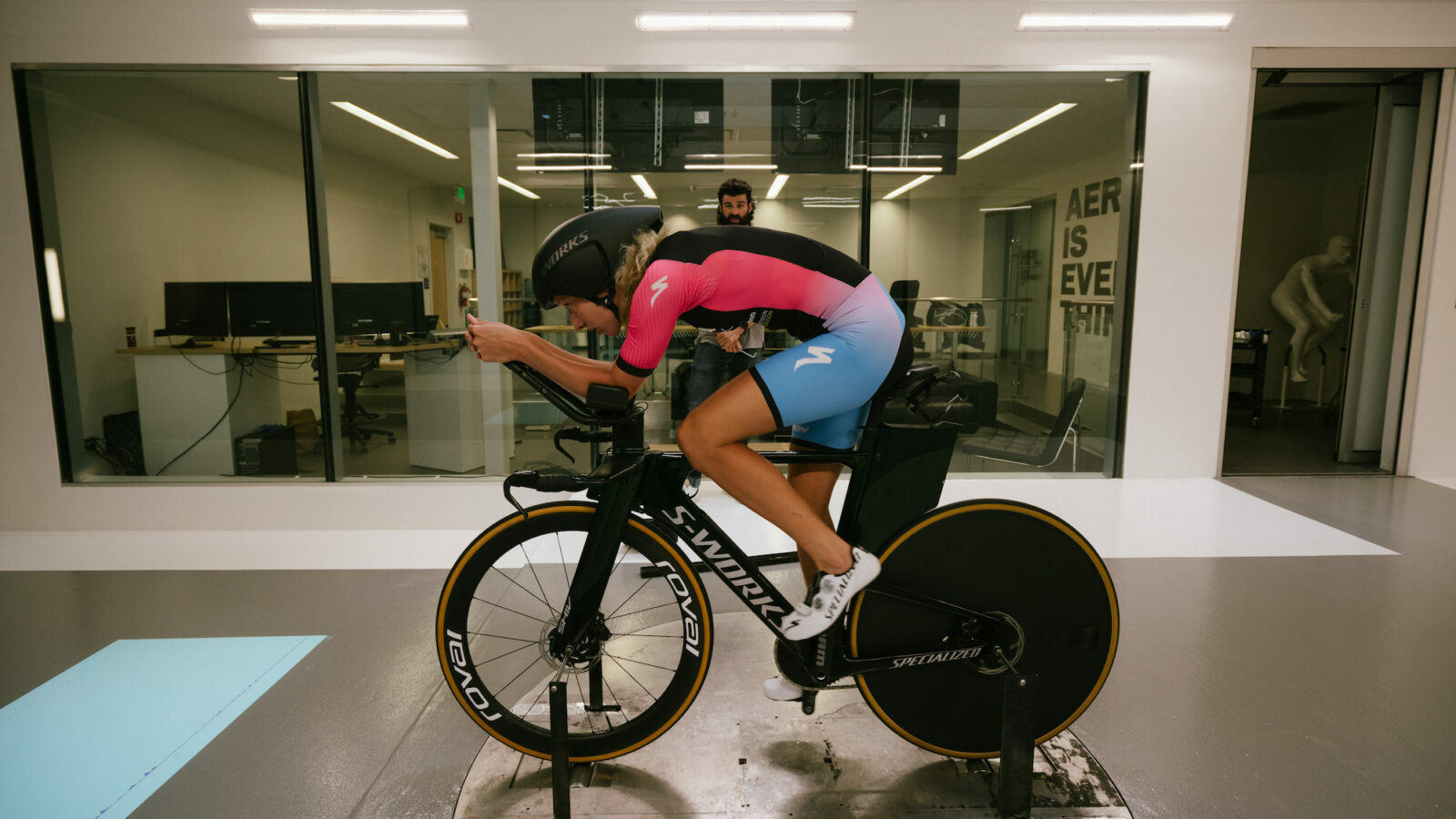 Wind (not light) tunnel testing
Many of us would expect all pro-triathletes to have undertaken exhaustive aero-testing, but Emma confirmed that to date she had limited aero-testing and what she experienced at the WIN Tunnel was quite a step up:
"To be honest I didn't have a massive amount of testing in previous years, but I had done a light test before, making the shadow behind as small as possible. I was expecting the WIN Tunnel to be a bit like this, but learnt that it was very different, the main reason being that wind and light travel differently around an object. Just because something has a big surface area on the front doesn't mean that it will have a big drag factor; so much depends on the material and the shape of the object."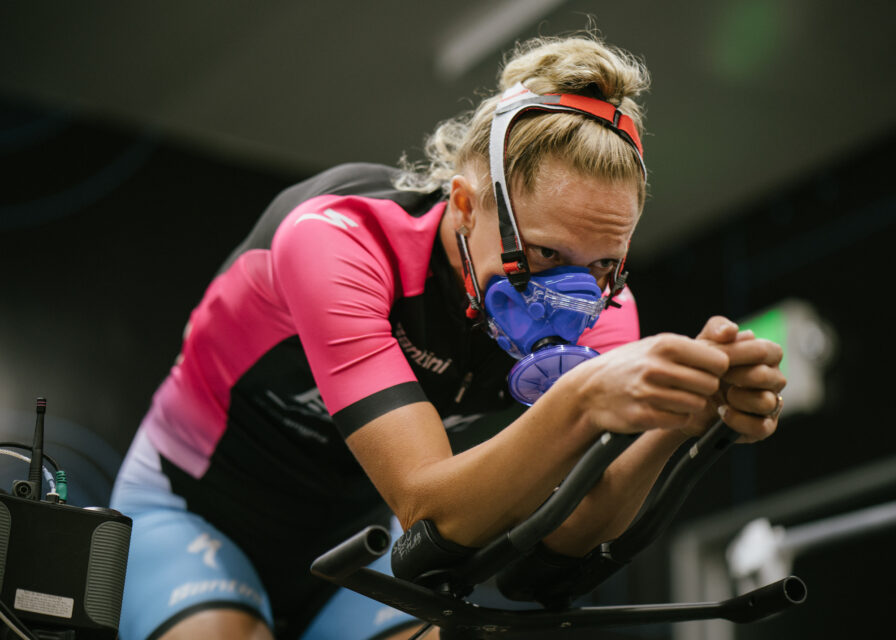 (Physical) testing process
Ultimately, when it comes to bike setup, the main goal is to find the optimum position/sweet-spot between reduced drag/low Cda (coefficient of drag area), power output, and comfort. With this in mind Emma's visit to the wind tunnel included some fairly vigorous riding:
"…after warming up I did an hour of riding just under race pace with an oxygen mask on, coming in and out of aero [position] whilst he [Specialized's 'aero-pharaoh' also known as Jesse] adjusted stack height to measure the change in economy at different positions. It doesn't matter if you're super aero if you can't hold the position or if it has big physiology negative impacts. This initial test showed us the range of stack height that we could experiment within in the WIN Tunnel that I could hold reasonable watts for over a long period of time and without it effecting my economy."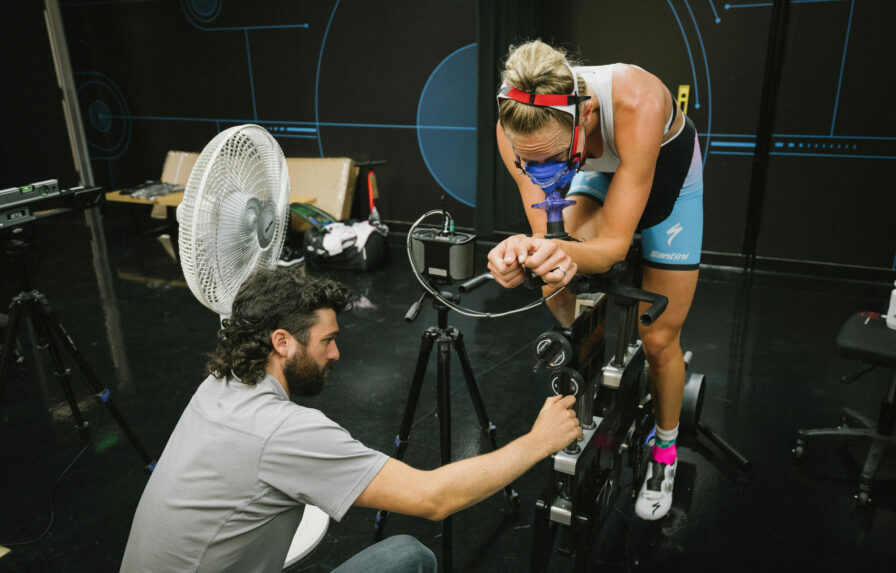 Wind tunnel test, test, and test again
The testing was thorough, as detailed by Emma:
"The main tests we did to begin with were on position. We experimented with the stack height within the ranges and then bringing the pads in and out to see if I could hold my head position better. Each small change we made we then tested against the original and if that change was a productive change that then became the base testing point. All were done under the same conditions, pushing the same watts and taking 3 x 30secs clips to rule out any anomalies."
"Jesse could also overlay one screening on top of another to check that I was in the same position (other than the thing we had changed) to standardise testing. When we were happy with the position changes we then moved onto the equipment."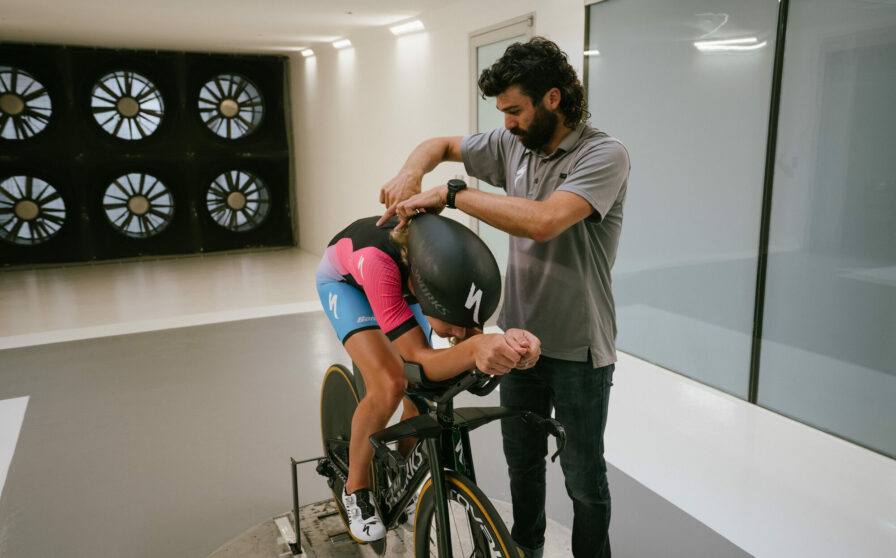 No one-size fits all
Emma confirmed that she learnt a lot from the session, including what works for one person won't necessarily work for another:
"I learnt a huge amount from the session, the first being that it's so individual. Jesse had some ideas of what would be more aero and what was costing me. [However] the numbers would tell us just by how much and whether it was time that could pay back on the run and these really change from person-to-person. It's all about the person's mobility, the speed they are travelling at, mechanics of riding and what is causing them personally, the most drag."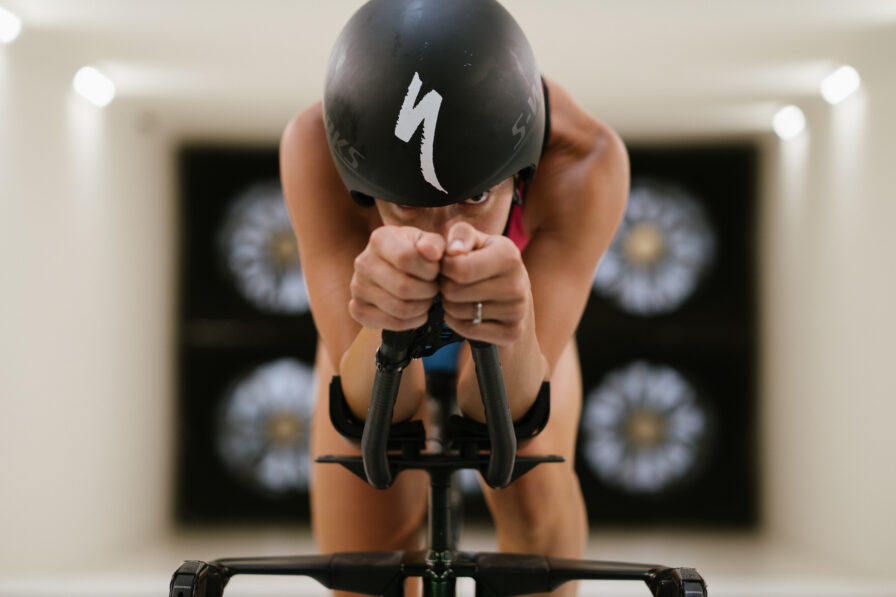 It turns out that a historic injury was costing Emma watts:
"We discovered my broken shoulder was causing me to sit more off to one side and so as well as lowering the head it was thinking about how to also stabilize movement."
Sleeves or no sleeves?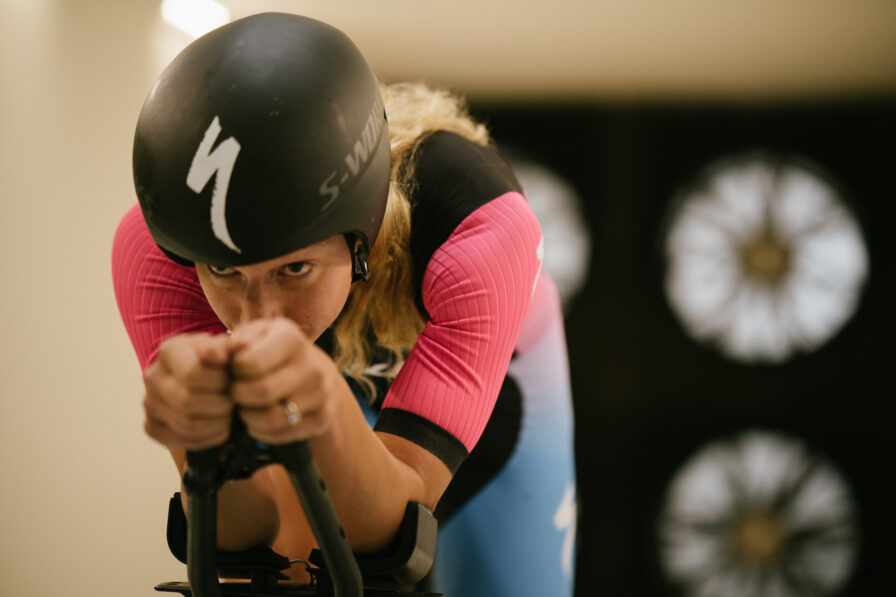 The results from the wind tunnel testing gave Emma pause for thought, in particular in regard to equipment choices and race day conditions:
"My sleeved-suit was more aero than my trisuit, and my aero-helmet more aero than the aero road helmet, but of course the ventilation gains and overheating gains from a super hot race made the numbers really useful. Both would lose me around a minute in time over a 70.3 (one of the flat, higher speed courses), so depending on the race, my strengths and the temperature it helps me to make an educated informed decision using science not guess-work. My hair was also not aero, so that can save me some time there (and without cutting it all off)!"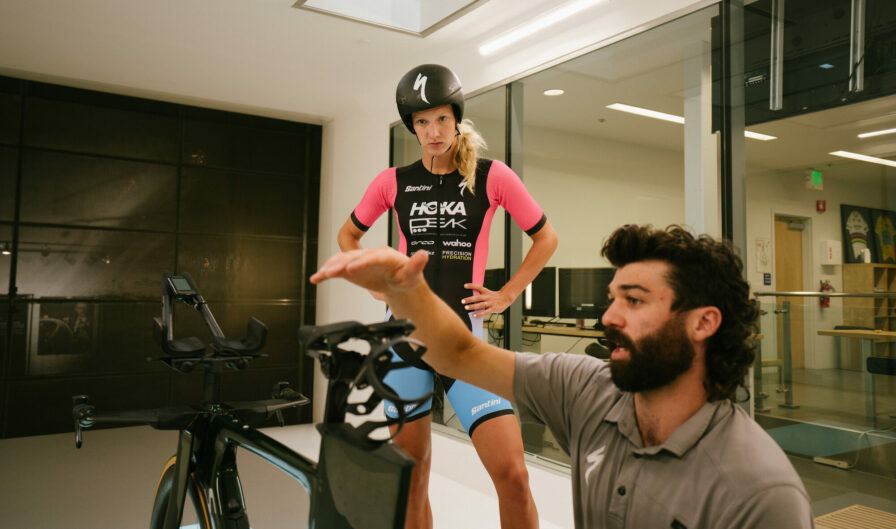 Sweaty business
She elaborated further:
"… it's been so individual and problem solving, it's not just saying this is the fastest way, get used to it. My biggest issue is sweating too much in the really hot, and especially the humid, races. So, on the bike I couldn't have an aero bottle because I needed to grab a water bottle and refill the cage at aid stations, so we found a way to position it where I could reach back without impinging my shoulder. They [Specialized] have been so attentive to detail, even down to the colour of equipment and in hot races I might race with some aero compromises but we are finding ways to minimise them."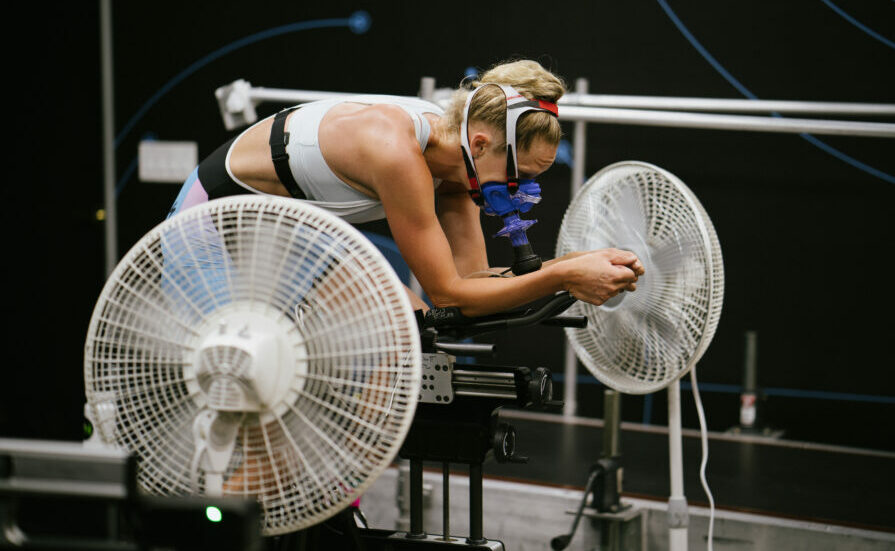 Interestingly, Pallant-Browne pointed out that there can be times in a race where being ultra-aero is of benefit and others when riding in your optimised position (comfort/aero) is preferrable:
"It was also interesting to see where the biggest time gains could be made on positions you couldn't hold for a long time but at high speeds you could hold for short periods making some good gains. "
New coach, new approach
It is all well and good going to a wind tunnel, but it is utilising the findings that is key. Pallant-Browne recently changed coach, moving to Tim Don's stewardship. As mentioned, Pallant-Browne's swim performance means she is likely to be chasing the fastest swimmers when exiting T1, but would need to temper any bike efforts to ensure she could run strongly off the bike. Emma explained how Don's input has changed her outlook:
"Aerodynamics is really important not only for a fast bike leg but so that you can back it up with a good run. I rarely come out near the front in the swim and so am always chasing. Before I moved to being coached by Tim Don at the start of the year I was going into races thinking tactically about holding back on the bike a bit more, riding with people to use them to pace so that I didn't go out too hard and to keep me in a good race so that I could then rely on my run."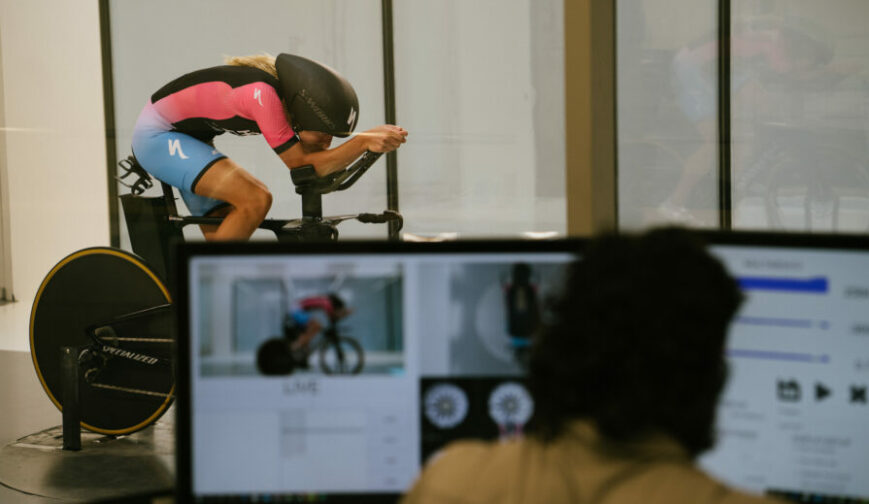 "Tim has taught me to understand my data more and to be more confident in my biking, more confident now in my aerodynamics and to ride my own race. Not to worry about who is on the start list and about holding back but executing what we are in training and this has definitely helped limit my losses on the swim."
Bike training tips
Tapping into Don's expertise and experiences has changed Pallant-Browne's approach to training, and the content of her training. Pallant-Browne described the variety of her bike training and the contrast to her previous structure:
"We have a really good mix of training, some of the higher power indoors on the turbo and then a lot outside as well. A big change for me has been the periodisation of the training. With Tim I don't really have a typical week, it's all built around specific race goals and I would say on average I probably bike around five times a week and the hours are less than I was doing before I joined Tim, but definitely more pace target work and higher intensity."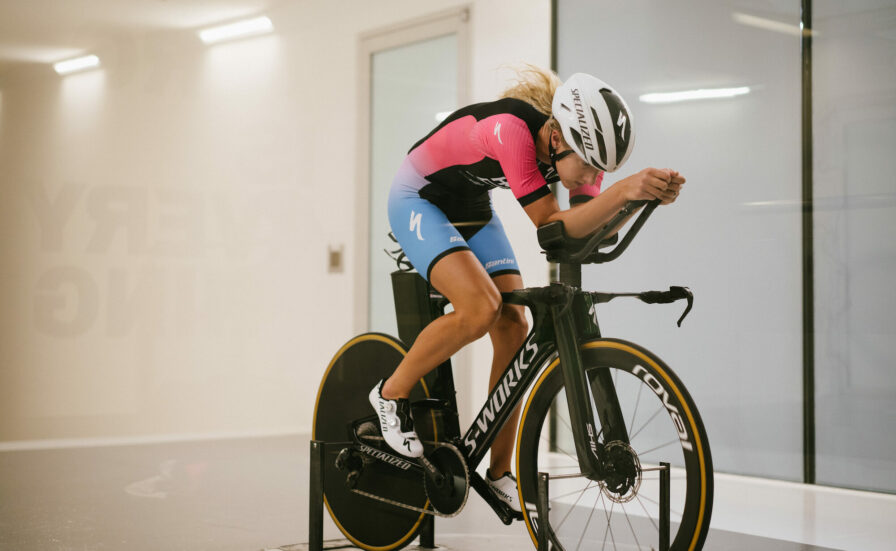 "The biggest difference has also been the amount I have been doing in the bars and training in strength work to be able to hold the position for longer…a lot for me was also about positioning and keeping on training in the drills that I had started with my coach and good cues to keep in mind."
Time trial bike or aero road bike
Nicola Spirig has had some impressive success in non-drafting events using her Specialized Tarmac SL7 with bolt-on extensions, rather than opting for a time trial bike (Taylor Knibb took the same approach at IRONMAN 70.3 Boulder 2021 where she finished second behind Emma). Emma confirmed she has thought about doing the same, but only on particularly challenging courses:
"I am racing Escape from Alcatraz soon [15 August 2021] and I know a few people have done that on their road bikes because of the technicality of the course. I think for me I would use my Tarmac SL7 with bars in really hilly races, for example Challenge Davos or Alpe d'Huez. I love climbing on my Tarmac and I am not the best descender technically so it really helps being on a road bike for this."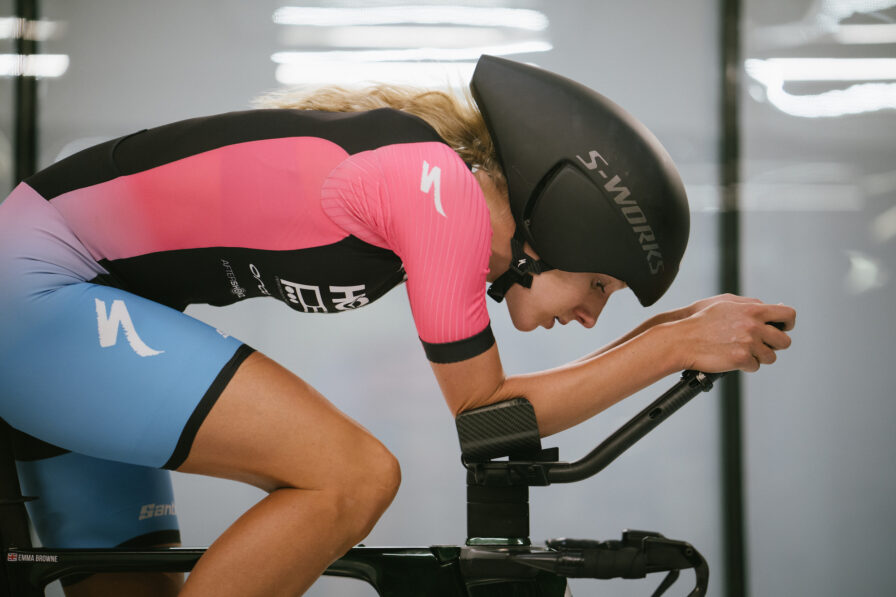 Move to full-distance?
To date Emma has only had a fleeting dabble at iron-distance racing, including a third place at IRONMAN Austria 2018. Pallant-Browne confirmed that for the short-term at least, she intends to remain focussed on middle-distance, before considering a full-concerted move to full-distance. She stated:
"I think time is on my side and I found that racing the long distance races really ate into my 70.3 performances. I don't feel like I have achieved what I want to in the half distance races yet. So, the big push is there and I have seen some good gains on my bike so far this year which is encouraging and certainly an important step up into the full distance racing. Then the other factor that will really need to be dialled in when I move up to full ironman [full-distance racing] will be the race nutrition, how to stay hydrated and absorb everything I'm putting in whilst pushing hard."
Good luck for the rest of 2021 Emma!