The Long Course Weekend arrives in Holland
A new LCW destination: 17th-19th May 2019 – Beesel, The Netherlands
It's fair to say that for UK athletes, the Long Course Weekend (www.longcourseweekend.com) name is now an integral part of the domestic event calendar. Even if you have never raced the original in Tenby – which celebrates its tenth anniversary this year – the three day sporting festival is now highly and widely regarded.
LCW events provide athletes with a wide variety of options, whether as a target race in its own right, a great training weekend towards another 'A-race' – or quite simply, just a lot of fun. The feedback we get from athletes taking part at Long Course Weekend events is a consistently positive one. It's well worth reading the thoughts of Lucy Gossage on the Long Course Weekend format HERE.
From those Long Course Weekend Wales roots in Tenby, the brand and concept has expanded to Jervis Bay, Australia and – as we profiled in depth last year – Long Course Weekend Mallorca, which will have its third edition in October 2019.
The next step in its development arrives in 2019, a brand new event – Long Course Weekend Holland (www.lcwholland.com) – taking place in Beesel, from 17th-19th May 2019.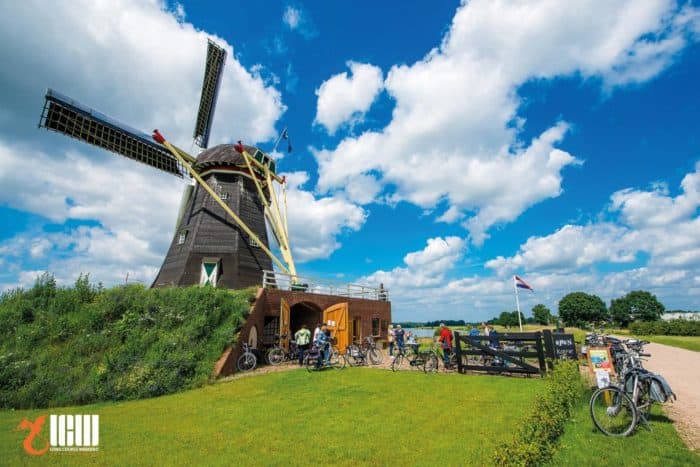 Given the willingness of British athletes to travel, the popularity of the LCW format and the relative ease of access to Holland, we are going to take a closer look at what is on offer.
Holland: The Basics
Language: Dutch (with English also widely spoken)
Currency: Euro (€)
Local time: (GMT+1:00)
Average flight time: 1 hrs
Beesel: Where Is It And How To Get There?
Beesel is located in the south of The Netherlands in the province of Limburg, close to both Belgium and Germany.
Now, should Limburg sound familiar, it is quite possible that you've come across that name from the long-running Powerman Holland event which took place in nearby Horst aan de Maas for many years. Horst is located less than 30km north of Beesel, and regularly attracted many British athletes to an event which held numerous European Duathlon Championships at both Sprint and Middle distances.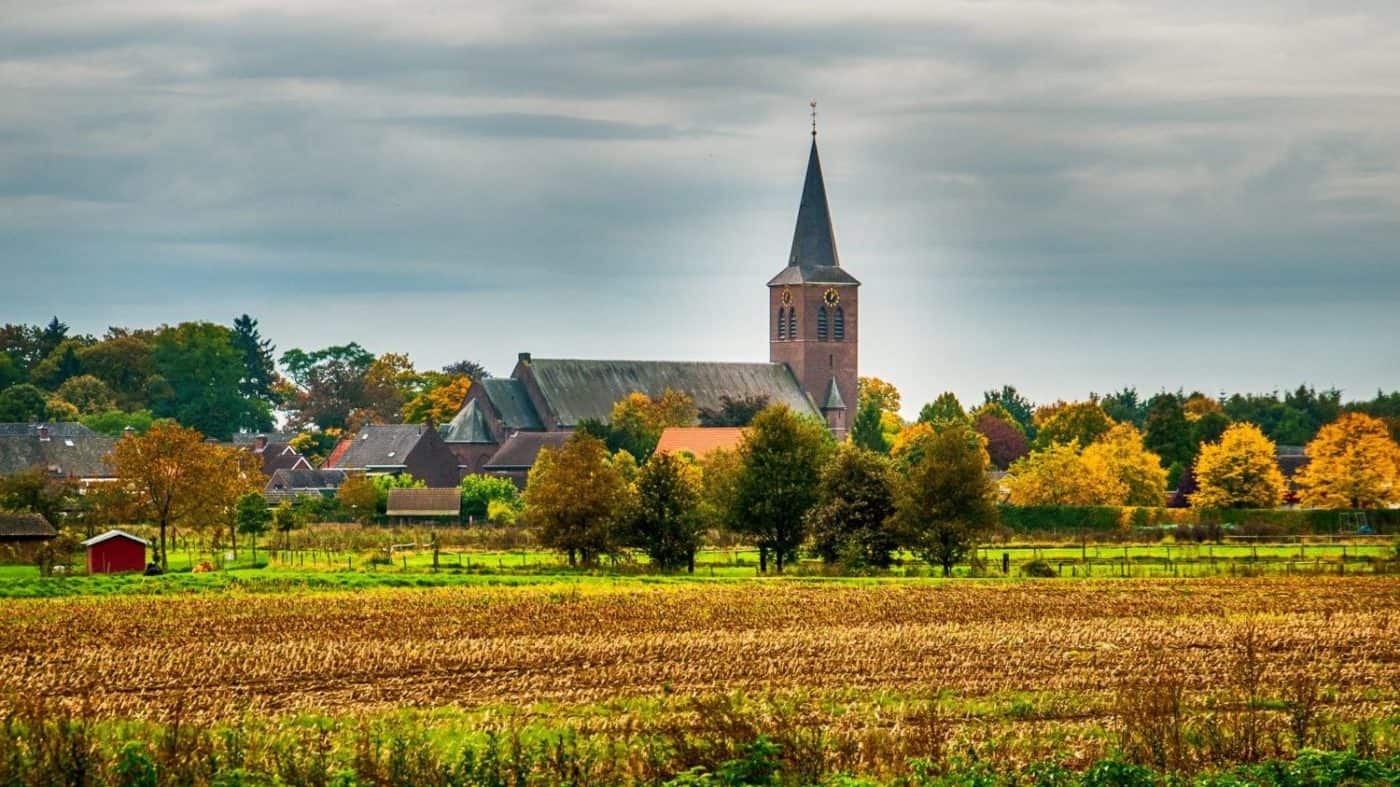 The reason for mentioning that? Well, I attended that event a couple of times myself, and thus have first-hand experience of an almost identical travel route. Based on that, I can highly recommend driving – it really is a remarkably easy trip.
By Ferry…
From London, the driving distance is approximately 330 miles. There are plenty of options for crossing the English Channel. There are several ferry routes operating from England to Holland, plus of course the popular Dover-Calais / Dover-Dunkirk routes, offering even more options every day. For more on those, check out the ferry companies DFDS | Stena Line | P&O Ferries for route options, schedules and pricing.
As well as the ports in the south, you can also take advantage of routes from Hull and Newcastle among others.
By Channel Tunnel…
For my own trips (from West London), we used the Eurotunnel service from Folkestone to Calais. With up to four departures per hour and a 35 minute crossing time, that proved to be very efficient for us. In addition, you access the Eurotunnel terminal in the UK from Junction 11A of the M20, and then exit in France, straight on to the E40 motorway in Calais.
For those trips to the Powerman event, we would leave West London at around 5am, arrive in Folkestone for a tunnel crossing at around 7am (breakfast and a quick sleep!), and then arrive in Horst in time for registration opening shortly after lunch. Honestly, it really is a very simple journey! Once you depart Calais, the driving time to the event venue in Beesel is around three and a half hours.
By Aeroplane…
If driving from the UK is not an option or your preference, the event have put together a graphic, showing the nearest airports, both international and domestic.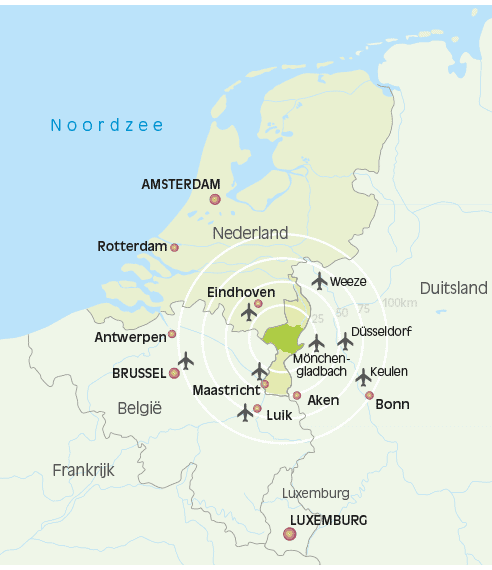 Overall, from my previous experience, I would strongly recommend the driving option. Aside from being a very simple trip in terms of time, ease of driving and great quality roads, having a car with you makes any transport requirements to / from your accommodation, accessing restaurants and shops very easy. It also eliminates the need for bike boxes / bags and packing, dismantling and re-building your bike too, which is always welcome.
Where To Stay
Having worked out how to get there, is anything set up in terms of accommodation?
The organisers have put together a package offer for entrants which is based at the Landal De Lommerbergen (website), a "car-free park located in hilly and woodland surroundings". If you are travelling with family and children, this could be a good choice to keep them suitably occupied too, with lots of facilities on-site. Here's a short video which will give you more information on that venue:
Accommodation is based within the park's bungalows, which can host from two to eight people, depending on how many of you are travelling. If there is a group of you, the per/person price is lower (and quite attractive). With three days of event activity, having your own kitchen and cooking facilities will likely provide valuable flexibility too.
The following is extracted from the event website. Eight people staying in a large bungalow, allowing for tourist taxes and fees, works out at a touch under £100 for four nights accommodation, per person. Four sharing and it's still only approx. £120 for four nights, per person.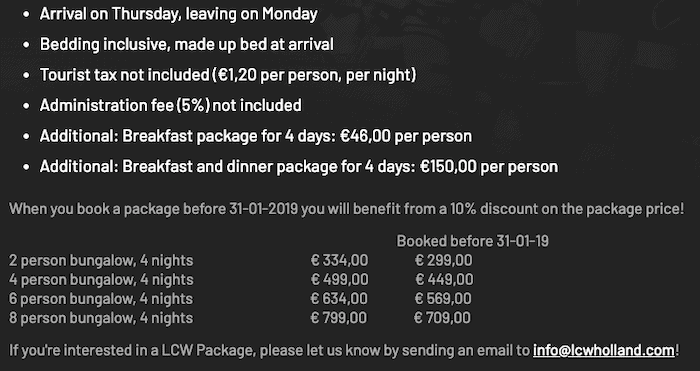 Further local accommodation options can be requested through the VVV Midden-Limburg tourist office HERE – plus of course, it is always worth checking out the popular booking tools and search engines such as Booking.com, Expedia, Trivago, AirBnB and similar which should have most requirements covered.

The Events
As always, the attraction of the Long Course Weekend concept is the flexibility that it provides to athletes. Of course, there is the challenge for many of completing the 'Long Course' – covering the full iron-distance in three events over three days to earn the "fourth medal" – but for many others, taking a mix-and-match approach to distances and / or disciplines means there really is something for everyone. The events consistently attract swimmers, cyclists, runners and triathletes.
So, what are the options on offer in Beesel? Lets's run through them:

The swim venue for Long Course Weekend Holland is set on the outskirts of Beesel in beautiful countryside, starting and finishing in a tributary of the historic river Meuse, known as the Dode Maasarm. Being set back from the main river, this means it is sheltered from strong currents and will provide a safe, fast and crystal clear swim for all. Shuttle bus services to and from the swim venue will be in place.
It's amazing what you can find online – here's a video which highlights that very piece of water!
The swim will take place on Friday afternoon / evening, with the 1.5km and 750m events (2 laps and 1 lap, respectively), starting at 5pm. The 3.8km and 1.9km events (2 laps and 1 lap, respectively), will begin at 6pm. You can see the latest news on the schedule of events HERE.

While this may be Long Course Weekend Holland, bike day will provide an even more international flavour to the event as you will also cross the Dutch/German border in both events!
The LCW events run as a sportive format, and combined with a maximum elevation of 90 metres, you can look forward to a potentially fast ride.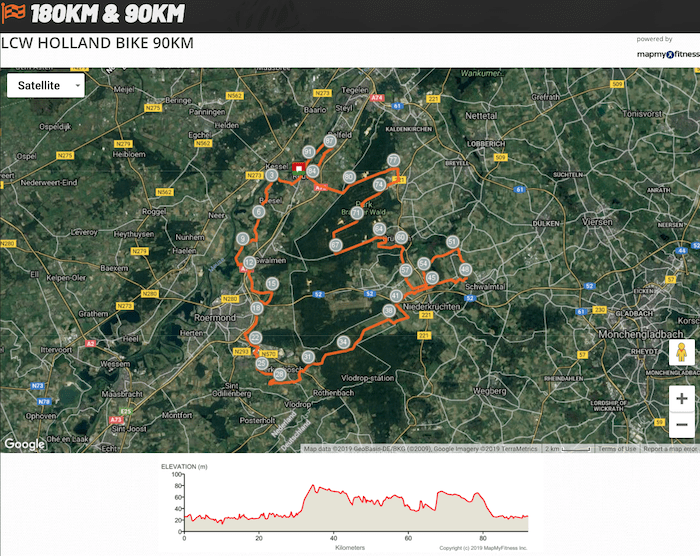 The 90km loop (two laps for the long distance athletes), starts in Reuver town square. From the start in Reuver the route includes Beesel, Swalmen and the German city of Brüggen, plus the special addition – open specially for this event – of an old 900 acre German ammunitions base. Combined with the long-standing Dutch passion for cycling, you are assured of a great atmosphere on Bike Day at LCW Holland.
The 180km athletes will begin their ride from 8:30am, with the one-lap 90km athletes starting from 8:45am. You can see the latest news on the schedule of events HERE.

All of the running options start and finish on the Market Square in Reuver. The half and full marathon options are one and two laps respectively, and as with the bike day, the course is flat, with five aid stations on the course.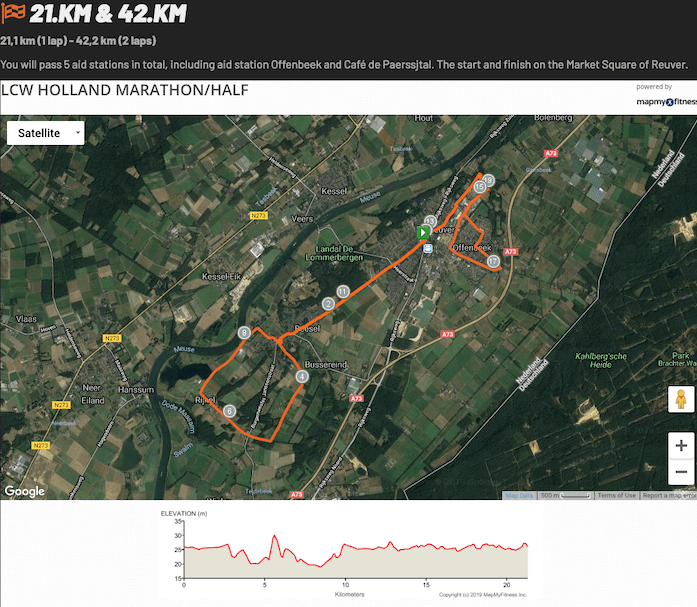 How (and what) to enter?
Ok, with three days of racing, across three sports and different distances on offer, how do you sort your entries?
Step one, your first decision is do you want to race the "Full" Long Course Weekend, i.e. the long distance options on each day? Entering and completing the Full LCW will enable you to earn the coveted 'fourth medal'. Varying in design each year, the medals across the Long Course Weekend events are really well thought out, the fourth medal typically interlocking the swim, bike and run medals together.
Full LCW athletes get to race individually within the swim, bike and run events – but will also have their times aggregated towards the overall LCW standings.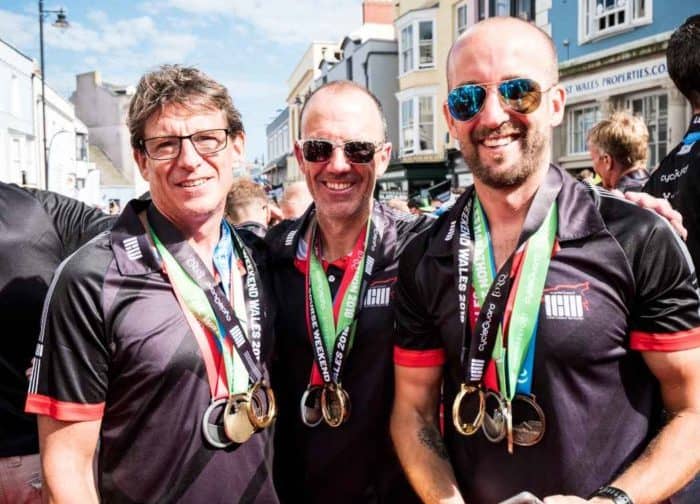 As announced for Mallorca and Tenby, a new addition for the Long Course Weekend events in 2019 is the addition of a Half LCW, where you will race the 1.9km swim / 90km bike / 21.1km run options, with an overall ranking for 'Half' athletes too. You can't however earn the 'fourth medal' through this route – that's reserved for the Full distance athletes only.
If neither of those two options work, then you can also mix and match distances and disciplines as you choose, by entering any of the options individually too. It is relatively common for example, for athletes training for an iron-distance race later in the year, to choose the long swim and long bike, but then perhaps go for the 21.1km or 10km run options to provide a great, but not quite so tough, training weekend.
Alongside the multisport athletes, each discipline will also be boosted in numbers by swimmers, cyclists and runners taking part in events on their respective days too.
What about the kids?!
The youngsters can also race, with events for Kids (6-11) and Juniors (12 to 15) on each day. Full details of the distance and details of their events can be found HERE.
There is one more entry option… if you want to race all three of the European Long Course Weekend races (Holland, Wales, Mallorca), at the full distance, then a 'European Tour' entry is available at a discounted price of £599. Three countries, nine days of racing and 12 medals if you can conquer that challenge.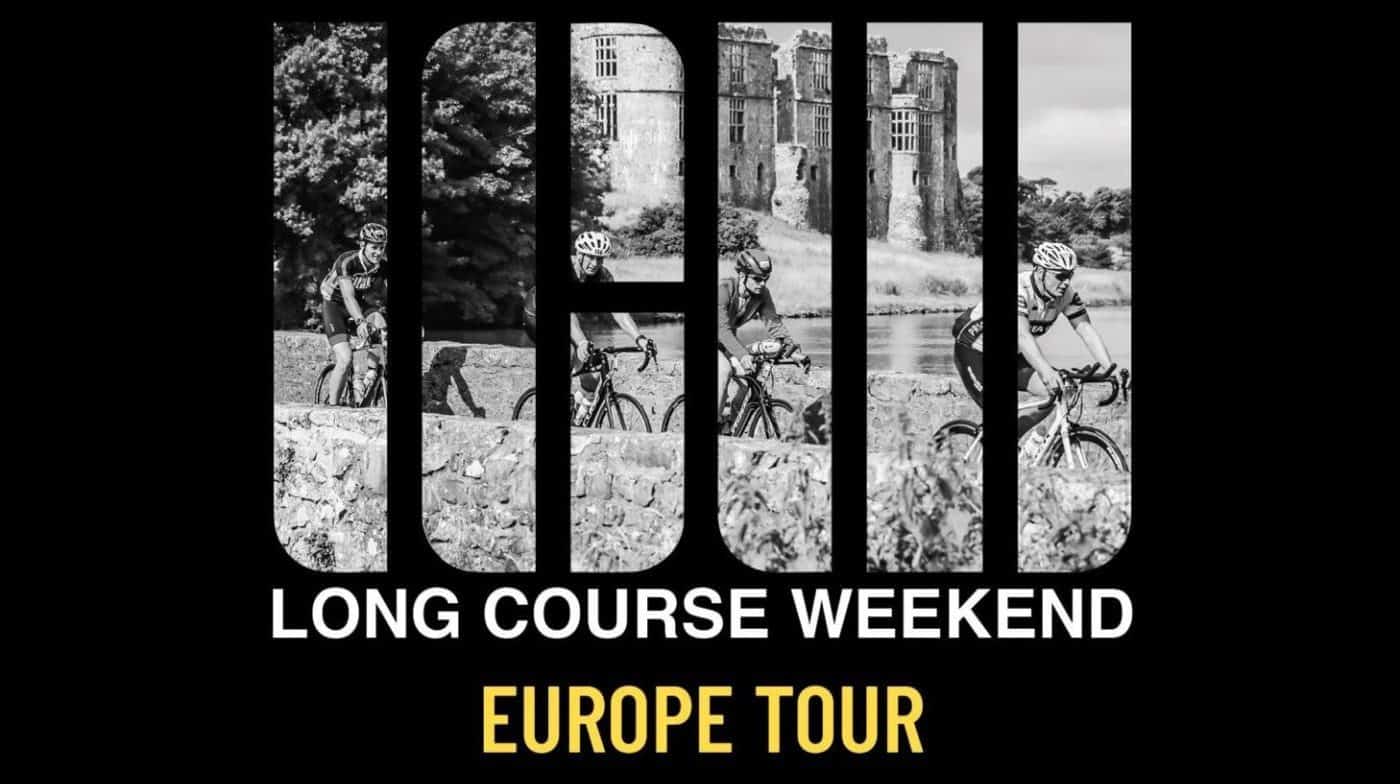 Triathlon and Holland?
On paper at least, the addition of Holland to the Long Course Weekend family could be a smart move. The country has a long history in the sport, with ITU Hall of Fame athlete, Rob Barel, winning the first three European Triathlon Championship titles (1985 – 1987) and still racing incredibly well into his 60's, winning the 2017 Age-Group World Championships and his division (in course record time), in Kona.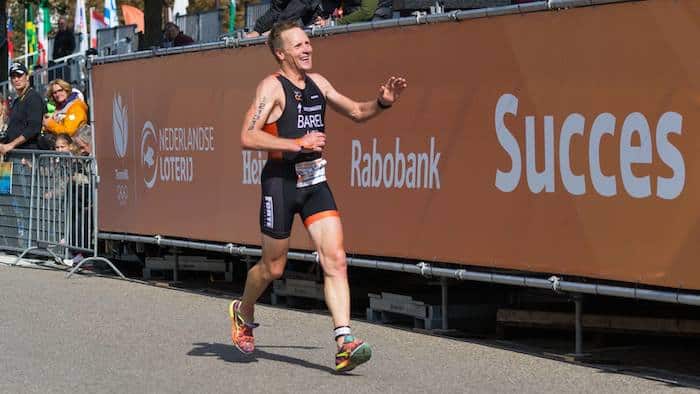 Yvonne Van Vlerken has being flying the flag for Dutch women's long distance triathlon for many years now, while Rachel Klamer won her first ITU World Triathlon Series race in Abu Dhabi last year and has also featured strongly within Super League Triathlon too.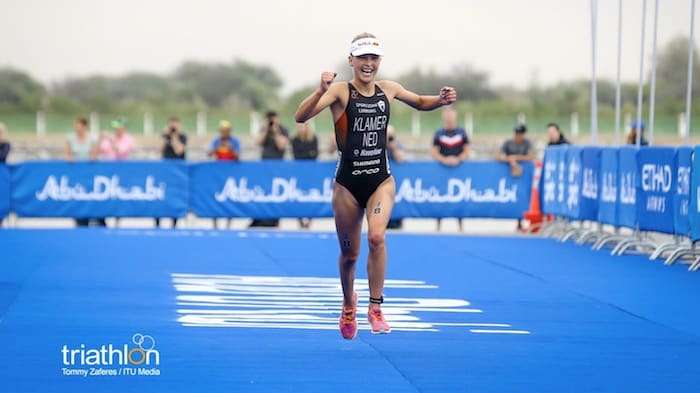 The Almere Triathlon (now Challenge Almere-Amsterdam), is the oldest triathlon in Europe, held since 1983. Rotterdam hosted the ITU Grand Final in 2017, while the ETU European Championships will be held in Weert this year.
The Dutch have a long and distinguished history in cycling too, with the UCI Rankings currently showing that the top three athletes – headed by reigning Time Trial World Champion, Annemiek van Vleuten – plus the top ranked team, are all from the Netherlands. What about open water swimming? Well, Dutch athletes (Ferry Weertman and Sharon van Rouwendaal), both won Gold over the 10km at the Rio 2016 Olympic Games.
https://www.instagram.com/p/BoK03lHiyCg/
All of that tells you, that Holland has a long and extensive link to swim, bike, run and triathlon competitions. With the Dutch Triathlon Federation being a partner to the event, and with access to it from local athletes and neighbours in nearby France, Belgium, Germany, plus of course the travelling British, Long Course Weekend Holland looks set to have all the ingredients for a strong debut in May this year.
Those things are important when you are considering a debut event, especially one which you are potentially travelling overseas to. A natural 'local' market, combined with the long experience of the Tenby-based team who will be heavily involved in the event, all add weight to this event excelling from year one. Hopefully for everyone involved, it becomes a staple part of the annual LCW calendar – as I would happily put my kit in the back of the car, and have a good weekend away at this one.
How to find out more?