The 2023 World Triathlon Para Championships kicked-off the racing action on Saturday in Spain.
While star names like Dave Ellis, Grace Norman and Alexis Hanquinquant added more gold to their already impressive hauls, there were several surprises too – including the end of an eight year unbeaten run.
PTVI – Ellis on top again, Rodriguez defeated
The Men's PTVI division has consistently been one of the strongest in depth across all of paratriathlon, and that was in evidence again in Spain. After the first two disciplines were complete, six pairings headed out onto the run with barely 30 seconds between them.
Familiar names were leading the way, with the French duo of Thibaut Rigaudeau and Antoine Perel, alongside Great Britain's Dave Ellis (Guide, Luke Pollard), heading out onto the run in close order.
Winners of the recent Paratriathlon World Cup Paris and the Commonwealth Games gold medallists, Ellis was soon to the front and the finishing order of Ellis / Rigaudeau / Perel was a repeat of the podium from the 2022 World Champs in Abu Dhabi.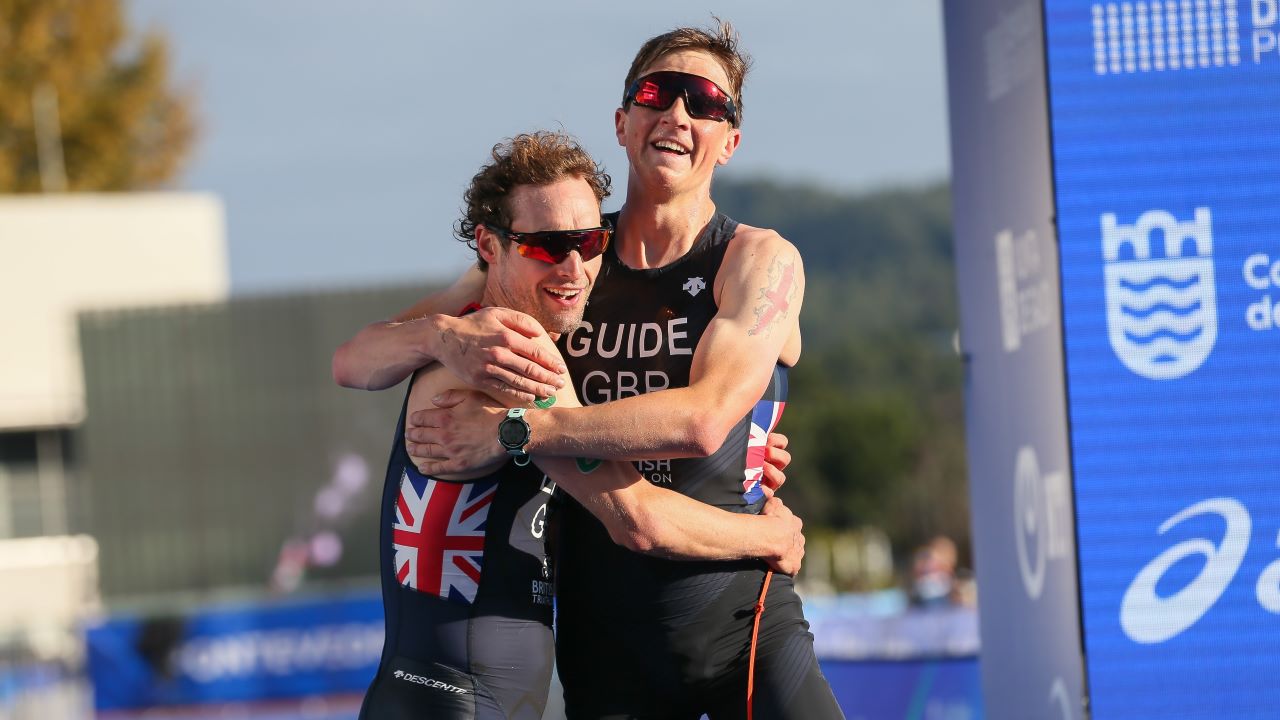 For the women, we've become well accustomed in recent years to Tokyo 2020 gold medallist, Susanna Rodriguez (ESP), leading the way in this category. That was not the case recently at the WTPS Swansea event – though with the race there converted to Aquathlon format and no start offsets between the B1 (Rodriguez) and B3 (Francesca Tarentello) athletes, that wasn't an 'apples to apples' comparison.
A fantastic swimmer, the young Italian had however come close to toppling the Spanish star last year in Abu Dhabi, and today was the day when she took a first World Championship gold. Together in T2, after Francesca capitalised on her superb swim skills to close the majority of the start offset, she reached the finished 32 seconds clear to dent any hopes of a home victory.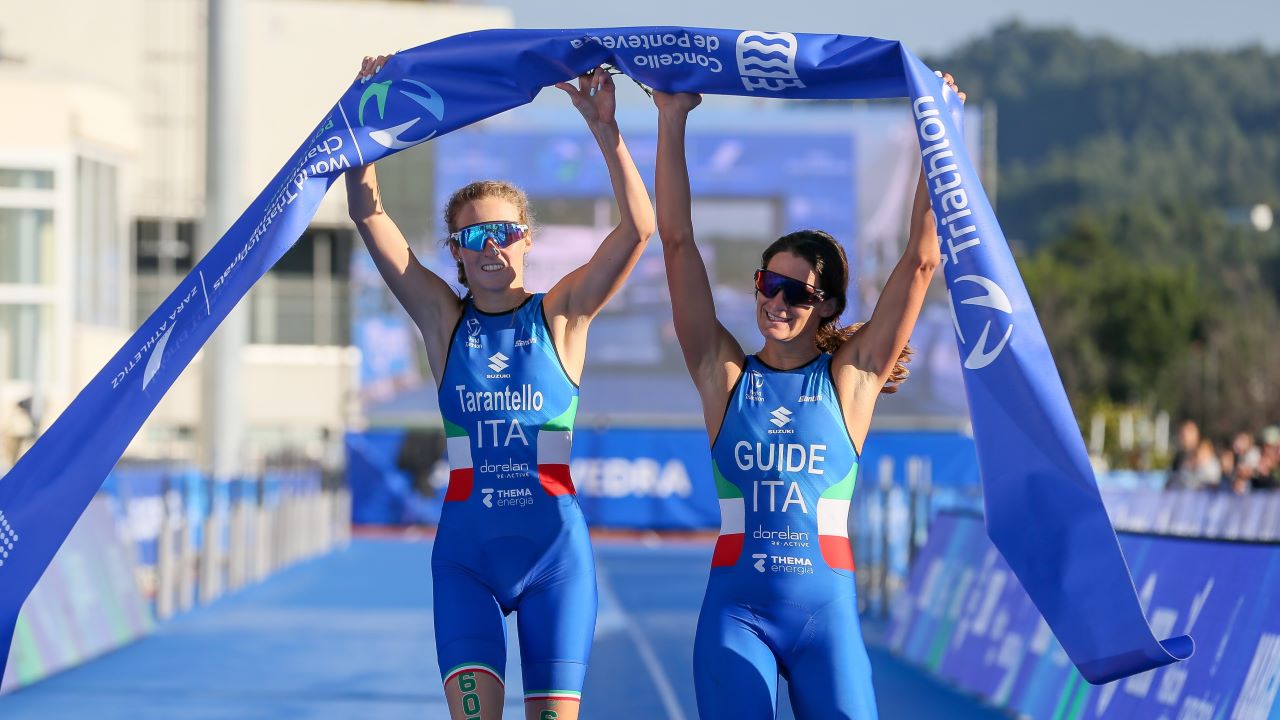 PTWC – Schipper tops Plat, Parker's gold run continues
Very little in life is as reliable as a Jetze Plat victory, and in paratriathlon terms, we've largely taken it for granted. And with good reason; the legendary Dutchman has not been beaten in swim/bike/run format since the Chicago World Championships way back in 2015. Before today, his World Triathlon record read 35 starts and 33 wins.
All was looking on track for a repeat today when the two-time Paralympic Games paratriathlon champ started the run close on two minutes ahead of his team mate, Geert Schipper. Geert had already overcome his own issues having had to serve a 10-second penalty for a mount line violation, and was likely set on battling for silver with Florian Brungraber (AUT).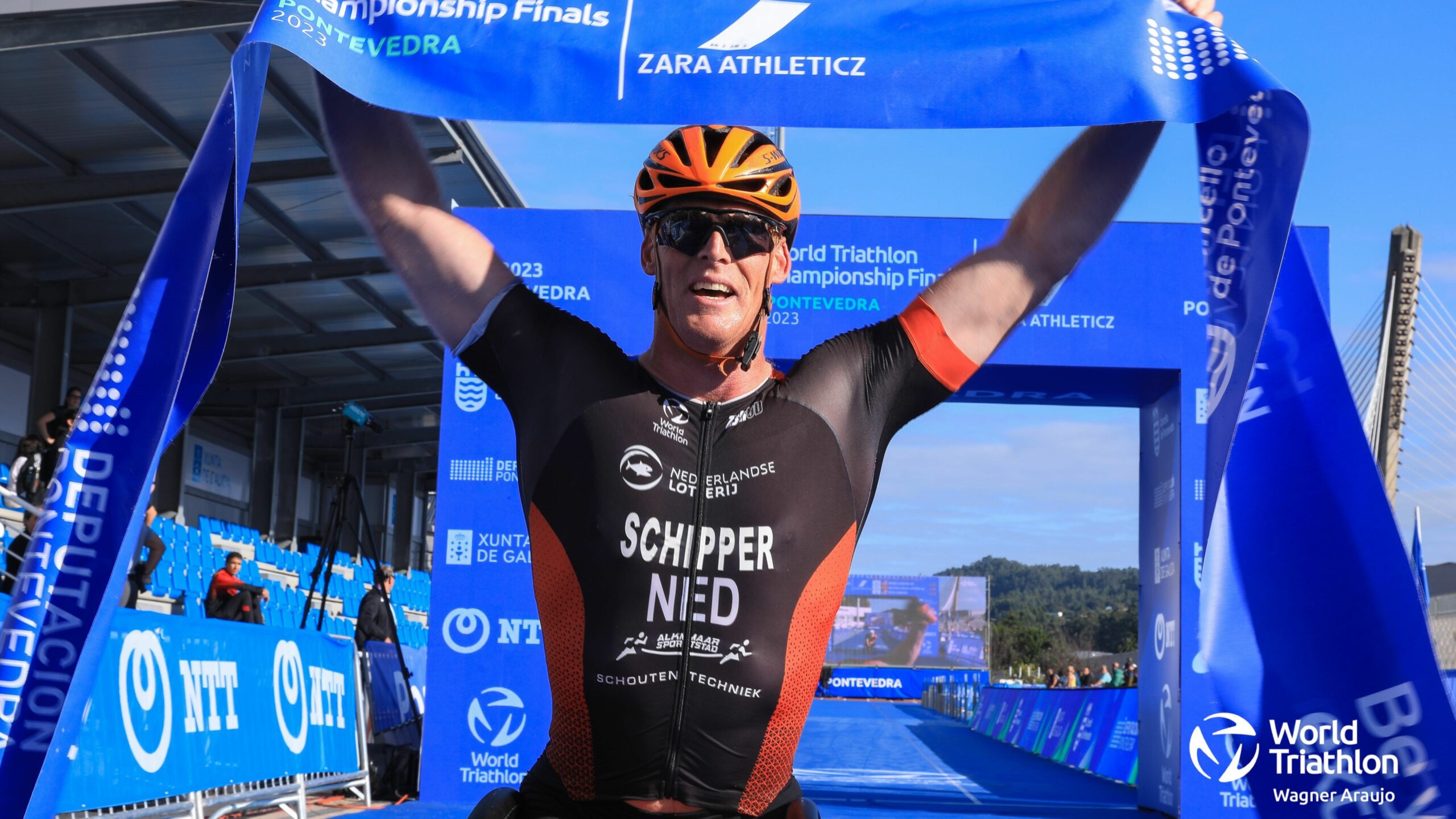 Into the late stages of the run however and the gap to Plat was coming down fast. As they came onto the blue carpet, it would be a familiar Dutch one-two – but it was Schipper taking the honours by just five seconds.
A mechanical issue impacted Plat late in the final discipline, another reminder that you can never take anything for granted in sport.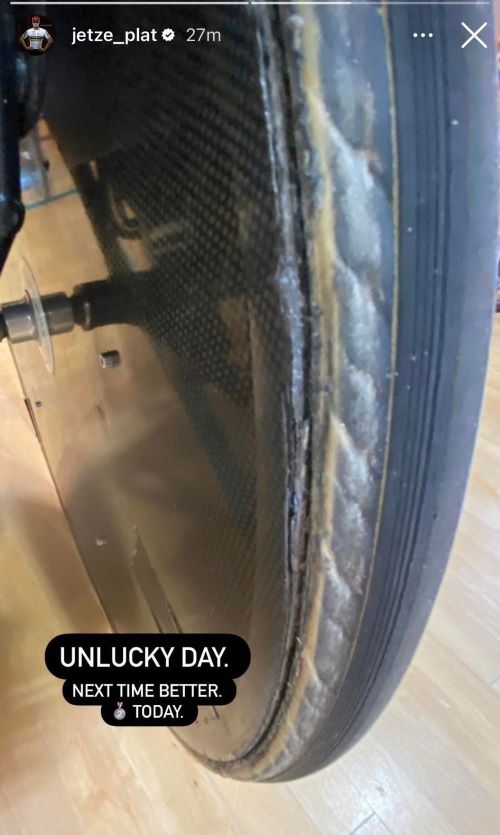 In the women's wheelchair division, Lauren Parker (AUS) and Kendall Gretsch (USA) delivered one of the all-time great finishes at the Tokyo Paralympic Games – but since Gretsch a dramatic gold there, it's been Parker leading the way. Kendall closed a minute on the run in Pontevedra, but it was still a 41 second victory margin for Lauren, who made it four World Championship wins in a row.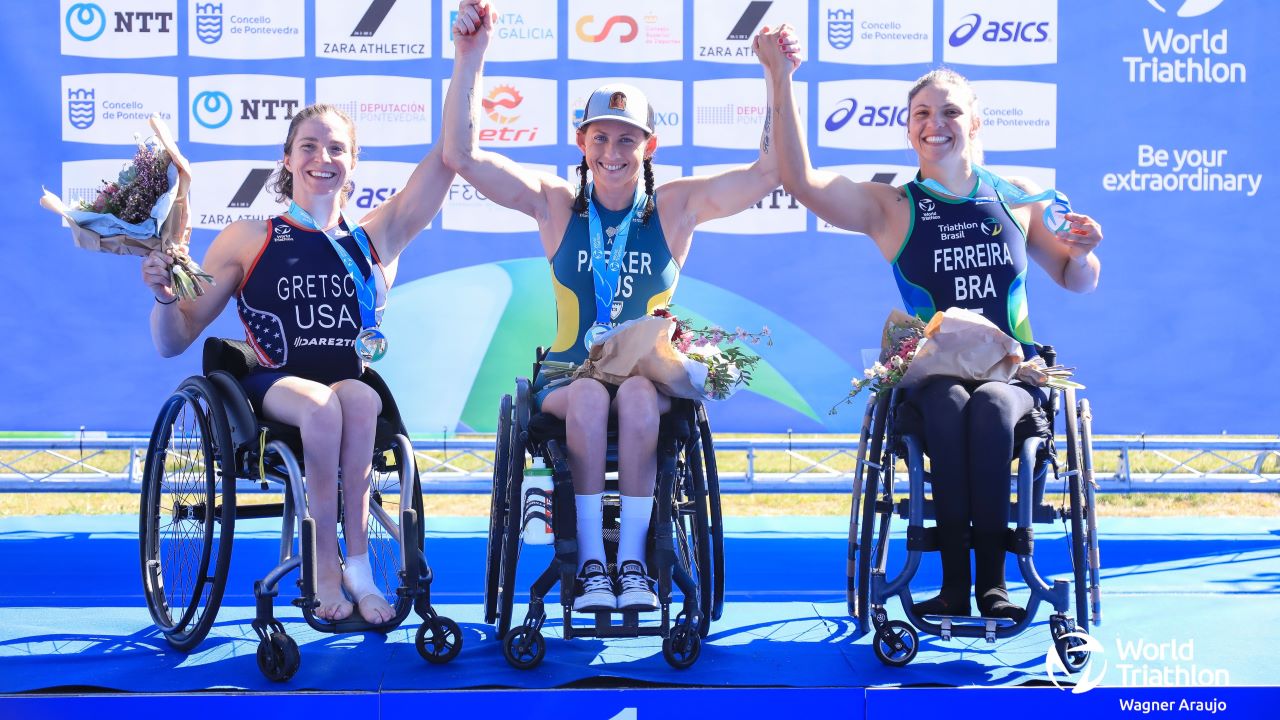 Schulz and Norman dominate PTS5
Rio 2016 gold medallist, Grace Norman (USA), has been in seemingly unbeatable form all season and that continued in Pontevedra. Well matched through swim and bike with the British pairing of Claire Cashmore and Lauren Steadman, that trio are currently the standard in the women's PTS5 category and that was the case again.
All three reached T2 together leaving Norman as the strong favourite for victory. A poor T2 didn't help Steadman's chances, and come the finish it was Grace Norman taking a clear victory, Claire Cashmore the silver and the Tokyo 2020 gold medallist completing the podium with bronze – just as they did in Swansea this year.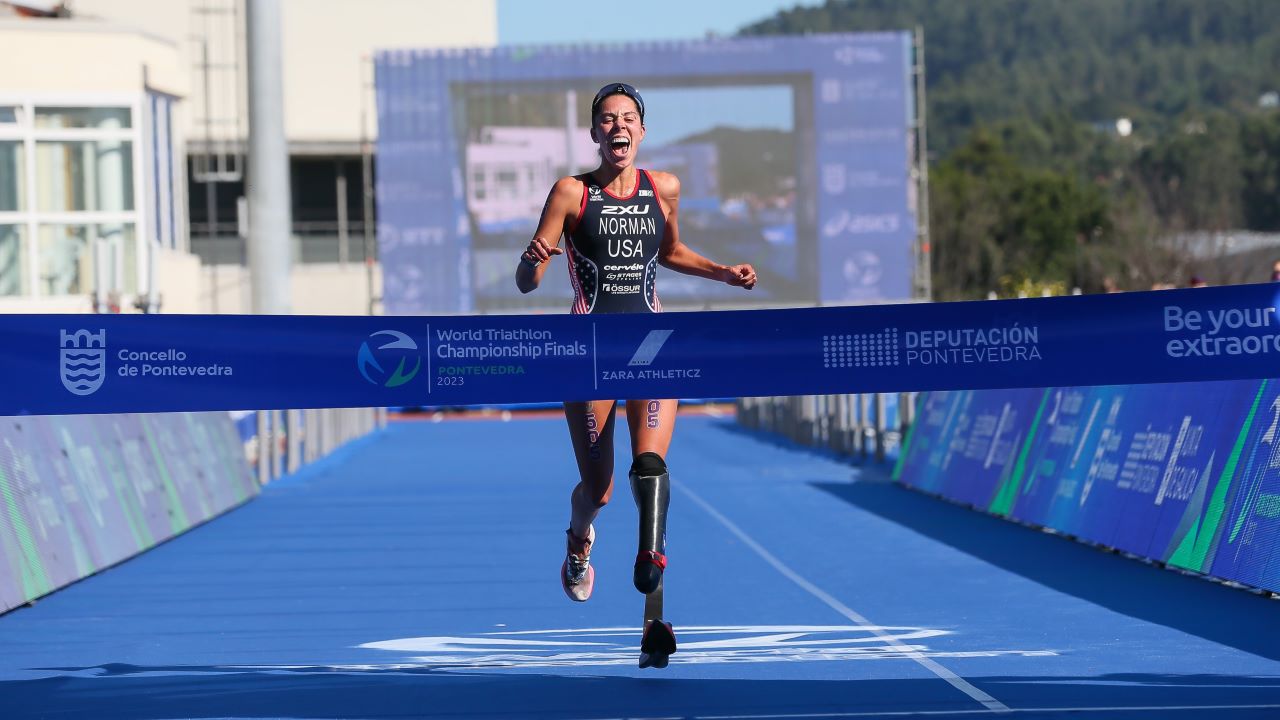 For the men, having had something of a disaster in Paris where he did an extra bike lap, Germany's Martin Schulz had his maths as well as his triathlon in order today, and ran clear of Canada's Stefan Daniel to add another title to his impressive C.V.
Tough work for Alexis
With upsets for Jetze Plat and Susanna Rodriguez in the books, would that trend continue in the PTS4 category? Alex Hanquinquant (FRA) has looked unstoppable for the last four years, but the competition isn't easy. On the bike, Luke Twomey (AUS) proved an almost impossible task to drop, while Alexis' countryman, Pierre Antoine-Baele, rode even quicker, to put himself right in contention at T2.
Onto the run, and the two French athletes ran almost identical times, to secure a Les Bleus one-two, with less than 30 seconds between them on the blue carpet. The battle for top spot in Paris next year is far from a foregone conclusion.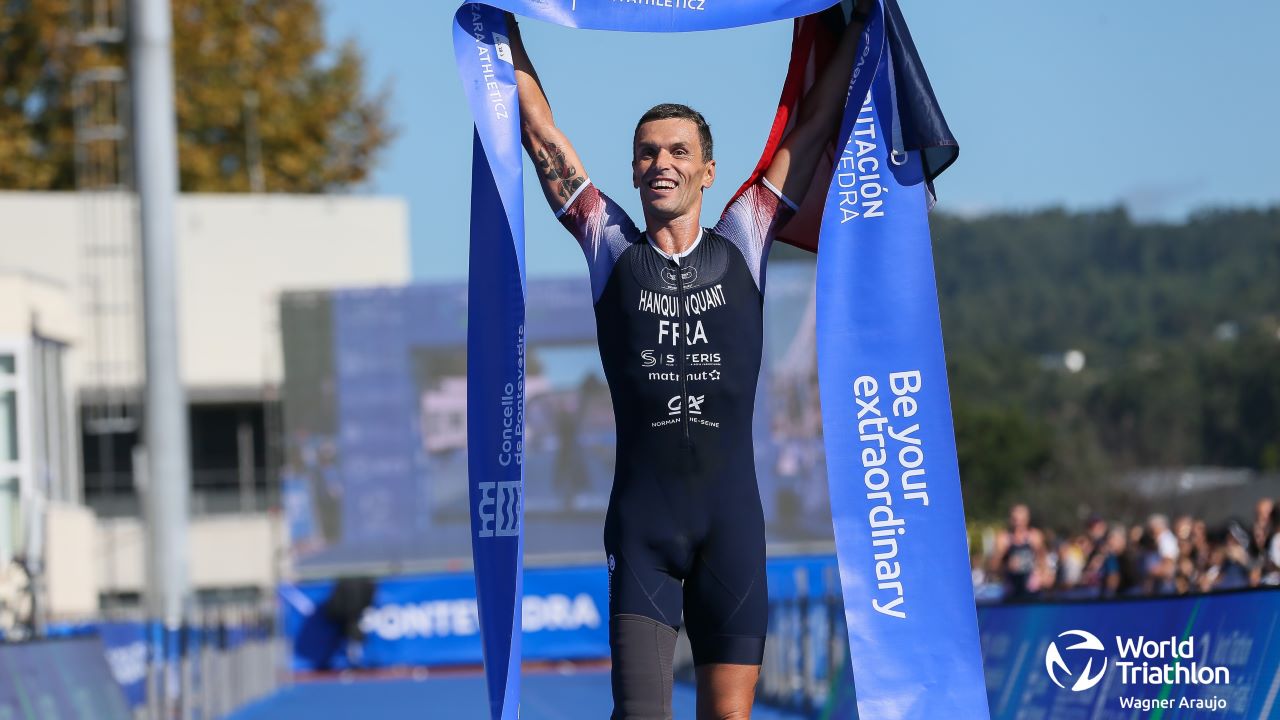 Kelly Elmlinger (USA), also delivered on her favourite status and maintained her unbeaten 2023 season and clear margin of victory over Marta Frances Gomez (ESP).
Home success
While Susanna Rodriguez couldn't quite secure gold for Spain, veteran Daniel Molina did just that in the men's PTS3. With his category absent from both Rio 2016 and Tokyo 2020, the 49 year-old is still at the top of his game and should finally get his chance for Paralympic gold next year in Paris.
The women's PTS3 category is the only one that will be absent from the Paris 2024 programme, but that doesn't mean that Elise Marc (FRA) will be absent. Allowed to 'race up' in Paris next year subject to qualification, today's PTS3 champion set a time that was beaten only by the PTS4 champion, Elmlinger. That will improve, even further, her chances of a Paralympic Games debut on her turf next year.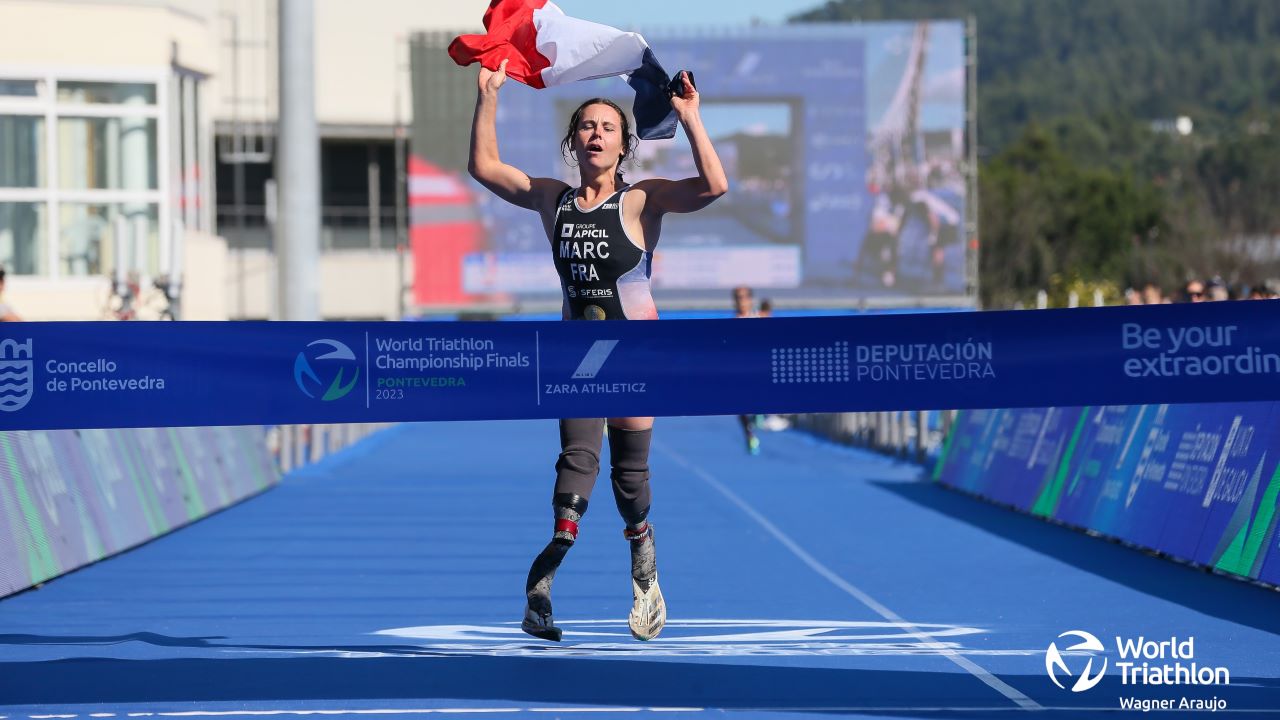 French success continued in the men's PTS2 division, as Jules Ribstein took a narrow win in a podium separated by just 46 seconds, while Hailey Danz (USA) lead a Team USA 1/3/4 in the for the women. Again, another close race there with gold and bronze separated by just 70 seconds.
World Triathlon Para Championships Pontevedra
Saturday 23 September 2023 – 5km swim / 19.6km bike / 5km run
PTVI
Men
1. Dave Ellis (GBR), 0:57:37 (Guide: Luke Pollard)
2. Thibaut Rigaudeau (FRA), 0:58:42
3. Antoine Perel (FRA), 0:59:02
Women
1. Francesca Tarentello (ITA), 1:07:09
2. Susanna Rodriguez (ESP), 1:07:51
3. Annouck Curzillat (FRA), 1:10:16
PTWC
Men
1. Geert Schipper (NED), 1:00:58
2. Jetze Plat (NED), 1:01:03
3. Florian Brungraber (AUT), 1:02:18
Women
1. Lauren Parker (AUS), 1:10:38
2. Kendall Gretsch (USA), 1:11:19
3. Jessica Ferreira (BRA), 1:13:48
PTS5
Men
1. Martin Schulz (GER), 0:56:18
2. Stefan Daniel (CAN), 0:56:45
3. Chris Hammer (USA), 0:57:16
Women
1. Grace Norman (USA), 1:03:28
2. Claire Cashmore (GBR), 1:04:39
3. Lauren Parker (GBR), 1:05:45
PTS4
Men
1. Alexis Hanquinquant (FRA), 0:59:03
2. Pierre Antoine-Baele (FRA), 0:59:30
3. Antonio Franko (CRO), 1:00:31
Women
1. Kelly Elmlinger (USA), 1:10:42
2. Marta Frances Gomez (ESP), 1:14:00
3. Sally Pilbeam (AUS), 1:14:51
PTS3
Men
1. Daniel Molina (ESP), 1:06:53
2. Max Gelhaar (GER), 1:07:38
3. Cedric Denuziere (FRA), 1:09:40
Women
PTS2
Men
1. Jules Ribstein (FRA), 1:06:00
2. Mohamad Lahna (USA), 1:06:20
3. Maurits Morsink (NED), 1:06:46
Women
1. Hailey Danz (USA), 1:14:38
2. Anu Francis (AUS), 1:15:01
3. Allysa Seely (USA), 1:15:48