Chris Hovenden spoke to Australian sprinter Caleb Ewan at the Garmin Ride Out 2018 and wanted to know numbers, power numbers. Caleb knows how to ride a bike fast – he won three stages of the Tour of Britain last year. He'll be hoping to add a few more, starting today…
Bunch racing
Draft legal triathlons are becoming more popular and prevalent. For example, the 2019 ETU Sprint Triathlon European Championships in Kazan, Russia, will be a draft-legal race despite the qualifiers being non-drafting.
Racing in a bunch on the bike creates a completely different racing dynamic and requires different physical characteristics: rather than being adept at sitting at threshold, it is advantageous to improve your bike handling, be comfortable (I use the term loosely), riding in the red for short periods if necessary, and to increase your high-end power to sprint out of corners and to close gaps to the wheel in front.
I was lucky to meet with world class Australian road cycling sprinter Caleb Ewan at the Garmin Ride Out 2018 in the New Forest.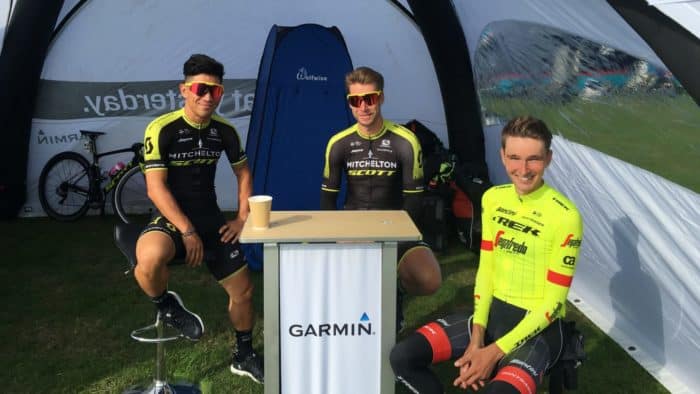 Ewan won three stages of the Tour of Britain in 2017 (which starts today, Sunday 2nd September), and is hoping to add a few more victories on British soil to his palmarès.
In the Garmin interview, the big question I had for Ewan was how much power (and what kind of power to weight ratio), does it take to cross the line first in a bunch gallop?
Max Power
Ewan weighs around 67kg and revealed his max power. "My max [power] ever in training is 1650 watts," he said.
That's a phenomenal 24.6 watts per kilo.
However, he went on to explain that at the end of a long road stage there is a, to be expected, drop in explosive powers: "But then in racing you only ever hit, maybe maximum, 1500 [watts]."
As well as his impressive number of victories, Ewan shot to prominence (pun intended) with his extreme bullet-like sprinting style. Side on the position looks bizarre with his torso extending beyond the handle bars.
When it comes to riding a TT bike, we're all at least aware of the impact of aerodynamics, but maybe haven't considered the power/aero offset when on a road bike – and when sprinting.
Aerodynamics vs power
Ewan discovered the bullet-position during wind-tunnel testing, almost by chance: "We tested all the [normal] positions and then we did an extreme one just to see what the difference would be. We saw it was pretty decent size difference, so I started training to see if I could do it."
"I had my CDA [coefficient of drag area – scientific language for how small and aero your frontal profile is] measured, it was low but I couldn't tell you [what it was- Ewan couldn't remember the specific value]," he confirmed.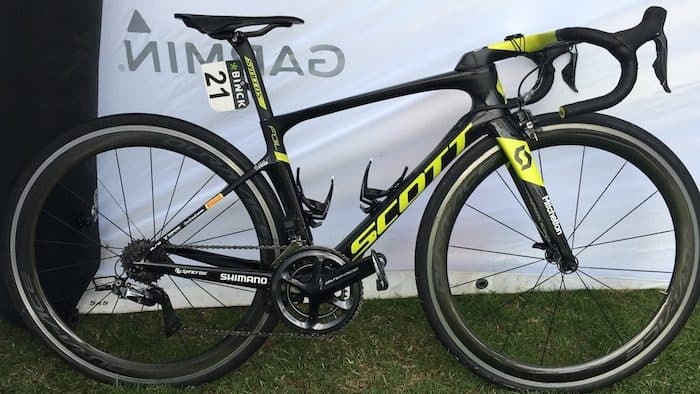 When it comes to the fastest riding position the key is finding the optimum balance between power output and aerodynamics. You might be surprised by the relatively low power Ewan hits in the bullet-position:
"I can never get high power in that [my bullet] position. I reckon when I'm doing that [position] I'm sitting on, at a guess, at 1,000 [watts]," he revealed.
14.9 watts per kilo appears more achievable for mere mortals – at circa 73kg (a fair amount heavier than Ewan) I can hit just above 1,000 watts in a sprint (on a good day), but I'm almost stood upright and definitely not in an extreme aero position!
How to improve your sprint power
Ewan uses a variety of sprint focused sessions to hone his top-end speed. "We do a lot of over-geared and then under-geared work, long sprints and short sprints, with real peak power for a couple of seconds," he said.
To make the biggest gains to his max power he prefers the hard and fast sets: "My favourite sessions are the shorter, high power ones."
A session Ewan enjoys is as follows:
Warm-up for at least 30 minutes and include a few sprints to prime your engine;
6 or 7 repetitions of 4 to 6 seconds of maximal effort – rolling starts;
15 minutes of recovery between sets to ensure you are fully recovered.
Ewan emphasised the need for quality over quantity: "For a sprinter you can't really repeat yourself that many times if you want to get a really good effort in."
Tech for Training and Racing
The Aussie sprinter explained he is a fan of Garmin devices and uses the Edge 520 as well as the new Edge 1030.
"We obviously have to use the products the team supplies us, but I think it [Garmin] is definitely, probably, one of the better head units that's out there," he said. He went on to say that a particular attraction is the amount of metrics and information Garmin's make available.
When carrying out some of his training rides Ewan opts for the larger Edge 1030 with its bigger screen and utilises multiple screens/pages. "In training I have different pages [set-up] for different efforts I'm doing. For example, efforts based on cadence and power, or just heart rate for heart rate sessions," he explained.
Hugh Carthy of EF Education First –Drapac powered by Cannondale told me he also uses the Edge 1030 when training. When out on a training ride he utilises three screens with up to 10 fields on each. "When training I have all sorts [of metrics]. I have the obvious ones like speed, distance, time; then I have laps for interval training, lap average power, lap speed, cadence, average cadence, normalised power, calories, altitude, metres climbed, TSS etc. "
Both Ewan and Carthy opt for the Edge 520 (Garmin have recently released the Edge 520 Plus which includes mapping) when racing. The Edge 520 is smaller, lighter and more compact than the Edge 1030 and is equipped with buttons rather than a touch screen.
In race conditions the two World Tour riders require far less information. Ewan likes to be presented with the crucial metrics most of us want on race day. "I use distance, speed, power, cadence, and heart rate. Real simple, nothing too complicated," he said. Carthy has similar fields on his device, but on the second he includes calories to help him avoid running out of energy and he prefers not to look at heart rate due to this being impacted by heat etc.
Interestingly, aside from the weight saving benefits of the Edge 520 (or the Edge 520 Plus) the reason Ewan doesn't use the Edge 1030 for racing is his bullet-like sprinting position. "I can't race with it [the Edge 1030] when I'm sprinting as it comes out too far. I kind of ending up leaning on it, almost with my face actually."
The Garmin Ride Out 2018 was based at Hoburne Bashley, New Milton and the 50-mile route gave people the opportunity to ride/rub shoulders with pro-riders from EF Education First- Drapac powered by Cannondale, Mitchelton – Scott, Trek – Segafredo, and Madison – Genesis.