Born in the USA, grew up in the South of France, with an Italian-American mother and a French-speaking Belgian father – it's fair to say Rudy Von Berg has multi-cultural experience and language skills alongside his superb on-course triathlon performances.
Von Berg is someone we've spoken highly of on the pages of TRI247 for a number of years. Now aged 28, he has all the skills needed to be winning the biggest races in the sport over the next decade.
He's won plenty already of course, including IRONMAN 70.3 Regional Championship titles in Europe (2018 and 2019), North America (2019) and South America (2018 and 2019). Von Berg is an athlete who aims to perform at the biggest races, and has shown the focus and abilities to do just that.
I recently sat down with Rudy, who ended the year ranked #10 in the PTO Rankings, for an extended interview. We talked about his plans for this year and beyond, the impact of the PTO on the sport, his take on what to look at for at the St George version of the IRONMAN World Championship, and much more.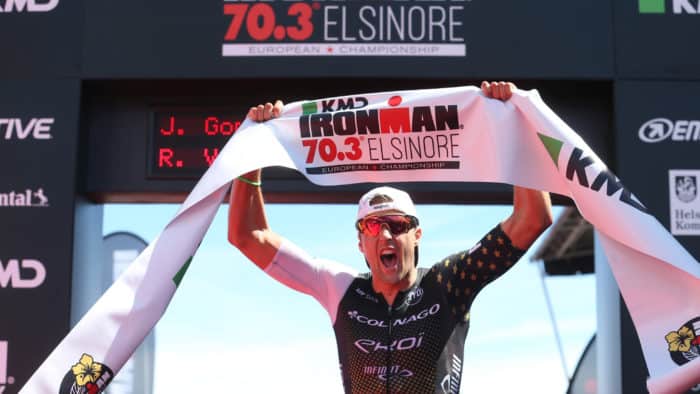 This is the first part of that series, where we look back on his 'dream race' and his take on the inaugural Collins Cup, an event which didn't work out for him personally, but that he sees developing quickly.
My dream race – at 'home' in Nice
While there are plenty of wins on the Von Berg record already, the race which perhaps meant the most was his bronze medal at the 2019 IRONMAN World Championship in Nice, France, behind Gustav Iden and Alistair Brownlee. That, to us at least, didn't come as a surprise.
"Nice 2019 was kind of my dream race. My whole childhood growing up was riding in those mountains near Nice. There was always the iconic long-distance triathlon in Nice, but I'd always dreamt of doing a 70.3 and and IRONMAN (which I will do this year), in Nice.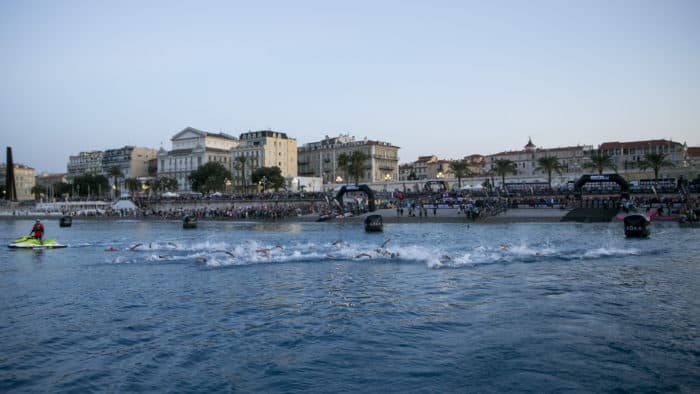 "That was the first big race I could do there, and it had a lot of history with me. I knew the bike course was really fun and a good course for me, and obviously being close to home and knowing all the people around on the race course. I prepared really well for it, I won the test event in 2018, and went to the World Champs the previous year and was 10th in South Africa without such a good preparation.
"Everything was rolling well in 2019, I trained on the bike course a lot and did it maybe 10 to 15 times and knew the downhills really well. I was just in really good shape watts wise – I mean everyone talks of the downhills, but I was already towards the front of the race on the uphill.
"I executed the race I could do and got third, and that was my level for the day and I was super happy to be on a World Champs podium and hope to do it again on a course that maybe favours me less. To me that would really prove that I belong in that top three."
Gustav was no surprise
While the focus of the IRONMAN commentary, at the time, may have been on his road bike, the win that day from Gustav Iden did not come as a shock to Von Berg:
"As athletes we knew he was very dangerous at that race. For the commentators he may not have been on their radar that much, but for all of us Pros it wasn't a surprise that he won. He was consistently top five in the World Series and we know how they train, and that they are very strong on the bike in ITU races, so a 70.3 is not that much different from an Olympic in the end."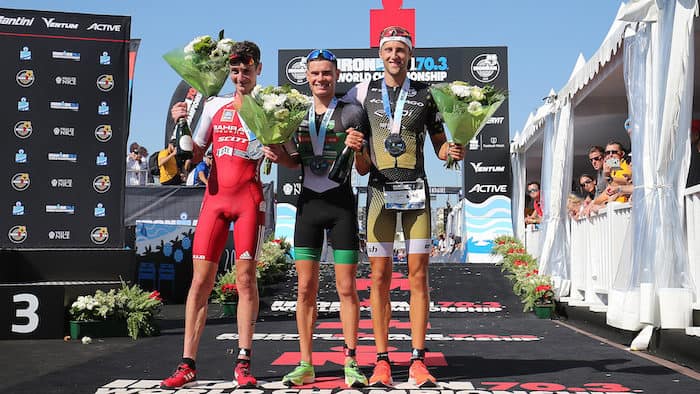 Illness stops play
Coming off the back of a six-minute winning margin at IRONMAN 70.3 Switzerland in early August 2021, Von Berg headed to Slovakia and the inaugural Collins Cup seemingly in prime form. An automatic pick for Team USA, he was one of the marquee names of the stars and stripes squad – and ahead of the event, had talked up the prospect of a potential showdown with Jan Frodeno and Lionel Sanders.
Just weeks later, and he couldn't even start, withdrawing in race week – replaced by Collin Chartier – as the Epstein-Barr virus (EBV), also known as mononucleosis, would end not only his Collins Cup hopes, but wipe out the next three months too.
How is he feeling now? "I've been good. I'm recovered from that now, it took me five weeks without training before getting back to it, and then building up for the last race of the season in Daytona where I got third, which was pretty fair for coming back after so much time off. Then I got COVID at the end of December, and finally I'm trying to get into a good groove!
"I'll race in Oceanside first in April so I have time to get some good blocks of training in."
Rest as hard as you can
Endurance athletes suffering from 'mono' and related issues is not uncommon in elite sport, and can often be an ongoing problem for many months, even years in some cases. Rudy is confident that his approach to dealing with it properly, will make that unlikely:
"That's for the athletes that don't get a diagnosis quickly. They kind of feel weak, take some time off, come back, get into training too quickly and some days feel ok, some days terrible, and drag it out for six months. For me I got the diagnosis within 10 days since it started and so knew exactly what it was.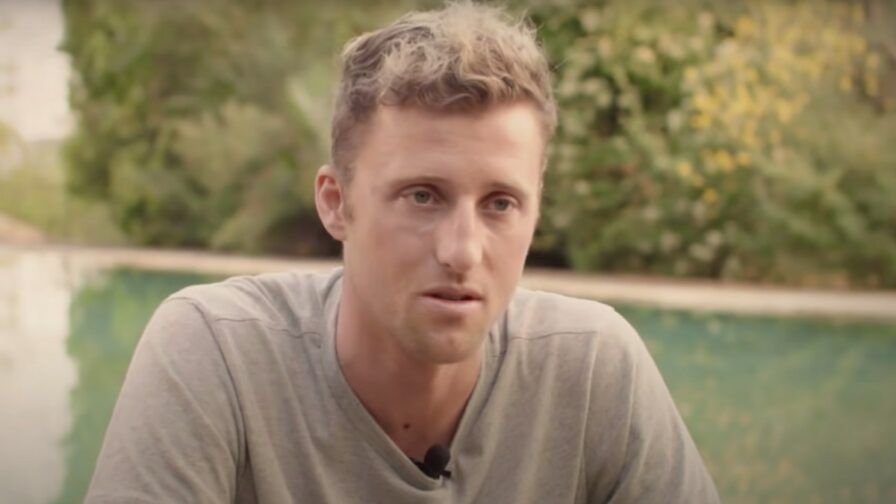 "I was then at Collins Cup and yes as you said, so many athletes have had it as it's common in endurance sports, so I knew exactly what to do. You really have to take time off completely – there's nothing you can really do aside from rest as hard as you can. That's pretty much what I did, I committed to it, I think I went five weeks total without any training. The commitment part to really rest was about three weeks and also I was consulting with a nutritionist to boost immune and fight the virus as best as it could. I was eating well, I did cryotherapy and all sorts of things like that – and sitting on the couch a lot, doing some walks, but that's it.
"After about 4/5 weeks I took the blood tests again and all the markers that had to be negative were negative, thankfully, and I was more or less cured. Obviously I had to start very slowly. The first week I did maybe five or six hours of training, then up to ten, then 14… it took weeks really to get back to normal volume. From when I started I had maybe 11 weeks until Daytona, and if you take out the taper week that's really ten, but it worked out pretty decent. I'm glad I caught it early and committed to resting.
"Normally at this point it will be extremely rare that I get it again. I should be good for now."
The Samorin experience
We covered extensively the inaugural Collins Cup, having been on-site in Samorin last year. While he couldn't race, what was Rudy's take on the event?
"Well I enjoyed it in a way – and then it was also the last place I wanted to be! Overall I'm glad I was there of course, but being sick and having to tell everyone all the time, 'How are you…. not good', was quite difficult.
"It's a unique atmosphere there, we are all in same hotel, all dining at the same restaurant, so you can go more in-depth and talk to way more people, meet more athletes and develop more relationships with people. That's a really nice part of that. Everything you need, swim-bike-run is all there.
"I definitely don't want to miss it this year. I'm certainly motivated to qualify for Team USA and compete in 2022, so I'm hoping everything will go well for that. I mean it's the flagship PTO event, obviously there is a lot of money for us professionals and it's transmitted on TV in so many places.
"It is something you want to do well at because there are a lot of eyes on us. That format, with three athletes, pretty fun to go head-to-head – I'm definitely looking forward to it this year."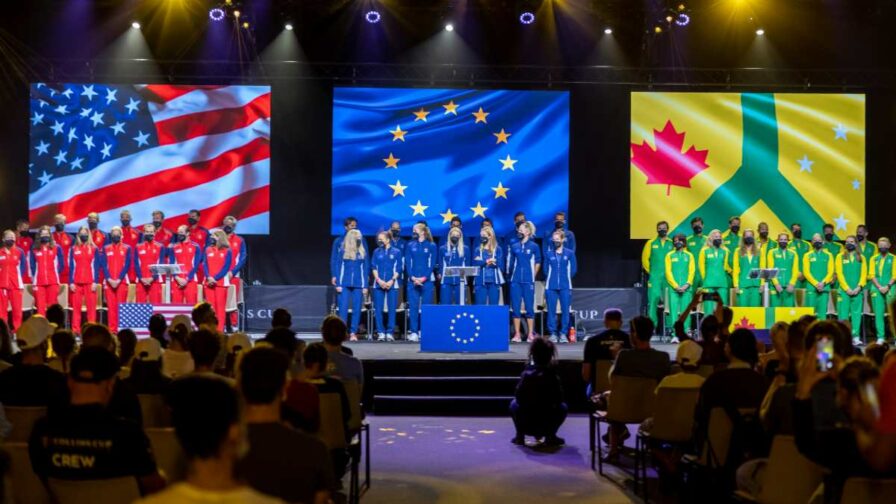 Collins Cup set to get better
Europe winning the Collins Cup wasn't a surprise to anyone, but along the way there were certainly some matches which didn't follow the form book. That created some interesting storylines, and Von Berg only sees that developing further as the event gains traction and status.
"Yes, and that was just the first year too. I think some athletes, like Daniela or Theresa Adam that were the highest-ranked females for example, weren't in good shape or were coming back from sickness or injury, so some match-ups like that could be way better this time too.
"I think as more years go by, athletes will take it even more seriously. I mean Theresa or Daniela weren't in that much better shape than me and you know I would have been last of my match-up and lost by 15 or 20 minutes, the same as they did, but they still raced.
"I think some people didn't take it maybe as seriously as I did. I was like there's no way, I'm not going to go there and lose 20 minutes and maybe get myself even more sick, there's no point. So, I think in the next years we might have even better match-ups, because we'll have people who are in better shape for that specific event."
Extending a happy relationship
While missing the Collins Cup, developing 'mono', recovery – and then catching COVID – wasn't the ideal was to end 2021, the new year has started on a positive note. While Taylor Knibb is a new addition to the Trek Bikes stable, Von Berg has been part of the brand for the past two years. There will be at least another two to follow, courtesy of a renewed contract:
"Trek has been my dream bike sponsor for a while and I remember when I signed with them that they said this could be the type of thing where it's your whole career on Trek. I hope so, I've signed for two more years so that will be four years and hopefully I can keep on being an asset for them, keep on performing and sign on for two or three more years and keep on going for my whole career. I would certainly be happy to do that.
"They are great bikes, they really support their athletes and work with their athletes long term and I couldn't be happier with Trek."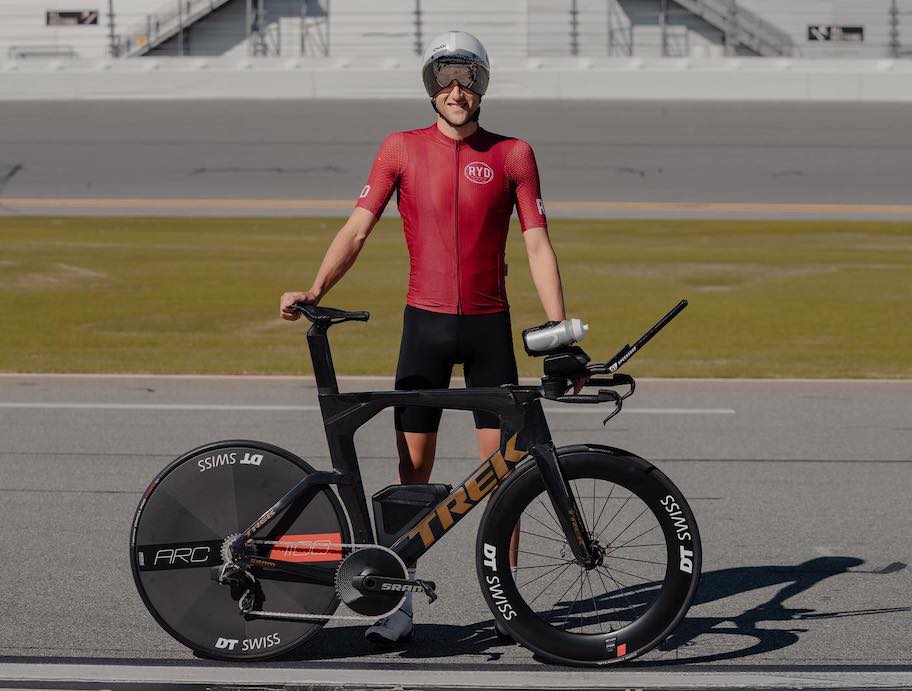 In part two, we'll find out more about Rudy's upcoming IRONMAN debut, and how developments within the PTO will shape the direction of long distance triathlon.