When we started this 'Triathlete vs. The Channel' series with Robbie MacNab last December, one of the attractions was the unknown. Whoever you are and however well you are prepared, swimming the English Channel is a monumental feat with success far from guaranteed.
At the time, 'COVID-19' was not part of our daily vocabulary… which has thrown an extra challenge into the project! Despite the restrictions of recent months, the easing of some lockdown restrictions mean that – fingers crossed – Robbie's mammoth challenge may well still be on.
Here is his latest update.which if all goes well, will be the final one before he reports back on how it all went in early August.
(Links to all of Robbie's Channel Series: #1 | #2 | #3 | #4 | #5 | #6 | #7 | #8)
---
Triathlete vs. The Channel – July 2020
It's a go (hopefully) – one month to go…
This will (hopefully) be my last blog pre-Channel attempt…it's been a busy June.
With the continuation of lockdown rules being relaxed further, moving through June has been a combination of getting back in the water, keeping an eye on government and CSA guidance, as well as mentally adjusting to the fact that the swim will be going ahead.
While I've always tried to maintain an attitude of 'train as if the swim will be on', deep in the depths of the three initial months of lockdown a large part of me really did not think it would happen this year. Since the government has eased various rules allowing the boats to operate under new 'COVID Secure' guidance, it really has been full steam ahead! Unless there are any new outbreaks etc. that cause a reverse of current rules, the attempt will currently be swim number two on the week of the 27th July.
With all the changes, I've been trying to get in the water as much as possible. My first swim back was at my local lake which opened with bookable slots of 45 minutes. The day started a little like Christmas morning – full of excitement – but also a little anxiety about how swimming would go after my longest break in about 17 years. Obviously (as I'm writing this), I didn't sink; in fact the 45-minute session was probably a perfect re-introduction and stopped me overdoing it on the first day back. The lake was great, but I needed to make sure I got myself down to the Solent to get some sea swimming in as soon as possible. This proved a little more challenging.
The problem with getting back into the sea is the organisation required; from getting the tides to match my work schedule, asking the better half to come along with me to keep an eye on both myself and my car keys, and of course the great British weather. Fortunately, the better half (let's call her Emma, as that's her name), has been extremely supportive and has been happy to come along as and when I've asked. Alas, the weather has not been so obliging. On several occasions, with 20mph + winds the water was just too choppy. I'd have been happy to get in and have a swim, but it just would not have been responsible so there were a few trips that simply resulted in parking up, then turning around and going home as deflated as my tow float.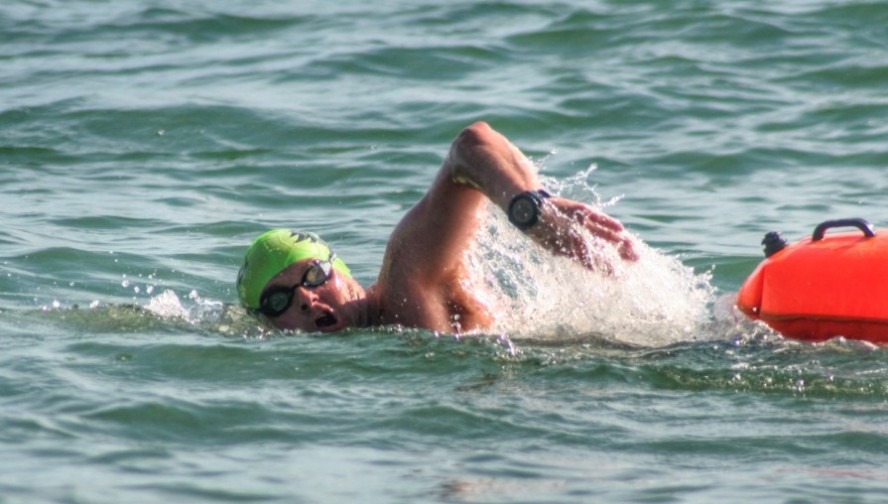 On a more positive (and important) note, I have managed to spend a weekend in Dover, getting two quality days of training in with one of my coaches, Tim Denyer. The good thing about Dover is that there is a large swim-only zone in the harbour which also provides some shelter from the elements, and even with bad weather it's still possible – if challenging – to swim. Day one consisted of two separate three-hour swims with a break for lunch in between. The second day was 'simply' a six-hour swim! I have to say these swims were a big step up after so long off and only really getting 45 minutes at a time in the lake. There were tough moments, more mentally than physically, where I was convinced I was going to give up and get out. However, encouragement for 'one more 30 min block', kept me in the water and I managed to just keep swimming.
In the grand scheme of things, it was good to go through this as I'm sure during the Channel attempt there will be dark moments, and it's good that I've experienced this and know that I can push through. It is also clear that the team I have with me on the day will certainly have their part to play in keeping me going.
So with just a few weeks to go now, I'll be throwing myself into the sea as much as possible, and next time you see my name crop up on the TRI247 pages, it will be my final blog. Success or failure, I'll do my best to share the experience with you.
Now, time for the shameless, plug!
I'm doing the swim for a couple charities that mean a lot to myself and my team; Mind, the mental health charity (www.mind.org.uk) and Jane Tomlinson Appeal, that helps children to be happier and healthier and improves the lives of people living with cancer (www.janetomlinsonappeal.com).
Any support massively appreciated: https://uk.virginmoneygiving.com/RobbieMacNab1
June (and July week one) Stats:
Swims – 10 (longest 6 hours)
Zwift – 16 Rides / 500 km
Dry Swim/Strength – 4 sessions
Run – 6 Sessions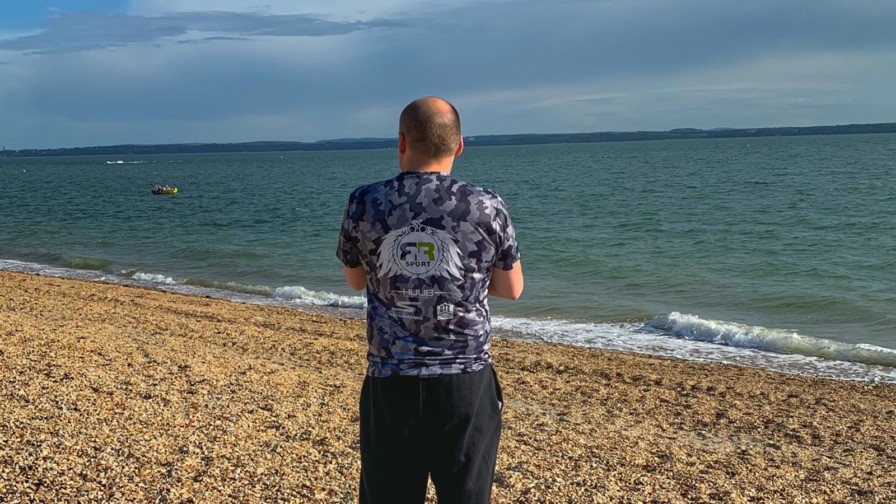 Robbie's Tip of the Month
TEAM is definitely the word of the month. When you are preparing yourself for such as challenge, build a team of people around you that you can trust, will support you and provide you with the knowledge to make this happen. My team has definitely been key to getting me through this month.
First and foremost there is Emma, my 'better half', who has supported me throughout this process and in this current crunch time of getting back into the water at home and as water safety, photographer, and more with my swims. The load of the swim is not something I carry alone at home or whose effects are only on me, so having her support and buy-in has been key.
As the old adages goes, 'doctors make the worst patients' and 'he who acts as his own lawyer has a fool for a client', it's probably true of coaches as well, especially in a busy and stressful life, so I am lucky to have two great coaches. Coaches who have been key for both physical and mental preparation;
Ryan Sosna-Bowd, a fellow RnR Sport (www.rnrsport.club) coach, who has coached athletes accomplishing huge challenges like the Arch to Arc, Channel swims/relays, ultra-running and cycling challenges and more. Ryan knew this was a dream of mine and supported and even nudged me along the way. He has guided the shape of my training throughout, but more importantly, ensured several key things;
I didn't let my own mental demons get the best of me, by simply reminding me that I could do this process at the right times and pointing out the wood from the trees when I couldn't see it.
My preparation started early enough, that even by March, pre-COVID, I had got up to a volume of training already that meant the break was manageable and for pushing me to do dry land-swimming.
Lastly, for building a coaching team beyond just him. Working with pure Channel specialist, Tim Denyer, of Red Top swimming (www.redtopswim.com) to make sure I had more than just his own high expertise. Tim has given me great additional insight and knowledge that will be key to success in the swim.
Knowing Tim and Ryan will be on the boat during the swim working together is not only hugely reassuring, I know I'll have the right team to help me best get through whatever highs or lows the weather or my emotions through at me.